180° South: The Premiere, The Book and the Inspiration Behind them Both
On Wednesday, February 10, Chris Malloy's long-anticipated film 180° South will premiere at the Santa Barbara International Film Festival. Details can be found on the Woodshed Films Facebook page or the SBIFF site. For those who can't make the premiere, we'll soon have more info on future screenings and the release of the film on DVD and Netflix.
Patagonia Books has also published a beautiful hardcover book entitled 180° South: Conquerors of the Useless. Within its 240 pages are chapters written by Yvon Chouinard, Chris Malloy and Jeff Johnson, along with hundreds of photographs and a revealing set of campfire interviews, conducted by Chris Malloy, with Yvon Chouinard, Doug Tompkins and Jeff Johnson.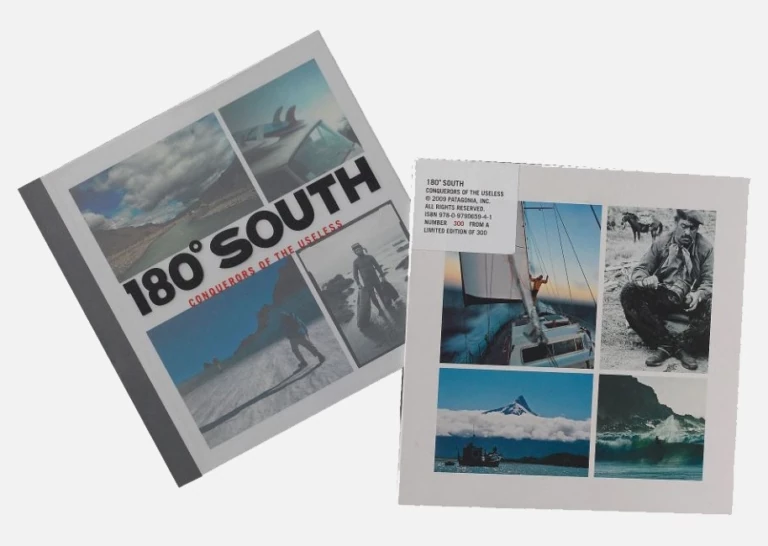 Here's one of the campfire interviews with Yvon, Chris and Jeff.  
Chris Malloy: So twenty years from now, what will you remember most? The climbing, or the sailing, or what you got out of the thinking?
Jeff Johnson: I have no idea. Ask me again in twenty years.
Yvon Chouinard: You never know ahead of time what you are going to get out of it.
Jeff: I remember writing in my journal that when you set out on something like this, you know it is going to change something in you, but you don't know what that is. People make a mistake to pinpoint what they want changed in their life, as though they are going out on an adventure to change a certain thing. Then, when it is over they find out they didn't get what they wanted. I think that's where a lot of people go wrong.
Yvon: You get these guys who build a sailboat from scratch. They spend five years doing it. They get it built, and then they don't want to sail anymore. But, what they really wanted was to build a sailboat. That was it.
Our '68 trip was six months long and was a similar thing. Our goal was to do a new route on Fitz Roy, which we did. And we had to do it because we were committed to doing a film on it. But that's not what I remember most about the trip.
There were little incidents: I broke my neck diving off a bridge in Colombia. We were on a bridge over this café au lait water. Doug dives off and says, "Hey, it's great, c'mon." I was standing five feet from him, five feet, and I dove off and hit a sandbar. It cracked my neck and I just lay there. I couldn't move and I am thinking I am paralyzed for the rest of my life. Of course I wasn't. But that led to years of lower back pain, and that led to discovering a tumpline. I went on a forty-six-day trip across the Himalayas, and I saw these porters with tumplines carrying huge loads: hundred-pound loads with tumplines on their heads. And I thought, shit, they are the pros. They are doing it the old way. So I started carrying loads with a tumpline. By the end of the trip, I was carrying fifty pounds, and breaking trail for the sherpas. I have used one ever since.
I'm always trying to find a simple solution rather than a techno fix for everything that I do. So I didn't bring any carabiners on this climb. I tied in with a knot. Instead of putting in anchors to get Makohe down, I would have done the whole thing with just the rope. No carabiners, no slings, no rappel devices. It can all be done really simply. Maybe that's what I got out of breaking my neck on that trip: Do things simply.
Jeff: That's exactly what you got. It's funny what you remember from that trip. I've seen Mountain of Storms maybe three or four times. And I don't even remember seeing the summit. What I remember is just you guys surfing, skiing, goofing off. I hardly remember the Fitz Roy part. Getting there is the coolest part of the film, I thought.
And this trip, I didn't even care about the summit. I wanted to climb the thing really bad, but as soon as I knew it was too dangerous, I didn't care. Who cares?
Yvon: Conquistadors of the useless.
Jeff: Just like you said: Climbing is totally useless.

Yvon: But it's a great goal.
Jeff: It is a great goal. And like you, I've always used climbing and surfing as an excuse to see all these places. I used to get in these conversations with my mom. I would go to these countries and she would ask me, "Did you see this? Did you see that?" And I'd say, "No I didn't see any of that." "Well what the hell did you do?" she would ask. And I would reply, "I went surfing and I hung out in this one town for a month." She'd say, "I can't believe you are going to these places and you are not seeing things like the Eiffel Tower or the Coliseum." And I go, "Well I stayed with a local family, and drank beer at the local bar, and hung out for a month and surfed." If it wasn't for surfing, I wouldn't be in these funky little towns hanging out with these people.
Chris: Yvon, what's the difference between success and failure when it comes to climbing?
Yvon: What's important is the effort. We put in a lot of effort on Corcovado. I mean, three days of just trying to get there. If it's important that we climbed it, made a second ascent, and wrote it up for history books, then we failed. But if we were out for a good adventure, then we were successful.
Chris: What's your idea of success and failure in life?
Yvon: There was a book I liked called Epitaph of a Small Winner. The guy assesses his life and tries to decide whether he is a winner or a loser. And it turns out he is a small winner.
It's different for everyone. I guess it depends what is important to you. For me, trying this climb was great because I could see, at almost seventy years old, how far I could push myself. My mind was fine. I wasn't caving in. But my body didn't follow too well.
Over my life, I have pushed myself. I know how far I can go in the cold and heat, and I know I can feed my family from the ocean. I know I can drink from trout streams. It gives me confidence.
180° South: Conquerors of the Useless is available now at patagonia.com.