A Chance Meeting with the Visually Impaired Skiers from Ski for Light
Michel Caron
/
Mar 12, 2015
/
5 Min Read
/
Snow
By Michel Caron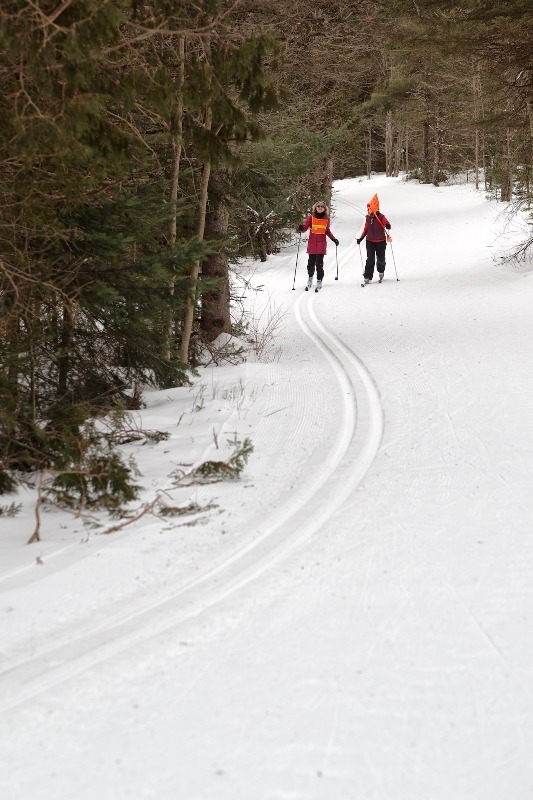 Not long ago, I joined Jasmine and my girlfriend, Marie-Pier, for a day of cross-country skiing in Craftsbury, Vermont. Marie-Pier is a certified ski instructor and Jasmine is a strong skier while I, uh, I am able to follow for some time until I find something else worth discovering and photographing. 
That morning we met skiers with orange bibs and soon realized they were accompanying visually impaired skiers who were also wearing bibs. I was impressed by these people who were willing to go skiing despite their handicap. Even before dressing for skiing, I went outside to talk with them and asked if I could take some pictures.
Above: A visually impaired skier navigates a downhill section with verbal guidance from her volunteer guide. Craftsbury, Vermont. All photos: Michel Caron
We had a good ride on trails so perfect they are used by the U.S. Ski Team. The few times we encountered other pairs of these extraordinary skiers, they were wearing smiles as large and colorful as their bibs. For lunch, we came back to the chalet. I told my partners that I wasn't going to ski in the afternoon but rather try to get to know this group of guides and visually impaired skiers and take some pictures.
I found the lodge where they were staying for the weekend and everyone was really friendly and welcoming. They let me blend into their joyful group as if I had always known them. They were preparing for an afternoon of skiing like everyone else except for certain details. Of course, they were paired up and prepared their skis together. Some of the skiers were "looking at" an extraordinary 3-D map of the trails that a volunteer had made using pipe cleaners, wool and a large variety of craft supplies. The mood in the room was so good! Everybody was happy and energized. I felt blessed to both witness and photograph the event.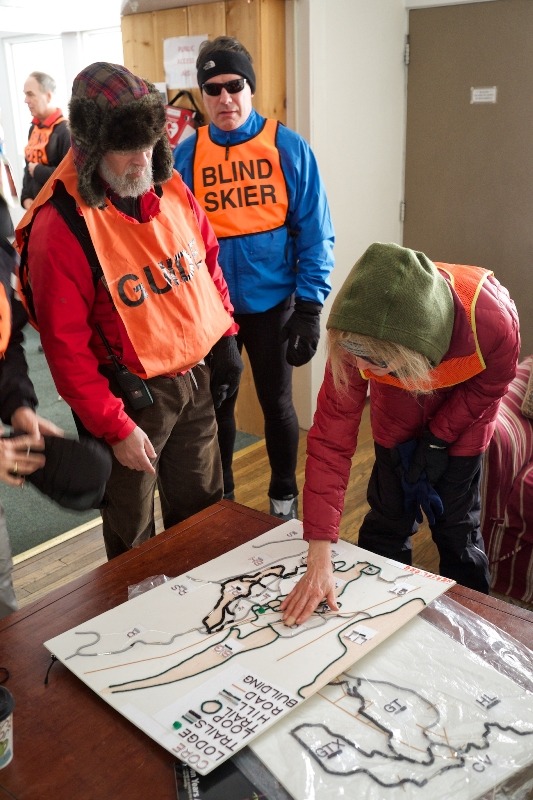 A blind skier reads the 3-D trail map.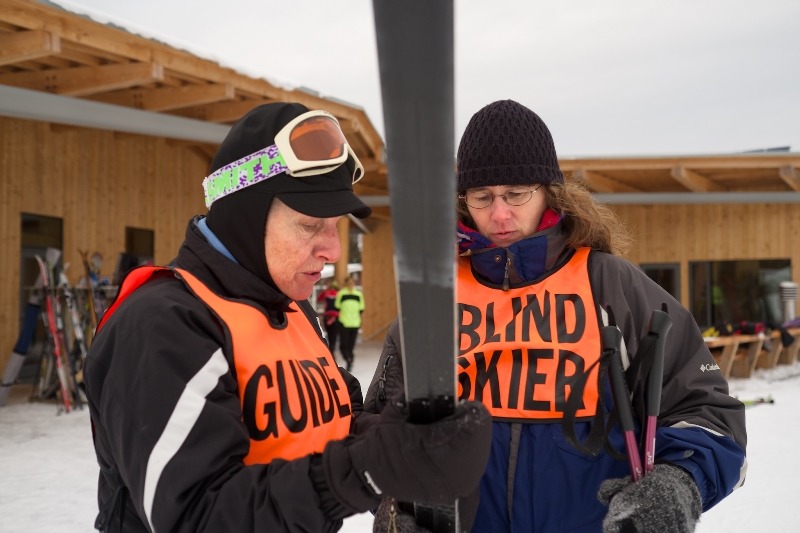 Before helping to put the skis on, a guide explains the binding mechanism. 
I joined a group, secretly telling myself that despite being tired from my morning ride, I would be able to sprint to the front of the group, take pictures as they passed and repeat until the end of the ski.
The guides, all volunteers, are masters at giving their partners just enough clues to help them climb hills and safely maneuver descents. The visually impaired skiers impressed me with their willingness. It was clear they greatly appreciated the time passed on the trails.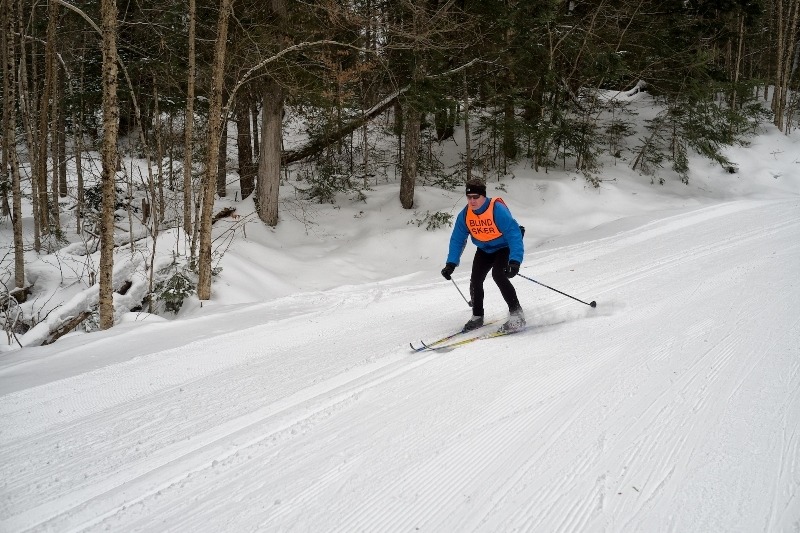 "All skiers showed a great deal of confidence and eagerness to go out on the trail despite their handicap. I wish my father could have done something similar after he was shot on the Russian front as an 18-year-old recruit and lost his left arm." –Ferdinand Lauffer, guide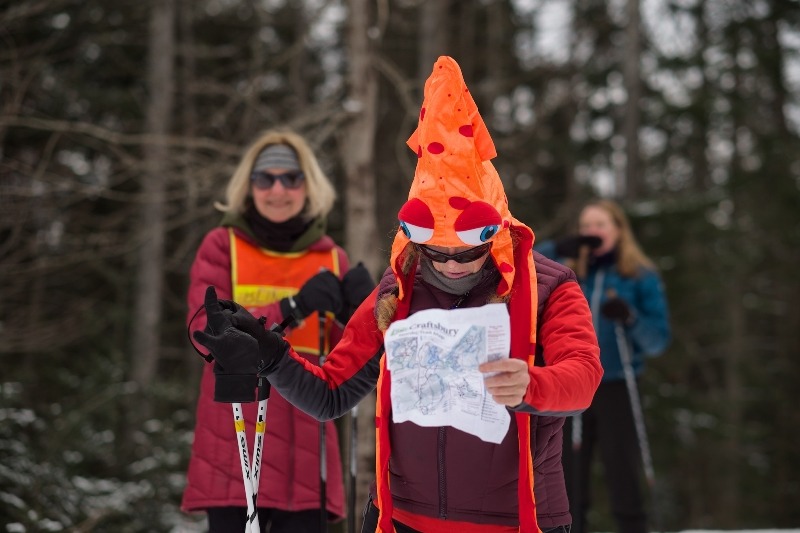 A colorful guide checks her trail map.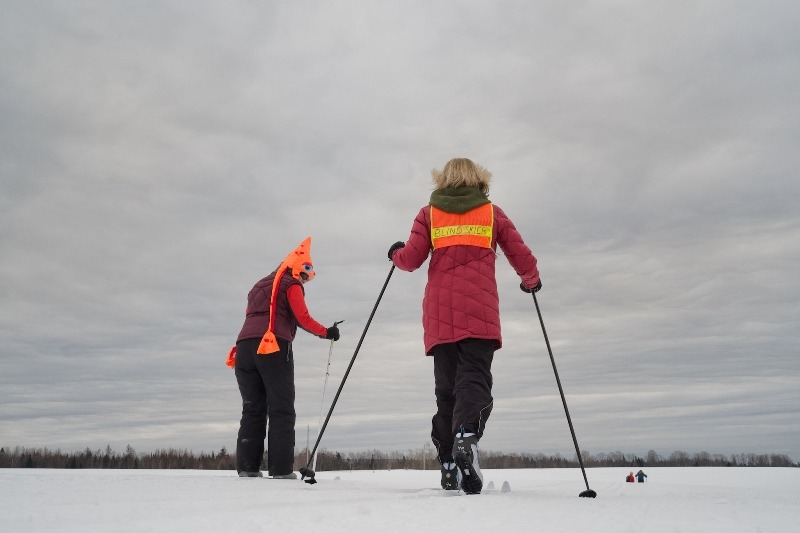 Constant communication is key for an enjoyable and safe ski session.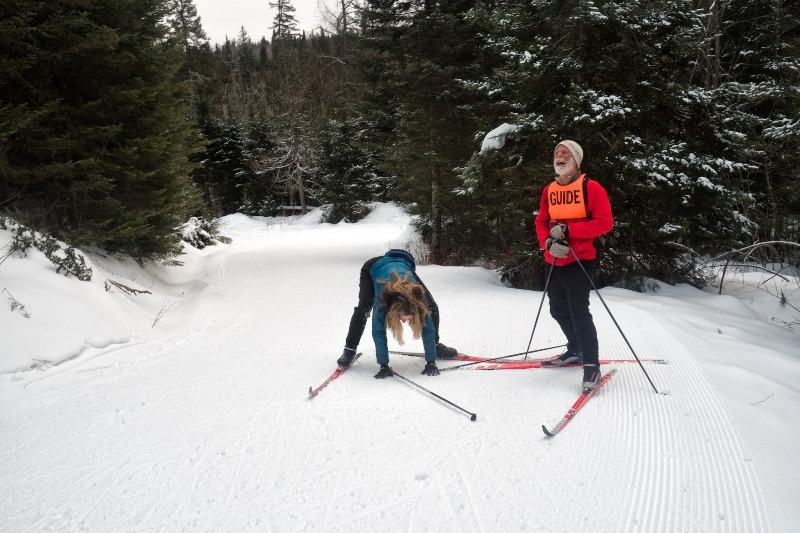 "The relationship is quite special because the skier and guide are a 'unit' and it is a beautiful execution of true teamwork. As a visually impaired skier, I feel extreme gratitude to all those people who give their time and effort so that I can have the joy of being free on my cross-country skis!" –Chris Leghorn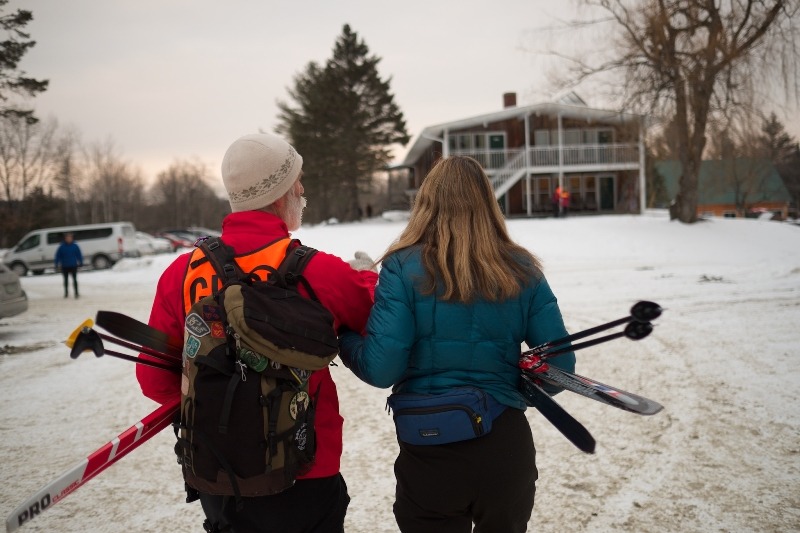 "My life has certainly been enriched by working as a guide for this event." –Ferdinand
Back at the main building, I found Marie-Pier and Jasmine happy after their ski. Before leaving Craftsbury, we stopped at the Ski for Light lodge to exchange e-mails and I hoped Marie-Pier and Jasmine could see the homemade 3-D map. By chance, the creator of the map was there to explain how he had made it. He also described how simple, inexpensive adaptations to buildings can help people with visual disabilities.
Like this map, I hope my pictures will help people to better understand this complex and beautiful world surrounding us.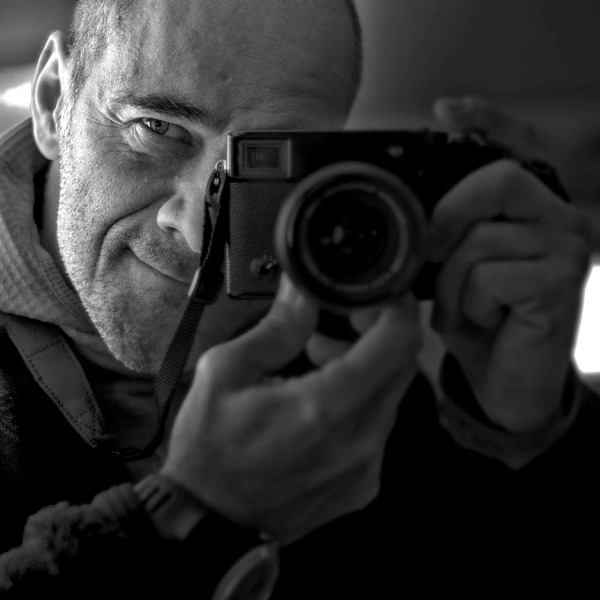 Michel Caron is a professional photographer from Orford, Québec. "In July 2012, I had the opportunity to meet this really unique person, Yvon Chouinard. It's fascinating how someone can be as simple and easy going despite being a businessman and environmentalist known all over the world." You can follow Michel and see more of his work on Facebook and Instagram (@michel_caron).
Founded in 1975, Ski for Light will celebrate its 40th anniversary this year. It is a non-profit organization whose mission is to enhance the quality of life and independence of visually or mobility-impaired adults through a program of cross-country skiing. They organize regional events as well as an annual international meeting.
With thanks to Heather Davis for her help adapting this story from French to English.