Excerpt from Michael Kew's "Crossings"
by Michael Kew
From "Jewel of Palm and Rain," Chapter 26
It was California's autumn equinox, with its earthy browns and yellows, its wind and its chill, on the cusp of solitude, that had sent me away. A shirtless late-afternoon bike ride across the farm, down the leafy corridor of Rincon Creek and out to the beach afforded goose bumps from a wan sun, with glassy, head-high waves wrapping around the famed point of Rincoñada del Mar.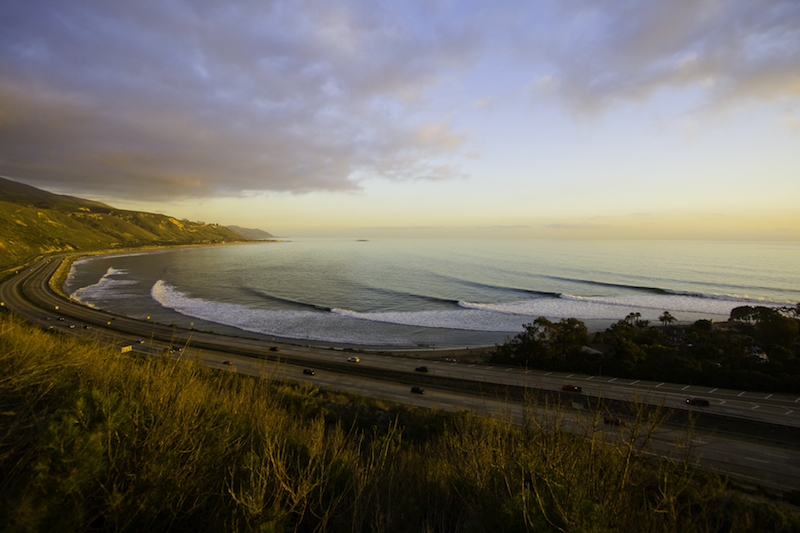 [This? Photo: Michael Kew]
The air was clear, the sky vast and blue. In the distance were the shadowy hills and gullies of the islands Santa Rosa and Santa Cruz; even Anacapa looked warmly near and familiar. In time, rain would fall there and here, and the beach sand would darken—the tourists were gone—but today, under the auspices of gulls, autumn had arrived. This was Rincon in late October, a polyglot pointbreak returned to itself, to the locals and the afternoon low tides, the clean swells and sunburned eyes, squinting into the glare of a setting sun.
Rincon is a destination, a marquee on the world's surf map, an archetype of crowded precision and expensive beachfront homes, depositing human waste into the lineup, toxic following rainfall.
There was rain in sight mid-week, and for this I felt lucky, because there was an envelope in my mailbox holding a ticket to paradise. To Earth, rain is life, and the ticket was to an archipelago that annually receives 30 feet of it.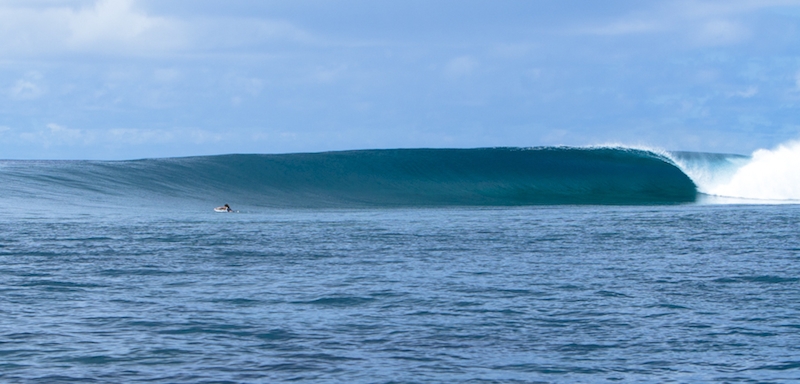 [Or this? Photo: Michael Kew]
Santa Barbara is difficult to leave, especially at the start of winter, and when I had recently returned from Oceania. But Santa Barbara is also a paradise, and coming home is sometimes like flying away—my life exists between two utopias. One is static and familial, where my rent is paid, while the others are distant and humid, these bluey-green postcard places you read about in Islands and National Geographic. Indeed, all homecomings are jet-lagged fogs – my bank account drained, my health poisoned by a cold or flu from long flights on germy airplanes.
I was afflicted from the last trip but again restless, uninspired, with writer's block, unable to rhapsodize about the journey I had just taken. Epiphanies of travel are rampant when one travels alone – this was a good reason for doing it, not because the epiphanies were random but because they also were holistically metaphoric. Living on a small farm a half-mile from a famous surf spot, it is easy to become insular, filling summers with work and women and boozy barbecues, neglecting the dormant ocean, your mind smug knowing the best has yet to come.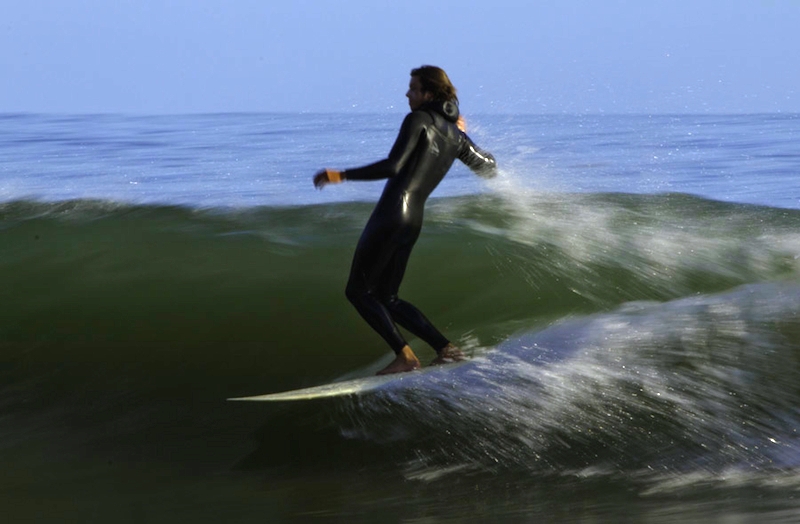 [Trevor Gordon styling at his home break. Photo: Michael Kew]
And here it was, this crisp afternoon, with a clean swell from the northwest, coining the onset of Rincon's celebrated winter surf season. At that moment it seemed wrong for me to leave again. Rincon Point, so sunny and serene, with its bubble of smiling folks and holiday homes and shady trees and smooth rocks, its pretty blonde surfer girls flirting with surfer boys along the point, in and out of the surf, its fathers and mothers and aunts and uncles shell-hunting with Frisbees and skittish leashed dogs, all within the drowsy calm of a fading autumn day—this was a reflection of Californian health and comfort. I felt happy here, and happiness had been a strain to achieve, years in the making.
But few things make me happier than travel, no matter how tiresome and inconvenient. Rincon's sea was cold and green. Warm and blue was where my mind had been.
Michael Kew is a writer, photographer, and filmmaker who first became involved with media production when he was 12. In the 28 years since, Kew has been published extensively in many surfing and international travel magazines, newspapers, websites, and books, including his own self-published Crossings. Kew's second travel book is set for release later this year. He lives with his three cats in a cabin on the southern Oregon coast.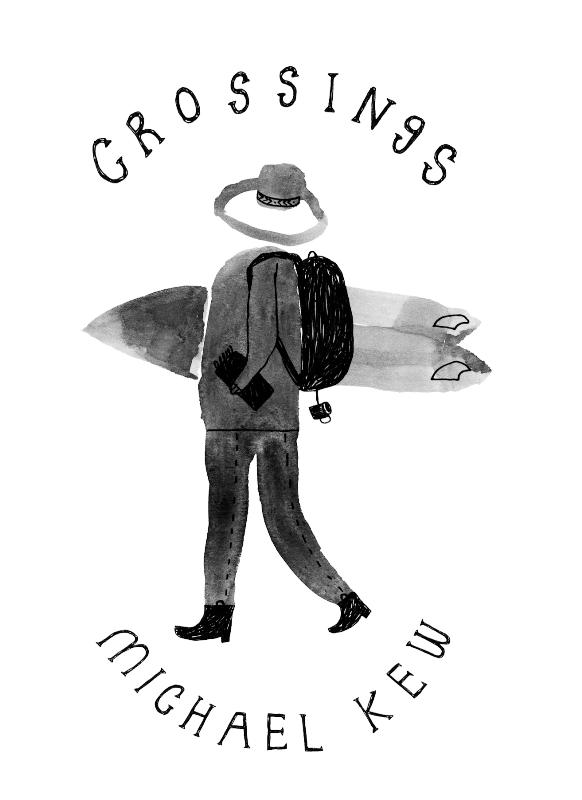 Previous excerpts from Crossings:
The Five Pillars of Lakshadweep
Coral Refuge, Ocean Deep
Isles of Idyll