Listen to "A Brief Moment in a Beautiful Place" Dirtbag Diaries Podcast Episode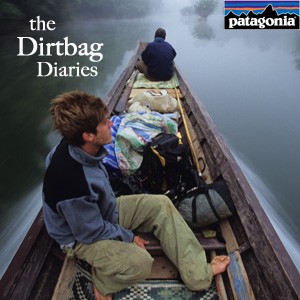 Fitz Cahall helps us shake off the Monday blues with a wonderful tale of travel improvisation as told in the newest episode of The Dirtbag Diaires.
There is a fine line between a life-lasting memory and disaster. Whatever the discipline – alpinism, big wave surfing, foreign travel – we calculate risk, formulate plans and sometimes we have the spunk to see them through. This week we're headed for Laos to recount the story of two friends and one spectacularly bad idea. Join us as we follow Jacob Bain, Colin Brynn and a bamboo raft down a river at the edge of the world. Sometimes bad ideas work out for the better … sometimes.
Episode Five – A Brief Moment in a Beautiful Place (right-click to download .mp3)
Update: For the photo-enhanced version, click here.
The music in this episode comes from the band of Jacob Bain, one of the travelersfeatured in the story, and from Patagonia's own Sus Corez. Thank youfor supporting independent music and media like The Dirtbag Diaries. You can also subscribe to The Dirtbag Diaries in iTunes.
[Photo: Colin Brynn]