"Among Giants" Film: Meet the Tree Protectors Making Change in the World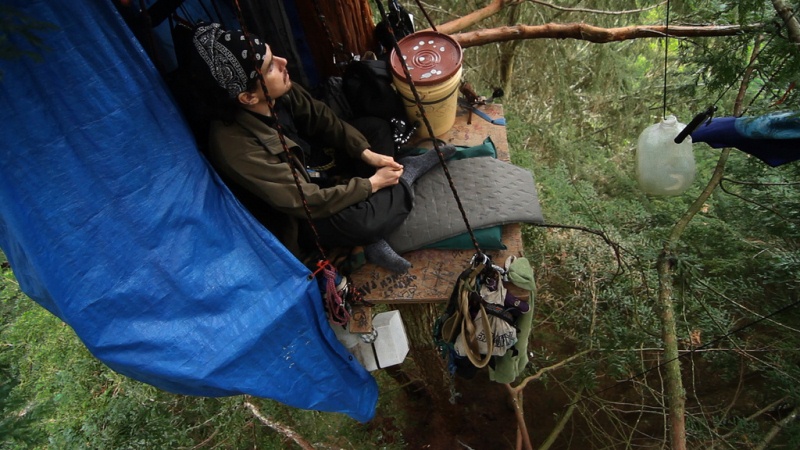 In late May, Rainhouse Cinema released the short documentary Among Giants on Vimeo. The film tells the story of an environmental activist, "Farmer," who tree-sits to protect a grove of old-growth redwood trees in northern California from clearcutting. Prior to its online release, the film played on PBS stations, Outside Television, and film festivals around the world.
Already three years into the tree-sit when filming began, Among Giants blends immersive cinematography with intimate personal reflection to create a vivid picture of life in the trees and the unwavering dedication of these activists.
[Among Giants from Rainhouse Cinema on Vimeo.]
Among Giants was created to bring awareness to the issue of clearcutting and those who work to stop it. "Going into this film, we wanted to know why Farmer would dedicate so much of his life to protecting this grove," says Rainhouse Cinema filmmaker Sam Price-Waldman. "Once we got to really know Farmer, we had no doubts that he was doing this from a very informed perspective, and it was inspiring to see his dedication to sustainable forestry." The film was shot over a few long weekends in 2011, while the three filmmakers lived with the tree-sitters 100 feet up in the redwood canopy.
"Everything in the trees takes much longer than you would expect," notes filmmaker Chris Cresci. "Just changing a lens would turn into a two-person, ten-minute ordeal. We set out to capture the isolation and physical challenges that the tree-sitters endured in their struggle to protect the grove, but there's so much else to tree-sitting that didn't make it into the film."
"Life in the trees was an adventure," says Ben Mullinkosson, the third filmmaker with Rainhouse Cinema. "Not only is the canopy of a redwood forest a beautiful place to be, but everyone up there was really friendly, and just climbing around and traversing from tree to tree was a great way to keep active."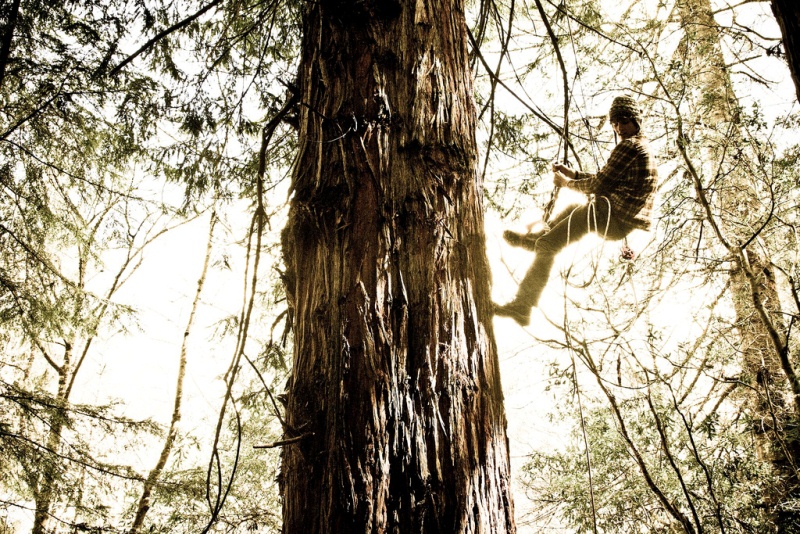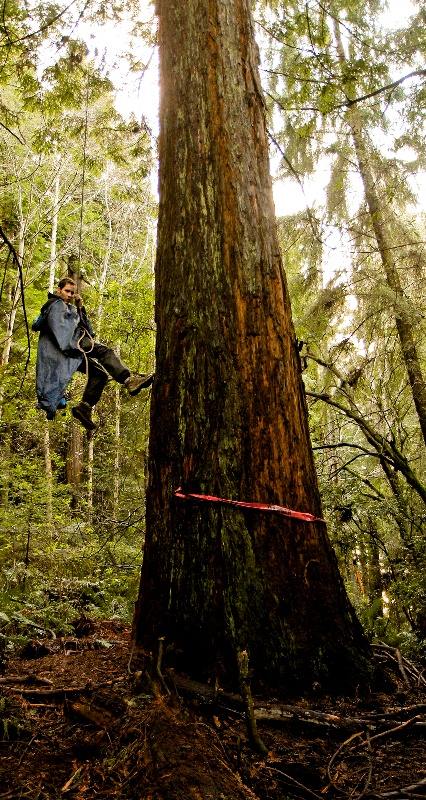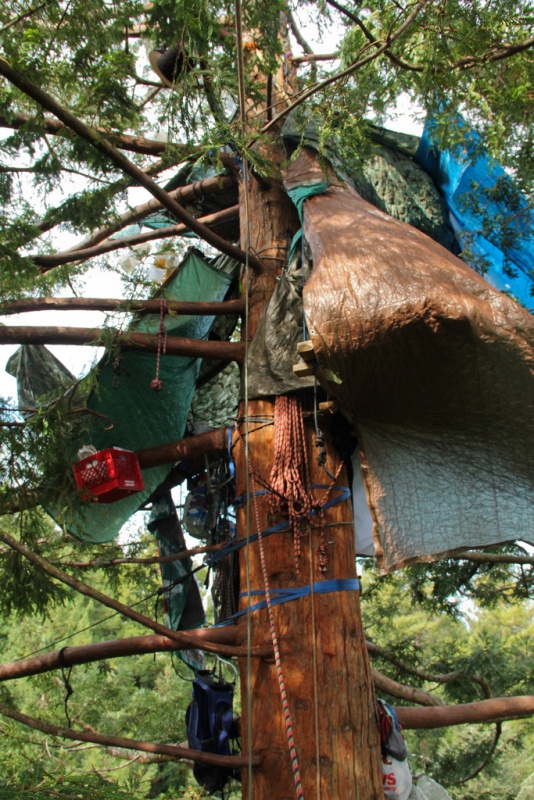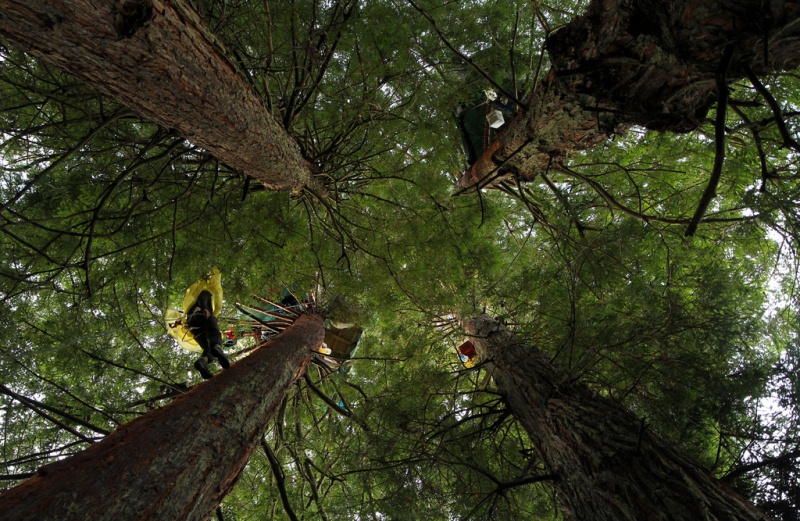 After seeing the film at the Wild & Scenic Film Festival in January 2012, Patagonia made an in-kind donation of rainwear and other gear to the tree-sitters to help them through the upcoming rainy season.
Then, in June 2012, the tree-sit ended as a victory for the tree-sitters. As of 2013, negotiations are still underway for the sale of the land, but it is estimated that at least 1,000 acres of the grove will be sold to the Trust for Public Land.
The film's subject, "Farmer," answered a few questions from The Cleanest Line staff.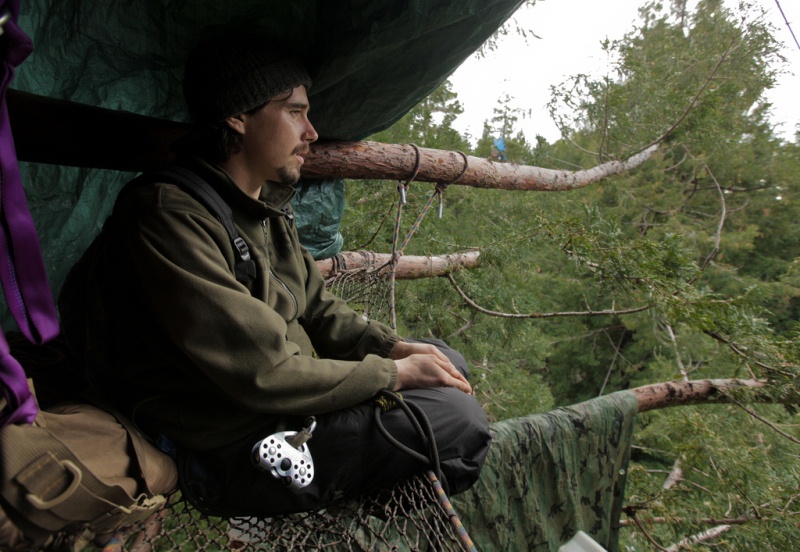 What do you all do to keep yourself occupied while tree sitting?
Tree-sitting is somewhat of a misnomer for us. Yes, we sit on our platforms quite a bit, but there are a ton of things to do in a tree-village. In the winter, there are torrential storms that require vigilance and constant maintenance of tarp systems in order to stay dry. I had to collect firewood for my small wood burning stove. I also kept busy building more tree platforms. In calmer weather, we worked on getting more trees tied into the system of traverse ropes that go from treetop to treetop. This network of traverses covers around five acres in the heart of what would have been Green Diamond's road system inside one of the main groves they wanted to clear-cut in the McKay Tract. The traverse system is a defense tactic.
Of course, there are also more mundane things like reading, listening to the radio, writing letters or keeping journals, texting, playing chess, etc. Training newer folks to climb and live up there can be one of the more time consuming (but rewarding) jobs. Spending time with Northern Spotted Owls and flying squirrels is also a plus!
Were there any moments that you felt like it wasn't going to be successful?
Sometimes I questioned if the tree-sit in Ryan Creek could go on. There were times early on and towards the end when it was down to me and one or two other people. Green Diamond attempted to hide the situation from the media and refused to answer almost all inquiries from reporters. We felt pretty isolated at times. Lucky for us, the strong environmental community here in Humboldt County, California and support from friends and family helped keep us going.
What's next for you guys?
Coming up on June 14th to the 18th we're holding an event called the Redwood Coast Rendezvous. It will be filed with workshops, trainings, games, campfire revelry and more, all geared towards defending our planet. You can see more about this and sign up on our website, efhumboldt.org.  
The struggle to defend our ancient forests, implement sane forest practices and restore damaged lands must keep moving forward. The top two timber companies and the biggest land owner in California continue to clear-cut the forest at an alarming rate. For example, they have huge logging plans on the Pacific Crest Trail right now near Truckee, California. This is a regional issue as well as a global one. The clear-cutting and other heavy handed logging practices are damaging our local ecosystems as well as contributing to climate change through massive greenhouse gas releases from the cut-over forest.
Last, but not least, we are supporting the current tree-sit in a grove of Redwoods in a planned clear-cut near Trinidad, California.
[Editor's note: Our apologies for note sharing this in time for the Redwood Rendezvous. We encourage you to check the website for current events.]