Tommy Caldwell on His 2011 Attempt to Free Climb the Dawn Wall
Tommy Caldwell
/
Oct 18, 2011
/
4 Min Read
/
Climbing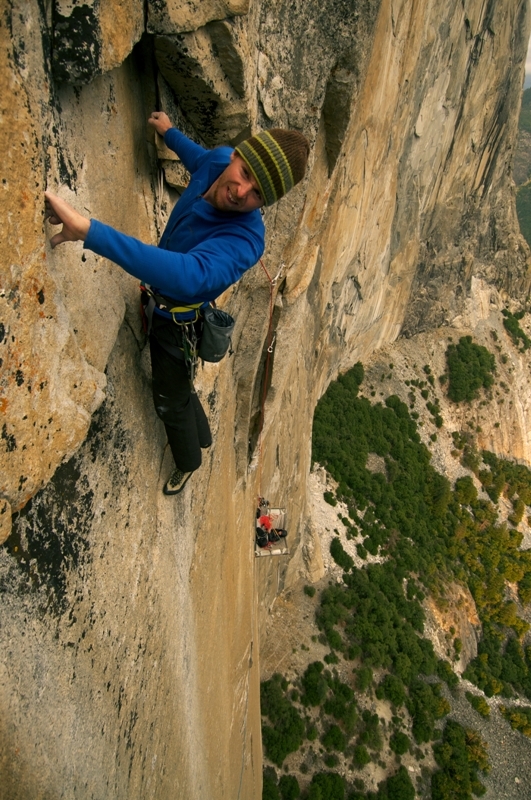 I wiggle the tip of my pinky finger into a small opening in the crack, and step high onto a small edge. Ouch! Maybe if I focus harder on the moves I will forget the pain. I pull onto the rock again, climb a few feet, then surrender. Such a long way to go, I think. I switch off my headlamp and suddenly vastness of space becomes apparent. El Cap shimmers below a sky of vivid stars, while my partner Kevin, 200 feet above me, grunts like a freight train. We are working the pitches separately on self-belay so that we can be more efficient. The beam of his headlamp swings back and forth and a calm darkness surrounds us. There is not even a breath of wind.

Editor's note: Patagonia ambassador Tommy Caldwell and his partner Kevin Jorgeson are back on the Dawn Wall in Yosemite, trying to free climb the steepest, blankest part of El Capitan — a project first conceived in 2007. Tommy sent us some thoughts before heading up to the portaledge.
Free climbing the Dawn Wall has become a strong obsession. And I have been at it for a long time. Not only in time spent on the wall, but the training as well. I have spent months beating my fingers rhythmically on the campus board. Years on the boulders fingering sharp holds and trying to build callus. I know my nerves must be hardened and my perspective of what I am capable of changed, so long days that leave me weary have become the norm.
Last fall we worked out the moves for two months followed by a weeklong attempt. We pushed through blistering heat, fell dozens of times often zippering gear in the process. In the end, we came up short, both in physical toughness and mental stamina. We bailed as a foot of snow fell around us.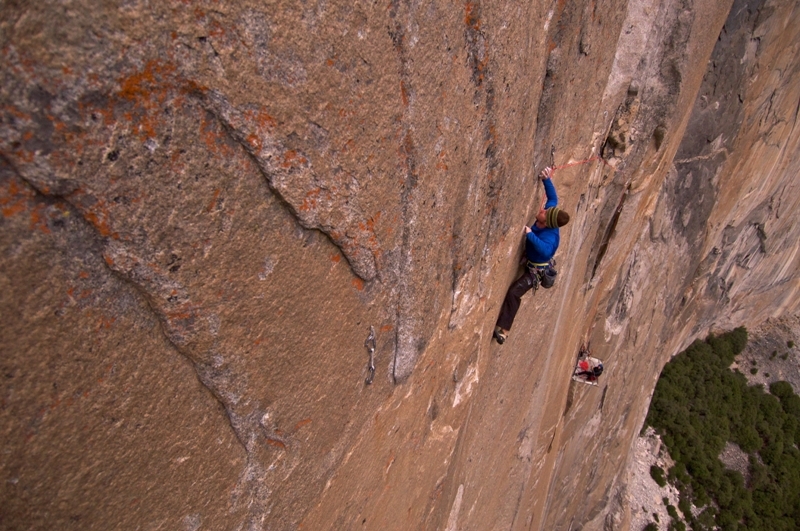 The daunting crux of the climb… thumberclinging. Photo: Becca Caldwell
Somehow, the harder we push, the more obstacles this project throws at us, the more I love it. When I was a teenager I fell into the life of a professional rock climber. I didn't know then what that meant. That it would be this hard. I remember the first moment I realized I was addicted; a sleepless night spent thinking about sequences. Left Hand undercling, rock over right toe, lunge for sharp crimper. I wandered my high school halls nervously grinding my teeth against my braces and crimping doorsills. That's when I knew it was bad. I couldn't wait to get out of that place. So I found a way to graduate six months early and hit the road in my baby blue 1985 Honda hatchback.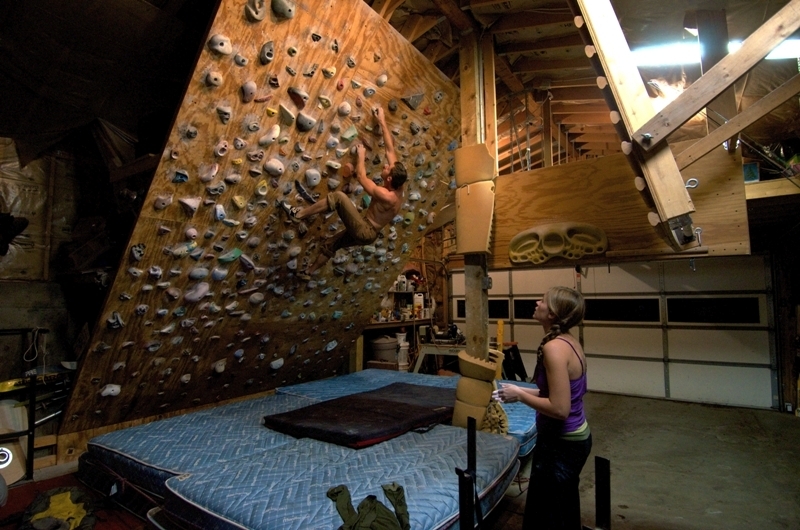 Training with Becca on the woody at my parents house. Photo: Becca Caldwell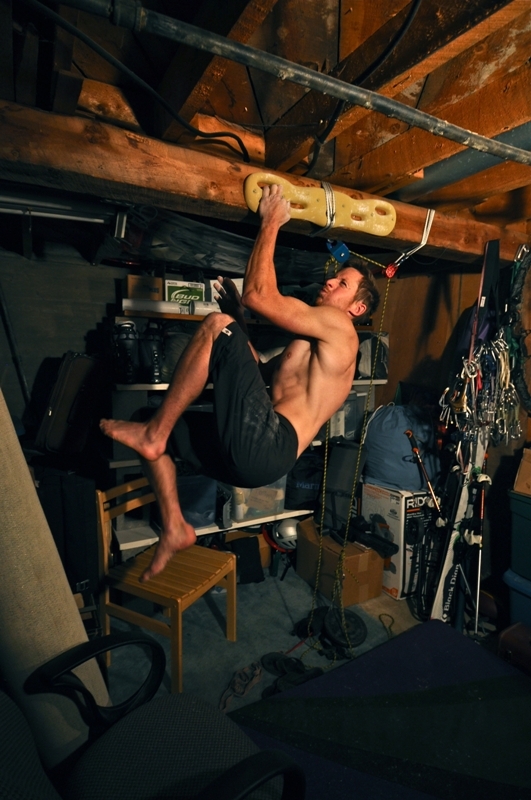 Hang board workout in my creepy basement. When the psyche hits hard I run down here and crank out some pullups. Photo: Becca Caldwell
Now, almost two decades later, I am still at it. The formula is pretty set. Dream up a climbing trip or pick a climbing objective, then direct my life towards that goal… whatever it takes. I have come to depend on the stress and pain. For me, a day without suffering is like a day without sunshine. I stuff my gnarled, fungus infested feet into shoes three sizes too small and climb until my fingers bleed. And if that wasn't enough I have decided I prefer to do this on really big climbs where the pain can stretch on for days, weeks, even months.
Being back on the wall this year I realize that no training can adequately prepare us for the magnitude of this project. We just have to leap in headfirst, embrace the struggle, be fascinated by how it changes us in the process and remember this: The good thing about beating your head against the wall is that it really feels good when you stop.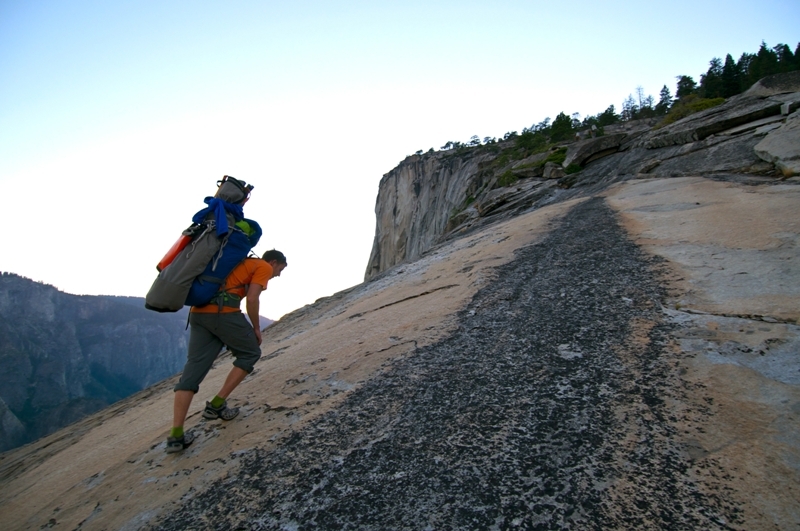 Hiking a load to the top of El Cap. October 2010. Photo: Becca Caldwell