Backyard Adventures: Kelly Cordes Climbs in the Dark
We're pleased to offer today's Backyard Adventure from Patagonia Climbing Ambassador, mountain writer, and senior editor for the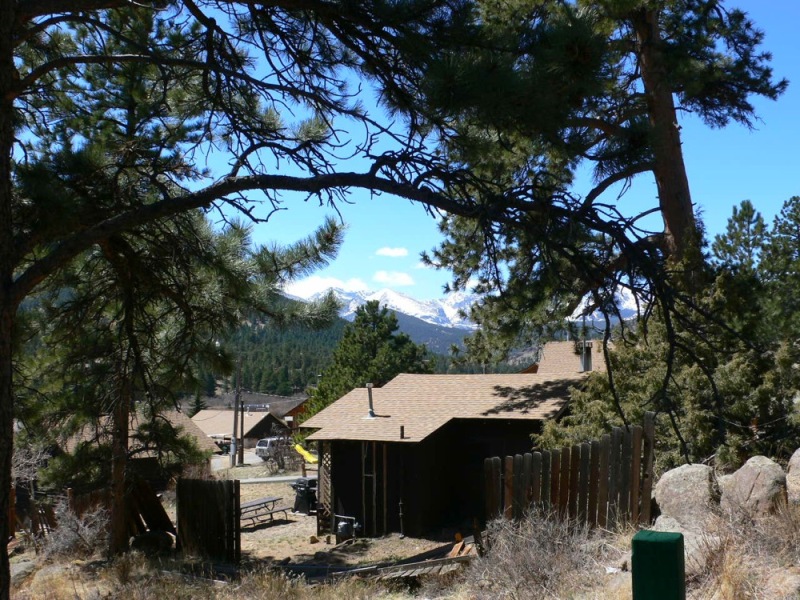 If I could only have one piece per body part category to do the coolest things I want to do all year, it would be the following – I call it my Kit For Life. Here it is:
– Wool 1 T-shirt
– R1 Hoody
– Houdini
– Simple Guide Pants
– Nano Puff (coming, Fall 2009)
A few days after getting Kristo's request, Friday the 13th struck [insert creepy Fear of the Dark sound here]. I'd been frantically working on deadlines, and wasn't doing any of the cool things intended with any of the stuff in my Kit4Life (K4L – the catchy nomenclature arose as a compensatory mechanism).
It was mid-afternoon and I was still in my sweatpants drinking coffee and typing away. Butt-rock blared through the speakers. From the desk in my office-kitchen-living room at my tiny cabin in Estes Park, I can shift my eyes slightly left of my monitor and the window frames Hallett Peak and the Rocky Mountain National Park skyline. On this day, snow-capped peaks glittered between rocky buttresses under perfect skies, pulling my view from the screen with increasing frequency. Holy Diver, you've been down too long in the midnight sea, ohhh what's becoming of meeeeee…
[The enviable view from Casa de Cordes. Photo: Kelly Cordes]
Confession time: I LOVE 80s metal. Some of the love spills into the early 90s, but let's not nitpick. Metal ain't about nitpicking, it's about kickin' ass and takin' names. I'd especially gotten on a Dio and Iron Maiden kick, and at 4:29 p.m. my computer's "Metalface mix" blasted: Gotta get awaaaay Holy Diver yeah, got shiny diamonds like the eyes of a cat in the black and blue, something is coming for youuu – look out!
At 4:30 I started packing. In went the K4L, plus Velocity Tights for a lower-body baselayer.
Dio blasted from my car stereo and I bellowed along, punctuating with the devil horns, my metalface and the involuntary fist clench. I can't stop with the fist thing – arm arcs out in front at head-level, then rotates inward toward the face as the hand comes down and clenches into a fist. Yeahhh. We're off to the witch, we may nevernevernever come home…
On the fifteen-minute drive I became Ronnie James Dio himself, a living legend of metal art. I envisioned myself strutting on stage – skin-tight leather pants and a ripped-up black concert T-shirt, rockin' the mullet, of course – flashing my metalface and kickin' ass, announcing our arrival: "Hello Cleveland! Are you ready to roooocccccck?!" Ride the tiger, you can see his stripes but you know he's clean, oh don't you see what I mean… Gotta get away, get awaaaay…
At 5:11 I skinned away from the Longs Peak trailhead, heading for an easy snow and mixed gully rising out of the Chasm Lake Cirque on the south face of Mt. Lady Washington, immediately across from the Diamond. My goal: top out without needing my headlamp. The deep lyrics of Dio's "Holy Diver" and Iron Maiden's "Fear of the Dark" blasted on continuous loop through my headphones. FEAR … OF … THE … DAAAARK… I am a man who walks alone, and when I'm walking a dark road, at night or strolling through the park…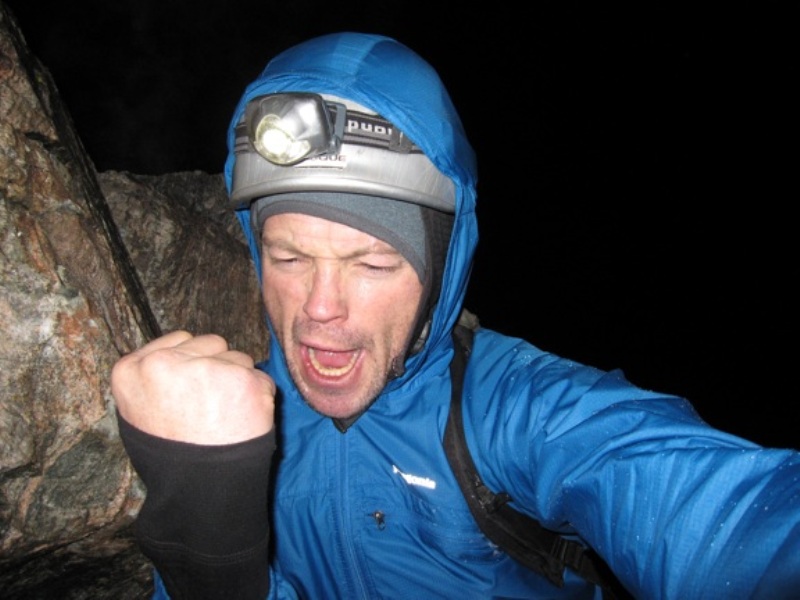 Midway up, between metalfaces and the occasional mid-skin fist clench, I was racing the sunset and noticed I was going as hard as I could while still laughing, singing and smiling. I think it's physically impossible to go at 90% of your max heart rate inside and still smile. Not a breath of wind swept the Park, quite possibly for the first time in RMNP winter history. Occasionally I stopped to catch my breath and look around, glowing into my surroundings. Unbelievable. But… When the light begins to change, I sometimes feel a little strange, a little anxious…when it's dark… Fear of the dark, fear of the dark…
Late afternoon light graced the landscape, deep snow glimmered in the trees where rays from the sun snuck through the gaps, and I ditched my skis at treeline, where the constant west wind – except for that particular Friday the 13th – scours the landscape with such ferocity that only hopscotch-sized patches of snow lay on the trail until it reached the sheltered eastern flanks of Mt. Lady Washington at 12,000 feet. Near the base of the route I ditched my pack and steam exploded off my back like someone had opened a sauna door. Ice now lined the inside of my water bottle, temps mid-20s. The sun dipped low. My hyperventilation abated while I quickly cramponed-up, put on the Houdini, my gloves, and grabbed my tools. T-minus maybe 20-minutes 'til dark. Fear of the daaaaaarrrrk! I thought twice and put on my headlamp – just in case. I turned off the music, but it didn't matter because it still played inside my head. I looked out, smiled, then: Go! Go! Race for the morning, you can hide in the sun 'til you see the light, ohhh we will pray it's all right…
Midway up, a dilemma: try for a contrived win to my contest, or shine some light on the scrappy little mixed steps? Hmmm. Hard to believe, but I'm not as dumb as I look – my headlamp comes on. Fear of the dark, fear of the daaaark, I have a constant fear that something's always near…. It's OK, massive spotlights will flash over the crowd with my "Hello Cleveland" moment up top, and I'm OK with a temporary delay in natural selection. Er, wait, I realize: I'm only halfway up. Right, back at it, get the rhythm going, Gotta get away, get awaaaaaaayaaaayyy, Holy Diver, yeah!
Atop the couloir I stop, remove my crampons and the Nano comes on for the first time all day. K4L, Holy Diver, yeah! My headlamp comes off. The last hues of light glow in the cirque, and for fifteen minutes it's that time of the evening where I can still see the Diamond while, simultaneously, the stars shine so bright I get lost looking at them. My headphones stay in my pocket and I sit there staring. For a long time everything stayed silent, even inside my head. The sky turned pitch dark but I wasn't scared, only mesmerized by the incomprehensible beauty of the starlit sky.
[Cordes treats us to his metalface – no doubt shouting "Ber-ZER-kers!" while doing so. Photo: Kelly Cordes]