Backyard Corridors: Which Wild Animals Did You See in Your Area This Week?
Kim Stroud
/
Nov 16, 2009
/
3 Min Read
/
Activism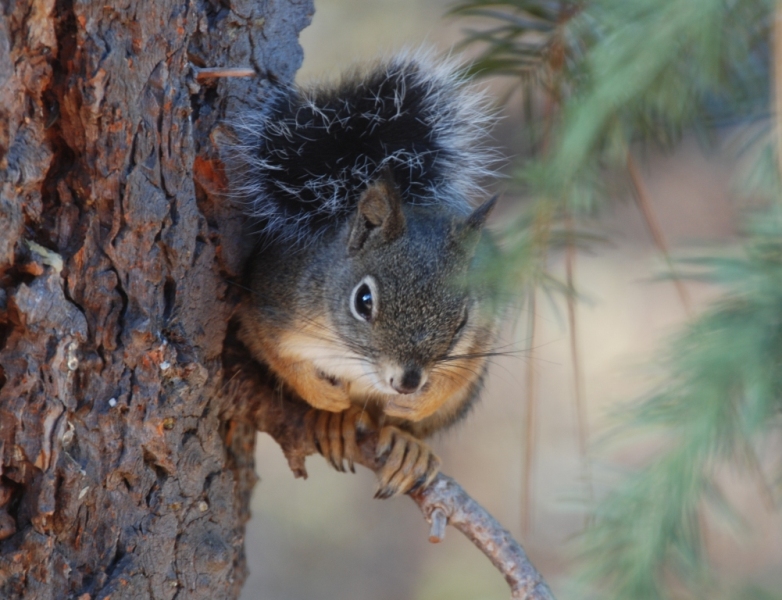 The Backyard Corridors series continues with a new question about the animals roaming in your neck of the woods. Last week you told us about all the animals that live in your area. Now we're curious about the ones that are currently out and about.
Which wild animals did you see in your area this week?
Please share your stories in the comments on our blog, The Cleanest Line, or on Patagonia's Facebook page. We'd love to hear from you. [Photo: Ron Hunter]
Kim Stroud, an employee we've featured before, has a wonderful story to get you inspired to share.
Raptor Notes
By Kim Stroud
Golden eagles come in for rehabilitation to Ojai Raptor Center(ORC) about 2 or 3 times a year. (ORC receives eagles from several facilities in Southern California as we have the largest flight cages for them to recover in.) We infrequently get to release these birds, as the injury that brought them into our care is usually pretty severe. Often, they have been hit by a car, electrocuted or shot.
In 2008, ORC received a call from a Tehachapi facility saying they had picked up a Golden from a ranch, found in the field with an unknown injury. We had recently signed up a new volunteer who is a private pilot, and she flew down to pick up the eagle. When the pilot brought the bird in, we noticed she was a female Golden, at a light weight, so she must have been unsuccessful at hunting. We examined the bird, tested her for lead, and took fecal samples, with no clear reason for her weight loss. A mystery.
Normally, we would have an eagle for rehabilitation for one to two years, as they take a long time to heal and become reconditioned. This girl recovered fairly quickly in about three months.
We try to put a bird back in the location it was picked up from if it is an adult, as they have an established territory and usually a mate. Since we had the information on this bird, we called the rancher that found the bird and made arrangements to take her back home. Our pilot met the rancher, and the folks from the other center, with the eagle for the release back at his ranch. He commented that there had been another eagle hanging around. And then he said, "Oh, by the way, there it is right over there in that tree."
The female was released and the male flew off the tree. They met in the air, circling and dancing with each other in the wind. My pilot called me crying as she watched the flight and reunion of these two majestic birds. As I listened to the story on the phone, I felt my spirit there with the birds and the people witnessing the release.
May we keep wildlife corridors open for all wildlife to be able to survive in our world, together, so that releases like this one are successful and the birds can reproduce, and our children's children can enjoy what we witness.
Kim Stroud became a trained wildlife rehabilitator while working for Patagonia for the last 17 years. (Many of us remember the baby blue jays screaming for food at her desk.) She now runs the Ojai Raptor Center, a 501 c3 non-profit, licensed by the Department of Fish and Game & Federal Fish and Wildlife, as well as continuing to work at Patagonia.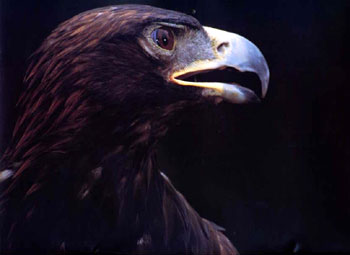 [This is Shytan, a nonreleasable Golden eagle that lives at the ORC (not the one featured in the story). Shytan will never fly again because he severed his right wing on a power line as he was flying after his prey. Photo courtesy of Ojai Raptor Center]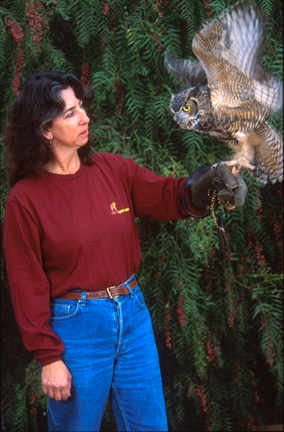 [Kim Stroud. Photo: M. Kim Faust]