Balancing Alternative Energy Development and Freedom to Roam: The SWIP Trip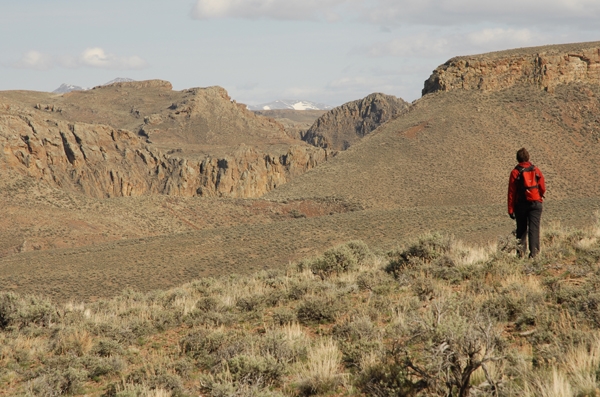 Our Freedom to Roam campaign casts a wide net. It has to. The quest to preserve large tracts of habitat for migratory species creates the opportunity for some unexpected conversations and unlikely collaborations. Nevada Wilderness Project's (NWP) current effort to document – in collaboration with record-holding thru hiker, Adam Bradley – the proposed route of Nevada's "alternative energy backbone," is just such a project. The SWIP trip unites a new approach to energy development, protection for wildlife's migratory corridors, and on-the-ground reporting of habitat conditions to provide critical data for future conservation measures. As Adam makes his way down from Idaho to the Northern Nevada town of Wells, he's crossing land affected by these variables and more. Recent updates from the NWP blog help give a sense of the concerns that arise in just one corner of a state poised to take part in the green energy revolution.
Last year, NWP started a Linking Landscapes for Wildlife Program to educate about the need for habitat connectivity, wildlife migration and smart planning for development of all kinds.

One of the things we'll be talking about on this SWIP Trip is the importance of what we call "cumulative effects." This means that we have to start planning based on the full array of development (road building, powerlines, urban sprawl) as well as loss of habitat from natural phenomena like fire and drought. Too often we look at individual culprits for a loss of habitat . . .
[A sampling of the terrain contained in the Badlands Wilderness Study area, just west of the proposed SWIP route. Photo courtesy Nevada Wilderness Project]
ED NOTE: The previous post, SWIP It Good, can be found here, the next post, SWIP Trip: Speaking Art to Nothing, can be found here.
. . . without taking the time to address the myriad issues that combine to wipeout habitats and stress wildlife populations (for a great example of this, check out this push to blame predators for declining deer populations).

Protecting habitat connectivity means taking the long view, which is why we are documenting all the fantastic lands and wildlife along the SWIP corridor. As this line gets filled out with various renewable energy projects, we want to make sure that important habitats and wildlife corridors are preserved. We've been working with the Western Governor's Association on their Wildlife Corridors Initiative. This initiative seeks to use the best science early in the process to ensure that renewable energy development and wildlife connectivity proceed in the least harmful way.

It is an enormous task in Nevada to build this kind of conservation blueprint, and we have a long way to go to make habitat connectivity a part of the policy planning process. There is some recent good news not far from where the SWIP line runs along Highway 93 in Elko County. The Nevada Department of Wildlife (NDOW) is teaming with the Nevada Department of Transportation (NDOT) to build a wildlife crossing over Highway 93 just north of Wells, NV in Elko County. Thanks to Senator Harry Reid, Stimulus money has contributed to the building of the overpass. Unfortunately, there has been a delay in the construction, and deer mortality is still occurring.

We'll talk more about habitat connectivity, cumulative effects and sage grouse further south. Here's a video clip of the Wells, NV wildlife overpass. Please check it out.