Bike Commuting in Connecticut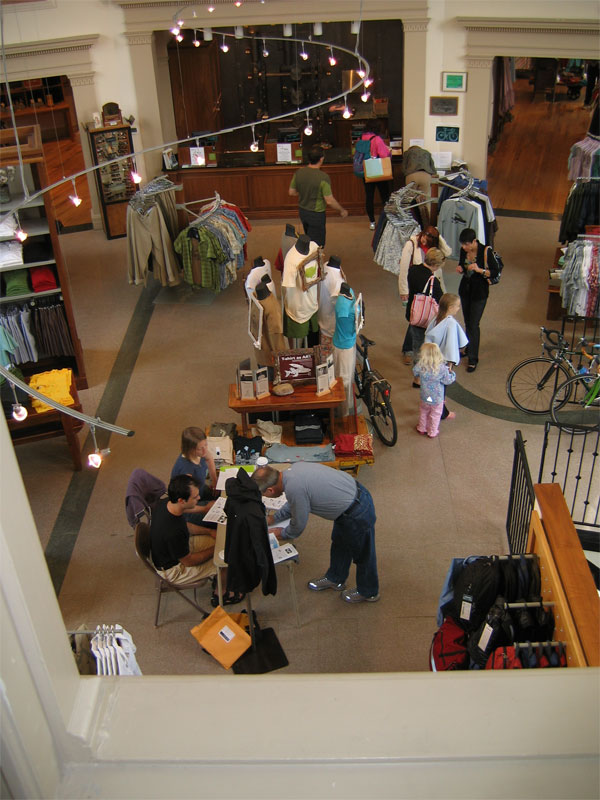 Earlier in the week we mentioned that the Westport store was leading the 2nd Annual Patagonia Retail Bike to Work Challenge. Nate Paulson, manager of Patagonia Westport, sent along this update:
Patagonia Westport is attacking Bike to Work Week like the last hill on a mountain leg of the Tour de France. Yesterday, 9 staff rode, totaling 155 miles — that's 35 pounds of CO2 we eliminated. And mention of bike lanes around here is like a foreign language; between the drivers and the hills, each ride is a challenge.

On Saturday, we hosted three cycling groups in the store to kick off the week: Connecticut Bicycle Coalition, East Coast Greenways Alliance, and Elm City Cycling. The groups were all super-engaged with customers and staff, educating folks about safety, advocacy and a grand vision for cycle corridors. Local TV news even came by to see what was going on, and a segment about Bike to Work Week aired Saturday evening.

A peak inside Patagonia Westport, with local cycling groups tabling in the foreground. Photo: Su Ruh
The weather these last couple days has been pleasant, though Monday's riders faced high winds and light rain early. Overall, we're all having a lot of fun, staying safe, and inspiring each other and the public about the benefits of Cycle Commuting.

On a lighter note, I stopped 15 miles into my ride yesterday for a Clif Bar on a strip of grass that happened to be next to a gas station.The poetic irony of the situation struck me immediately; I was refueling and so were the motorists…only the byproducts of my travel his week aren't accelerating catastrophic climate change. One woman who was filling up her Prius asked where I was riding and I told her about Bike to Work Week and Month. She was stoked about the idea and thanked me for taking environmental concerns seriously. I thanked her in return for choosing a hybrid vehicle and wished her a good day, clipped in, started cranking and settled into my saddle for the rest of the journey.

Over the last two and a half years, I've cycled to work a dozen times maybe and the beauty of Bike to Work Week for me personally is that it serves as a compelling reminder of how easy it is to cycle all or part of my trip and how big the long term impacts can be. Now that I have my route and routine ironed out, I plan to cycle once per week until the weather turns too inclement and daylight hours make bike travel more hazardous.

Thanks for supporting Bike to Work Week in the E-world!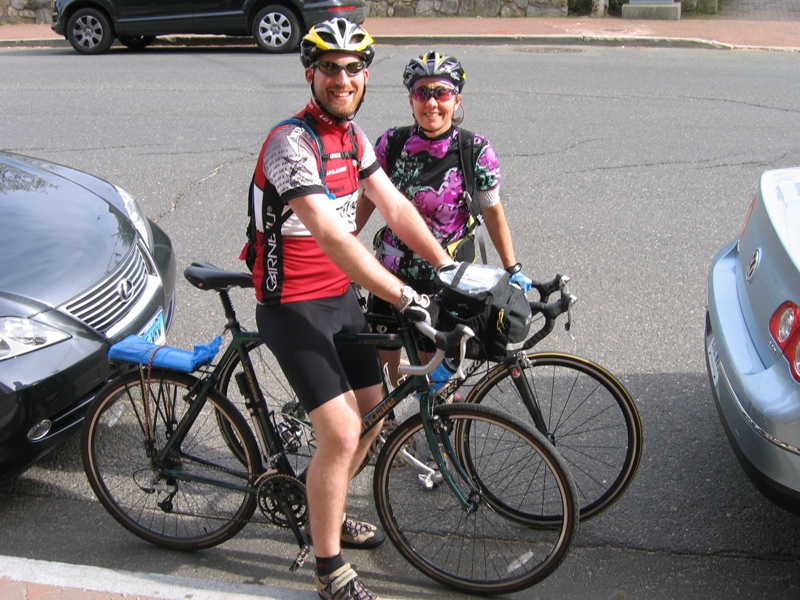 Nate Paulson and Su Ruh (Westport's Shipper) getting ready for the evening commute. Photo: Ben Harrell III