Black Bears, Black Liberation
Dr. Rae Wynn-Grant
/
Feb 10, 2021
/
8 Min Read
/
Activism
A wildlife biologist uncovers an unexpected, intersectional legacy of slavery.
Sharing stories about animals is a nurturing part of countless bedtime routines. Often these stories feature a friendly young bear or a kind and welcoming bear family, allowing the stories to be comforting and compelling to children, easing them into a good night's sleep. Think of Winnie the Pooh, who was one of my favorites as a child, and his forest full of animal friends that have safe adventures and promote kindness and understanding. Or the story of "Goldilocks and the Three Bears," a frequent choice by my 5-year-old daughter, who is amused by how forgiving the bears are of Goldilocks despite her entering their house and eating their food. Before bed we recount this tale and she inevitably asks me if I've ever met the Three Bears, and of course I say yes. When it comes to bedtime, I'm a bear biologist second, a mother first.
Many of these story books began life as folktales, shared orally by those who memorized them, with improvisations and unique details emerging within cultural groups. Although you can find bear-related folktales throughout the United States, there are some far lesser-known but well-documented stories from plantations in South Carolina and coastal Georgia from the 18th and 19th centuries when slavery persisted. Reading these tales today, one thing clearly stands out: They were more than stories. They were tools for parents to protect their children.
Instead of being light-hearted and wholesome, these stories come from a dark, complicated past. Most are suspenseful and haunting, designed to keep kids awake and laboring into the night rather than slipping off to sleep. Enslaved parents knew the consequences of unfinished tasks on the plantation were far more brutal than sleep deprivation.
In these tales, the bear characters frequently appear as an obstacle within the story; the protagonist has to outsmart the bear in order to succeed. In the Gullah oral tradition from the Georgia coast, for example, B'rer (aka Brother) Bear is an aggressor causing problems to the focal character, often B'rer Rabbit. Some historians believe the bear is symbolic of the slave master: a larger and stronger body with weapons like long claws and sharp teeth suggest an imbalanced dominance and control over the other animal characters in the forests. Generally, these folktales end with the bear being overcome by a different animal character—one less powerful, but more virtuous and cunning—getting away from or over on the bear. The bear is infrequently, if ever, the protagonist of the story, and these character's failures (e.g., getting their crops stolen or becoming stuck in a tree) allow the protagonist character to survive, perhaps a sustaining, motivational fantasy.
Until I began research for my upcoming book about the shared history between black bears and humans, I had no idea about these folktales—then I all but disappeared down a rabbit hole. Although I knew Native American history and culture would be a large and important part of detailing the story of black bears in North America, in the back of my mind I wondered whether the history of my own cultural group—African Americans—was also relevant to understanding human-bear coexistence, without knowing how.
As much as African Americans have a long, dynamic and resilient history, our relationship to nature and the outdoors also brings up overwhelming oppression, brutality and injustice. But then it dawned on me: Perhaps the physical sites of oppression could be the link I was looking for.
Following my hunch, I dove into narratives housed in university libraries and African American history museums. That's where I discovered the children's stories. Outside of folktales, most documented interactions between enslaved people and black bears took place while hunting bears for meat or to eradicate them as a "safety" measure to protect the plantation.
Since Southern plantations were often cleared from dense, wildlife-abundant forests, assigning wild-game hunting to the enslaved was both a money-saving tool and a method of clearing wildlife, including large carnivores like bears, from areas valuable for human use. During this time, black bears were seen as a threat, as is still the case in many parts of North America today.
Certain enslaved men were assigned the role of the main hunter for the plantation. They were encouraged to go into the surrounding forests to hunt for game meat that could be prepared for the slave owners in the Main House (e.g., venison, wild boar, wild turkeys), or to hunt for meat that could be used as a supplemental food source for the slave community. Some of these men became acclaimed in their communities as highly skilled bear hunters. Their talents likely developed by necessity, as the consequences of coming home empty handed could include violent punishment by slave masters.
Human and black bear relationships through hunting are fascinating and unique for many reasons. Although many continents have various species of bears, the continent of Africa does not and did not during the era of the Transatlantic Slave Trade. Bears represented an entirely new menace, and enslaved Africans and those born into slavery in North America had to acquire a rapid, local-ecology education likely based on trial and perhaps deadly error while executing forced labor in an entirely new, and very wild, landscape. An enslaved Black man becoming an expert in black-bear behavior, ecology and hunting techniques is an incredible feat and has been an untold story.
Likely, the skills gained by certain enslaved hunters allowed for a level of nutrition, and potentially safety, on Southern plantations that otherwise would not have existed. But beyond the logic of food and protection, the hunting of black bears and other wild animals by enslaved men on the plantation has symbolic and emotional meaning as well. In Bathed in Blood: Hunting and Mastery in the Old South, historian Nicolas Proctor explores the relationships between enslaved people and their masters in the context of hunting wild game.
"A meal that came from someone other than the slaveholder provided a dramatic and easily recognizable symbol of agency and power within the slave community," Proctor writes.
Knowing this, I am once again struck by the possibility that an individual's ability to hunt and kill a black bear, and temporarily release a community's dependence on the slave master for sustenance, could have served as a morale booster that allowed people to see another day. And even though as a scientist, I avoid personifying wildlife, I cannot help but find myself creating a fantasy where black bears were aware of the bondage and suffering of Black people in these spaces and perhaps sacrificed their own lives to aid in these indirect acts of resistance.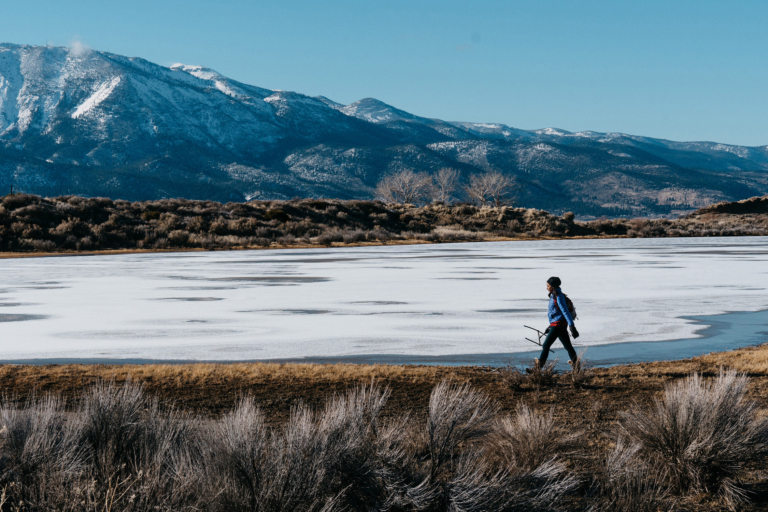 As I dug further into the biographies of prominent black-bear hunters in North American history, I paused when I came across Davy Crockett's name. During the height of the slave trade, Crockett was able to build a brave and heroic public profile partially due to his visibility as a bear hunter in Tennessee. And while most of the literature surrounding his character points to his bear hunting for sport, fur trade and duty, a few documents acknowledge his frequent use of enslaved men to facilitate the successful bear hunts. In fact, many of the most famous bear hunters in American history learned from, were assisted by and often depended on the skilled labor of Black outdoorspeople.
In the literature, these men almost entirely go unnamed, yet their skills are often noted. Some of the literature suggests that the world may never know which person was the most skilled of the bear hunters—Crockett, the famed huntsman, or the unpaid laborer, since Crockett was almost always accompanied by a man enslaved to himself or to an acquaintance who was brought along for the purpose of ensuring a successful hunt.
The most difficult part of my research was uncovering the ways that my beloved black bears may have caused harm to enslaved African Americans who ran through and hid in very wild areas on their escape to freedom. In some scenarios, the threat of a black bear's potential aggression would entirely discourage someone from even attempting an escape. And did those escaping along underground railroads encounter bears? Were black bears present as heroes like Harriet Tubman guided people to freedom, watching them go just as black bears have watched me explore the same forests as a free woman? These thoughts deepened my sense of purpose.
A boy named Elias Thomas is told to have run away from the plantation in order to avoid being punished with a whipping, but after another enslaved member of his community warned him about black bears in the forests he'd run through, Elias turned around and faced the painful consequences that awaited him.
Another narrative details an enslaved man's attempted escape to freedom, where he ran on foot during the night and hid to sleep during the day. One of the days early into his journey, he hid in a bear hole in a hollow tree roughly 10 feet from the ground. Not knowing it was a black bear's den, the man was startled when the animal returned, and he had to fight the bear from inside the hole in order to save himself. Armed with a small knife, he stabbed the bear from behind as it backed into its nook in the tree, causing it to fall to the ground below and break its neck. Although the man continued to hide in the tree for what is described as "a long time," his fears of encountering more bears in his journey caused him to return to the plantation.
Though rare, I did find a few examples where enslaved bear hunters used their experience to help them escape slavery. Charles Bell, for one, "became well acquainted with the topography of the forest around his owner's Georgia plantation through frequent hunting outings," before he successfully escaped slavery. While navigating forests on the way to free northern states, he was able to access protein-rich meals because of his hunting expertise.
I'm still searching for more stories of triumph: where African Americans took to the forests on foot with babies strapped to their backs and hope in their hearts, wading through swamps, traversing along riverbanks, maneuvering past bears and yet successfully—miraculously—crossing into states and territories where African Americans were free. (Slavery was not abolished in northern states until 1804, preventing the ability for African Americans to "escape to freedom" in many areas by heading north.) Although I've struggled to find these stories, I believe in my heart that it was possible many of these men, women and children shared the darkness of these wild spaces with black bears and lived to talk about it because of their own preparedness, courage and perhaps even an unspoken understanding between human and animal.
I may never know who my enslaved ancestors were, but I am confident that their bravery and pioneering in the outdoors has directly led to the brave and pioneering work I do today and drives me to fight for racial justice and equity in these spaces. Their fight did little to improve their own lives but has made a world of a difference for mine. And that alone is enough to keep me going.