Building Patagonia National Park: A Decade-Long Partnership with Patagonia, Inc.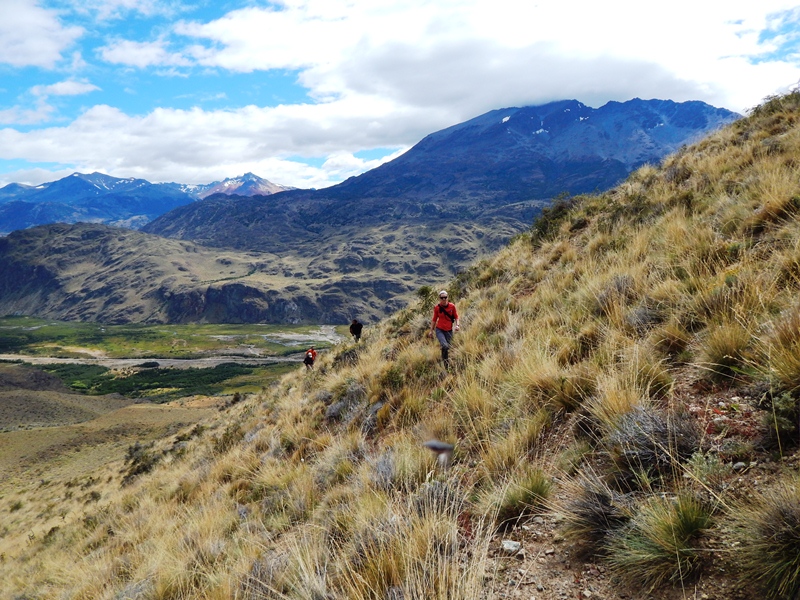 Here in the northeast spring is finally here. Flowers are blossoming, the birds are back, and we can finally peel off our winter layers and soak up a little sun. Still, even a month after we've returned, a part of us is still in Patagonia. In February and March of this year, Alison and I spent three weeks volunteering with Conservacion Patagonica. We both work for Patagonia, Inc., an outdoor clothing company with a commitment to responsible business and creating solutions to the environment crisis. Though we'd never met in person before our trip, our work connection made us feel like old friends once we joined the rest of our volunteer group in the park.
Patagonia, the company, took its name from Patagonia, the place, born from the desire to make clothing and gear suitable for such wild terrain. Patagonia's partnership with Conservacion Patagonica allowed us the opportunity to take that trip-of-a-lifetime. Each year, a select few employees have the chance to take some time away from their work and volunteer with a non-profit environmental organization (up to two months!), secure in the knowledge they have a job to return to after it's all done.
[Above: The soon-to-be Patagonia National Park. Photo: Colin Pile]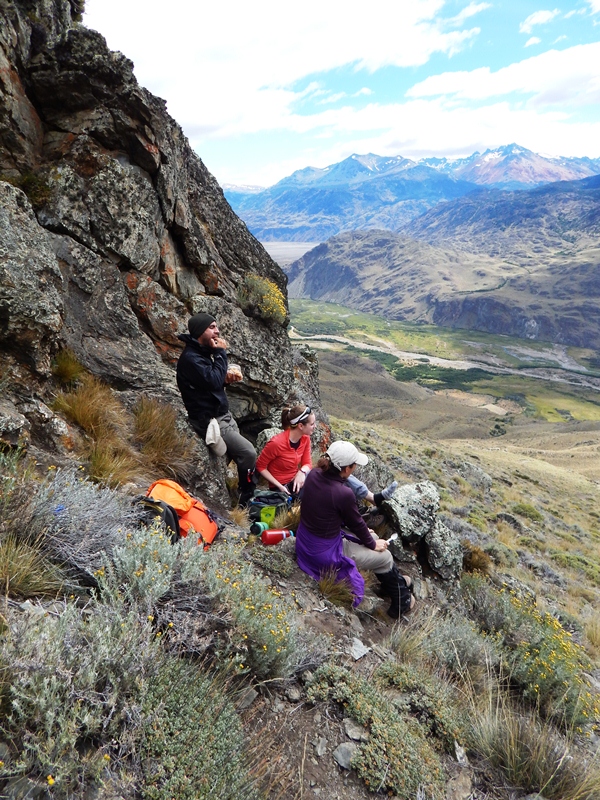 Hiking the guanaco trails above the Chacabuco Valley. Photo: Colin Pile
In the middle of last decade the Estancia Valle Chacabuco, a 173,000 acre former sheep ranch that covered the bulk of the Chacabuco Valley in southern Chile's Aysen region, was purchased by Conservacion Patagonica. The estancia sat between two protected areas, Tamango and Jeinimeini National Reserves, and itself had been identified as a key area for conservation. The land, though, suffered from decades of overgrazing, and fencing from former pasturelands – over 400 miles worth – disrupted the natural landscape. Conservacion Patagonica set about with a multi-pronged conservation approach: restoring habitat, protecting existing biodiversity, and engaging with the local community, all with the long-term goal of linking the three areas to create a Patagonia National Park that would be managed by the Chilean government with a higher level of protection for the entire area.
In 2005, seeing a need for help, Patagonia, Inc. sent its first group of employee volunteers to Chile to lend some manual labor. They pulled fences that blocked the natural movement of the valley's wildlife, and removed non-native plants to restore the ecosystem. Nearly a decade later, Conservacion Patagonica's volunteer program has expanded to five three-week sessions a year, with volunteers traveling from all over the world to contribute their time in the park. Patagonia, the company, still sponsors several employees a year who are willing and able to make the trip.
This year, Patagonia, Inc. volunteers included the two of us – Alison Kelman (Washington D.C.) and Colin Pile (New York, Meatpacking) – as well as Maureen Kent (Salt Lake City), Beth Sullivan (Dillon), Richard Thornton (Austin), Fredric White (New York, Meatpacking), Hannah Whitney (Salt Lake City), and Lisa Kinigadner (Munich).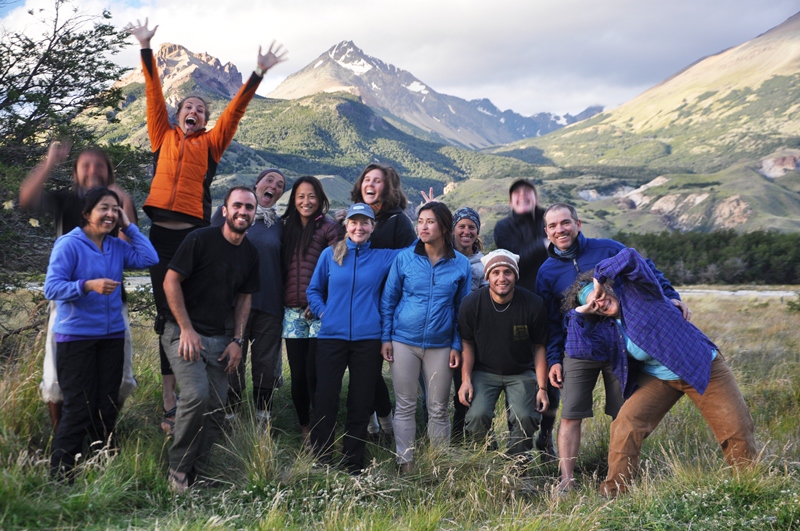 Beth and Maureen's volunteer group celebrate a job well done. Photo: Nico Sala
We were the last group of volunteers to come through the program this year, which had its pros and cons. Pro: Projects at the estancia seemed to be winding down for the season, making for high morale and a lighter workload. Con: We had the last of the provisions allotted for the season, meaning luxuries like apples and granola were bartered like gold, and lentils were all too abundant.
The rest of our volunteer group consisted of group leader Nico, from Buenos Aires, a married couple taking a year off to travel South America, a certified yoga instructor who'd spent the last three months in Bali, and a student from Santiago on her first big outdoor adventure. We spent a couple days getting oriented and touring the park before heading out.
Our first campsite lay at the base of a moraine, which provided 180-degree views of the sun setting across the valley. Within walking distance, the mighty Chacabuco River (approximately 10-feet wide and not too deep this late in the summer) provided some much needed baths after a hot day of cutting Cicuta. The level grassland was also perfect for daily morning yoga sessions with our resident yogi/volunteer Erica Stanulis.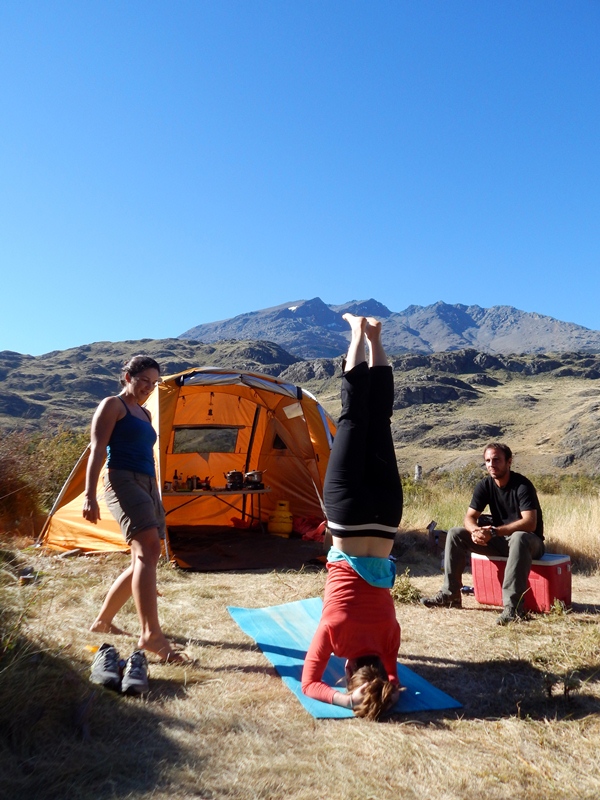 Resident yogi and CP volunteer Erica Stanulis teaches a headstand workshop. Photo: Molly Bogan
Our mission for the first half of our stay was to remove exotic plant species from one section of the park. Thistle, lamb's ear, and Cicuta were our main targets. Their seeds tend to travel along the road, carried by livestock or vehicles. The purple thistle flowers and yellow lamb's ear blooms were easy to spot, but it was the never-ending groves of tall, fibrous Cicuta that nearly broke us. You could spend an hour freeing a cluster of trees, only to round the corner to find another grove 20-feet wide. While the Cicuta felt like an uphill battle, a day and a half of cutting down small pine trees provided some sorely needed measurable progress. Unlike other invasives that traveled to the park on their own, the pines were planted by previous landowners with the intention of harvesting and selling them.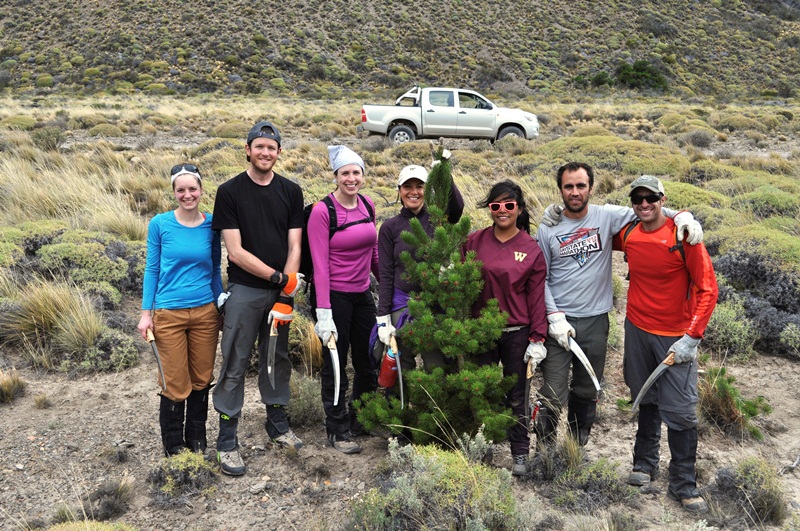 The last of the pine grove. Photo: Alison Kelman
After a couple well-earned rest days at park headquarters (hot meals and dessert every night at the restaurant!), we headed to the other side of the valley to our next backcountry campsite. Our second mission was to remove three kilometers of barbed wire fence, set farther up the mountains on the north side of the park. Here, the winds blew stronger and the sun beat stronger, but we were determined to take down the entire length of fence within the week.
We worked through the end-of-summer heat, winding barbed wire and kicking down posts, while enjoying stunning views of the valley to the tune of a flock of parakeets and the rotund and curious Wet Wet bird ("Wet! Wet!"). By day three, the infamous Patagonia winds picked up, breaking or blowing away three tents. Miraculously, we pushed through a day early, celebrating back at the estancia with some cold beer and a lamb asado.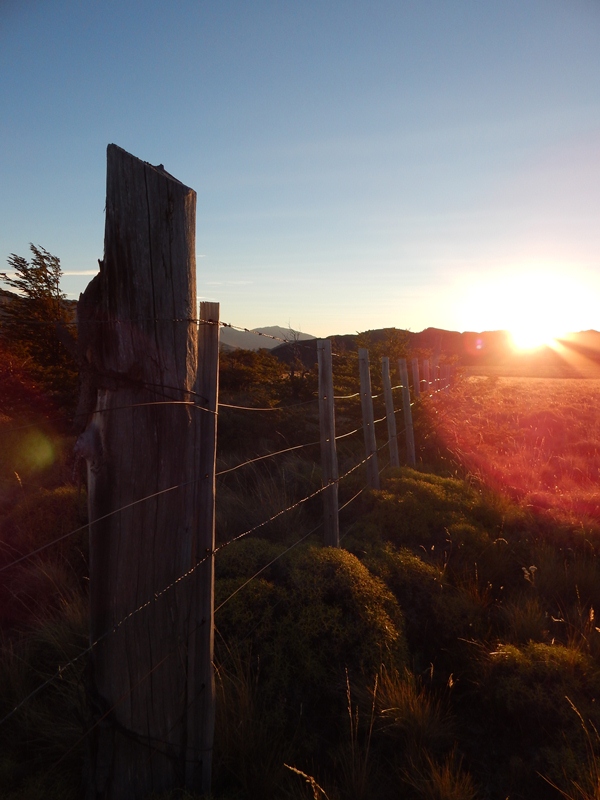 The infamous fence. Photo: Colin Pile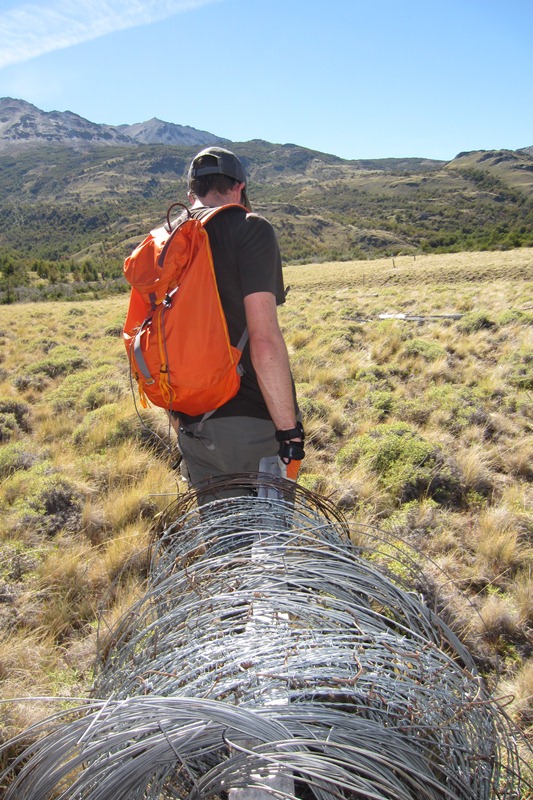 Hauling wire. Photo: Jason Lederer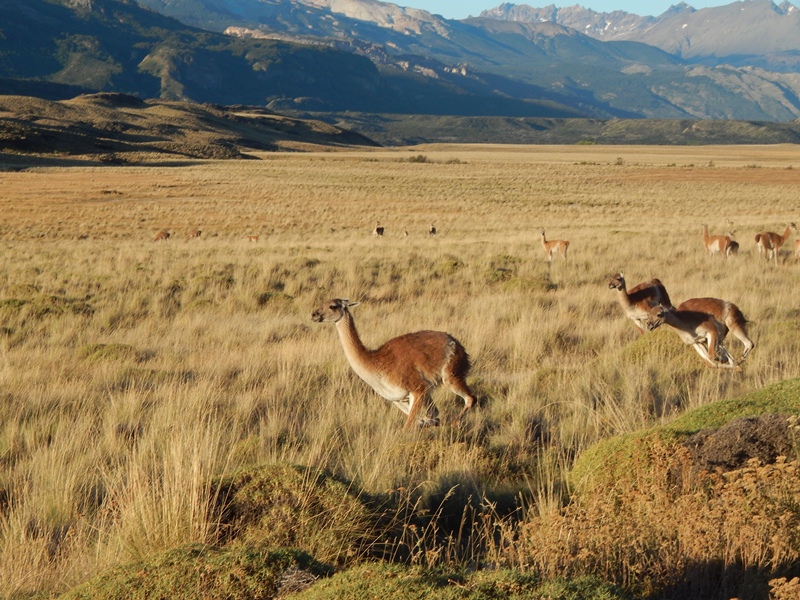 No fences! Photo: Colin Pile
As our small group disbanded after three weeks together in the wild – to head home, or back to school, or with more travels ahead – we had a shared sense of wonder and amazement at having spent this time together in such a unique part of the world. We each came for our own reasons, and left knowing the collective work we had done would last well past our short stay. In telling the story of our volunteer group, we hope to encourage and inspire the next round of park volunteers, visitors and supporters to see this amazing area firsthand for themselves, to find their own adventure, and contribute to its protection in their own way.
Heading to Patagonia? Want to help? The application deadline for 2014-2015 volunteers is right around the corner. Apply before June 1, 2014 at Conservacion Patagonica. Prospective visitors can also learn more about the park.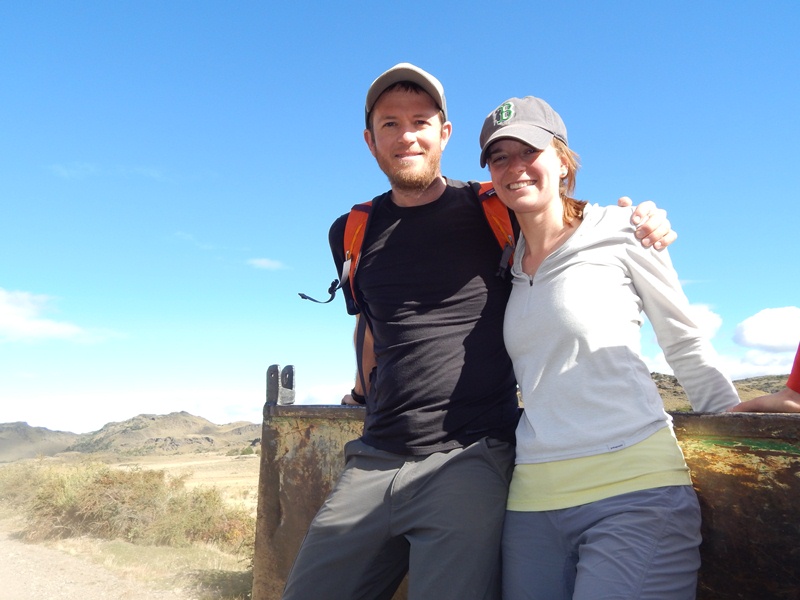 Colin Pile is the store manager at Patagonia's retail store in New York City's Meatpacking District. He also contributed to our 2012 Bike to Work Week wrap-up, Celebrating Bike to Work Week 2012 – Cheddar, Challenge, Cold & Cops.
Alison Kelman is the environmental programs and events coordinator at Patagonia's Washington DC retail store. Check out Alison's previous post, From the Front Lines: 50,000 Join the Biggest Climate Rally in U.S. History.
This story first appeared on the Conservacion Patagonica blog.