Cellist Ben Sollee Ditches the Van and Pedals by Patagonia
Our lives seem to move in fast forward. We run from our homes to our jobs and back barely noticing the scenery, or the people around us. For touring musicians the pace is even faster—they drive 300 miles to a city that they've never seen during the day, load their gear into the venue for the night, and drive off when the show ends to the nearest motel to the highway. Then wake up and do it all again.
For cellist Ben Sollee things were moving too fast. Or he was. The solution? Jump on a bicycle and ride from gig to gig, feeling the asphalt beneath him and the pull of his cello in tow. Sollee has teamed up with drummer Jordon Ellis for the Ditch The Van Tour and the duo stopped by the Patagonia headquarters last week to talk bicycles and share their vision, and music, with all the employees at the Ventura office. Is there a better reason to stay at work past five o'clock than a beer and some live music?
[Video: Ditch the Van Bike Tour – Chapter 2 from marty benson on Vimeo.]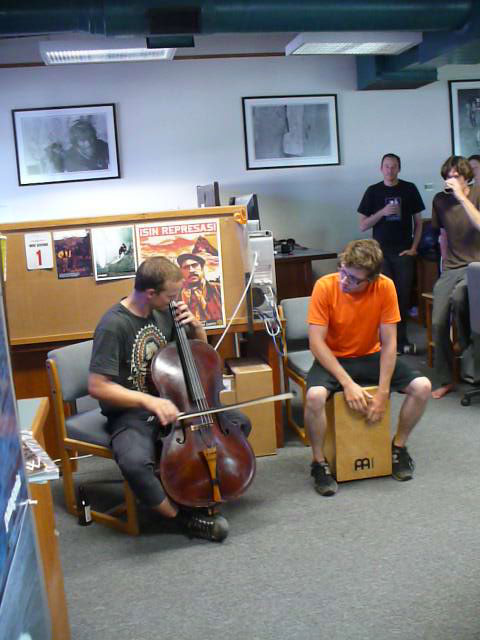 [Ben Sollee on cello and Jordan Ellis on cajon in the Patagonia Marketing Department. Photo: Free]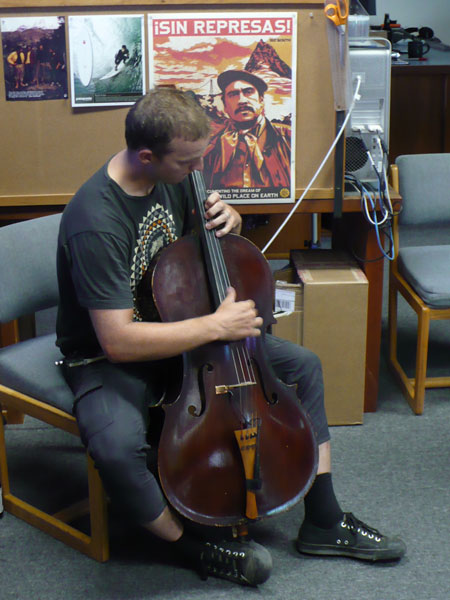 [Less dams, more music. Photo: Free]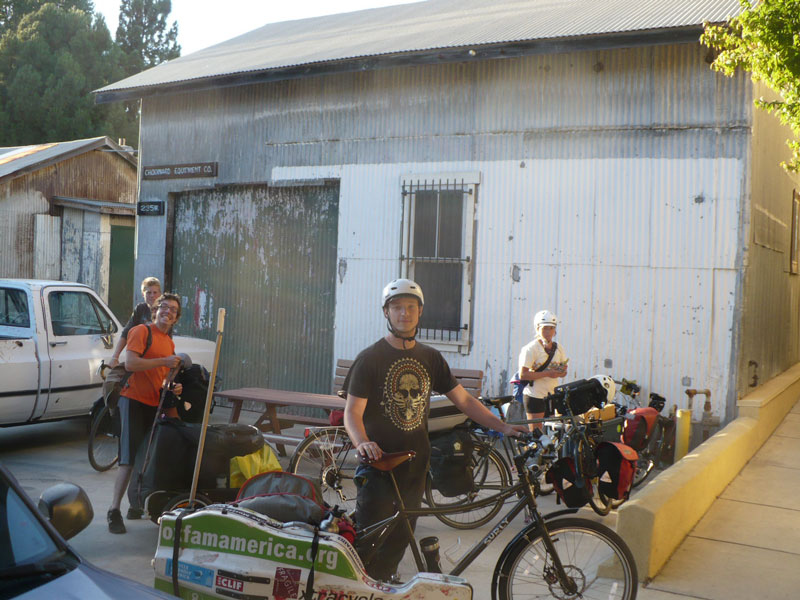 [Ben and his beloved Big Dummy Xtracycle in front of the Tin Shed. Photo: Free]
Sollee and Ellis began the tour in San Diego, followed by shows in Long Beach, Los Angeles and Santa Monica, and arrived at the office after a 60-mile ride up Highway One (past a rapidly filling in South Swell).
"This isn't about going green," Sollee said between songs, "it's about slowing down and connecting more with the communities that we're in."
The Ditch the Van Tour is comprised of four regional tours—one from San Diego to San Francisco, a loop of Colorado, an East Coast loop and culminating in Sollee and Ellis' home state of Kentucky. Over 1,500 miles of cycling in all.
Sollee's music has been described as "genre bending," and "folk R&B." Whatever it is you might call it, it clearly is hard to categorize or fit within the standard musical confines of one genre or the other. It only seems fitting that someone who blazes his own musical trail would also find a new way to get his music to the masses.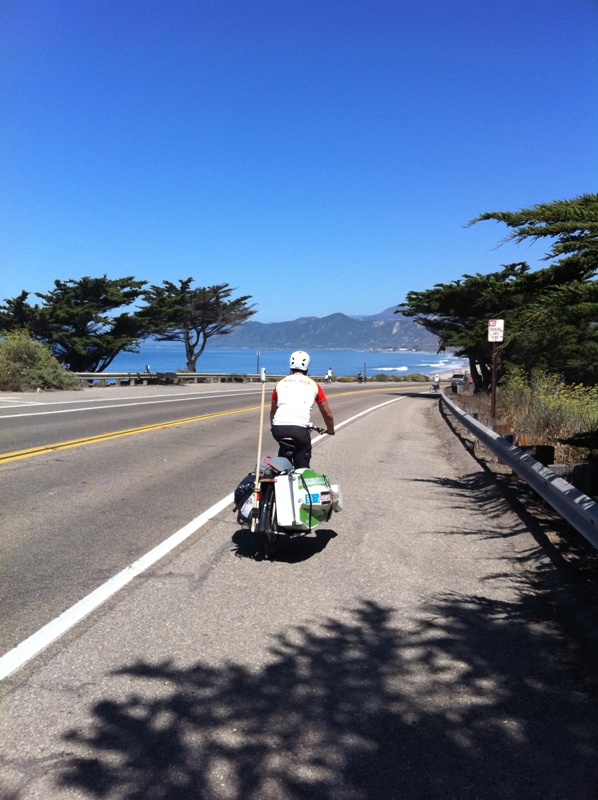 [Leaving Ventura for the next night's gig in Santa Barbara. Photo: Matt Skenazy]
To learn more about the tour and check out tour dates visit ditchthevan.tumblr.com.
–Matt Skenazy
Matt Skenazy is a freelance writer from Encinitas, California. He rode the Southern California leg of the tour with Ben, Jordan, tour manager Katie Benson and videographer Marty Benson (the duo make up Fits Productions). It was a joy having the crew visit our offices in Ventura. Thanks to Ben and Jordan for playing a few tunes for us at the end of our work day (and the end of their long bike ride).
To hear more of Ben's music visit his Facebook Band Page or his MySpace page. Part of the proceeds from his latest release with Daniel Martin Moore, Dear Companion, benefit Appalachian Voices and their fight against mountaintop removal coal mining.
Ben Sollee's Ditch the Van Tour
Sept 04 – Ft. Collins, CO – Tour De Fat
Sept 05 – Denver CO – The Oriental
Sept 08 – Baltimore MD – 2640
Sept 09 – Havre De Grace MD – Biller's Bikes
Sept 10 – Havre De Grace MD – Biller's Bikes
Sept 12 – Philadelphia, PA – Bike Philly
Sept 12 – Philadelphia, PA – Johnny Brenda's
Sept 15 – Doylestown, PA – Puck Live
Sept 16 – Bethlehem, PA – Wild Flower Cafe
Sept 18 – Kempton, PA – Renewable Energy & Sustainable Living Fest
Sept 20 – Lancaster PA – Fair Trade Cafe @ FMU
Sept 21 – York, PA – The Depot
Sept 23 – Frederick, MD – Cafe Nola
Sept 24 – Bethesda, MD – Mansion at Strathmore
Sept 25 – Washington, DC – Edmund Burke School
Oct 07 – Richmond, KY – Eastern Kentucky University
Oct 08 – Frankfort KY – The Grand Theatre