Colin Haley on Chaltén 2015-2016
My previous Patagonia climbing season, climbing last year mostly with Marc-André Leclerc and Alex Honnold, had been my most successful yet. Among a bunch of other activity was the first ascent of the Travesía del Oso Buda, the first repeat and direct variation to El Arca de los Vientos, and a nearly complete, one-day Torre Traverse. It was the most successful climbing trip of my life, and I honestly thought that I would never have a more successful Patagonian climbing season.
One year later, and to my surprise, I can say that this season has been my most successful yet. Of course that is mostly the result of the three big factors (good weather, good conditions, good partner) fortunately coinciding again and again, but I can also say that this year I've felt more psychologically strong than in years past. For whatever reason, something clicked for me this season, and I felt, I think, more confident than I ever have before.
CALIFORNIA ROUTE SOLO, DECEMBER 31
The hardest pitch of the California Route is the last pitch before it joins the Supercanaleta, which fortunately was also the only pitch dry enough to wear rock shoes. For the entire ascent I never did any proper self-belaying, although I did make two little rappels/tension-traverses, and I did quite a bit of daisy-soloing. This worked well only because all the hardest moves occur where there are good cracks.
My lasting feeling from my solo of the California Route is of how relaxed, calm and in control the entire climb and descent felt. I had soloed Chaltén once before, in January 2009 via the Supercanaleta (making me now the second person to have soloed Chaltén twice, joining Dean Potter). The day that I soloed the Supercanaleta remains probably the most physically and psychologically draining day that I have ever experienced. It was fun to return and have a drastically different experience.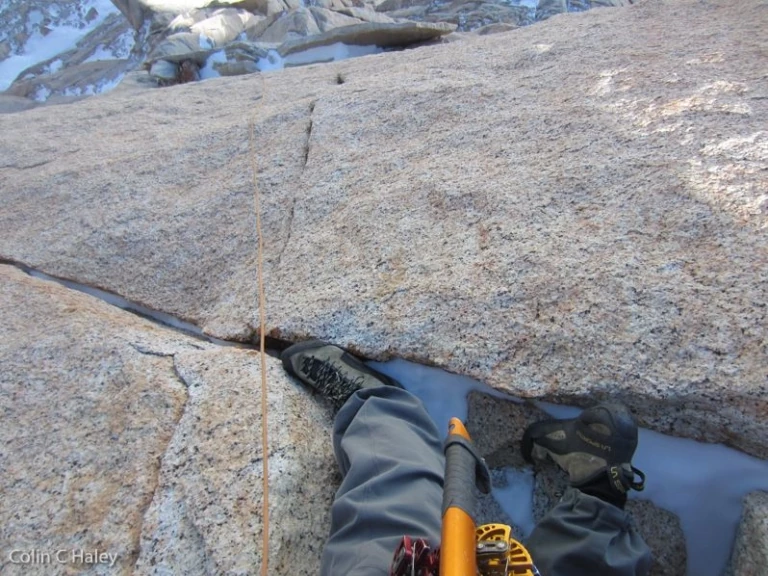 SUPERCANALETA CAR-TO-CAR, JANUARY 6
A few days after my solo of the California Route, and just a couple days before another weather window, my friend Andy Wyatt arrived from Seattle to do some climbing together. Andy has considerably less alpine climbing experience than most of my Patagonia climbing partners, but he's a great friend and a great companion in the mountains. He's also someone with a very high level of general fitness, so I suggested we try an objective for which fitness is a limiting factor, one that Rolo had mentioned to me a few years earlier: climb Chaltén in a day roundtrip from town. I think that in general the original French route and its variations are probably the fastest overall route on Chaltén, but the still snowy conditions made us opt for the Supercanaleta.
We arrived on the summit at 11:14am, about seven and a half hours after crossing the bergschrund. This was my tenth ascent of Chaltén, and Andy's first. Andy was understandably excited to be there and soak up the view, but I reminded him that our goal for the day was a fast ascent, and ushered us off the summit before too long.
The descent went smoothly if not quickly, and before too long we were wringing out our socks and drying our boots in the sun at the western edge of Laguna de los Tres. After a very leisurely 40 minute break, we switched from boots back into the running shoes we had carried over the mountain, and started the hike out to the road. Running in our underwear, with no shirts on, with ice tools and ropes on the outsides of our packs, I think we got plenty of shocked reactions from tourists on the trail. We arrived to the road, at Hosteria El Pilar, at 7:23pm, 21 hours and 8 minutes after starting.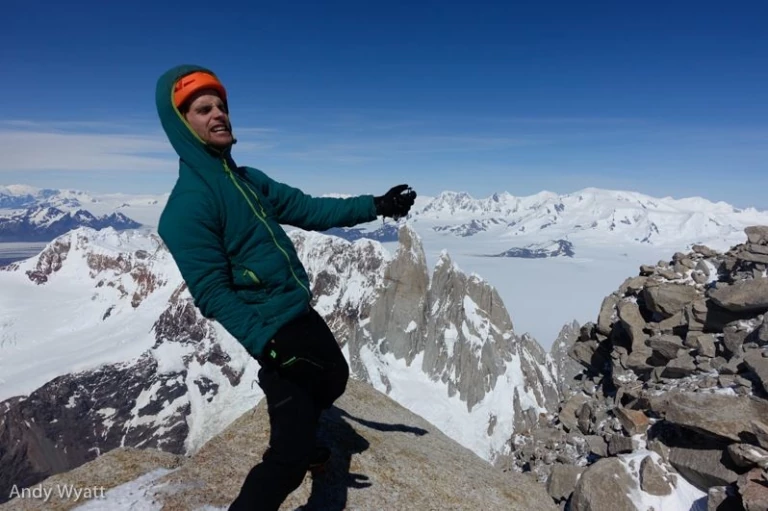 CERRO SOLO, "EL DRAGÓN," JANUARY 8
The north ridge of Cerro Solo is a line I had been eyeing for years, and had nearly gone to attempt a few times. I had always imagined it as being quite moderate, perhaps 5.6 or so. In the end I'm very glad to have finally climbed the route in perfect weather, and with a pair of rock shoes, as the difficulty was much greater than I had anticipated.
It involved about 350 meters of vertical gain from Puff-Puff Pass—a clever name that my brother Booth had come up with, and which I'd promised him I would someday apply to a virgin col—to Cerro Solo's summit, and I'd call the difficulties 5.8R, although I think that grade belies the seriousness and difficulty of the route. That is probably partly because of the loose rock (compared to bomber granite), and partly because on Cerro Solo I was climbing onsight and completely ropeless, but in any event it felt like some of the more bold free-soloing that I've done.

CERRO HUEMUL, JANUARY 10
After Cerro Solo I once again had a paltry single day of rest, and was back out for yet another big day trip on January 10 with Andy. Andy didn't feel much like technical climbing, so we headed to an objective that I knew would be a big adventure despite little technical terrain: Cerro Huemul, a big, bulky mountain, somewhat isolated on the southern end of the Chaltén Massif, that I had wanted to visit for years. The evening before departing, Rolo Garibotti tipped us off that perhaps the true summit had never been reached—exciting! Cerro Huemul held an additional appeal for me in that it's a mountain with a fairly long approach on good trail, and therefore a good objective to do with Andy, who pushes me to go harder on the trail running.
After a lot of effort and nothing more technical than some easy scrambling, we arrived on Cerro Huemul's north summit, and I could immediately understand Rolo's tip that the true summit had perhaps never been reached. Only about ten meters higher than the north summit, the true summit was a steep gendarme, separated from the north summit by a couple hundred meters of traversing on steep, exposed ridge, composed of very crumbly rock. Without rock shoes or any technical equipment, Andy was not interested in attempting the traverse to the true summit, and at first I felt the same way. However, after eyeing it for a few minutes I decided to at least go have a look. The traverse to the true summit was definitely engaging in running shoes, and I took my time on the crumbly rock, but it was fortunately easier than it had looked from the north summit.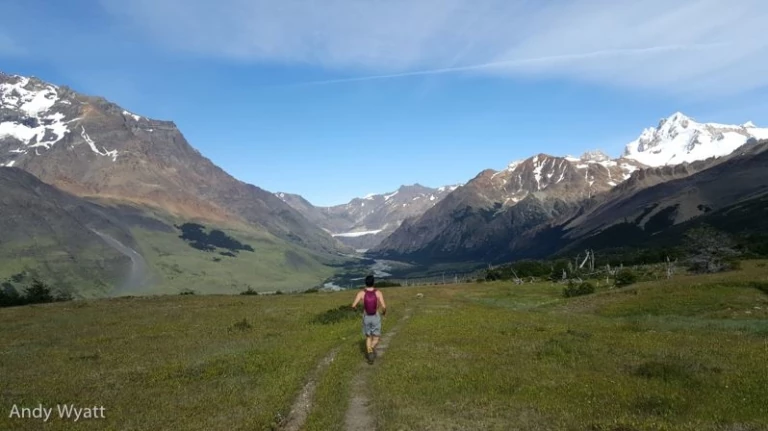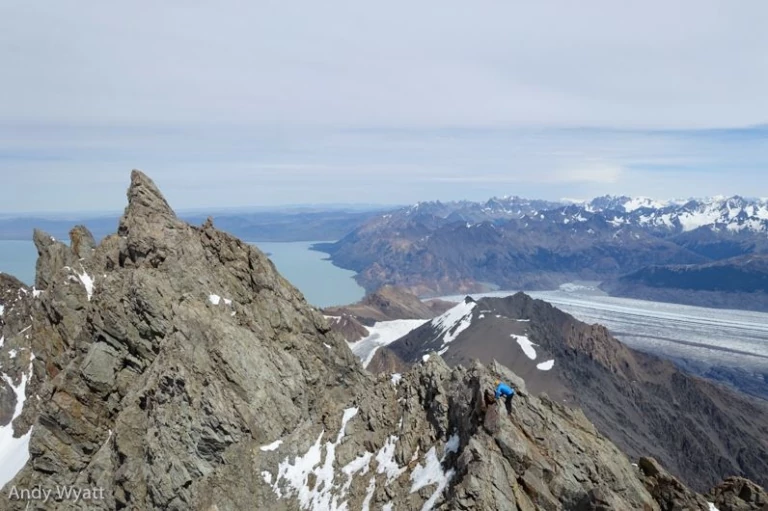 TORRE EGGER AND PUNTA HERRON, SOLO, JANUARY 19
Over the past five years I have spent a lot of time scheming and daydreaming about how to solo Torre Egger. I eventually settled on the "normal" route on Torre Egger: first up Punta Herron via "Spigolo dei Bimbi," and then up the north side of Torre Egger via the "Huber-Schnarf." I knew from the beginning that Torre Egger was technically difficult enough that I would have to do a fair amount of rope-soloing, and with that in mind I spent a bunch of the 2011 northern-hemisphere summer honing my rope-soloing techniques in Squamish.
Across the ramp system on Standhardt's east face I had been carrying both ropes inside my backpack, and while clipping my pack into my first rappel anchor I had a sudden flash of the seriousness of what I was doing: A mistake as simple as dropping my backpack while clipping it to the anchor would mean almost certain death. After quickly and easily ascending the last pitch of Tobogán up to the Col dei Sogni (the col between Aguja Standhardt and Punta Herron), I was once again switching into rock shoes and racking up for my first bout of rope-soloing, at roughly 8:00am.
I reached the summit of Torre Egger at 5:18pm, about sixteen-and-a-half hours after leaving Noruegos. I was drenched, tired and hungry, but in all my years of scheming for this goal I had never imagined pulling it off so quickly and easily. I was truly happy with my performance, but of course didn't linger long. Not only is Torre Egger the most difficult mountain to climb in the Chaltén Massif, but it's also the most difficult to descend.
On the second-to-last rappel down to the Col de la Mentira (my name for the col between Torre Egger and Cerro Torre), I got really unlucky and had the worst stuck rappel-rope scenario that I've ever experienced. On a completely vertical, full 60m rappel, the ropes somehow got very stuck after pulling down only a couple meters of my skinny rappel rope. For a while I was really, really worried that I would be descending the lower east face of Cerro Torre with only 20 meters of 5.5mm rope, an extremely scary thought, and it was honestly one of the most stressful, terrifying situations I've ever experienced. In the process of bouncing on the end of the rappel rope (setting up a pulley system would've been better, but there was no place to set an upward-pull anchor), my rappel rope lost all of the sheath in a whole bunch of large sections. It was nonetheless a humongous relief to finally pull the ropes down, and be able to continue the descent in a relatively normal fashion.
On the 20th I made my way down the loose boulders from Noruegos to Niponino, and then out the long glacier to Laguna Torre. Not until hitting the tourist trail on the south side of Laguna Torre did I finally allow myself to fully relax and feel joy for my accomplishment. I hiked out with the aid of my iPod, as usual, knowing I had just completed one of the best achievements of my life, if not the best.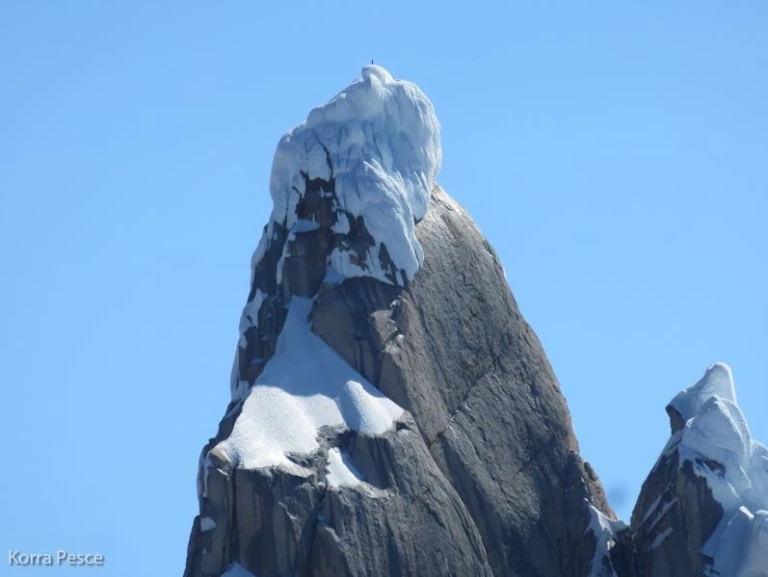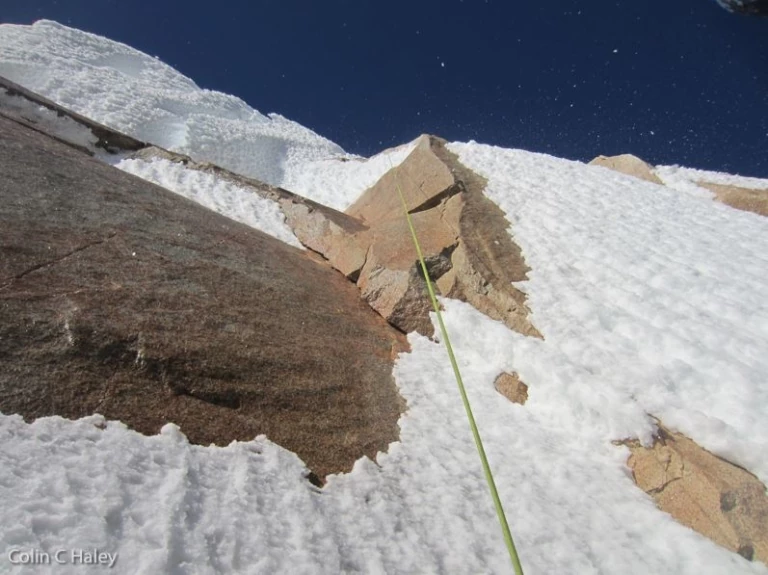 CERRO HUEMUL, "END OF FAITH," JANUARY 26
A couple days after I returned from Torre Egger, Alex Honnold arrived in Chaltén for some climbing together, and a day or two later we headed out for his alpine warm-up. The east ridge of Cerro Huemul is a very grand and obvious feature, clearly visible from all around the town of El Chaltén. It is an objective that I had already pondered for a few years, but became a higher priority after getting to see it up close with Andy.
We named our route "End of Faith," and estimated the vertical gain of technical climbing to be 1,000m, and the technical difficulty to be 5.2X. It is a huge route of moderate climbing on mostly low-quality rock that many modern climbers wouldn't appreciate, and wouldn't be good at. I thought it was a really cool route, with consistently awesome views over Lago Viedma, and one that crusty old-farts like myself might really enjoy repeating. The 1,350 meters of descent from the north summit to Rio Toro was memorable mostly for our discussions, of which the most consistent topics were vegetarianism and religion. It was a fairly chilly day, and thus the crossing of Rio Toro was quite mellow, and then we trotted back to town on the tourist trail.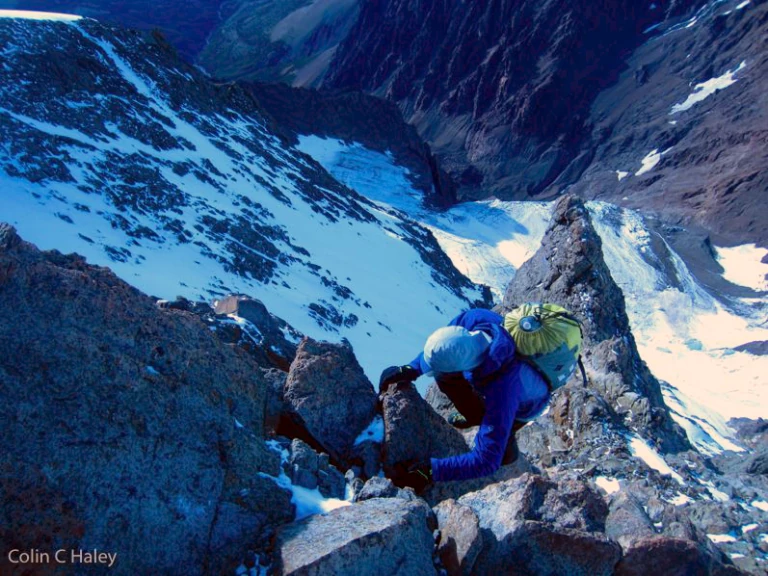 TORRE TRAVERSE IN A DAY, JANUARY 31
For at least nine months before teaming up together in Patagonia this year, Alex and I had only one certain goal for the season: The Torre Traverse in a day. We attempted and nearly succeeded on this awesome objective the year before (Chapter 9 here), and knew quite soon afterwards that we wanted to come back and finish it properly. Alex likened our Torre Traverse to El Cap speed climbing, and I think the analogy makes sense. Not only did we know the terrain very well, but having attempted this exact objective in the same style one year earlier, we could make very specific plans as to our techniques and strategy.
The year before we had very challenging conditions on Directa de la Mentira due to verglas. This time verglas was not an issue, but the very warm temperatures delivered a different problem: water, tons of it. Many of the cracks were gushing torrents, and we were quickly very wet. The water was of course also accompanied by a rain of rime chunks coming off the ice mushrooms above. We had breezed over Standhardt, Herron and Egger in relative calm, and now were getting the full-on experience that the Torres usually deliver. Alex did a predictably amazing job of leading the pitches quickly, taking huge runouts and going monstrous distances between making belays. While not at all the same thing as leading, I'd say that I also did a good job of simul-climbing behind him quickly. Despite relatively warm temperatures, at belays we were freezing cold due to being so wet.
While Alex battled a particularly intense pitch of jugging—including a big pendulum into space in the darkness—I was getting blasted by cold wind above. In still wet clothes I was shaking from the cold, and I eventually untied from the rope and traversed to a nook below the summit mushroom, where I could wait somewhat protected from the wind. I turned off my headlamp to save battery, and just stood there watching the stars, in state that was one part elation, one part extreme fatigue, and one part hypothermia. When I started to see light from Alex's headlamp bouncing off the rime features below, I traversed back to the anchor and tied back into the rope. Alex arrived and we climbed up to the summit, arriving at exactly midnight, 20:40 since leaving the Standhardt Col.
I feel that the Torres Traverse in a day was a beautiful "redpoint" of alpine climbing, and I'd say the most awesome and radical day of climbing I've ever had. Success was hugely dependent on the prior experiences we've accumulated on these mountains, and also hugely dependent on each of our individual skill sets, that are the result of each of us dedicating most of our lives thus far to climbing. Alex and I made a great partnership for this project, a very efficient symbiosis of alpinist and rock climber, as neither he nor I would've had even a chance to climb the Torres Traverse in a day without the other.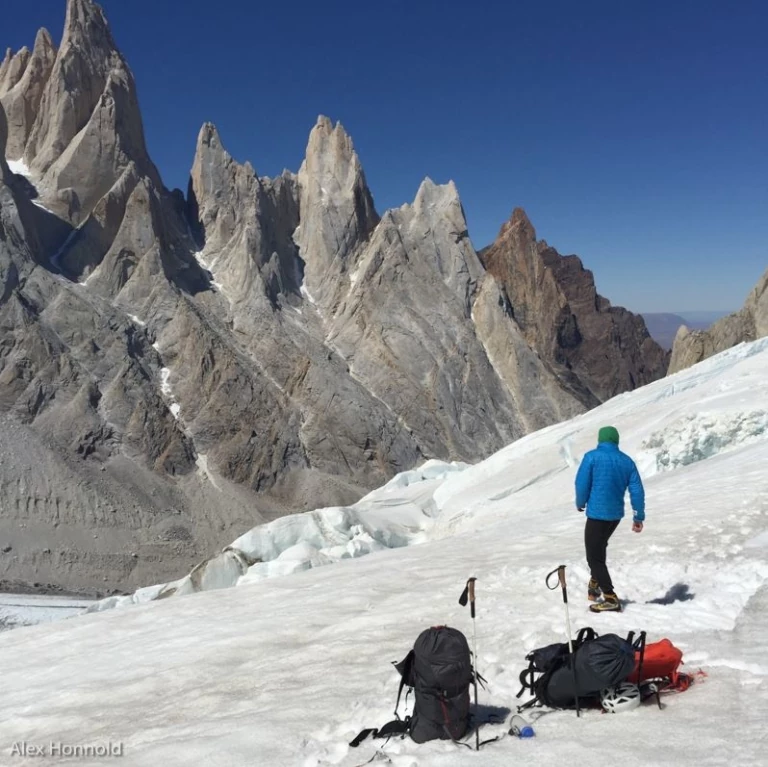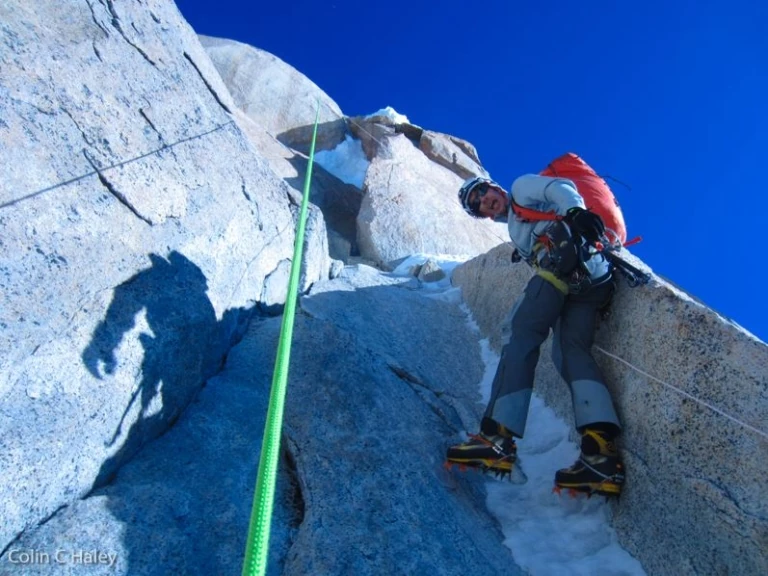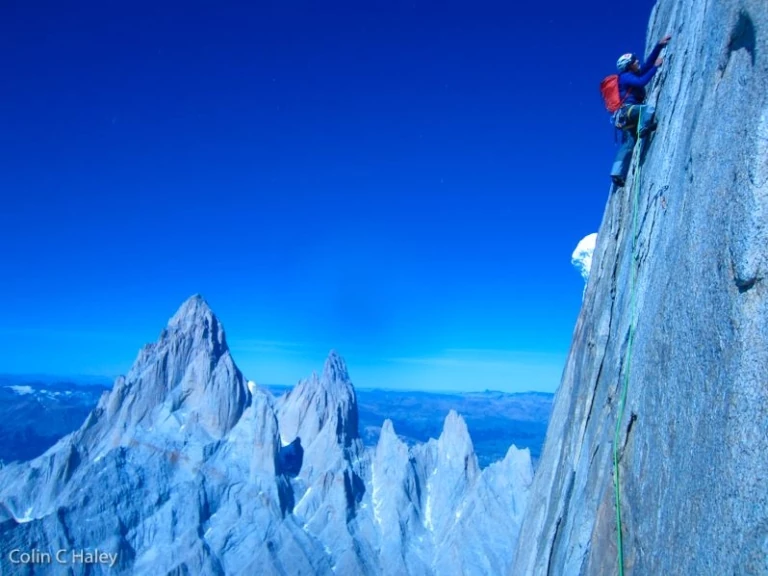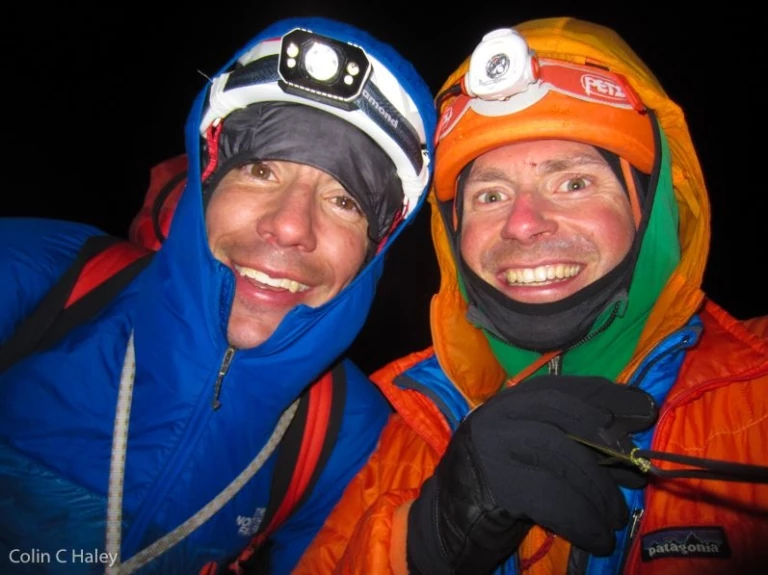 WAVE EFFECT IN A DAY, FEBRUARY 6
In the time leading up to our Patagonia trip, there was only one objective Alex and I had discussed in addition to the Torre Traverse: the Wave Effect. Although not as famous as the Torre Traverse, the Wave Effect is also a badass enchainment of towers. Established in 2011 by Whit Magro, Nate Opp and Josh Wharton, it climbs the southern aspects of Aguja Desmochada, Aguja de la Silla and Chaltén.
The Torre Traverse is about half rock climbing and half crampon climbing, and for that climb Alex and I formed a very equal partnership. The Wave Effect, on the other hand, is a pure rock climb, and there was no doubt that it would be Alex getting us up. Aguja Desmochada and Aguja de la Silla would involve the hardest climbing, so Alex would lead all of both of them. On Chaltén we would ascend the California Route, which is much more moderate and which I knew very well (I had soloed it just barely more than a month earlier), so that would be my lead block. And, of course, in every case we would simul-climb as much as possible.
For Aguja de la Silla we had been debating between climbing "The Vertical Current" as the first ascensionists had, or "Il Bastardo," the un-repeated Huber-Huber-Walder route which takes a proud line up the center of Aguja de la Silla's south face, directly above the col. It was obvious that Il Bastardo would be much more difficult than the Vertical Current, so not surprisingly I was in favor of climbing the Vertical Current and Alex was in favor of climbing Il Bastardo. Alex was leading, so up Il Bastardo we went.
While I was desperately climbing through the first crux, Alex was vision-questing up the sustained wide crack above, taking humongous runouts on sustained, hard climbing, all while battling upwards with the heavier pack. While following this section myself I was very happy to be on a real top-rope, rather than just having a microtraxion in the system. I was completely pumped, on the verge of falling several times, and hyperventilating from the effort of such steep climbing with such a heavy pack.
Our second pitch on Il Bastardo was fortunately not as difficult of climbing as the first, but Alex was determined to go to the top of the mountain, and linked seven pitches on Alex Huber's topo into one. Thus we had microtraxions in play for only a small portion of this block, and the terrain got progressively snowier and icier as we climbed. Alex's lead block up this route, considering the runouts and the heavy pack, was the most badass block of rock climbing I've ever witnessed, and I've never tried as hard in the mountains while on top-rope as I did on the third pitch. Even Alex, the last person in the world normally fazed by hard rock climbing, admitted that he had been [hating] the pitches on Il Bastardo.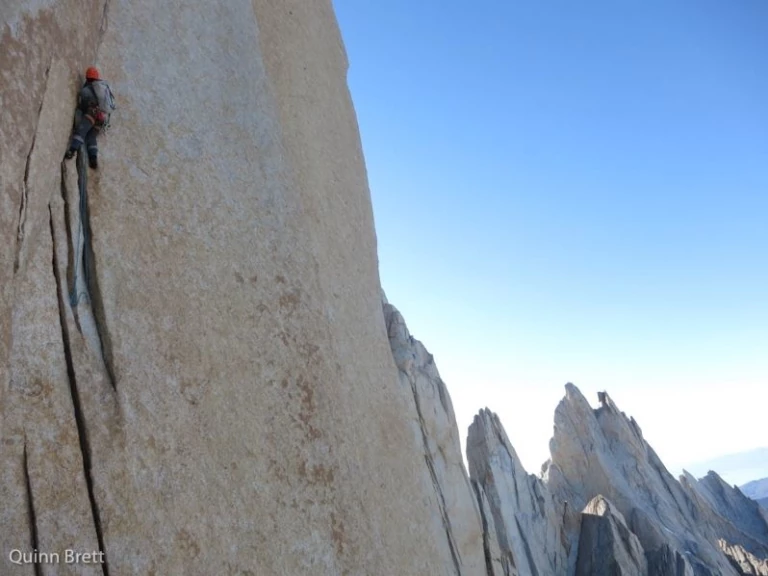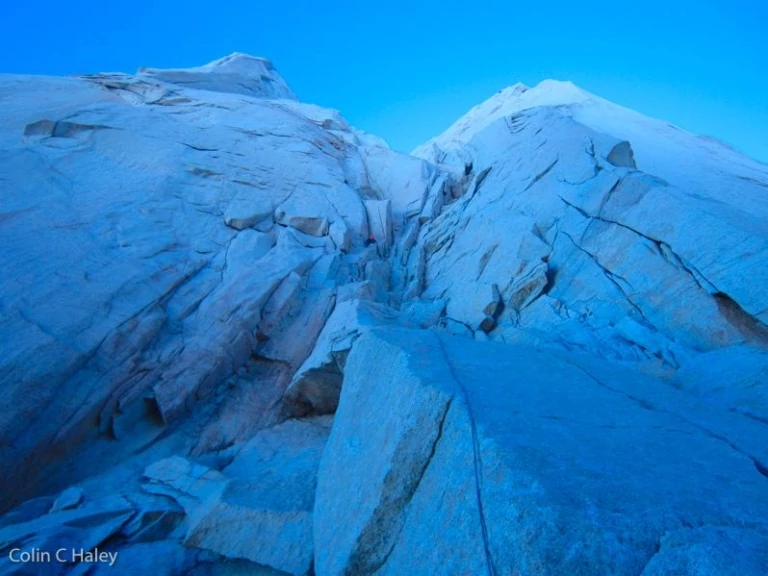 We reached our bivouac 25:17 after we had departed, ate, drank and passed out. It had grown increasingly windy during our descent of the Chaltén-Poincenot gully, and by the time we woke from our nap the gusts were quite strong. We had climbed seven major towers in seven days, and we were wasted. The skin on my hands also hurt more than I've ever experienced before. Down-climbing the long, 4th-class buttress felt like quite a chore, especially with the wind gusts, and Alex kindly took more than his share of the weight. Down in Niponino we ate a few snacks and barely had time to organize and cache our equipment before it started raining. The whole hike out was windy and rainy—the door was closing on what had been a truly incredible week of climbing.
For more detailed reports on all of these ascents, please visit colinhaley.com. It's highly recommend reading.