Wildlife, Climate Change and the American Clean Energy Act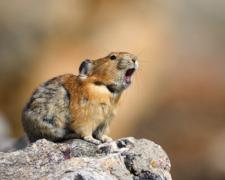 In June, we offered up some information about the Waxman-Markey Climate Change Bill – aka. the American Clean Energy and Security Act, HR 2454. As we stated in that original post, our hope was to make our readers aware of the valuable protections the bill included for wildlife corridors. Our on-going environmental campaign, Freedom to Roam, is focused on exactly that: preserving critical migration corridors so wildlife can have freedom to roam. The ability to migrate freely is key to the survival for much of our country's wildlife.
The original post touched off quite a debate, and gave rise to questions about our support of Waxman-Markey. Our Environmental Editor is here with some responses to those questions and an update about where we are in our fight for Freedom to Roam.
________________________________________________________________
Because Patagonia is a business, and must remain one, weof course care about jobs, the cost of energy and the future, most important,the future as it relates to climate change. We thinkthat 1) the weight of the evidence is that climate change is occurring and willget worse, 2) it will have enormous impacts on fish, wildlife and naturalecosystems, and 3) the policy response to this challenge set forth in the
American Clean Energy and Security Act, HR 2454
, (Waxman-Markey) is encouragingand consistent with
Patagonia'scall for the establishment and protection of migration corridors for animals,the focus of our current environmental campaign:
Freedom to Roam
. That's what our original blog post regarding WaxmanMarkey was all about. (click the link below to keep reading)
[Photo: From The Wilderness Society website, A pika, which is a speciesthreatened by global warming, in the wild. Photo by William C. Gladish]
We have aparticular interest in the provisions in HR 2454 supporting wildlife corridorsand protection of migratory routes for wildlife. Specifically:
The United States is home to many species of wildlifethat depend on wide open spaces for migration. The ability to move unimpededacross the landscape is essential to the conservation of pronghorn, salmon,elk, migratory birds, ocelot, sage grouse, and many other animals. The WesternGovernors' Association, state and federal agencies, conservation groups,sportsmen, ranchers, and many others recognize the importance of protectingthese vital wildlife corridors, especially because of the impending problemscaused by climate change.
HR 2454 passed the House, as many of you know. The Senateis likely to take up a version this fall.
We urge our readers to look at the  Environmental Protection Agency'sanalysis of HR 2454's  cost toconsumers:http://www.epa.gov/climatechange/economics/economicanalyses.html#hr2452
Also, take a look at the Union of Concerned Scientistsfor information on climate change.