What We Carry
Thoughts on packing for the climbing season in Patagonia.
I don't know how Brittany does it. Or, if she's being honest – and I think she is – how she enjoys it. I look at the scattered pile of junk in our El Chalten cabaña, and think back to her post. I'm suspicious. You've got to watch out for those wayward gypsy women, you know.
I hate packing. It stresses me out. I think it through, write it down, rethink, this shirt vs. that, these mountains vs. those, the conditions and ambitions, the projections of what we'll climb. And not climb. For this trip to Argentine Patagonia, I had a goal: be ready ahead of time. Like chilled-out, not stressed, spend time with the lil' woman (a.k.a. special lady friend, SLF) – that sort of ready – and enjoy the week before leaving. Check.
Every year, Patagonia ambassadors, along with climbers from around the world, visit the small town of El Chalten in Argentina. Their goal: climb huge granite peaks in the Patagonia region, some of the most challenging in the world. Follow the updates from our ambassadors and friends at #vidapatagonia.
The climbing gear entails minor tweaking, but important tweaking. If you're without a crucial piece of gear, it can mean no send. Equally important, though: You have to enjoy your non-climbing life. It's essential for sending psyche. No psyche, no ruta, no cumbre.
So I remember thinking, a few weeks back…do I bring four books or five? Child of God, or The Sun Also Rises? Grams become ounces become pounds, and the bags can only weigh fifty. My SLF recently gave me a phenomenal book, The Things They Carried, and after reading half of the first page I was hooked. I couldn't put it down, except to pack (and run, ski and climb – you have to get on the plane tired before international travel, lest you arrive grumpy from
all the sitting). So I carried it.
What about Twizzlers? I've brought Twizzlers with me on nearly every trip I've done in the past twenty years. They're one of my back-home vices, along with margaritas (which they don't have here, but that's all I'm going to say about it because if I pretend I don't notice then maybe it won't bother me). But with that ruthless 2 x 50# bag deal, and the incredibly diverse Patagonian climbing conditions – don't the airlines know I'm going climbing for two months?!? – something had to go. The Twizzlers went. But really, I'll be OK. I told myself that the great, cheap, Argentine red wine is kind of like Twizzlers. Roja. Vino. Twizzlers.
Climbing-wise, I'm pretty dead-set on the Fitz Roy chain, not the Torres (remembering my other goal: Don't Unsend the Torre). So, synthetic or down? It's crazy how the weather can vary in such a compact range, but the Torres get the brunt of wet storms coming off the Ice Cap – I'd want synthetic there (just in case I stray from my goal). OK, Nano. Or should it be DAS? Micro Puff? Nah, should be warm enough while we're there…. Nano Hoody. But Fitz Roy is my big hope, and down is lighter and warmer, and I have this killer Down Sweater prototype, so that goes in, too. Suddenly I think, I've got enough protos in these bags to make things sketchy if they fail, before I stop thinking and just jam stuff in.
OK, back to thinking: I'm mostly looking to rock climb, so minor ice gear for approaches and summits should be enough – Gore-Tex mid-top sneakers and aluminum crampons. Cool, saves some weight. Twizzlers back in.
Ahhh, but if Exocet were in condition, and my cankle were well enough to hike that far? I'd hate to miss it. Better throw-in the steel crampons, just in case. And, well, that means I need serious ice boots. Sweetdearbabyjesus, if I pack for every possibility I'll be worse than Imelda Marcos. I pack real boots and crampons. Which means I need two ice tools, not one. Pair of Cobras. What good is any of this without ice screws? Screws in. Damn, my bags just got heavy. I'm screwed. Extra cams come out. Rationale, boldly spoken from my living room: I don't need more than two sets of cams for anything. More balanced stance: If I can't do it with two sets of cams, maybe I don't deserve it.
I eyeball the Twizzlers and grab my scale.
Flash forward a few weeks and once again I'm reminded that we make do with what we have, with the things we carry, and I have plenty, I think, as I sit, still mentally and physically fried, after climbing Fitz Roy. (Crampon Craig and I climbed the Afanassieff Ridge, a 5,000-vertical-foot rock pile, then endured a descent epic – but that's another story.)
My eyes scan the mess of gear and clothing on our cabaña floor, and then shift to the stack of books. Glad I brought five (The Sun Also Rises, by the way). But I kinda wish I'd packed the Twizzlers. Oh well, a little vino roja will do just fine.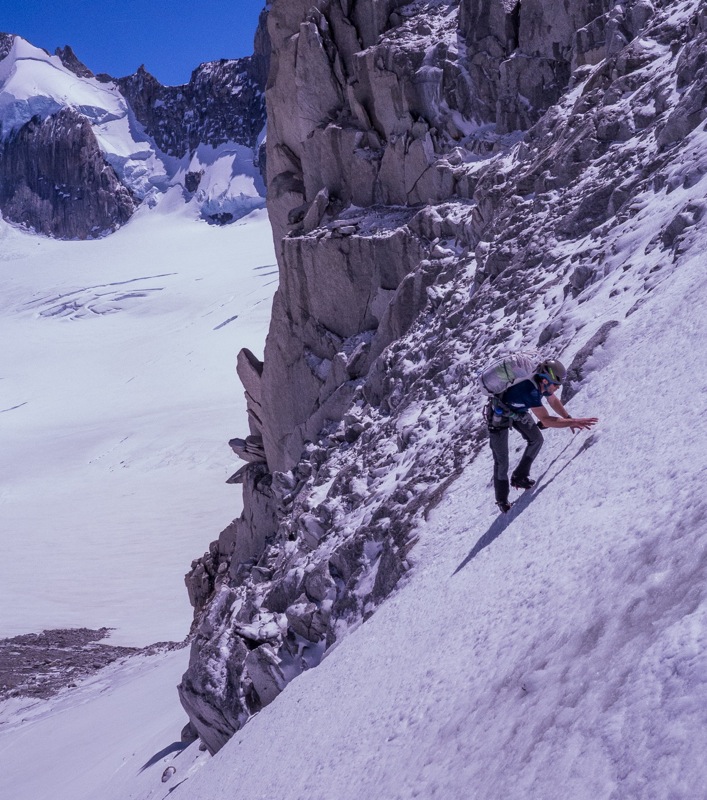 Kelly making do with the wholly not-recommended minimal ice gear tactic (no axe, sneakers, aluminum crampons) on the approach to Fitz Roy. Photo: Craig Scariot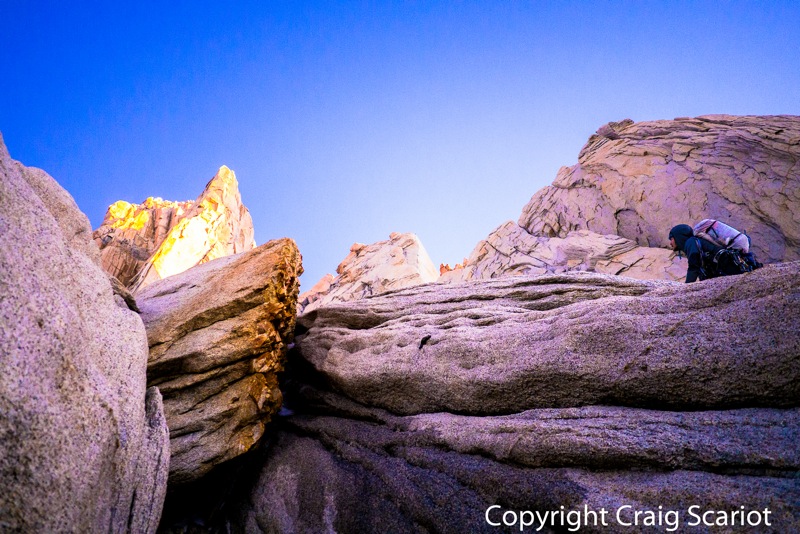 Kelly on the first day of Fitz Roy's Afanassieff route (aka French Northwest Ridge). Photo: Craig Scariot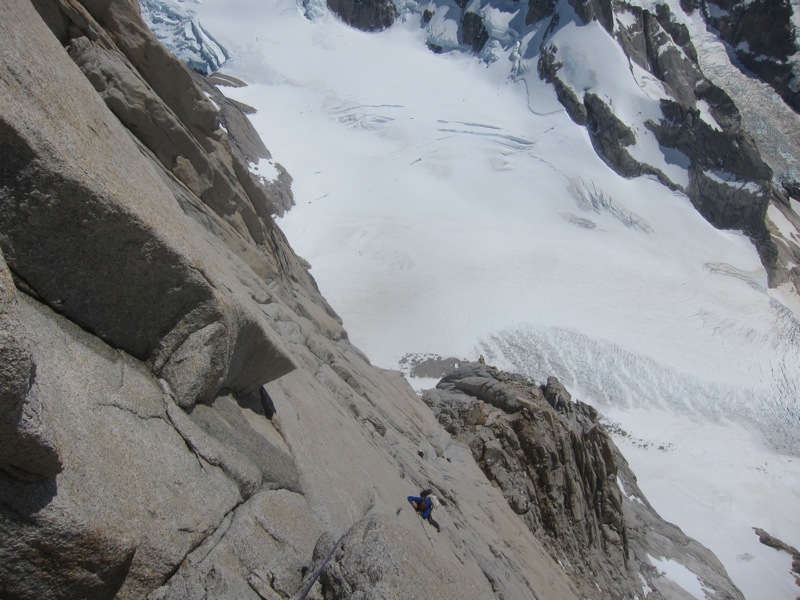 Craig Scariot on the headwall pitches, day two on the Afanassieff. Photo: Kelly Cordes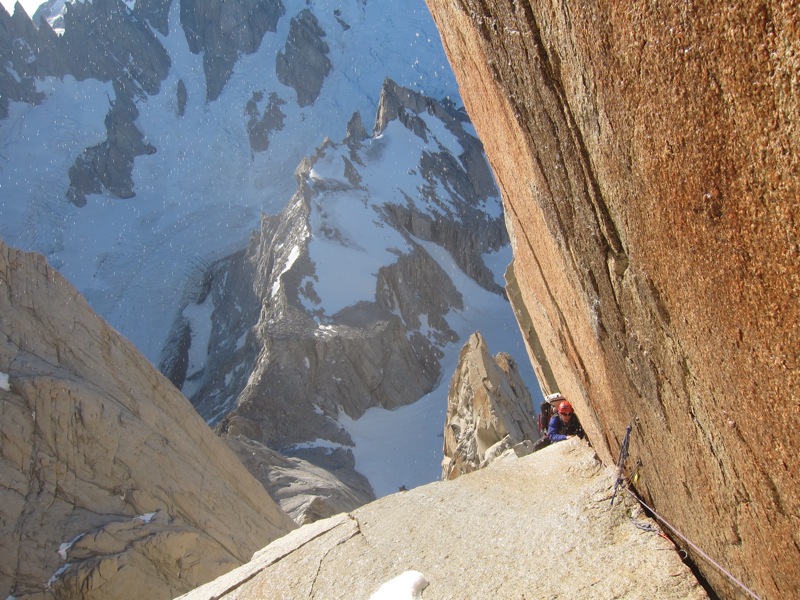 Soaking wet offwidth, or shift right onto the soaking wet slab? Craig Scariot navigates a gushing waterfall pitch late on day two. Photo: Kelly Cordes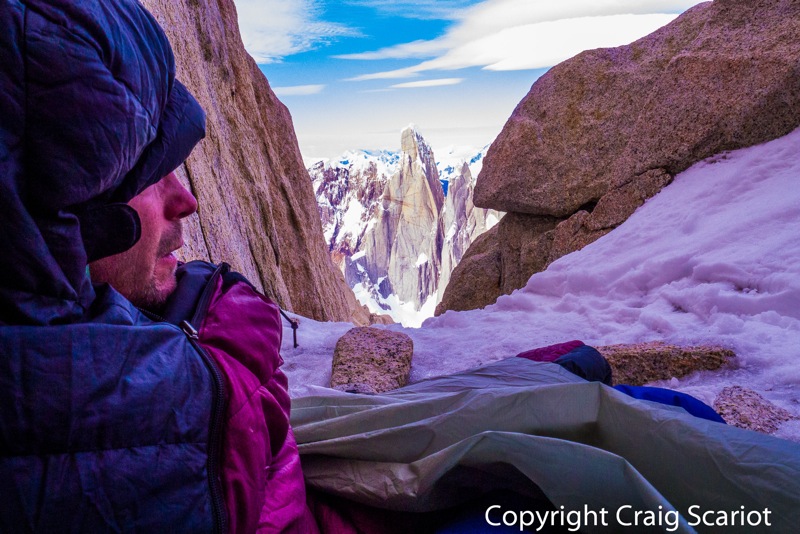 Midway up Fitz Roy, after a few hours of frigid sleep at the second bivy, Kelly tries to motivate. Cerro Torre rises in the background. Photo: Craig Scariot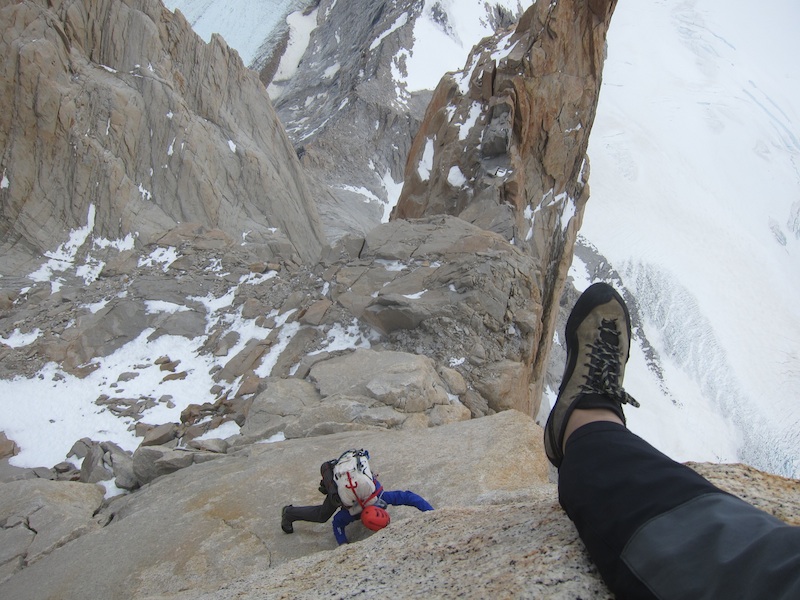 Craig Scariot cruising on the last hard pitch, but still a thousand feet of terrain remains to the summit. Photo: Kelly Cordes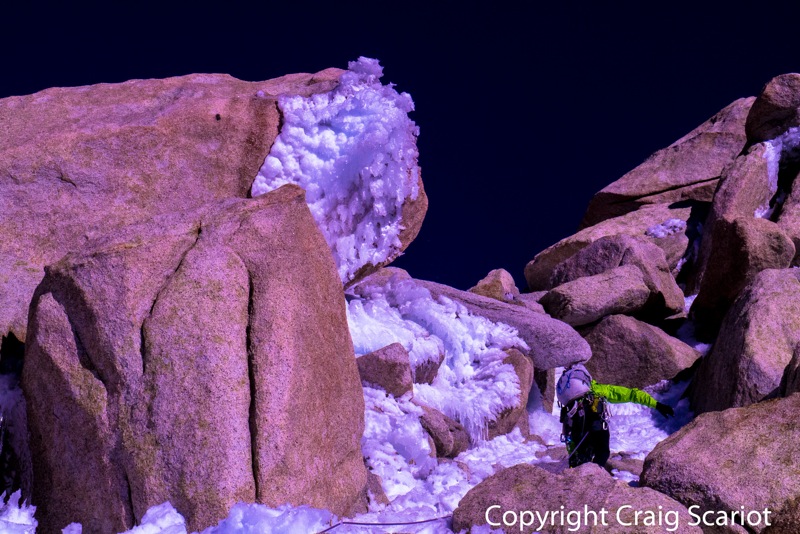 Kelly nears the summit of Fitz Roy. Photo: Craig Scariot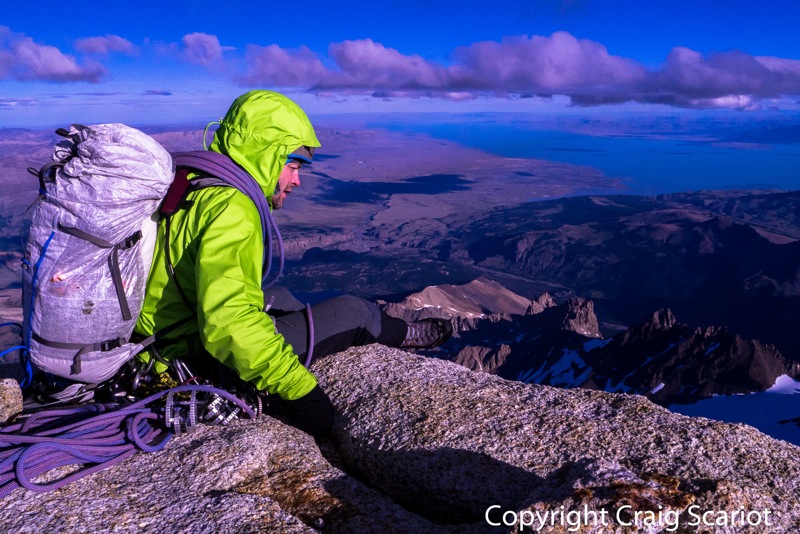 Kelly halfway there – on the summit of Fitz Roy. Photo: Craig Scariot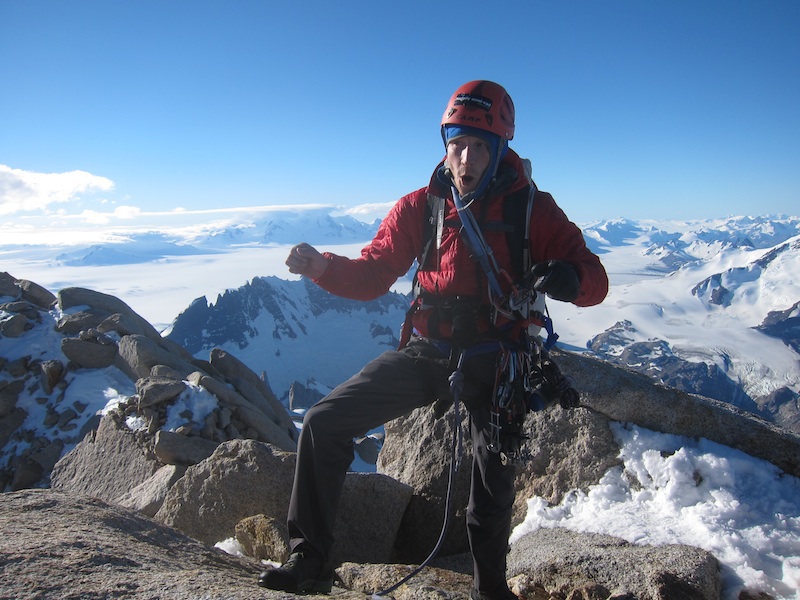 Ruta, cumbre, psyche: Crampon Craig Scariot celebrates the summit of Fitz Roy. Photo: Kelly Cordes
In other ambassador news from Patagonia, Rolando Garibotti reported the following on PATAclimb.com (posted 1/28/13).
Colin Haley and Chad Kellogg completed the first ascent of the Corkscrew Link-Up without using the Compressor Route bolts. The Corkscrew was Colin's third major link-up on Cerro Torre, having done the first integral ascent of Los Tiempos Perdidos in 2007 and the Travesía del Torre in 2008. It is also his third time on the summit of Cerro Torre this season. That is motivation for you!

Also on Cerro Torre, Slovenes Luka Krajnc and Tadej Krišelj, likely still a bit tired from a recent new route on Cerro Fitz Roy, did the third ascent of the Filo Sureste by fair-means, climbing the line followed by Hayden Kennedy and Jason Kruk before moving right to climb the last two pitches via David Lama and Peter Ortner's variation.

Elsewhere in the massif, Japanese climbers Jumbo Yokoyama and Ryo Masumoto did the first free ascent of Judgment Day on the southwest face of Aguja Poincenot. Jumbo describes the lower crux (originally graded 6c/A0) as one of the best pitches he has ever climbed in Patagonia and estimates it is 7a+, possibly 7b. A higher crux (6c/C1) went at 7a. They describe the quality of Judgment Day as "awesome", especially pitches 6, 7, 9, 10, and 13.

Earlier, Josh Huckaby and Mikey Schaefer climbed a new line in the south face of Aguja de l'S. Their "Carne y Papas" climbs an obvious crack system between The Gentlemen's Club and The Wormhole Theory. Schaefer free climbed until two pitches from the ridge, finding difficulties to 7a+ and A0. The name refers to the American expression "meat and potatoes", which describes the basis or fundamental parts of something, in this case describing the character of the climbing, granite cracks and corners.
Thanks to Rolando for the updates. Visit PATAclimb.com for news, weather, route information and more from the Patagonia region.