Closing the Loop – A Report on Patagonia's Common Threads Garment Recycling Program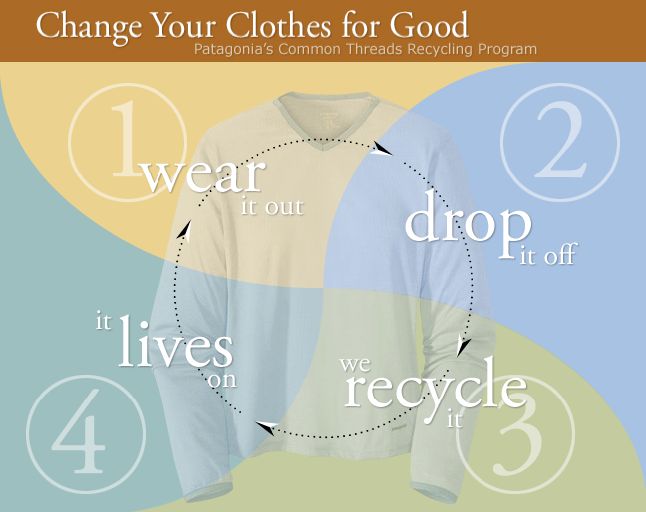 In Fall 2005, when we launched our new line of recyclable Capilene® Performance Base Layer garments, we also announced a five-year goal to make all Patagonia products recyclable through our new Common Threads Garment Recycling Program. This program invites customers to return used-up clothing and delivers the retired garments to a fiber manufacturer that uses those items to make new products. As we near 2010, the five-year window for our goal has shrunk to one and a half years. Will we meet the goal? This report discusses the progress we've made – and steps we have yet to take. 
Closed-Loop Recycling in Context
It is important to remember that Common Threads is a key – but single – component of Patagonia's efforts to reduce our environmental footprint. In addition to garment recycling, we choose — where possible — raw materials (aka "e-Fibers") that cause less environmental harm than do their conventional or non-recycled counterparts. We became a bluesign® brand member to encourage our fabric suppliers to reduce their resource consumption and better manage toxic chemicals. Through our Web mini-site, The Footprint Chronicles, we track, measure and report the environmental impacts of the many products we make. We build everything to high quality standards, with the idea that the best products simply last longer and require less-frequent replacement. We design clothing that retains its appeal for many years, not in-and-out fashion trends that end up abandoned in a closet. Also, we encourage consumers to wear out our products – or give them to someone who can. Even our retail stores will sometimes repatriate clothing donated to the Common Threads Recycling Program to local nonprofits, if the stuff still has wear and life in it. If, after a lifetime of use, a garment can be reused or handed-down no more, we provide Common Threads as a final destination, so that worn, used, and abused products can be recycled and made into new garments.      
The Start of Common Threads Recycling
By 2005, we had been using recycled polyester for years. But we had not yet made a product that – at the end of its useful life – could be collected, chopped up, melted and spun into new (and recycled) polyester yarn to then sew into a new first-quality Capilene garment.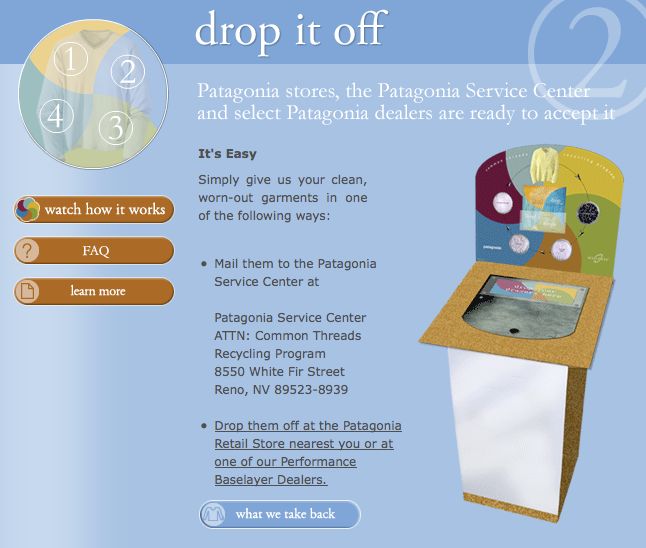 Patagonia set up a reverse-distribution system to collect retired garments from customers and send them to TEIJIN for recycling. We asked customers to drop garments off in our stores or to ship them directly to our Distribution Center in Reno. We knew we needed to make bulk shipments from Reno to Japan to reduce the environmental impact.
To confirm that recycling would cause less environmental harm than transporting used-up garments across the Pacific, we conducted an analysis of the Common Threads process. We calculated the energy and carbon dioxide (CO2) emissions for turning garments into recycled polyester versus using petroleum-derived feedstock to make virgin polyester. We got data from TEIJIN, since they make both virgin and recycled polyester. Then we calculated the impacts of collection and shipping of garments to Japan, and added that to the recycled polyester numbers.
We found that making DMT (dimethyl terephthalate, the precursor material to polyester in TEIJIN's process) from Patagonia Capilene uses 76% less energy and emits 42% less CO2 than making it from petroleum. The CO2 savings jumps to 77% if the garment is incinerated rather than recycled. This confirmed that closed-loop recycling considerably reduces environmental harm.
In spring of 2007, Patagonia expanded the Common Threads Recycling Program. In addition to Capilene garments, we started to accept 100%-cotton T-shirts, Patagonia fleece, as well as Polartec® fleece from any brand. Polartec, Inc., is the industry's best-known fleece-fabric manufacturer. Because fleece is made of polyester, we were able arrange with TEIJIN to recycle these garments as well into new fiber. By taking back other brands' jackets, we hoped to spark some positive competition. If we could take back another brand's jacket and use it as raw material for new garments, why couldn't everyone else?
Cotton recycling is an entirely different story. It may be true that most old cotton T-shirts are reused as dust or oil rags then tossed. But we found out that one of our fabric vendors in Prato, Italy, had been recycling wool for more than a hundred years. Their process for recycling sweaters could easily be adapted for T-shirts. The company,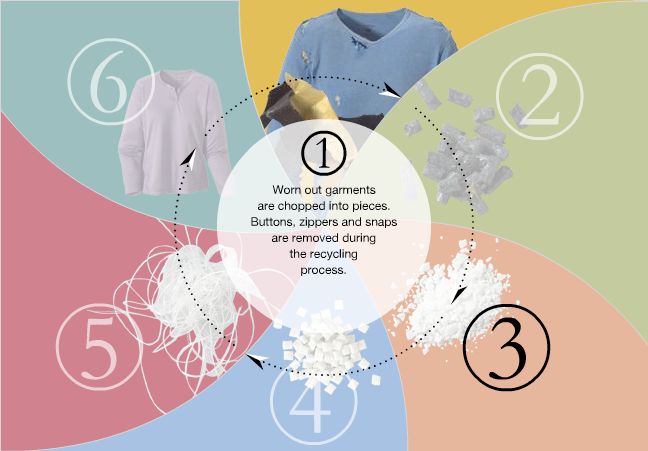 How are garments recycled?
The garment recycling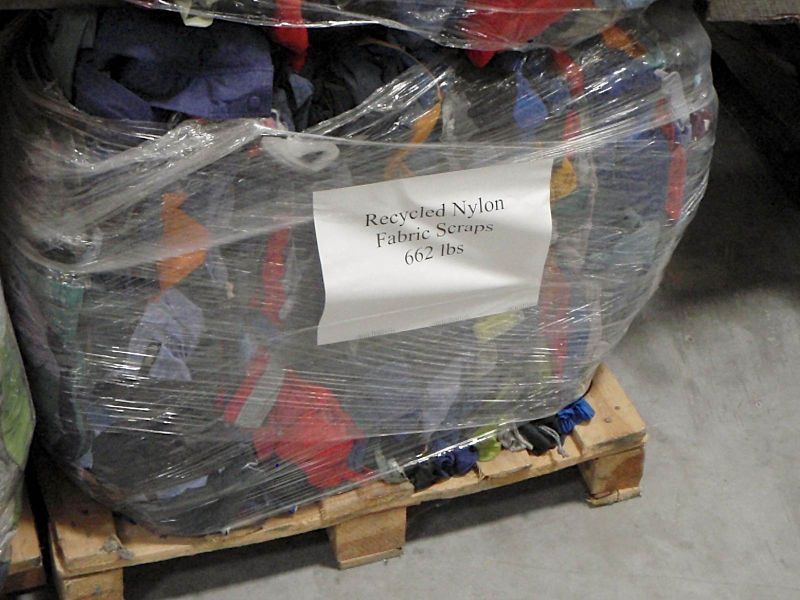 Finally, there is the challenge of cost. It takes a large capital investment to buy the recycling machines and then more money to keep them running. There is also the shipping cost of the old garments, which depends on the distance, the mode of transport, and the cost of fuel. A recent shipment to TEIJIN cost about $1.50 per kilogram, and the processing cost was another $0.50 per kilogram. In addition, buying the recycled fiber usually costs 20% to 30% more than virgin fiber. We hope that higher recycling volume and more market competition will make the program more affordable in the future, or that the long-term rise in the price of oil will drive virgin feedstock prices up to a competitive level.
Where are we now?
Each season we track the number of recyclable styles as a percentage of all Patagonia products. Each style is treated equally, not weighted by sales or production volume. We have different product lines in the fall and spring seasons, so we compare them separately. In fall 2008, 45% of our product line was recyclable. For Fall 2009, it will be 65%. In spring 2008, 28% of our products were recyclable; for spring 2009 it has increased to 38%.
At our Reno Distribution Center most garments to be recycled arrive in boxes shipped from Patagonia retail stores. Some boxes come from Patagonia wholesale dealers, and a few garments come directly from customers. In Reno we also handle quality returns and repairs. Items that cannot be repaired also go into the recycling bins. Most of the clothing that we receive is either Capilene® baselayers or fleece. But we also take back a lot of other garments, particularly jackets and other types of outerwear. Even if we didn't ask for these items, we sort and bale them until we find a way to recycle them.
Since we do not offer any incentive for people to return garments for recycling, the return rate is very low. We don't offer incentives because we don't want to encourage people to return garments before they are truly worn out. Patagonia expects that people will recycle the garments because they want to do the right thing for the environment, but if the clothing can first be reused, that is the best choice. When customers donate old Patagonia clothing for a second use (i.e. by giving it to a local charity), the final user may not be aware of the Common Threads Recycling Program. This poses a challenge because loyal Patagonia customers may be aware of the program, but the general public is unlikely to know about it.
In Reno, we sort garments for the different capabilities of the recyclers. Polyester Capilene and fleece go to TEIJIN. Cotton T-shirts go to Calamai. Recyclable nylon garments go to Toray. Within these divisions, there are more subtle distinctions to be made. We try to sort items into groups of 100% cotton, wool, other sportswear clothing, nylon shells, polyester shells, and other technical clothing. Most of the cotton, wool, and sportswear can be mechanically recycled, so we send them to Calamai in hopes they can make a blended yarn we can use. Most of the shells and technical clothing cannot be mechanically or chemically recycled because of the coatings and films that make them waterproof or windproof. Some of them, if designed with polyester membrane film and polyester fabrics, can be chemically recycled by TEIJIN. As for the wide variety of currently un-recyclable items taking up space in Reno; they'll be kept in storage, waiting for us to identify a solution.
There is no existing model for accurately identifying and sorting returned products. New inventory comes in with UPC codes and well-marked boxes, while old product comes in with hard-to-read or missing labels, and we have to do a great deal of forensic work to find out what these items are. Most of the garments are old, and only veterans of Patagonia products can identify them easily. To find out what types of fabrics make up the old garments, most people have to check the fiber content on the care label. But many are missing, cut off, or faded so that they are impossible to read. Sometimes it's difficult to tell whether a jacket has a waterproof/breathable barrier or not. Blends are hard to sort. And items like socks, hats, and gloves are small and often have no identification at all. To handle this, we've had to hire additional staff to properly sort and separate returned garments; a difficult cost for a small company to absorb.
If you have curb-side recycling in your town, you know that poorly sorted recyclables end up in the trash. In the same vein, to make garment recycling worthwhile, we need to make the extra effort to sort our inputs properly. Examples of problems bad sorting causes: After we sent a two-ton shipment to TEIJIN last year they reported 8% as not recyclable; 8% of two-tons quickly adds up to wasted shipping and processing money. In another instance, we sent a bale that was supposed to be only T-shirts to a potential new recycler, but there were so many other garments mixed in the recycler could not perform their trial. Similarly, we sent a blend of lifestyle garments to Calamai and there were so many coated technical fabrics in the mix that they could not recycle anything. These instances revealed our need to improve the sorting process in Reno. Accurate sorting is necessary in order to meet the requirements of different recyclers and make test trials for new recycling options. 
The future of Common Threads Garment Recycling Program
To answer the question raised in the first paragraph of this report: we are still working to meet our 2010 goal. But realistically, we still have a lot of products that we don't yet know how to recycle: luggage, packs, wetsuits, shoes, hats, and most gloves, to name a few. We have a much greater chance of reaching our goal with apparel only. In fall 2009, about 80% of Patagonia apparel will be recyclable through Common Threads. The most challenging clothing items yet to be recyclable are down-filled garments, shells with polyurethane barriers, fabrics with high spandex content, and small items that contain more trim than fabric—down insulation is reusable, but we have not found a way to successfully remove it from a shell; polyurethane barriers and spandex pose problems to both chemical and mechanical recycling processes; and small items are a challenge for sorting and removing trims.
New ways to recycle require large-scale trials that in turn require a substantial number of garments as feedstock. As the number and type of garments we collect through Common Threads increases, we will have the material to conduct trials and find more recycling options; however, we remain at risk of receiving more garments than we can handle. As we receive more garments, we will need to increase our capacity for sorting and storing as well as our options for recycling these materials.
One new idea came to us from an entrepreneur in Washington state. He wanted old, worn out Patagonia waders, so we sent what we had from our warehouse in Reno. He has made a business of cutting and sewing old waders into fishing packs. This repurposing of old garments could become part of Common Threads, especially for shells, waders, and even wetsuits.
Another option is to "down-cycle" what we cannot recycle, that is to recycle a higher-value product into one of lower value, for example, reprocessing old garments into carpet padding or filling material. We have been reluctant to include down-cycling as part of the Common Threads program, but we are currently down-cycling the waste from our cutting facilities. We use many tons of cutting waste from our Capilene manufacturing to make carpet padding. These products have much less value, but down-cycling still diverts waste from the landfill, and potentially displaces the need for virgin materials to manufacture filling and padding products. Down-cycling uses a garneting process similar to mechanical recycling, but without the limitations of making apparel-grade yarns at the end.
We still have a challenge ahead of us to find ways to use up all the recycled fiber we can create. This evolution will probably take many years. As a transition, we may find that down-cycling certain products makes more environmental sense than creating recycled fiber for which there is no market.  As a matter of principle, Patagonia does not intend to lower the quality, performance, or durability of its products in order to expand the use of recycled fiber.
The future of Common Threads may involve an expansion of clothing donation, which has been part of Patagonia's humanitarian and environmental work even before Common Threads began. We help out when natural disasters strike our local areas. We also send useful outdoor clothing to environmental groups for fundraisers and to clothe individuals working outdoors on behalf of their cause. Our retail stores also make donations on the local level through their own programs. As mentioned earlier, most of the garments we recycle through the Common Threads program are no longer wearable. We will continue to focus on recycling solutions, because eventually even all of the donated clothing will need to be recycled too.
And despite our focus here on recycling of finished goods, we cannot take our eye off the importance of recycling scrap fabric. To make a garment, patterns are cut out from a roll of fabric and sewn together. The leftover fabric, about 20% of the roll, is factory scrap. Patagonia realizes that this volume of scrap is huge, and it's potentially easier to recycle because it is not yet sewn into complicated garments and it is centralized in specific locations. We are in the process of confirming or setting up recycling programs at all of the cutting factories with whom we contract. The easiest solution for the factories is to work with local collectors who then sell the fabric to a recycler. Most of this fabric is down-cycled, but some companies are sorting the scrap and making yarns from the garneted fiber. For example, Calamai made a plaited fabric with recycled wool on one side and recycled polyester on the other. The wool is from old sweaters collected and sorted in Italy. The polyester comes from Capilene scrap collected from one of our cutting factories.
Summary
Since Patagonia launched the Common Threads program in fall 2005, we have successfully recycled more than 6000 kg of garments, and we have collected much more. But this does not represent a significant amount compared to how many garments Patagonia sells, or how many garments are thrown into landfills.
The good news is that Patagonia is committed to taking responsibility for our products when they wear out. We will continue to support the efforts of TEIJIN and the other fiber companies developing recycling programs. We will further investigate the potential to sew old garments into repurposed products. We will also look for recyclers who are independent from the apparel industry but can recycle or down-cycle old garments into something useful.
We stress to our customers the value of "Reduce, Reuse, Recycle." To be sustainable, clothing should be functional, timelessly beautiful, and of enduring quality. It should not be disposable fast-fashion. Old garments that are still wearable should still be worn, which might mean wearing it when doing dirty-work or donating it to people who will use it. But finally there comes a time when a garment needs to be tossed out.
When processes for recycling garments are improved, and a market is established for used clothing as a valuable material, then recycling clothes will become commonplace. Fifty years ago no one believed that used soda cans or newspaper could have value. Since then, the resource base for these products has shrunk, new uses have been developed (i.e. cellulose home insulation), global demand has increased, and the cost of energy used to make and transport them has grown. Now reclaimed and used materials of all kinds are increasing in value. We hope that in the future, local recyclers will collect clothing just as they do paper, glass, aluminum, and plastic. Should that day come, we'll know we were part of the solution.