Cocos Island and the Great Turtle Race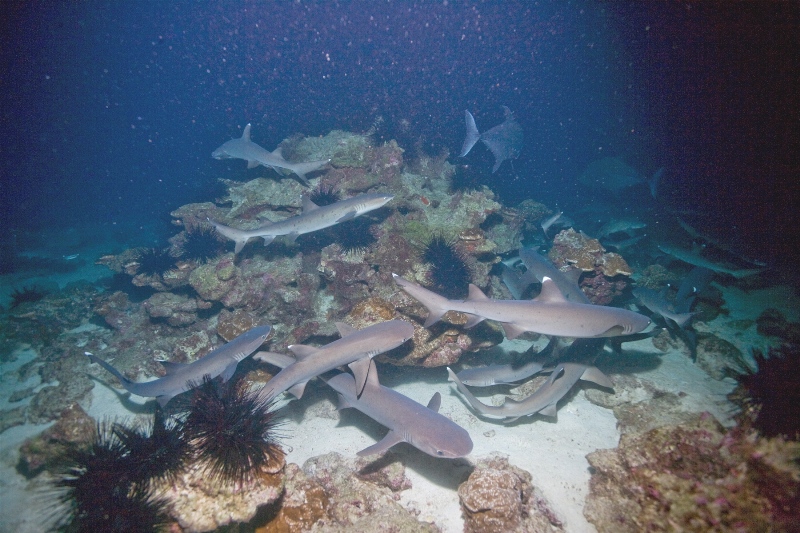 As the Great Turtle Race winds down (the winner has already crossed the finish line), Todd Steiner,Executive Director of Sea Turtle Restoration Project andTurtle Island Restoration Network, sends this story as a follow-up to the post we ran last week:
[White-tip sharks hug the reef. All photos courtesy of Todd Steiner.]
In November 2007, I was fortunate enough to assist Randall Arauz,STRP's Central American director and President of our sisterorganization in Costa Rica, PRETOMA, on an amazing research expeditionto Cocos Island, Costa Rica, to tag and take genetic samples fromsharks. It was one of the most incredible experiences of my life.
Located 340 miles from the Pacific coast of Costa Rica, Cocos Island isabout halfway to the Galapagos. I was stunned by the beauty of thevolcanic islanditself is beautiful with over 200 raging waterfalls, and boasts uniquefauna and flora, many species of which occur nowhere else in the world.I knew intellectually that the combination of currents, geology,regulations and isolation (it was a 36-hour voyage in each direction toreach the island) had created a premiere paradise for sharks and otherspecies. Yet, when I took my first dive into the clear blue waters, Iwasstunned by the abundance of life—especially the giant creatures thatare so rare today in every other place I have dived.

I felt like I was peering back into the ancient past and seeing theoceans as they must have been for thousands of years ago, beforewildlife populations were devastated by overfishing. For me, it helpedfill the intellectual void between talking about what we have lost andunderstanding how incredibly full of life the seas must have once beeneverywhere.

Every one of the over twenty scuba dives was a "Jacques Cousteauexperience," getting to observe up-close hundreds of white-tip andhammerhead sharks, hundreds of marbled, devil and spotted eagle rays,green turtles mating and feeding, and schools of countless numbers offish! Over seven days of intense diving, our team managed to tag ninehammerheads and take genetic samples from forty white-tipped reefsharks.

But even here at Cocos, threats loom. Though the island was declared aCosta Rican National Park in 1978 and a United Nations World HeritageSite in 1997, and no recreational or commercial fishing is allowed,lawlessness was evident. We witnessed a helicopter inside the reserve(from one of scores of tuna purse seiners in the eastern Pacific whichscoop up approximately 550,000 tons of tuna each year), and everywherethere was evidence of industrial longline gear snagged on the reefs.

The data from this expedition will allow us to better understandmovements of these magnificent predators between the Galapagos, Cocosand Malpelo islands off the coast of Colombia, and advocate for a regional management strategy of theseunique centers of marine biodiversity. And we immediately sent a letterto the President of Costa Rica calling for better enforcement insidethe Park.

The Cocos are protected because the tiny island is "owned" by a countrywilling to set up marine protected areas. But the giants pelagicspecies such as leatherback turtles, whales, sharks, swordfish don'tstay put but migrate thousands of miles through the open ocean.

To illustrate the giant migrations of one of these species and educatethe public to the threats, we have teamed up with other organizationsand scientists to sponsor THE GREAT TURTLE RACE. We invite you towatch leatherbacks race across the Pacific, while learning how you canhelp save the oceans. I invite you to watch the race atwww.GreatTurtleRace.com.

We need marine sanctuaries that allow biodiversity to flourish andrecover that create swimways for the magnificent giants that migrate inand out of the sovereign waters of nations. As daunting as this is, Ireturned from the trip with renewed vigor to restore the ocean'sabundance so that future generations can benefit from the beauty of ourunderwater blue planet that still exists in some places – and canspread if we just give it a chance to recover from the abuses ofoverfishing and pollution.

A few lucky scuba divers will be able to participate in the March 2009shark tagging expedition. For more info, visit our Shark Tagging Expedition page.

Todd Steiner
Executive Director
Sea Turtle Restoration Project &Turtle Island Restoration Network
www.SeaTurtles.org
If you want to dive deeper into the current state of public opinionon leatherback turtles, check out a recent NY Times blog post whichends with: "Does the world need leatherback turtles? Most likely not."Sea Turtle Restoration Project posted its response on their blog.