Cooking Up a Conservation Victory in Canada's Sacred Headwaters
Shannon McPhail
/
Mar 20, 2013
/
7 Min Read
/
Activism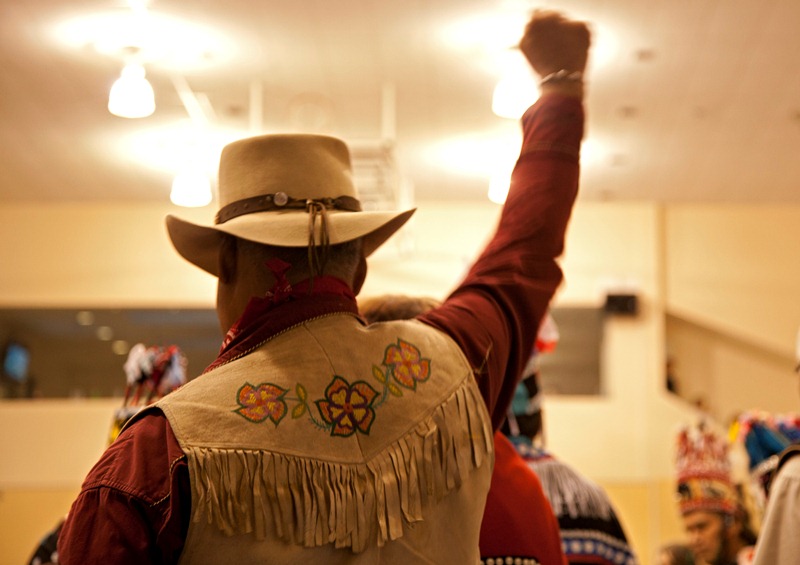 It's not often that a small, rural region of communities declares victory against one of the largest corporations on the planet, so when it happens – WE NEED TO CELEBRATE!
Editor's note: I remember hearing Shannon speak back in 2010 when she, Ali Howard and a group of kayaking filmmakers visited Patagonia HQ to screen Awakening the Skeena. Shannon was passionate, funny and full of fight. We've published a number of posts on this issue – from protests to photos to film – so it's with great joy that we share this wonderful news today.
The problem? Royal Dutch Shell wanted to drill 1,500-10,000 coal bed methane gas wells in the Sacred Headwaters, where three of Canada's greatest wild salmon and steelhead rivers, the Skeena, Stikine and Nass are born.
These rivers are among the last surviving intact, kick-ass, grizzly bear chasing 30-pound salmon over waterfalls kind of rivers. Native and white families harvesting enough food for the winter kind of rivers. Dip your head in and drink the water without tablets or filters because it's so clean kind of rivers. Not a single dam anywhere kind of rivers.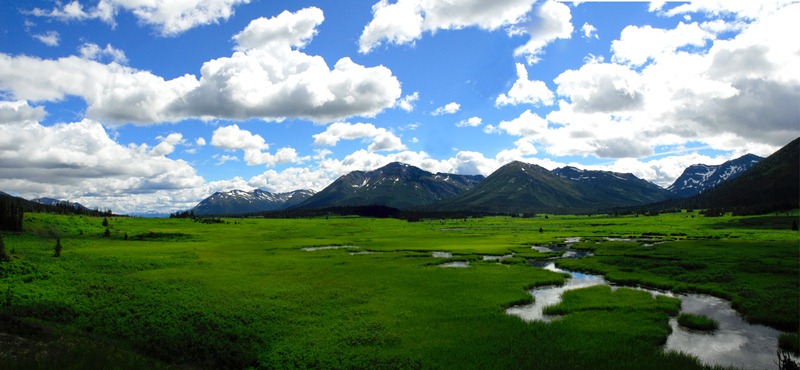 Photo: Brian Huntington

Photo: Paul Colangelo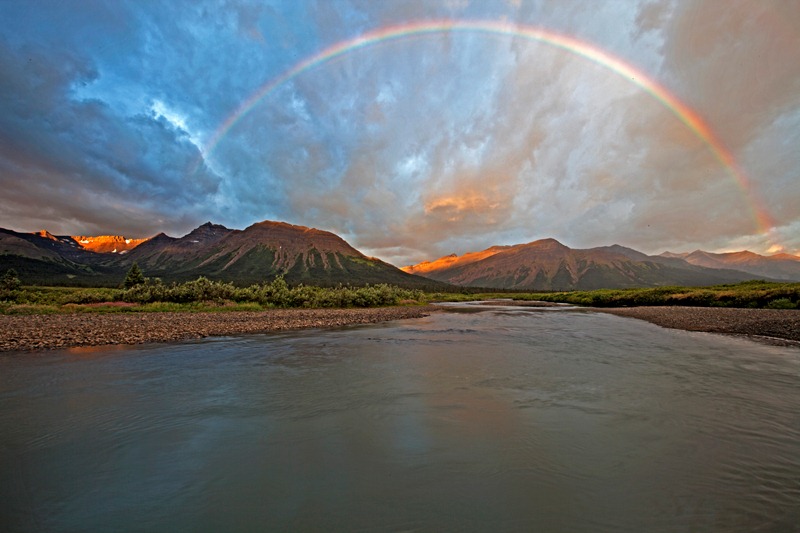 Photo: Brian Huntington
On December 18, 2012, after local communities and normal everyday joe-blow residents stood united for nearly a decade in defense of the birthplace of these great rivers, the BC government, Royal Dutch Shell and the Tahltan Central Council announced there will be no coalbed methane drilling in the Sacred Headwaters… EVER!
Not only was coal bed methane outlawed, all petroleum or natural gas activities have been permanently banned in an area of over one million acres of pristine wilderness.
Just how did a grassroots collection of communities in northern BC do it? Well, the first thing you need to know is that the Skeena Watershed Conservation Coalition was just one of many players in the final victory. A big shout out to the TAHLTAN LEADERSHIP who fought for this decision and THE ELDERS who stood on the road and blocked the trucks from getting into the headwaters. They started all of this and we honour them as the warriors and guardians of our Sacred Headwaters.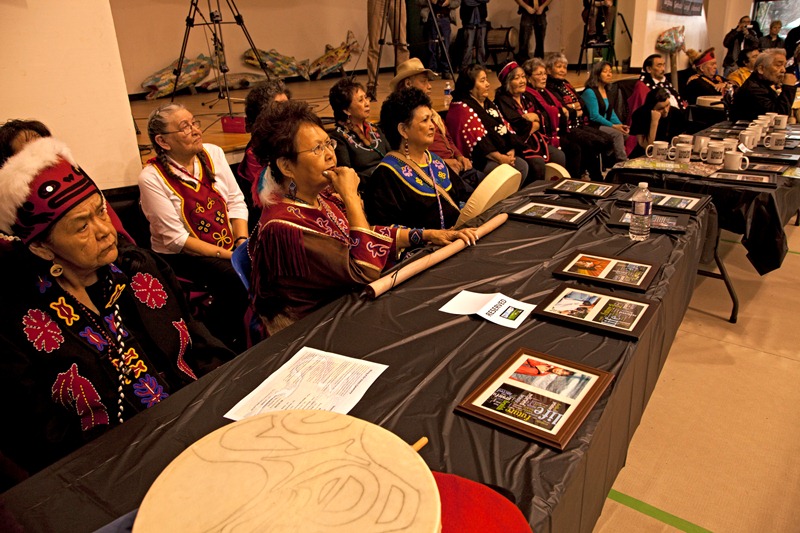 Elders = Warriors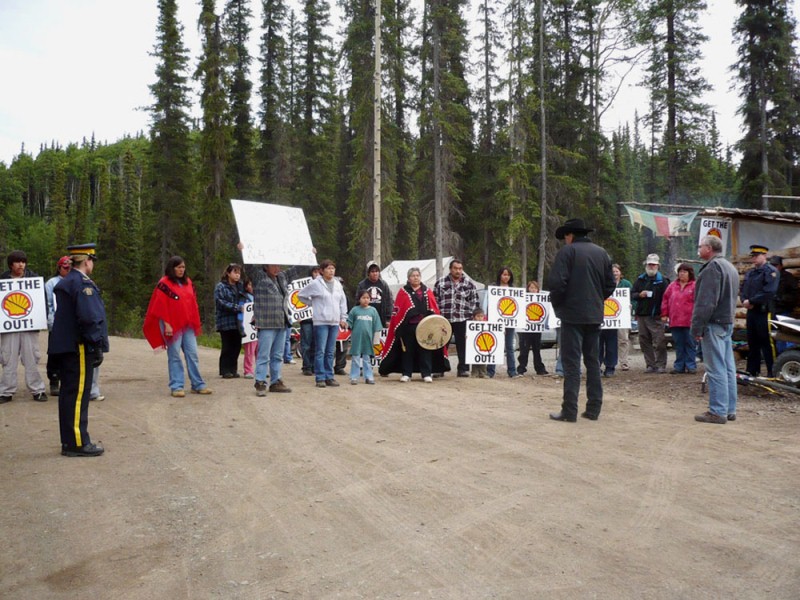 Shell blockade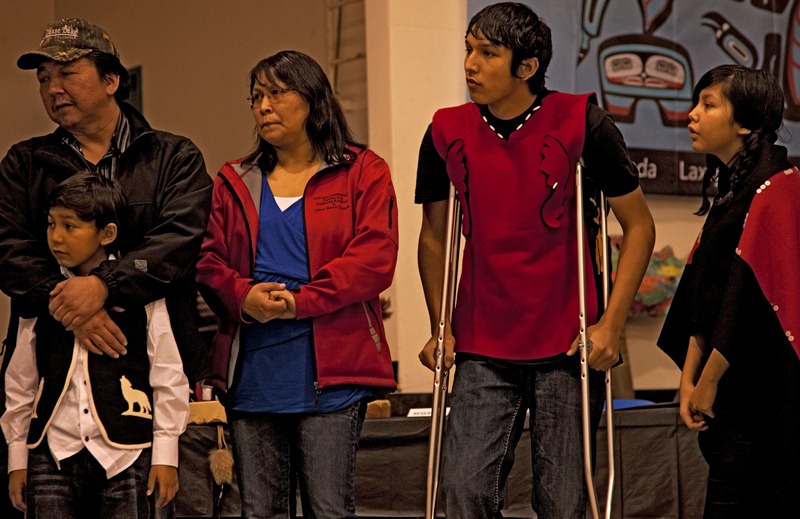 The family that started it all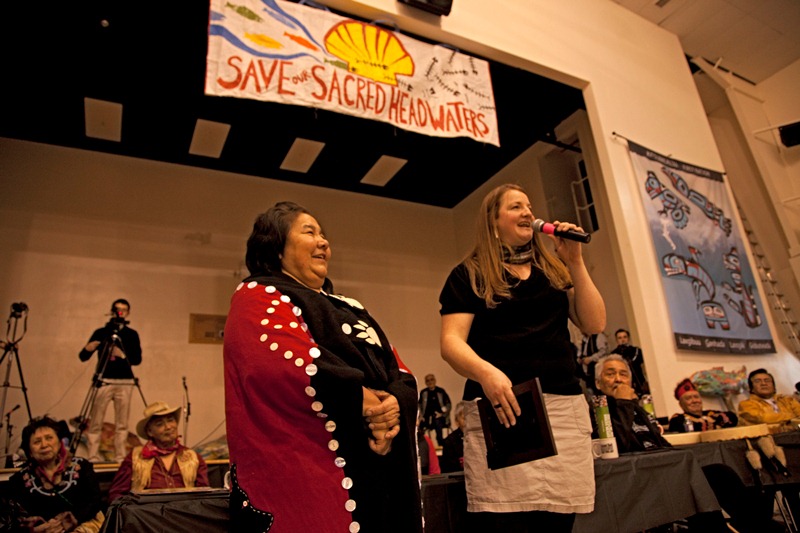 Jenny Quock and Shannon McPhail
A giant thanks to the DOWNSTREAM COMMUNITIES and other CONSERVATION GROUPS who stood in solidarity. All the mayors and councils, band councils and regional districts who might have believed this was never possible but still stood and were counted among those who challenged the logic of this proposed development. Patagonia Co. certainly had a role and helped this campaign immensely along the way and even printed our recipe for "effective grassroots organizing in northwest British Columbia" back in 2008. As wild and crazy as it our recipe seemed, it's still how we operate.
RECIPE
Start with three of Canada's most celebrated wild salmon and steelhead rivers – the Skeena, Nass and Stikine. Add free-ranging populations of woodland caribou, grizzly bear, wolves, moose, mountain goat and stone sheep. Propose a coalbed methane gas field directly on top of the pristine valleys where these rivers begin. Put in the oven and set to slow roast for five years.
In a watershed-sized bowl add:
•    Generous helping of red-neck bravado (rodeo stock works best)
•    1 cup of well-aged, proud and freshly stirred First Nations culture
•    Dash of hippie passion
•    1/2 cup of educated, inspired and engaged youth
•    Splash of guide-outfitter sensibilities
•    2 lumps of a logger's work ethic
•    Infuse with outrageous wilderness expeditions
•    Add a layer of live music, campfire smoke, storytelling and photography
•    Top with sprinkling of authentic ceremony and prayer.
For best results: Mix ingredients repeatedly until a uniform liquid begins to coalesce. Generously share the results with residents at every level of regional society. Serve with wild Skeena salmon, garden veggies and home brew.
And last, but definitely not least, we are grateful to the BC Government and to Shell. While we will always hold government and industry accountable, we also believe in giving credit when credit is due. These guys made a good decision and they deserve recognition for it!
Now, while Shell is out – we've still got a few loose ends to tie up – Fortune Minerals Ltd wants to build a coal mine right smack dab in the middle of the Sacred Headwaters. CN Rail wants to build a railway up the pristine upper Skeena River right into the Sacred Headwaters. Spectra Pipelines is proposing BC's biggest pipeline through a myriad of our greatest wild salmon rivers and tributaries including the Babine River, home to many of the Skeena's wild sockeye salmon. Our work is still cut our for us but we know you've got to celebrate the victories along the way and if there's one thing we know how to do extremely well it's throw a party.
We party the same way we campaign – TOGETHER! On February 2nd, to commemorate Shell's withdrawal from the Sacred Headwaters, we celebrated northern style and I can't even begin to tell you how epic it was. A day-long ceremony was held in the giant Kitsumkalum Feast Hall located at the confluence of the Kalum and Skeena rivers in Terrace, BC. First Nations from all three watersheds brought their traditional dance groups, drums, regalia and water from each of their tributaries to be mixed in a cedar bent box as a pledge of solidarity. For the first time in history, non-First Nations (yes… that means white folks) were invited to mix their water as well. This mixing of the waters truly symbolized the unity of northwestern British Columbia. A few favorite quotes included, "When you mess with one of us, you mess with ALL of us!" or "When we play cowboys and Indians, we play on the same side!"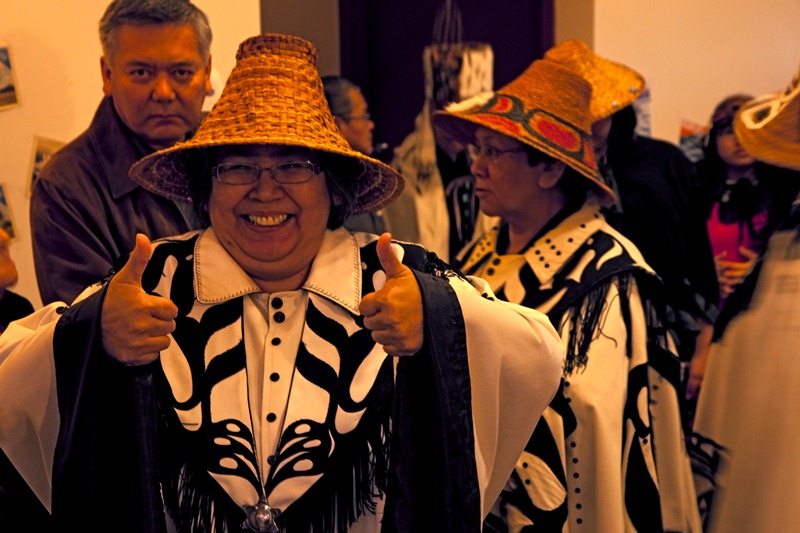 Getting pumped!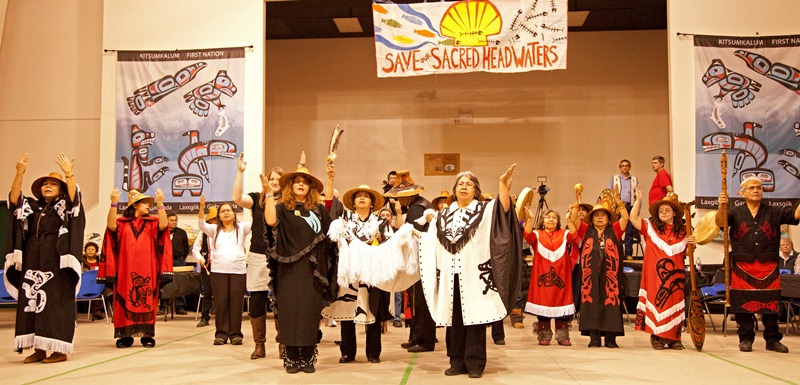 Giving thanks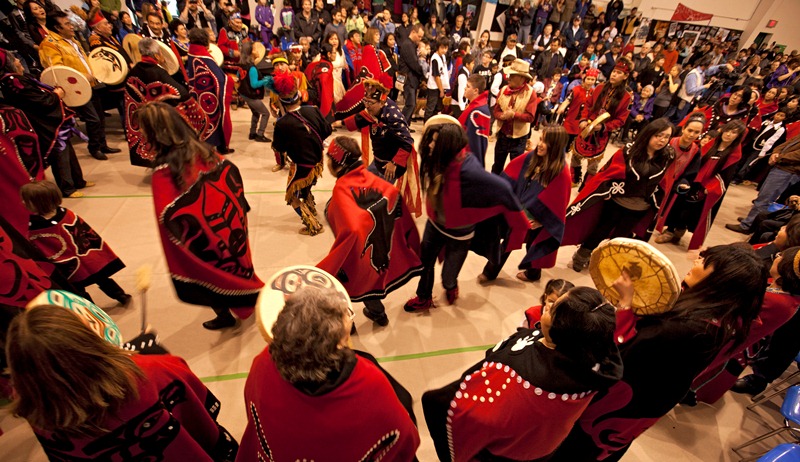 Culture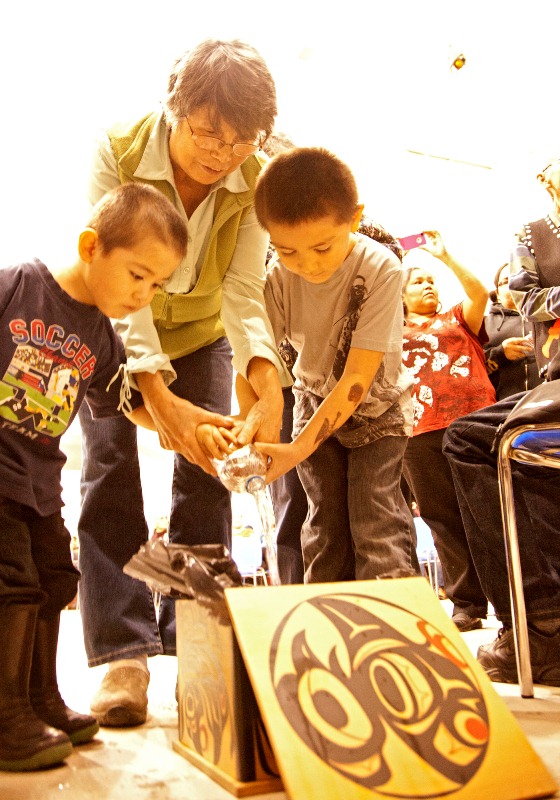 Mixing the waters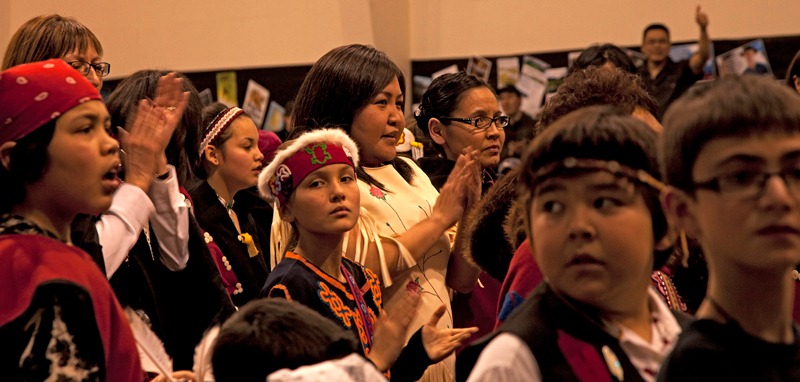 The future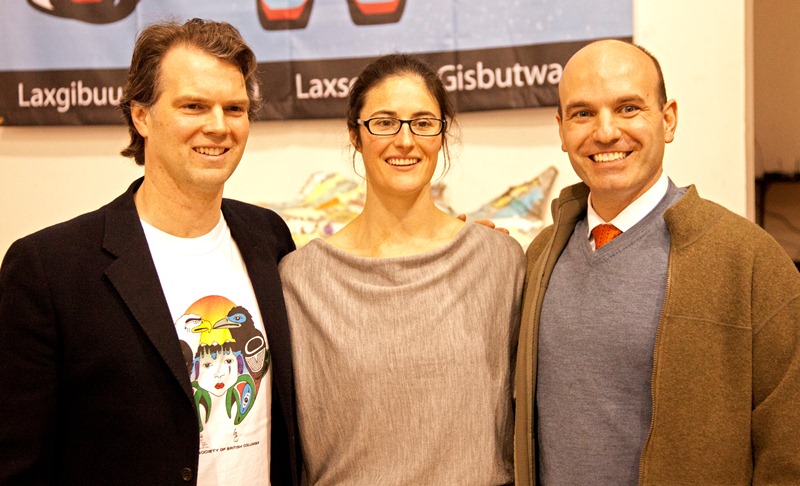 Member of Parliament Fin Donnelly, Awakening the Skeena swimmer Ali Howard, Opposition House Leader Nathan Cullen
The crowning moment happened right before the feast of wild Skeena salmon and local beef when Canada's House Leader of the Official Opposition and the Skeena's Member of Parliament, Nathan Cullen, stood up and said the Sacred Headwaters victory is a model for Canada and took some of the mixed water back to the House of Commons to tell the Prime Minister there is a better way to govern and it's exemplified here. "The fight to defend our rivers is a model for the entire country on how to find common ground," he told the roaring crowd. "We'll never give up our headwaters."
Northwest BC is blessed with musicians who are connected to the landscape and use their music to express the love they feel. The music they play comes from and is dedicated to the land and water we depend on. The night ended with a crazy live music dance party featuring an all-star line up of our best musicians that went into the wee hours of the morning, set off the fire alarm, burst a water main and flooded the venue… but no one stopped dancing.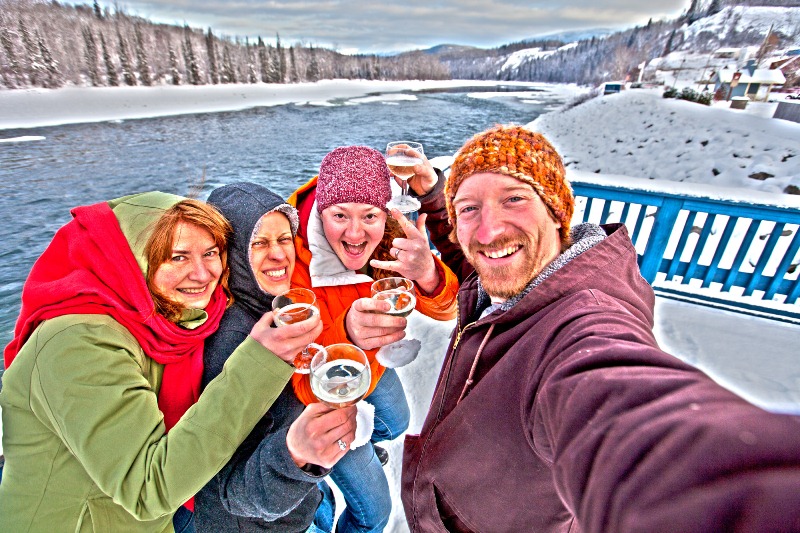 It takes a village… Here's a list of the groups that gathered to fight Shell:
Klabona Keepers
Tahltan Central Council
Tahltan Band Council
Iskut Band Council
Friends of Stikine Salmon
ForestEthics – check out their "Path to Victory" timeline
Headwaters Initiative
Dogwood Initiative
Friends of Wild Salmon
Driftwood Foundation
Pembina Institute
SkeenaWild Conservation Trust
NorthWest Watch
Citizens Concerned about Coalbed Methane
Northwest Institute
Suskwa Research
Storyteller's Foundation
West Coast Environmental Law
Cassiar Watch
Clean Energy Canada
Learn more about the Sacred Headwaters and the people who fought, and will continue to fight, for its protection in this video that was produced just before the victory announcement.

Video: Cedar & Birch