Deep Time in Nevada – A proposal for a Basin and Range National Monument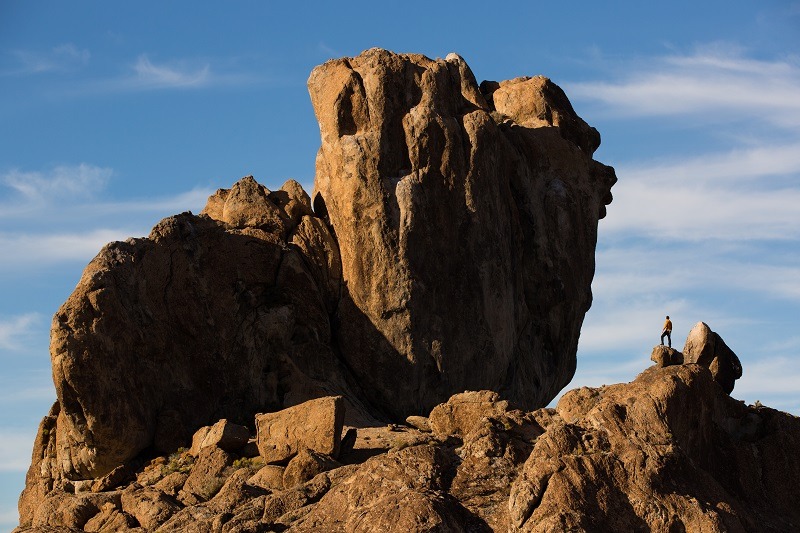 In John McPhee's book, Basin and Range, he talks about time, deep time, in the sense that it is a silent world of austere beauty, of hundreds of discrete high mountain ranges that are green with junipers and often white with snow. The terrain becomes the setting for a lyrical evocation of the science of geology, with important digressions into the plate-tectonics revolution and the history of the geologic time scale. McPhee goes on to say, "If you free yourself from the conventional reaction to a quantity like a million years, you free yourself a bit from the boundaries of human time. And then, in a way you do."
I've explored the Great Basin for the last 20 years and like nothing better than to poke around the remote places in Nevada, exploring both the natural and historic wonders of the state. When you want to get away from everyone on a holiday weekend, you don't go into the Sierra Nevada, you wander around in the Great Basin, and more times than not, the only things you share the country with are a few cattle, mule deer, jackrabbits, and howling coyotes. McPhee had it right, there's a timelessness to the place, somewhere that you can let your hair down and if you're lucky, soak in a hot springs while counting shooting stars.
Above: Beholding volcanic chaos in Basin and Range, Nevada. Photo: Tyler Roemer
The proposed Basin and Range National Monument offers an opportunity to protect this timeless landscape, an intact example of the Basin and Range region. The proposal includes diverse and unique geology including Leviathan Cave in the Worthington Mountains, as well as a landscape rich in important historic and cultural resources. Two dozen threatened and sensitive wildlife species call the Basin and Range home. The area is priority habitat for sage grouse and sagebrush fauna like mule deer elk, and pygmy rabbit. Connectivity between the ranges provides winter range for the deer and elk, an important consideration in the face of climate change.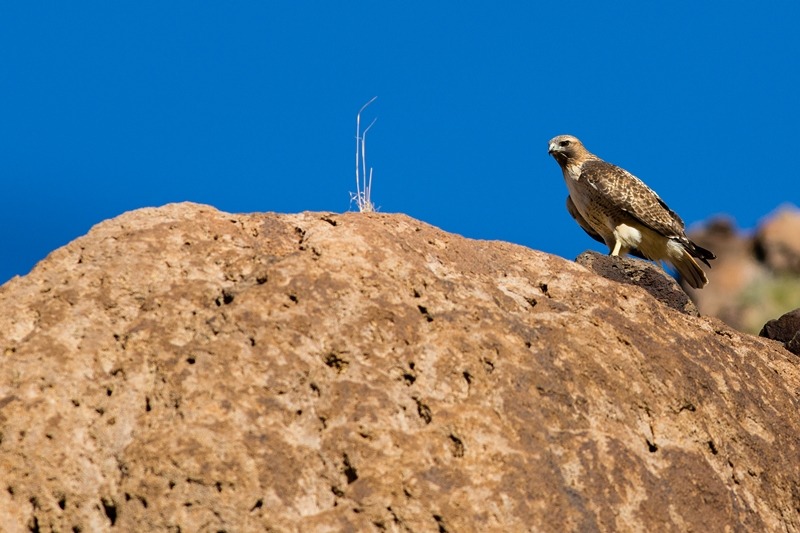 The proposed National Monument would safeguard important habitat…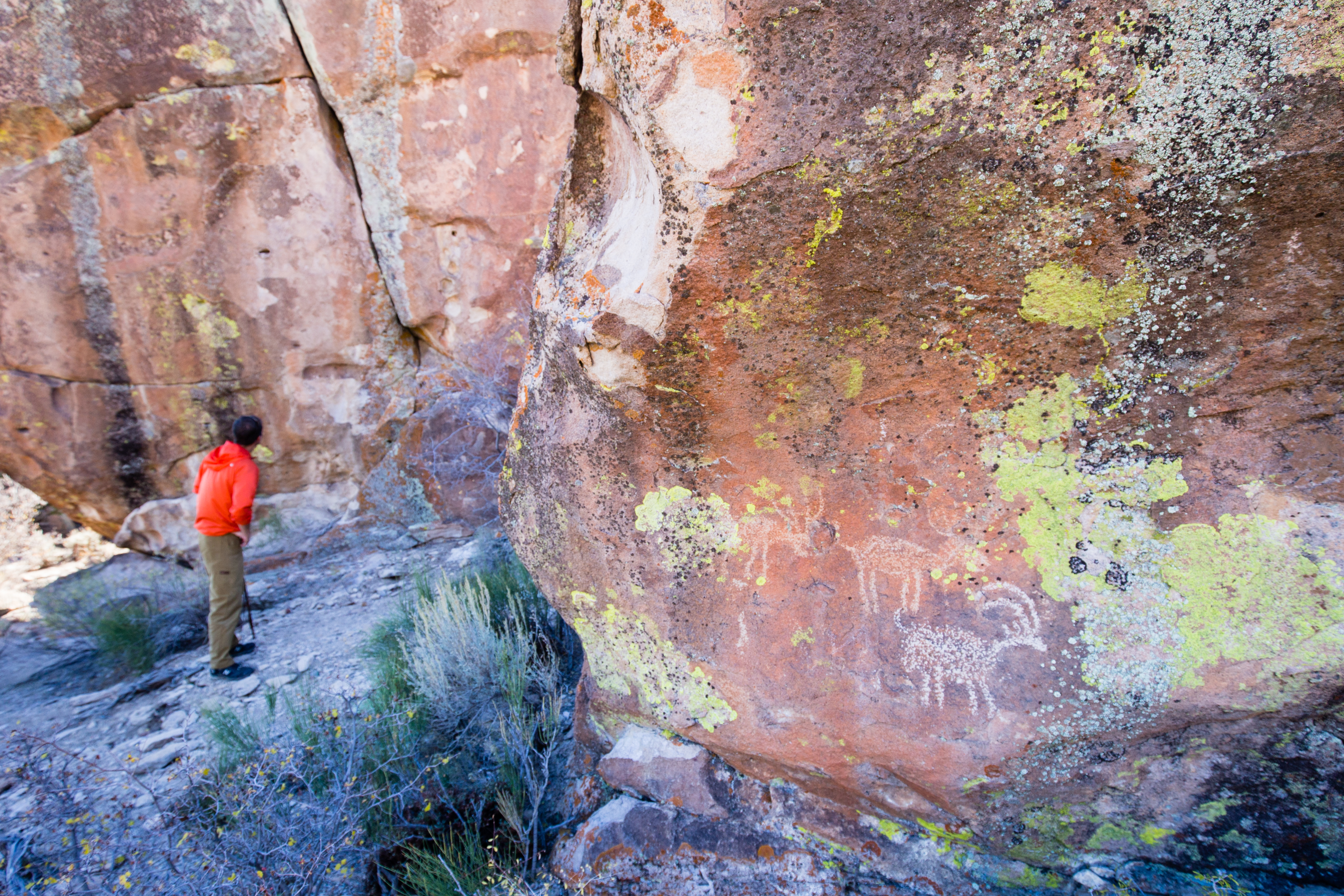 … windows into our early American history …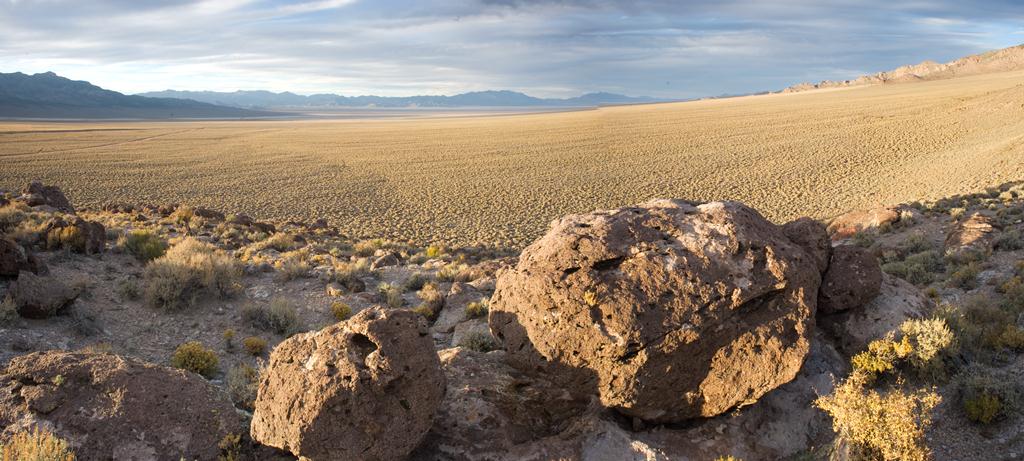 … and grand vistas on an unparalleled American scale. Photos: Tyler Roemer (top, botom), Michael Ambrose (middle)
The proposal is big by design. Protecting intact mountain ranges and valley systems demands a landscape approach to conservation. Located two hours north of Las Vegas, the proposed monument comprises more than 877,000 acres of BLM land, including two valleys (Garden and Coal) and eight mountains ranges (Timpahute, Pahroc,Worthingtons, Mt Irish Range, Seaman Range, Golden Gate Range, Grant Range, and Quinn Canyon Range).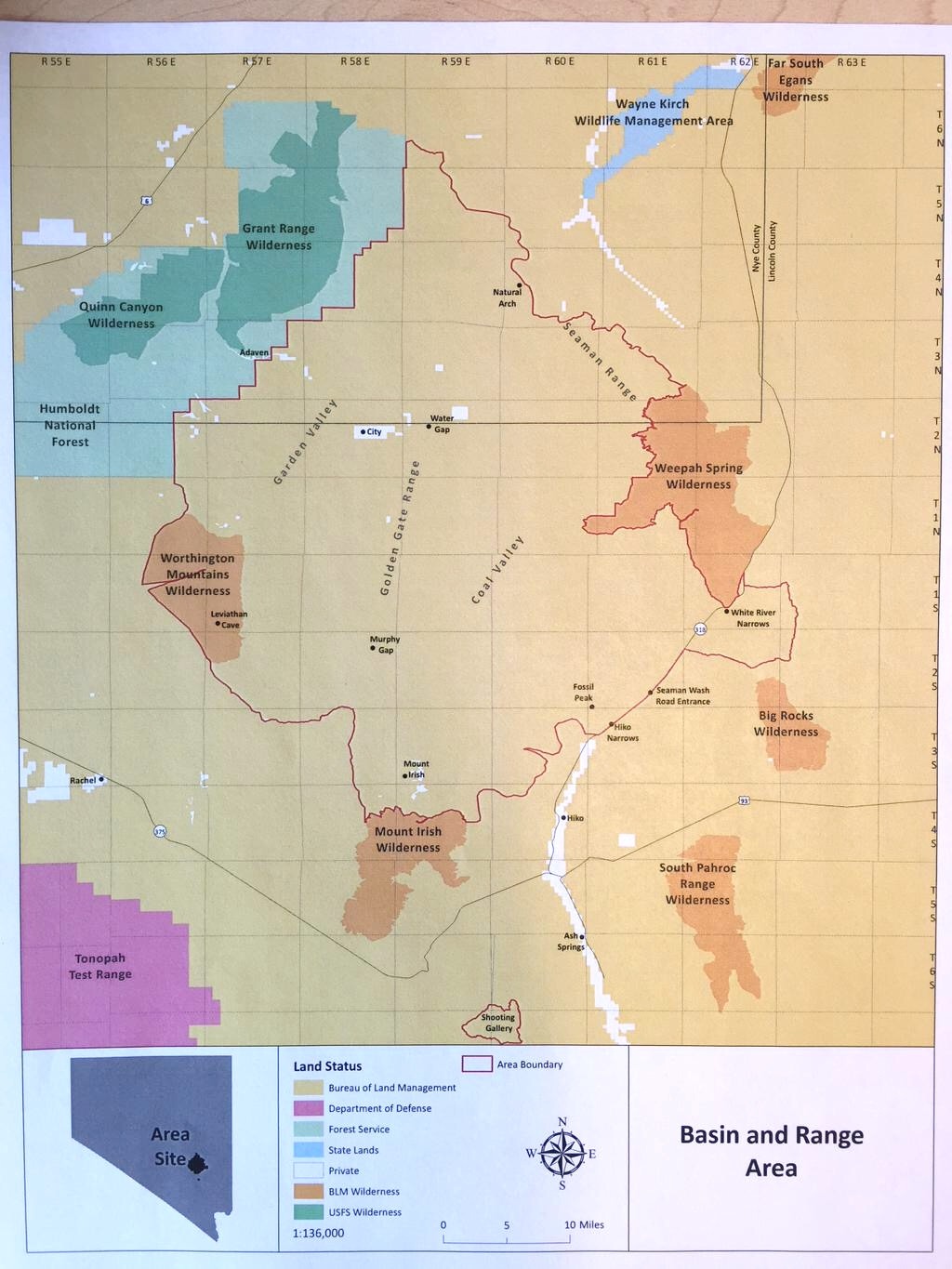 There's another gem inside this Basin and Range proposal. An artwork, near completion, called City, by Michael Heizer; one of the most significant site-speciifc works of art ever created in the United States. Forty years in the making, the mile and a half long, City (think National Mall size) is composed of abstract sculptural, architecturally sized forms made of compact earth and concrete that are reminiscent in size and shape of ancient ceremonial cities. Honestly, this description doesn't do it justice. Picture this (as I did last fall), when you drive up to it, from about a mile away, it's a low lying bump on the horizon, barely visible. Scale is deceptive in the desert. Up close, the bump turns into Heizer's sculpture, rectangular structures inside a curved sunken gravel coated quarry. Once you're inside and down on ground level, only then do you see all the mounds, pits, passageways, plazas, ramps, and terraced dirt, hidden from the outside by berms. Size matters to Heizer, some slabs are 70-feet high and weigh thousands of tons. Simply put, City is awe inspiring.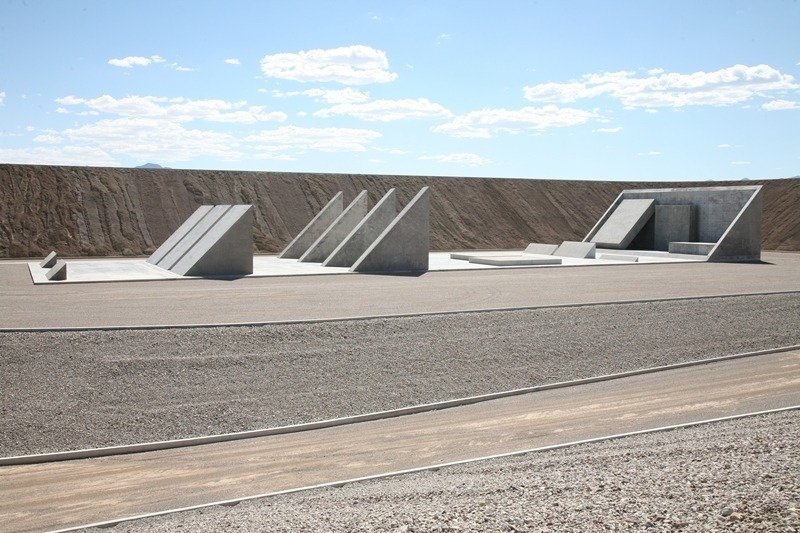 City by Michael Heizer. Photos: Tom Vinetz / © Triple Aught Foundation
The beauty of Garden and Coal Valleys and the eight mountain ranges that surround City are enough to warrant recognition. Add an art work by an American artist, which is fully and permanently integrated into the landscape it inhabits, we now have the opportunity to leave a dramatic legacy of land use and conservation in Nevada. We can be leaders in landscape conservation and landscape art—the two are linked and are distinctly American.
Last week, 300 people showed up on a Wednesday afternoon in Las Vegas for a "Conservation Conversation" with Senator Harry Reid and Representative Dina Titus. Testimony was heard from citizens as diverse as Friends of Gold Butte and the Nevada Resort Association on the need to protect Nevada's most important landscapes. Think about that: 300 people on a Wednesday afternoon. The time to act is now.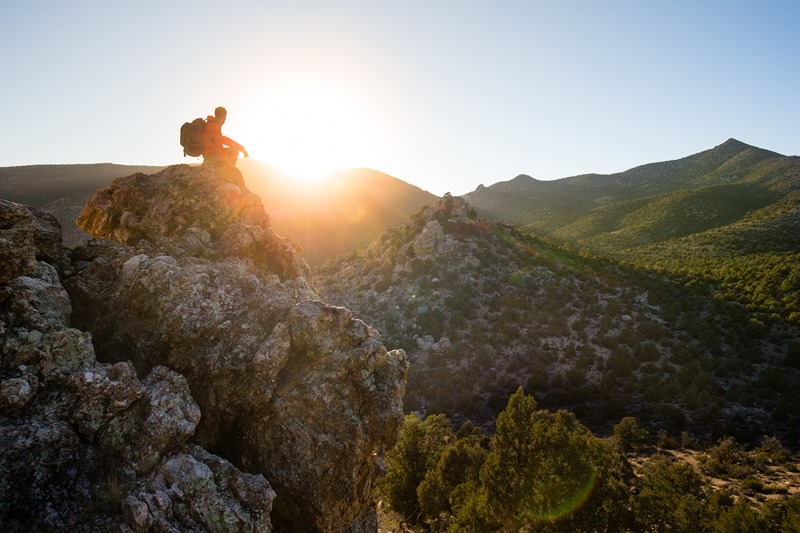 Opportunities for camping, hiking, exploring and scientific study abound. Photo: Tyler Roemer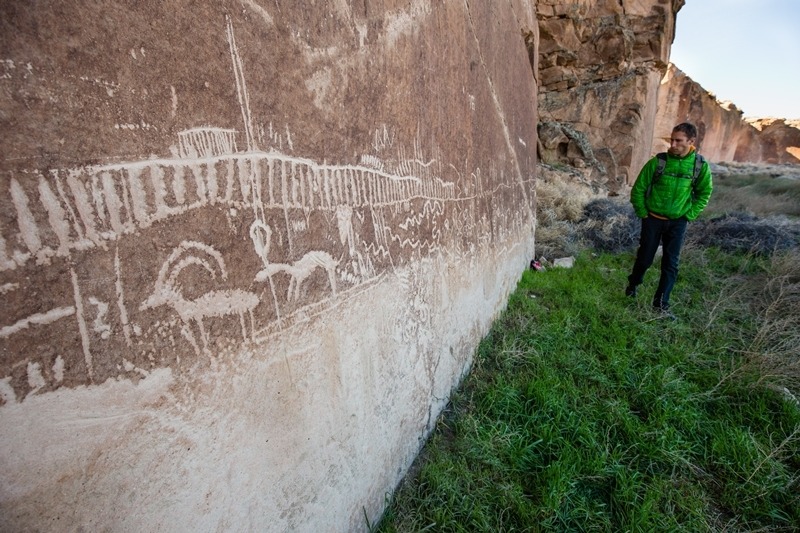 Ancient trails, lithic scatters and rock shelters are found across the proposed National Monument—with evidence of human use in the area dating back more than 9,000 years. The White River Narrows Archaeological District National Historic Register Site (above) contains thousands of incredible petroglyphs and rock art panels tell the story of some of the area's earliest residents. Photo: Tyler Roemer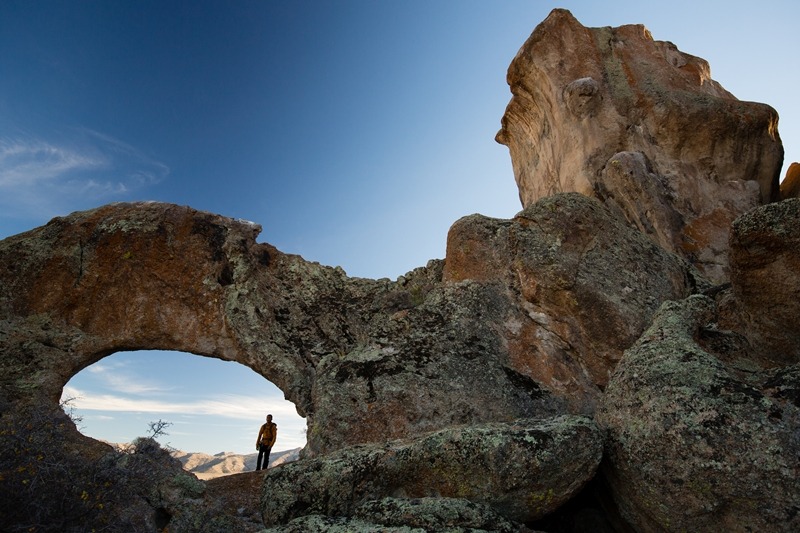 Peering into the window of Great Basin history. Photo: Tyler Roemer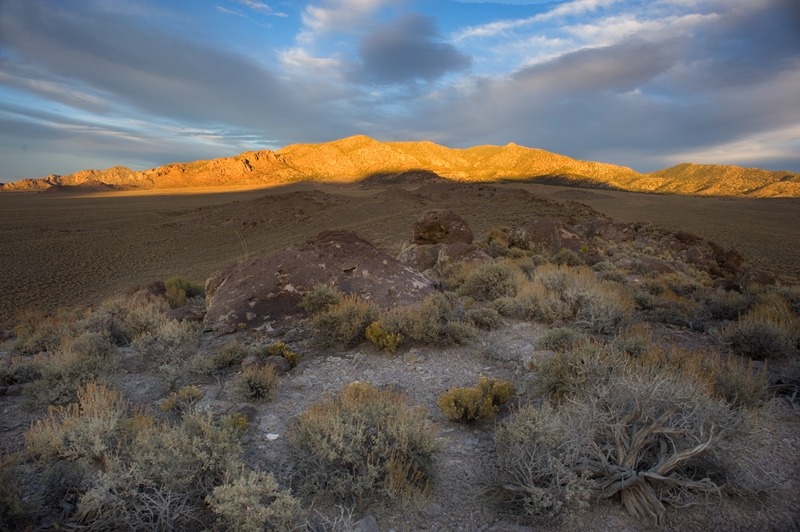 The Golden Gate Range. Photo: Michael Ambrose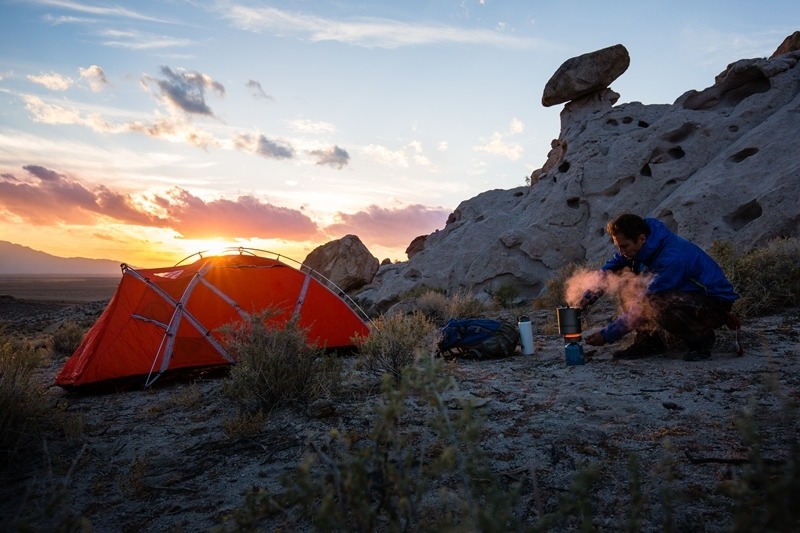 Pursuing culinary tradition in Basin and Range. Photo: Tyler Roemer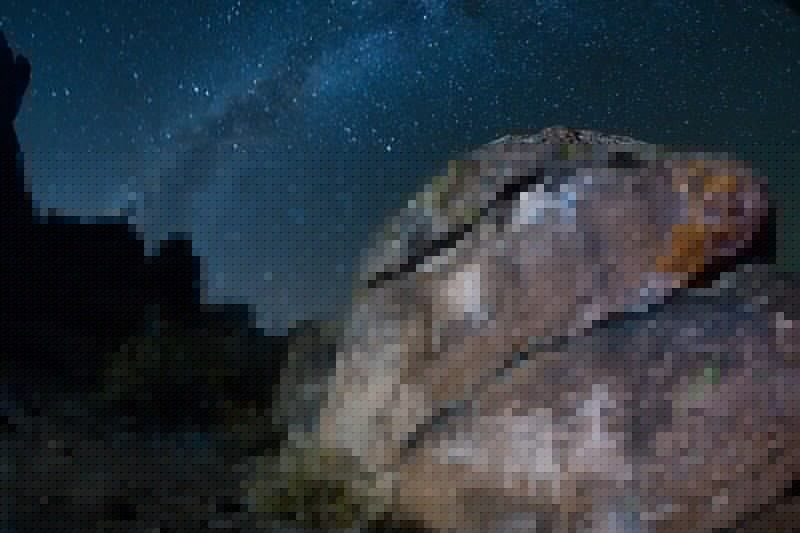 The Mt. Irish Archaeological District is stunning day or night. Photo: Tyler Roemer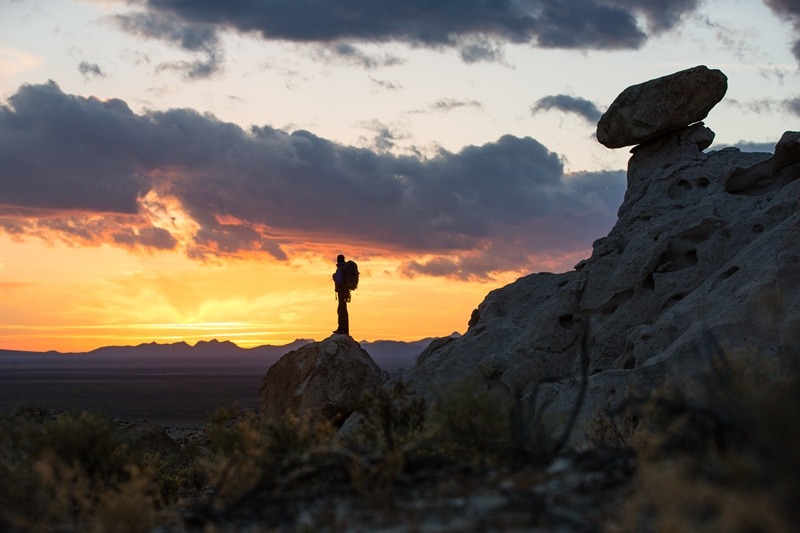 You know what they say: "It's not a good basin, it's a Great Basin!" Photo: Tyler Roemer

Please join us in lending your voice of support to protecting this unique and timeless landscape.