Listen to "The Year of Big Ideas 2011" Dirtbag Diaries Podcast Episode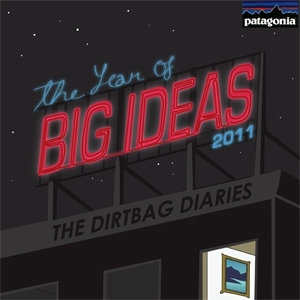 What are your goals for 2011? If you're still looking for ideas, today's Dirtbag Diaries has more than a few from listeners like you.
James Q Martin has an incredible, carefree life. For the last, five years he's traveled the world, often to warm locales to photograph beautiful athletes in stunning places. It would be hard to let go of that kind of job, but two years ago, James stumbled upon a blog post about the impending damning of the Rio Baker in Chile's Asan region. It set off a powerful reaction. A decade earlier, James had traveled through the Asan region, and the great wilderness left a lasting impression. Now, with the massive hydro-electric project impending, James came up with an idea. What if you took a naturalist, a writer, a photographer, a filmmaker and a conservationist on a source to sea descent to document the last days of a wild river? Could that act even help save? In 2010, James launched Rios Libres and made his dream happen. Completing his dream, would mean giving up the perfect lifestyle. With that, we present our 2011 Year of Big Ideas show. Professional athletes, passionate weekend warriors and Dirtbag Diaries contributors come together to present what they are working on in the coming year. Get inspired and then buckle down.

Listen to "Buckle Down"
(mp3 – right-click to download)

If you too believe the Rio Baker should remain a free-flowing river, add your voice to the Keep Patagonia Wild! petition from Rios Libres. For stories and video logs from their trip down the Rio Baker, and a look at the trailer for Power in the Pristine, check out our blog series from Rios Libres. Power in the Pristine will be screening at this weekend's Wild & Scenic Film Festival in Nevada City, California.
Also, check out Cleanest Line reader Caleb Simpson's new energy bar company Adventure Naturals on Kickstarter. With a small donation you can help him reach his goal, and help create a new 100% organic, raw, vegan energy bar to fuel your body.
Visit dirtbagdiaries.com to hear the music from "Buckle Down" or download past episodes. You can subscribe to the show via iTunes and RSS, or connect with like-minded listeners on Facebook and Twitter.