Listen to "Crash and Burn" Dirtbag Diaries Podcast Episode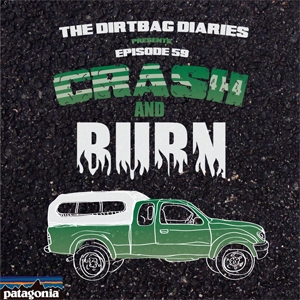 Drive it until it dies. That's the motto I lived by as my truck, Crash, crisscrossed the West. Family members would doubtfully ask, "Are you sure you want to drive there?" I did. Friends would ask about Crash's well being as though he was my aging dog. Though I knew the day was coming, I was still blindsided when the gears ground to a halt on my way to Yosemite. Could my belief in Crash transcend beyond the hulk of metal?

Listen to "Crash and Burn"
(mp3 – right-click to download)
Visit dirtbagdiaries.com for links to download the music from "Crash and Burn" or to hear past episodes of the podcast. You can subscribe to the show via iTunes and RSS, or connect with the Dirtbag Diaries community on Facebook and Twitter.
Graphic by Walker Cahall