Listen to "The Year of Big Ideas 2010 " Dirtbag Diaries Podcast Episode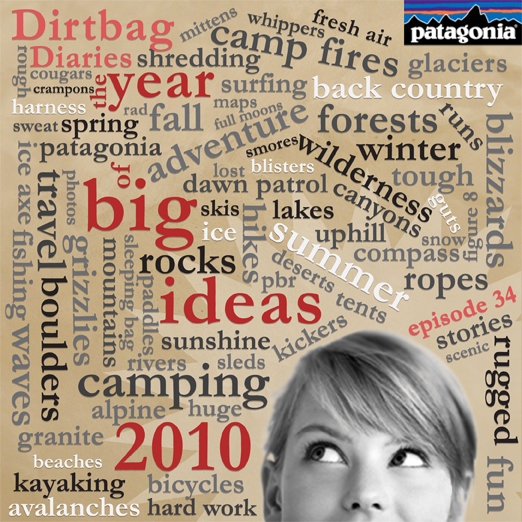 The Dirtbag Diaries kick off 2010, and your weekend, with their annual Year of Big Ideas episode (2008, 2009). Do you have aspirations for the new year? Becca Cahall takes the mic today for an episode that's full of great goals:
Ski filmmaker Nick Waggoner knew what he wanted to do with his life. He wanted to be a skier of the diehard variety. There were two obvious hurdles. First, he lived in New York City. Second, he was 11 years old. He found a way to make it work and before he was legally behind the wheel of a car, he was squeezing adventure out of skiing. In the last decade, his passion for skiing evolved into a passion for making films about skiing, but his approach has remained the same. Today, we bring you another Year of Big Ideas — a time to turn daydreams into concrete goals. Professional athletes, weekend warriors, and full time dreamers present their goals for 2010.
Download "Fueled by Strawberry Jam – The Year of Big Ideas 2010"
(mp3 – right-click to download)
Head over to the Dirtbag Diaries for information on the music from today's podcast. You can also connect with the show via Twitter and Facebook. Fitz's new Web TV show, The Season, is due to begin at the end of the month.
Fittingly, I just watched Nick Waggoner's latest film, Signatures, again the other night. I love how the lines Taro Tamai draws inspire me to both strap on my snowboard and paddle out for a surf. He calls his brand of riding "snowsurfing" and for good reason. The trailer for Signatures can be viewed in the Tin Shed; visit Sweetgrass Productions or Patagonia.com to pick up your copy.