Listen to "Live from 5Point Vol. 1" Dirtbag Diaries Podcast Episode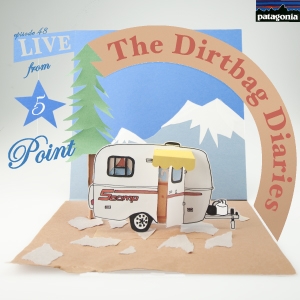 Not long ago, Kelly Cordes gave "Five Stars for 5-Point Film Festival." Today, Fitz Cahall and The Dirtbag Diaires share a very special event from the festival.
For years, Becca and I have wanted to create a live performance of The Dirtbag Diaries. But with little extra time and money, the idea sat, waiting for its moment. When 5Point Film Festival gurus Julie Kennedy and Beda Calhoun approached me earlier this year about creating a onstage storytelling hour at the festival, I immediately said yes. We interviewed filmmakers and people who were in films featured at 5Point and let the conversation flow as though we were sitting on the truck tailgate. Today we present two of these stories. An old soul living in a 22 year-old's body who set out to change his own life and has started a movement in his community. And an angler, who gave away a secret in order to protect a place. The audience has settled in their seats and we're set-up to record. Baybe Champ and Frank Smetherhurst join us on stage. Welcome to the 5Point Film Festival.

Listen to "Live from 5Point Volume 1"
(35:27 – right-click to download MP3)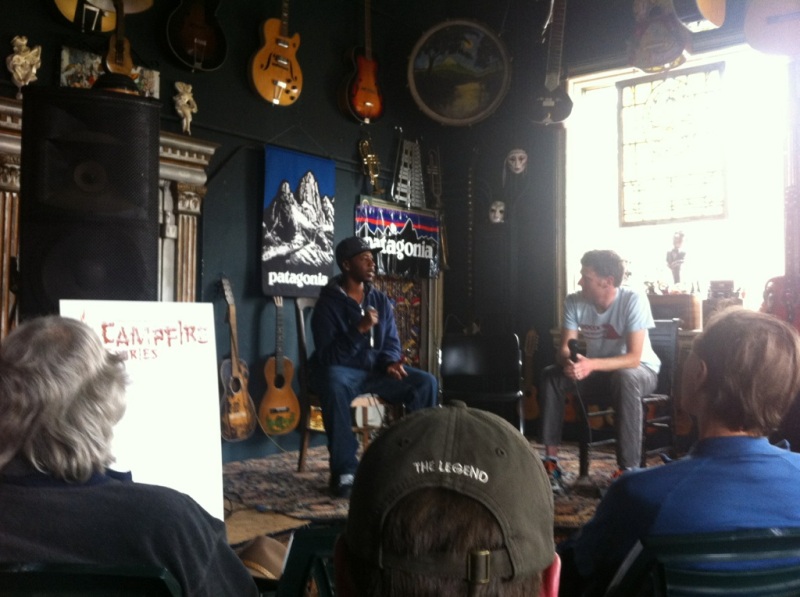 [Baybe Champ and Fitz Cahall talk during the making of this episode. Steve's Guitars, Carbondale, Colorado. Photo: Rob BonDurant]
Visit dirtbagdiaries.com for links to the films and music from "Live from 5Point Volume 1" or to download past episodes from the podcast. You can subscribe to the show via iTunes and RSS, or connect with like-minded listeners on Facebook and Twitter.