Listen to "Seeds" Dirtbag Diaries Podcast Episode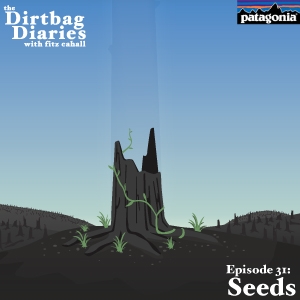 After spending the summer gathering new stories and making an appearance in the Tin Shed, Fitz Cahall is back for another season of The Dirtbag Diaries. Here's Fitz with today's episode:
It was a tough summer in the climbing community. We lost heroes, friends, mentors, legends, sons and parents. We celebrate their lives with stories and memorials, but after the glasses are raised and the happy times recounted, those closest to the deceased are left in the vacuum their lives once inhabited.  The living confront hard questions and dark emotions. This year, 22-year-old Evan Piche's world turned upside down. He discovered, that even in the worst moments there are seeds of growth.
Download "Seeds"
(mp3 – right-click to download – contains some expletives)
Along with gathering new stories, Fitz has been working on a new video project, sharing some of his favorite music and continuing to manage the blog Outdoor Parent. As always you can contact The Dirtbag Diaries with your story ideas for future episodes or connect with the show via Facebook and Twitter. Visit dirtbagdiaries.com for more information and access to all past episodes.
Have a great weekend everybody. Thanks for all your support.