Listen to "Tales of Terror Vol. 4" Dirtbag Diaries Podcast Episode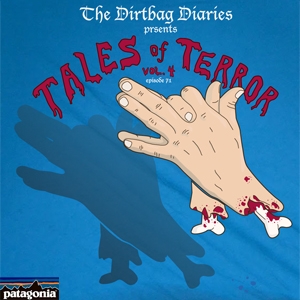 Is there something out there? It's a question that lurks in the back of my mind. Probably in yours too. It's one of the very reasons why I love the outdoors: the unpredictability.
Over the years, I've collected experiences. Moments, like bits of data, that collectively guide my intuition. And yet, we've all had that moment where hairs stand up on the back of our neck. Was it heightened perception? Or did the wind just blow the right way? And if you convince yourself it was the wind, does some lump of doubt sit in your stomach? Because sometimes you just won't believe something is out there. Until it's right there.

Listen to "Tales of Terror Vol. 4" by The Dirtbag Diaries on Soundcloud
Visit dirtbagdiaries.com for links to past episodes, featured music and to pledge your support. You can subscribe to the podcast via iTunes, RSS, SoundCloud and Stitcher, or connect with the Dirtbag Diaries community on Facebook and Twitter. The Dirtbag Diaries is a Duct Tape Then Beer production.
Graphic by Walker Cahall