Listen to "The Adventures of Beansprout" Dirtbag Diaries Podcast Episode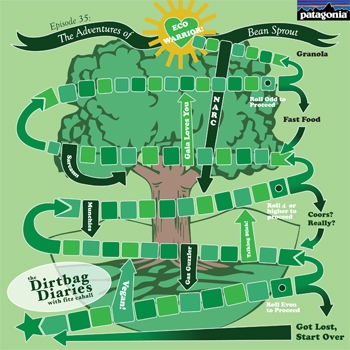 A few of us in the office have been reading Tree Spiker — the memoir of Mike Roselle, co-founder of Earth First! — and while it's not as lighthearted as today's Dirtbag Diaries episode the timing is still excellent. Stay tuned for our review of Tree Spiker. In the meantime, Fitz Cahall is here to get your weekend started right:
Ryan Nickum was a 20-year-old college athlete with a passion for brutal tackles and body checks. He had yet to grow out of the angst and rebelliousness of his teenage years. Socializing involved cases of Coors, rehashing high school exploits and running from the cops. He wasn't exactly prime recruitment material for Earth First. Spring break of his sophomore year, Nickum and his best friend Woodchuck were too broke for Cancun's party scene and opted instead to join a band of radical environmentalist organizing a tree sit in Southern Oregon. There are many ways to stumble into activism. Maybe some people just shouldn't read the Monkey Wrench Gang.
Listen to "The Adventures of Beansprout"
(mp3 – right-click to download – contains some drug references but no stoke references)
If you missed it the first time around, check out Ryan Nickum's previous appearance on the Diaries, "Bedtime Stories for Wanders." You can listen to the music from today's episode, including Charlie Hunter's boogielicious "High Pockets and a Fanny Pack," over at dirtbagdiaries.com.
Hit the jump to see Walker Cahall's custom board game that's based on today's episode.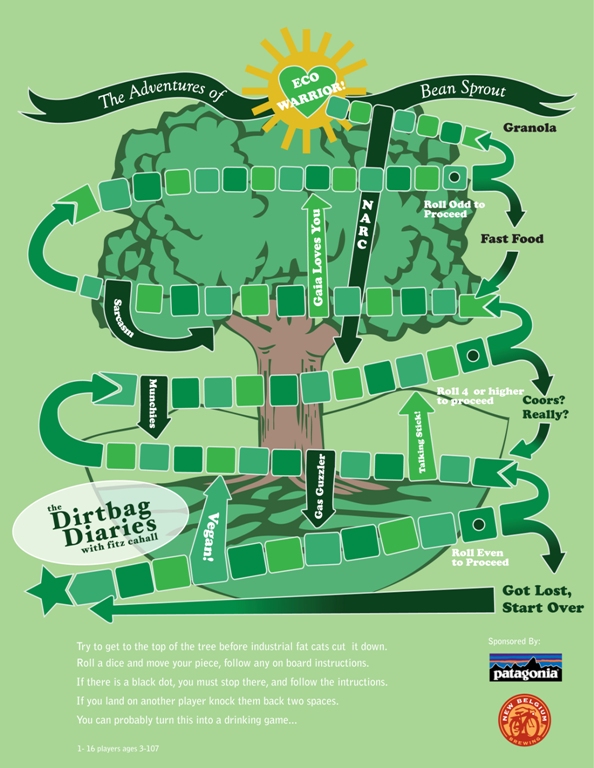 Save and print the full sized version (2550 x 3297)
Artwork by Walker Cahall