Listen to "Efficiency Manifesto" Dirtbag Diaries Podcast Episode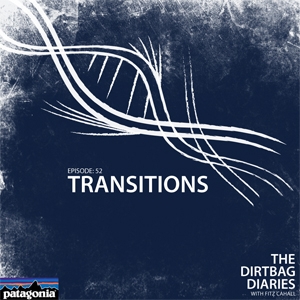 Parents new and old will be especially touched by this episode of The Dirtbag Diaries. Show host Fitz Cahall sets the stage:
No one skins uphill to put together a splitboard efficiently. They do it to shred down. Making a transition at a belay is part of the process, not the main event. Transitions may not be sexy, but they make or break us. They are the difference between a cold night spent shivering on a ledge and walking out in perfect evening light. Almost five years after I wrote the Monoboard and started The Diaries, I find myself in a metaphorical transition. My passions run from the mountains to the Seattle music scene and I've become adept at moving between them. My life is about to change. My passions won't. It's time to refine the transition.

Listen to "Transitions – Efficiency Manifesto"
(mp3 – right-click to download)
Visit dirtbagdiaries.com for links to download the music from "Transitions – Efficiency Manifesto" or to hear past episodes of the podcast. You can subscribe to the show via iTunes and RSS, or connect with the Dirtbag Diaries community on Facebook and Twitter.
Special shout out to Walker Cahall for this episode's clever show graphic, and to Fitz and Becca Cahall as they near delivery time.