Listen to "What Is Hardcore?" Dirtbag Diaries Podcast Episode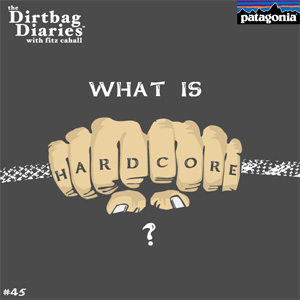 Bust out the headphones, Fitz Cahall just released a brand new episode of The Dirtbag Diaries.
Our sports have long heralded rating systems that let us know just how we're doing. We may bicker over their ratings, but we return to them again and again. They help us set goals, and push ourselves harder. But what happens when we go beyond the limits of these systems? How do you measure fatigue, thirst and mental resilience? When these elements merge together, we begin to enter the mythical realm of hardcore. Today, Brendan Leonard dives in with some simple ideas on who and what are hardcore. How do you measure up?

Listen to "What is Hardcore?"
(mp3 – right-click to download)
Visit dirtbagdiaries.com to hear the music from "What is Hardcore?" or download past episodes from the podcast. You can subscribe to the show via iTunes and RSS, or connect with like-minded listeners on Facebook and Twitter.