Dispatches From Grandmaster Gulo Pimpdaddy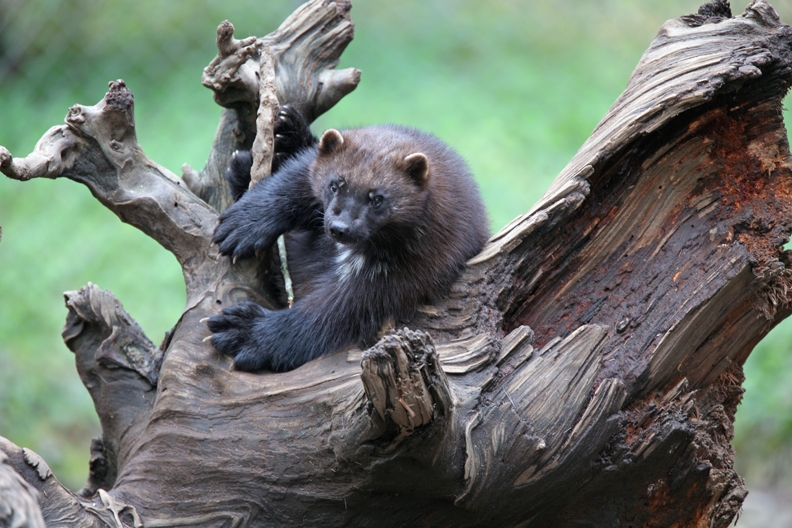 We got this note from Doug Chadwick, writer, National Geographic contributor, and all-around friend to "hyper-nasty, victim-shredding gluttons," i.e. wolverines. Thought you might like this update on his travels and findings. If you enjoy the update, be sure to catch the Nature special on PBS – Wolverine: Chasing the Phantom and read his Patagonia-published book, The Wolverine Way:
When you're an author on the road promoting your latest volume, you never know how many folks will turn out for a presentation. Unless you're a literary rock star, the last thing you'd expect is an overflow crowd. Especially if your subject is scarcely known beasts with a reputation as hyper-nasty, victim-shredding gluttons. Which is to say wolverines.
Lately, though, wherever I give slide shows and readings to pimp The Wolverine Way, the room has been packed. It's more than encouraging to see this kind of interest in Gulo gulo, a species hardly anybody paid attention to before. People have been coming up to tell me about wolverines they glimpsed in places like Colorado, Utah, Oregon, and California sometime within the past few decades. Very cool….. except these high country hunter-scavengers were supposed to have been wiped out there almost a century ago by unrestricted trapping, hunting, and predator poisoning. Which is to say by a society sweeping through ecosystems like a plague of venomous apes.
[A captive wolverine shows off an out-sized paw; one of the features that make the species unique and infamous. Photo: Dale Pedersen]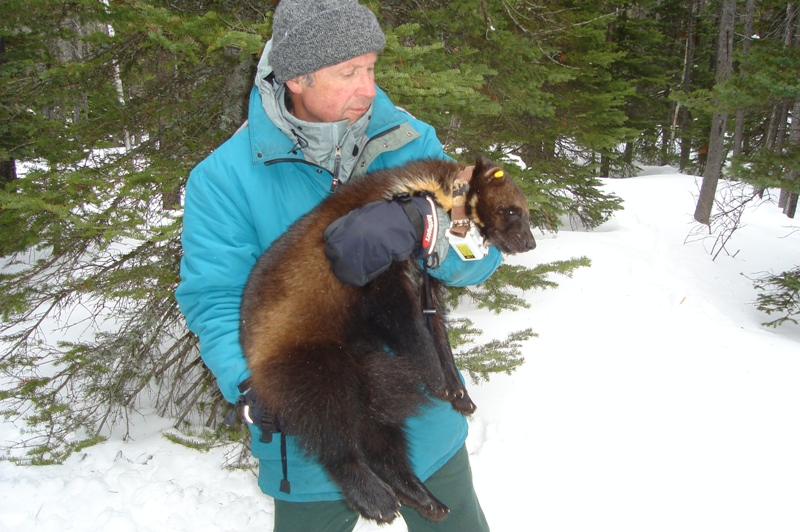 Are we looking at cases of mistaken I.D? Wolverines are so unfamiliar and rarely observed that they get confused with everything from big marmots to small bears. Only about 250 to 350 remain in the Lower 48 today, confined to remote mountainsides of Montana, Idaho and northern Wyoming. Yet some of the people who told me about sightings farther south seemed like experienced naturalists. A few were biologists. I'm passing along their accounts to officials and researchers to check out. After all, within just the past couple of years, a radio-collared male wolverine made news by trekking 600 miles from central Idaho to Lake Tahoe, California. Another wandered 500 miles from Wyoming's Teton Range to take up residence above 10,000 feet in Colorado's Rocky Mountain National Park.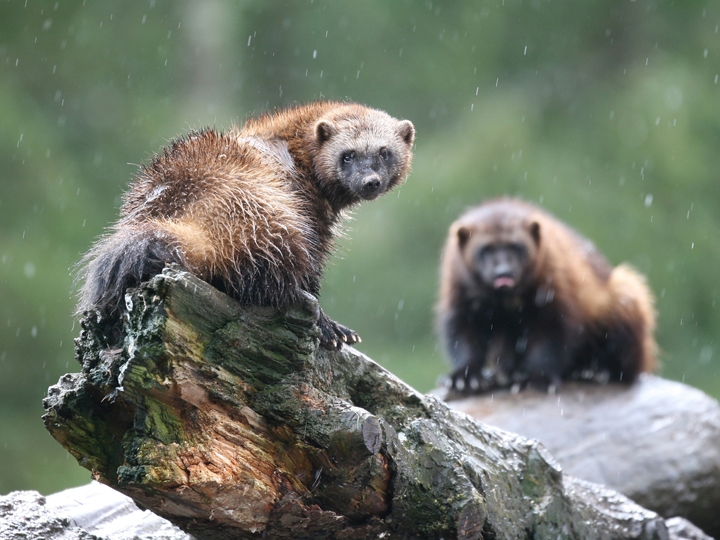 four-legged mountaineers up on the public's radar. Not psycho-bad-ass, just amazingly strong, tough, never-back-down-bad-ass that redefines survival in the wild. The real push comes from the wolverines themselves. We just had to get to know them a little better.
________________________
Catch Doug in person – offering readings from The Wolverine Way – on these dates:
November 23 – Vancouver, British Columbia  7 pm, at Science World, 1455 Quebec Street
November 29 – Bozeman, Montana  7 pm at Story Mansion, Evening talk and slide show, Montana State University, 811 Willson Ave.
December 6 – Boulder, Colorado  6pm to 7pm, Boulder Integral, 2805 Broadway (303) 541-1540 sponsored by WildEarth Guardians
December 7 – Denver, Colorado  6pm to 7pm, Mercury Cafe, 2199 California Street (303) 294-9258 sponsored by WildEarth Guardians

[Top, left – Author and friend (a sedated wild male wolverine.) Photo: Rick Yates. Above, right – Snowy white at birth, wolverines require a deep, abiding snowpack in which to rear their young. Photo: Dale Pedersen (also bottom left photo).]