Epileptic Opportunity: Paddling Towards a Cure
Jared Muscat
/
Sep 02, 2016
/
7 Min Read
/
Surfing
I have epilepsy. I don't know if I was born with it. The better conclusion is I developed it from a series of concussions in high school. But truly, no doctor will say for certain. Such is the story of epilepsy. I was diagnosed on my way to my freshman year at the University of California San Diego.
I don't intend to bore or scare you with the diagnosis story, other than to say, my first known seizure will always be my scariest seizure because I'd never before awoken to a room of terrified parents and a medical unit. And I think that will always be true.
The first doctor I visited asked if I was physically active. Easy answer.
"Yes," I said proudly. "I surf every day, sometimes twice."
The doctor shook her head in disgust.
"We will have to change that," she replied. "That is too dangerous for an epileptic."
I smirked at my mom, who smirked back. She knew there wasn't a chance.
"Sorry doc, but if you want me stress-free I can't be salt-free."
"It's true," my mother confirmed with a smile and a nod.
In one doctor's appointment I learned the most important lesson of my epileptic life: "epileptic opportunity," turning the disadvantages of epilepsy into benefits for one's passions. Unfortunately, it took me many years and many seizures to learn how to best apply this lesson to my life. These years and these seizures cost me a lot of headaches, some brain cells and even self-confidence. Worse yet, they cost my family a lot of pain, worry and grief. Epilepsy is a wretched disease, but it doesn't have to define you. Better yet, for some of us, it can be opportunistic if you let it be.
In November, while visiting my family for Thanksgiving, I had a series of seizures that put me in the hospital for three days and cost me my driver's license for six months. The seizures were onset by high levels of stress and a major lack of sleep—two things I had been very lazy to control. After I got out of the hospital, I decided to look back at that first doctor's visit with my mother and make epileptic opportunity my lifestyle. I added it in ink to my wrist as a daily reminder of my mission not only to correct my epileptic self, but to help other people see when an epileptic opportunity arises.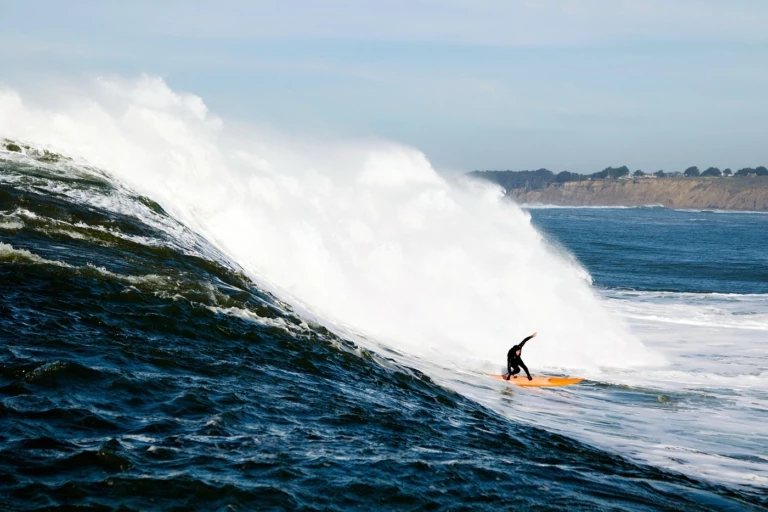 Summertime in Santa Barbara County is a surfer's torture—onshore and flat, all day, every day. If you are someone with dreams of big cold waves, like myself, this is not ideal. If you are someone who simply dreams of surfing every day, this is not ideal. Last summer I bought a paddleboard to try and combat this problem.
Lately, my paddleboard is the only craft I spend time on. Every morning or afternoon I take that 12-feet of Tim Robertson-shaped foam and toss it into the ocean to glide for many miles of peaceful training. It's been a type of oceanic poetry I did not see coming, even when I knew the ocean held more poetry than any human or society could provide.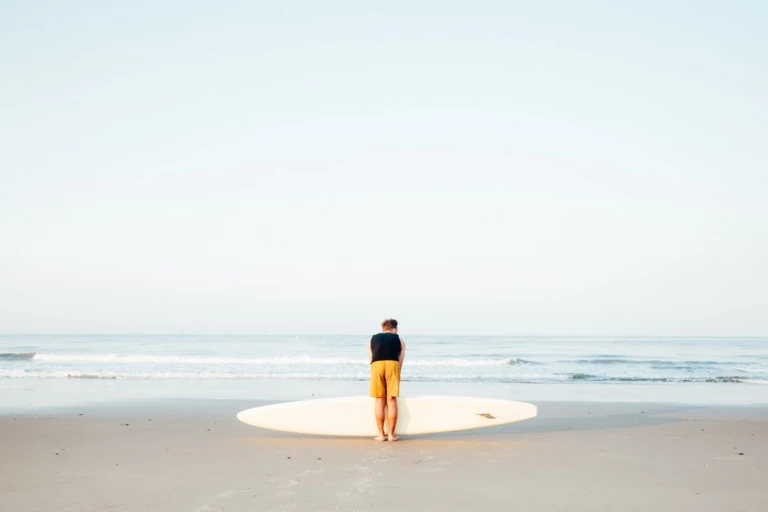 Then I started planning a paddle from my cottage in Carpinteria to my job at Patagonia in Ventura—17 miles in total, slightly more than any single paddle I had done. One morning, while enjoying a gorgeous sunrise paddle an idea popped into my head. What if I made the paddle to work about epilepsy awareness and put it on Facebook Live? As the Social Media Producer for Patagonia, an idea like this made sense. Shifting between knee and chest strokes, I developed my livestream plan—promotional copy, asset requests, partnerships.
All of the sudden, a pod of dolphins jumped, one by one towards the south. Stroke after stroke, I looked towards the dolphins. Stroke after stroke, I edged from side to side to connect small bumps. And then, splash! From the nose of my board one dolphin leapt.
Then, to my left, another jumped and flipped its tail. A couple of board lengths ahead, one of the leaders road waves with giant swoops, while behind a mother called between us all. Soon another dolphin joined the first at my nose, and from the Ventura River mouth to C-Street cove they rode on either side of the nose of my paddleboard, sometimes jumping over the board and switching positions, consistently swimming so close I was scared they would touch the board and knock me off. But they didn't, they just kept amazing me. For a half mile or so, we swam together and I screamed for joy at the top of my lungs.
As I touched shore later that morning, I knew I was onto something good.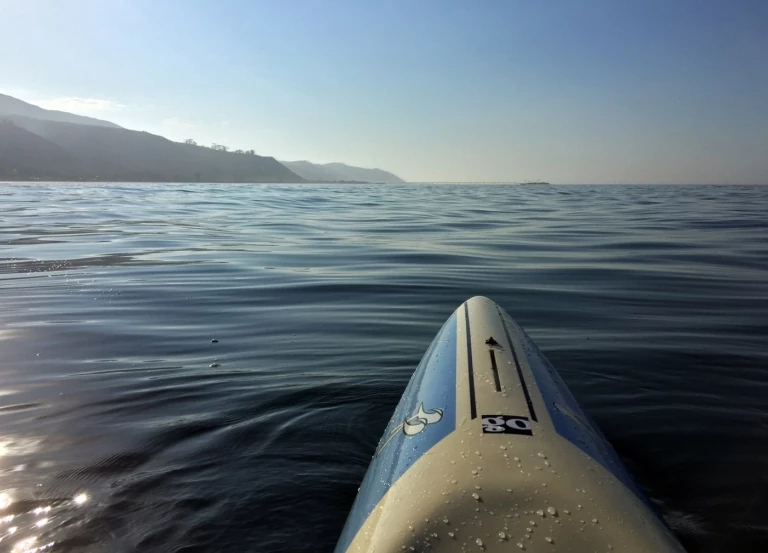 I utilized my lunch break to order a LifeProof and a water bottle bracket for my paddleboard that would hold my iPhone. I set some mile markers for the rest of the week to assure myself that 17 would not only be doable, but easy. I wanted the livestream to be interactive, allowing the social media community to ask me questions on the water.
Shortly thereafter I contacted the local chapter of the Epilepsy Foundation of America, and got in contact with Nathan Jones. I was worried when I reached out to Nathan because of my previous experience with doctors, epilepsy and surfing. But Nathan was enthusiastic from the start and so were his bosses. They pushed the outdoors aspect and we decided to send my fundraising to the Walk to End Epilepsy because my paddle so similarly aligns with the walk. Soon I was calling Mike Avery, a local paddling friend, to see if he would paddle with me and lend Nathan his boat so he could follow along and share the journey on End Epilepsy's social channels.
When my alarm went off the morning of the paddle, I was wide awake. As I kissed my beautiful fiancée, a deep hole settled into my stomach. I was about to go onto Facebook Live and do a 17-mile paddle, a distance I had never done before. As soon as the hole settled, I looked out to the sunrise and then to the ocean, and found my spot.
Soon I was on the ocean, the wind was in my face and the screen of my phone was too. Neither of which was too fun but with the cause in mind, it was easy to push forward.
Stroke after stroke, transitioning from chest to knees, I went. And Mike went. And everyone online followed along with nice comments and silly questions. One aunt thought we were close to finishing, but it had been no more than twenty minutes and thus less than two miles. My fiancée kept complimenting my silly faces and others simply complimented how fast we paddled.
All the while, we did our best to focus on the goal at hand. Through bump after bump, the goal felt a little less attainable but more important. And strangely enough, because of this, it became even more fun.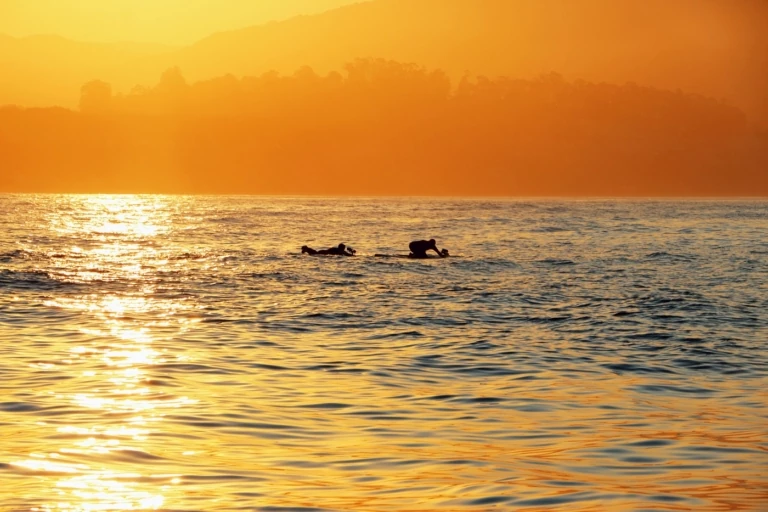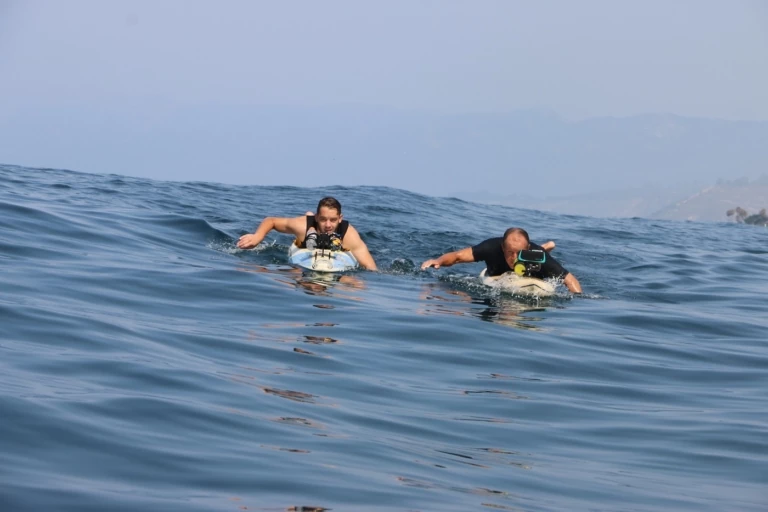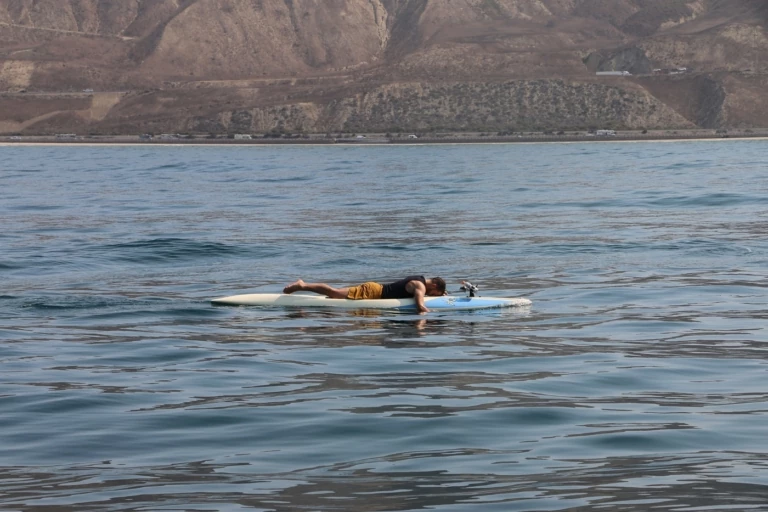 Some 5 hours and 45 minutes later, with a very sore back and even more tired arms and mind, the shore was in sight. My phone had died four hours earlier and Nathan's had too. No longer were we raising awareness, now we were just paddling to prove we could—to finish our pledge that 17 miles was for the cause and more than attainable.
Each and every stroke to the shore felt easier than the last. When the sand touched my feet, I didn't feel triumph only relief and an odd feeling of balance that had not been there for over six hours.
I will paddle further than 17 miles soon, it will be for epilepsy and it will be for me. I don't think any paddle could ever be without the cause of enjoying the absolute beauty that is the great Mother Ocean and the complicated effort of paddling for miles upon her. And when that paddle does come, I will be even more ready and more excited. Hoping that you join—either on the livestream or in the ocean.
Turning the Disadvantages of Epilepsy into Benefits for One's Passions
This is a core belief for Jared and his epilepsy treatment. Please donate to the Epilepsy Foundation of Greater Los Angeles in support of Jared's efforts and the fight to end epilepsy.