Fighting Forty (Part 1): Myths, Excuses, and Realities
It's tough to say who's been getting more exercise lately, Kelly Cordes or his insurance policy. TCL regulars might remember his recent injury, a dislocation he wrote about back in October. As the surgery date approaches, Kelly's found himself in a pensive mood. Today we offer the first in a multi-part series where our hero takes a look at the myths, the excuses, and the stark realities that come with fighting the big four-oh. -Ed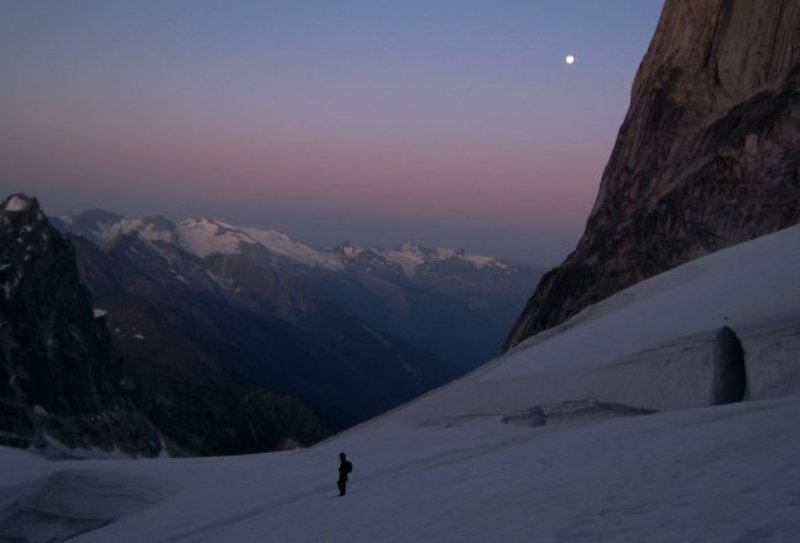 Lights flashed and sounds clicked, buzzed and snapped in an eerie mash inside the claustrophobic rave party simulator otherwise known as an MRI machine. I thought of avalanches, and panic struck. Breathe, relax, hold still, if you were buried in snow and tragically not killed by the trauma, could you be at peace in those suffocating moments, grateful for everything you had?
Freak accident. Again. Some bad luck, too, but people mutter this "getting old" bullshit and it drives me nuts. It drives me nuts because I think it's usually an excuse people use to justify having spent the last 20 years neglecting their bodies, and they want some reason to continue doing so. I fight against that very thing because I love what I do. But I will admit that I've been searching for some explanation as to what the hell is going on with me – since February I've destroyed my leg, smashed my face, and now wrecked my shoulder. I don't think it's as simple as some stupid number, though, no matter who says it.
And damn, I don't like tight spaces. But the MRI had to be done for my shoulder. "Had" even whirls my mental cuisinart because it's far from life-and-death, and people in far worse situations get far less. Despite my lower-than-average income, I'm extremely privileged simply to have health insurance.
How did I get so lucky?
[Another climb, a little more luck: Sunrise over the Bugaboos, en route to the South Howser Tower, August 2009. Moments before, just below the Howser Col, I grabbed a car-sized boulder that shifted and fell toward me, but in a split-second of lucky angles and reactions, I leapt and danced out of the way and we laughed it off down toward the route. Photo: Steve Halvorson.]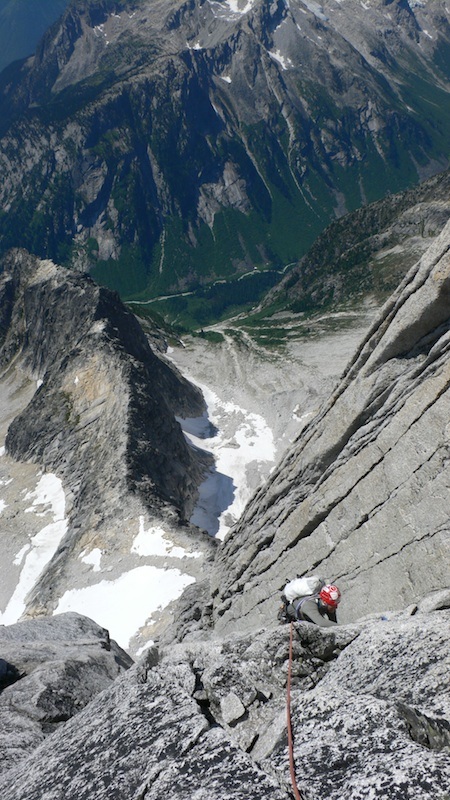 Hackett's personable, fit, looks like an athlete – he swam in college and still holds school records. Photos and jerseys and thank-you notes from famous basketball players, football players and Olympians line the office walls. He's fixed several climber buddies, everyone says he's the man, and I like him immediately. He knows climbing and climbers – he suffered a pilon fracture of his own, like mine, in a leader fall years ago.
"If you were a weekend warrior," he says, "even an NFL linebacker, to where popping it back in was no big deal, or you could just head to the doc on the sidelines, it'd be one thing. But say you worked on a crab fishing boat in the Bering Sea, or were a firefighter, or were 20 pitches up something in Patagonia" – he knows about my Patagonia plans – "then it's an entirely different scenario."
We talk some more and then he says something that stops me, something I'd always found a way to dismiss. Hearing it from him hits me differently. Dr. Hackett shrugs his shoulders and goes:
"Yeah, well you hit 40…"
And I got to thinking.
 
[TOP, LEFT – Atop pitch five of the DNB, with my left arm stuck in the only comfortable position. Photo: Cordes/Schaefer.
ABOVE, RIGHT – Steve Halvorson (also over 40) cruising on the classic Beckey-Chouinard route, South Howser Tower, Bugaboos. Photo: Kelly Cordes.]