Finding Peace, Just Like Ron Kauk, on an Iconic Climb
Robbie Phillips
/
Jun 27, 2017
/
5 Min Read
/
Climbing
A sea of a thousand rocky thumbs. Which one do you take? Balancing trustingly on ten millimeters of rocky protrusion, your index finger wraps around the top of a feldspar knob. Don't breathe too deeply or it might push you off. You have it, but you feel your balance waver. For a millisecond you're falling …
Out here in the beautiful High Sierra it's easy to get lost in the sweeping landscape of hills, forests and granite domes. The mornings are chilly, the days are warm, the nights cold and crisp. This morning, I feel the icy air freezing my throat as it claws its way in through my windpipes. I'm walking in time to the beat of the music. I've never minded approaches, I just plug my headphones in and let my mind wander and flow around the ideas that inspire me. It's like a moment of meditation—to enter the chaos of my mind and somehow find a flow or pattern to it.
I saw the route when I was a kid but back then it was just bright colors on an oversaturated screen, part of an '80s-era television series called "Masters of Stone." A bronzed demigod of a man with long dark hair climbed the Martian rock face. That man was Ron Kauk and the climb is Peace (5.13d – 8b).

As I climb the daunting wall of clean granite and dotted feldspar I can feel the flutter of nerves rise up. My inner self asks questions of success and failure. My mind even drifts towards random thoughts of friends, family, what I'm having for dinner tonight. I refocus on what's ahead of me. The wave of rock flows upwards and I continue to move up along with it. I enter the crux and find myself eye to eye with the smallest hold, a one finger sloping knob.
I take a deep breath, my feet dispersing weight. I find balance, thoughts focused on one movement, and I initiate. I'm still on the wall, my body tight against it and I can keep going upwards.
As I recover, my focus wanes under the subjected relaxation and I notice the back of my hand is cold and wet. Why is it wet? I look up and something lands in my eye. It's falling from the sky.
Snow.
For a brief moment I'm angry. Why the hell is it snowing? This will ruin my attempt! But then I relax and gather my thoughts. I've done this before, faced adversity a hundred times on the wall and made it through. Just stay calm. I continue with my upward progression, the light fluffy flakes of frozen water drift downward speckling the wall. The granite is stone cold and I feel it slip under hand and foot, but I keep my cool. This is what I live for. I focus on the one constant: the rock. It remains unchanged, strong, a force of solidity in a constantly changing world.
The act of climbing—moving on rock, being up there on a wall, in the mountains, in nature—it's a soul-searching activity. As a child, I was hyperactive and struggled to find balance. Climbing took my excess energy and channeled it. I became more focused in classes and did better at school. I went climbing everyday but that never affected me negatively. It was the best thing I could possibly be doing with my time. To this day, I still live my life through climbing. Like a religion, I am devout; the ethics of climbing are my ethics of life. I live an existence that is meaningful, purposeful and sustainable. I don't want for much. My lifestyle is simple and free and I wake up every morning happy in my little world of rocks.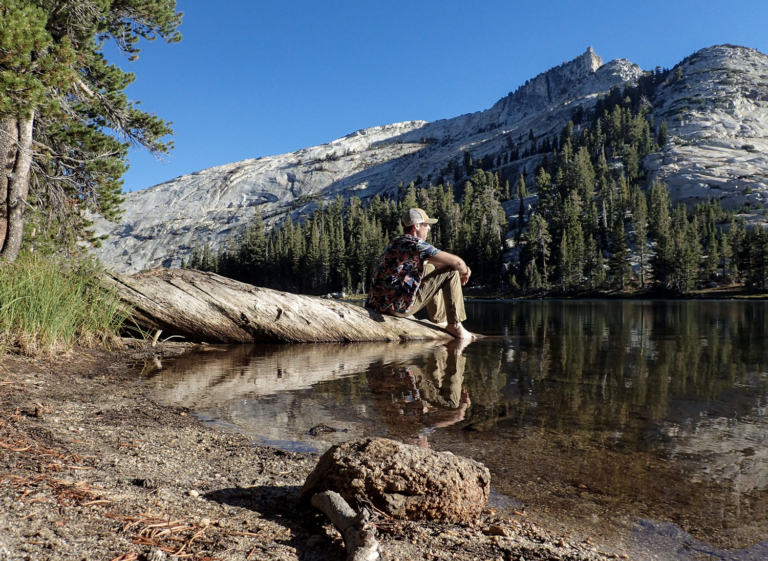 I am now standing below the final crux, the slight dip forwards of the dead vertical face. I can't lose it here, I'm so close. These thoughts of want and desire are dangerous. I take a deep breath, focus on the activity not the outcome, and continue to climb. But, before I realize what I'm doing, I've made a mistake.
That foot is wrong, this hand is wrong, the balance is off. For a millisecond I'm falling.
Everything goes still. The snowflakes are frozen in time (just like their molecular state) and my inner spirit level is bobbing a little too far to one side, but I catch myself. At this point I realize that I have been holding back far too much. I need to have faith. So I step hard on the granite knob, shift my weight in and pull down on the tiny feldspar protrusion above my head.
There are times in your life when you think, "Damn! I really got away with that there." Was it luck or something else? I don't believe in fate but having faith can sometimes be all that is needed to give you that extra little bit of something to overcome a hurdle.
Ron Kauk was immortalized in a golden aura of light as he made the final hard move of Peace—a long reach to a right hand edge on the dark granite streak. I step my right foot high and reach long and hard to make that same strenuous move 21 years later.
I didn't fall.

The snow continues to drift slowly downwards from the cloudy morning sky. As I reach the end of this journey, I know what it means to have Peace.