Fishing Waders Trigger Deep Thoughts About Gear Manufacturing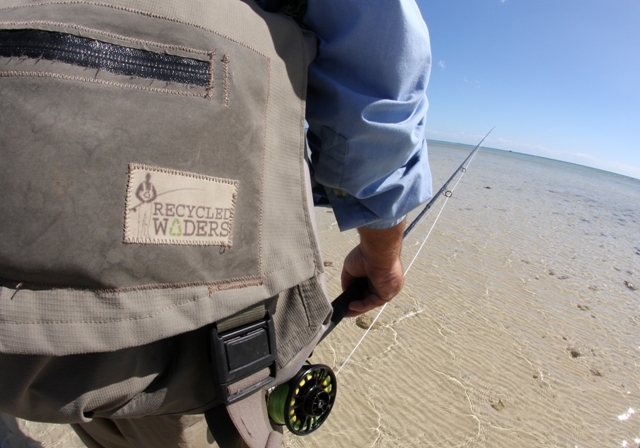 Our friends over at Recycled Waders have been hard at work finding new uses for some of Patagonia's most hard-to-recycle items. Fishing waders are complex pieces of gear – neoprene feet, water-proof fabrics treated with water-repellent finishes, stretchy shoulder straps, metal snaps and zippers, each of these items adds a layer of complexity to a process we developed originally to recycle simple base-layer garments. Patagonia's front man for all things pertaining the the environmental impact of our raw materials is Todd Copeland. He's been steering our Common Threads program for a while, and was stoked to share this story with us. It comes via Patrick Jenkins, founder of Recycled Waders, a small family operation that's busy building a successful business on three important pillars: Recycled Materials, Repurposed Products, and Responsible Consumers.  
Background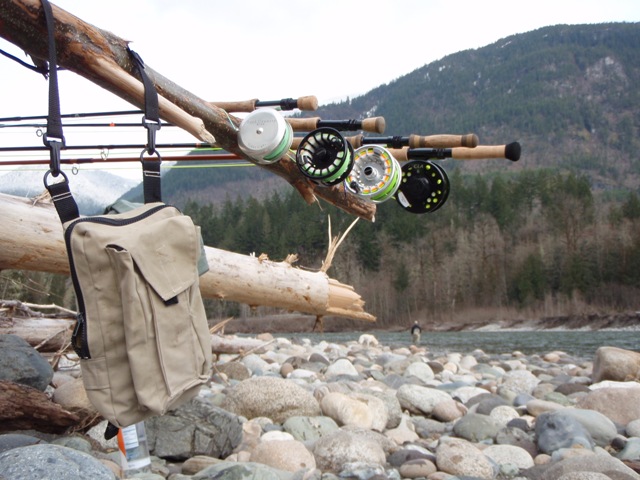 Who would have guessed an errant back cast lodging a 1-0lead-eye bunny leech in a scraggly black spruce tree on the high bankside of ariver mouth full of Alaskan king salmon would have been responsible for thedevelopment of a small business? But as luck would have it I scampered  up the bank to retrieve my fly from the black spruce, stepped up on a downed tree to reach my fly, lost my footing and a branch on the tree gauged an enormous hole in my first pair of breathable waders. Hmmmm…..
[Recycled Waders provides a flat-out better alternative for retired waders: up-cycling them to new hand-sewn gear full of life and character. Photos: Patrick Jenkins, Recycled Waders]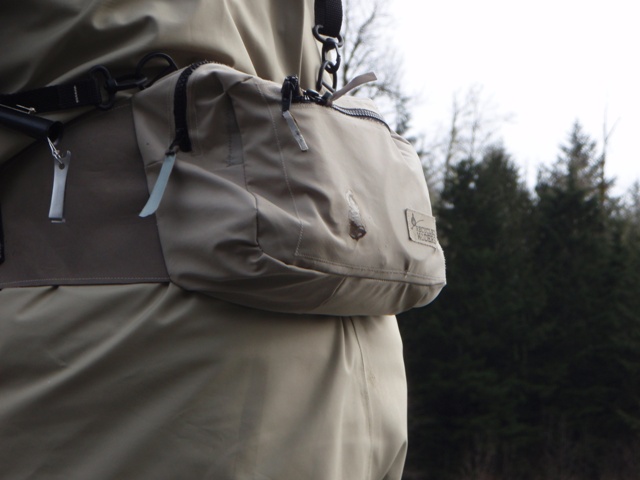 After finishing the rest of the fishing trip with leakywaders and soggy feet I drummed up the idea of using the wader material tofashion a new fishing bag specifically for my annual king salmon trip. Isketched the pack and handed the drawings to my mom and talked her through somedetails. A few weeks later and my mom had put to use the sewing skills that kept my dad's sled dogteam in harnesses and my brother, dad and I in beaver fur hats & moose hidemittens during cold Alaskan winter months. She handed over the first RecycledWaders bag. It wasn't until three or four years later after manyfishing trips and many more inquiries frommy friends and fishing partners about the recycled fishing satchel  that Recycled Waders, LLC was created.
Early stages of Recycled Waders (RW) production involvedcutting out hand-drawn patterns on splayed out pieces of waders donated by myAlaskan fishing partners, clumsy sewing on a donated home sewing machine, andhand-drawing logos with permanent markers. After fine-tuning a few patterns wefelt would resonate within the angling community I approached a few trustedindustry friends, Dave McCoy of Emerald Water Anglers, Eric Rathbun of Reel Pure and Brian Bennett of Patagonia, for their honest opinions on the idea, theproducts, and next steps. Here we are today.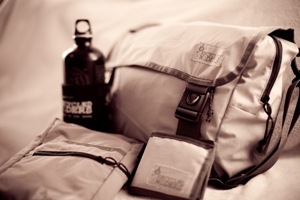 The Grit
Recycled Waders uses reclaimed breathable wader materialto create repurposed products. This material comes from individuals, fishingguides, fishing lodges, wader manufacturers and local fishing clubs.
Once waders are received they are "deconstructed" byremoving shoulder straps, waist belts, neoprene feet, manufacturer logos andany other straps, buckles or pockets that might get in the way. Next thematerial is washed at a local laundry shop. Those of you who have spent all dayin your waders know what goes on in there – they need to be–and do get–laundered!
After their "de-fumigation" the waders are stacked inlike-sizes, shapes, and colors and prepared for cutting and sewing. As much aspossible, the components from each pair of waders are reclaimed with intent tobe used in products as buckles, clasps, pockets, sliders, etc.
The Minimalist attitude at RW keeps all the "extras" andgadgets out of our packs. You won't find tons of extra padding, added clasps,snaps or buckles, no extra elastic or fancy fold-out fly trays; just simple,straightforward lines with utility in mind.
Recycled Waders products are "deconstructed","de-fumigated", cut and sewn within a 15-mile radius in Seattle, WA. Eachproduct is unique to each pair of waders. Whether it be aqua seal splotches,patches, stains, sun bleached sections, self-imposed monograms, nicknames orcolor patterns, each pair of waders brings their own character to the shop andwe try to capture this with our products.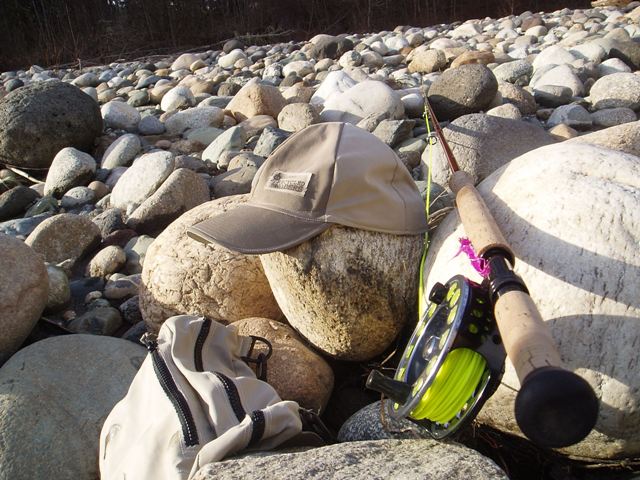 Angler-to-Angler Program
The Angler-to-Angler Program is fairly self-explanatory:the angler donates or recycles waders, waders are repurposed into new items, sameangler or another lucky angler receives Recycled Waders products.
When you've decided your waders are better off hanging ona nail in your garage or leaking on a fishing buddy who forgothis waders (been there), then they are ready to be recycled and we are here to help. As of Spring 2009, we have repurposed over 300 pairs of waders, that's 600 neoprene feet! We needed to find a solution to our growing neoprene mountain and are excited to finally have a resource to help us repurpose those neoprene feet.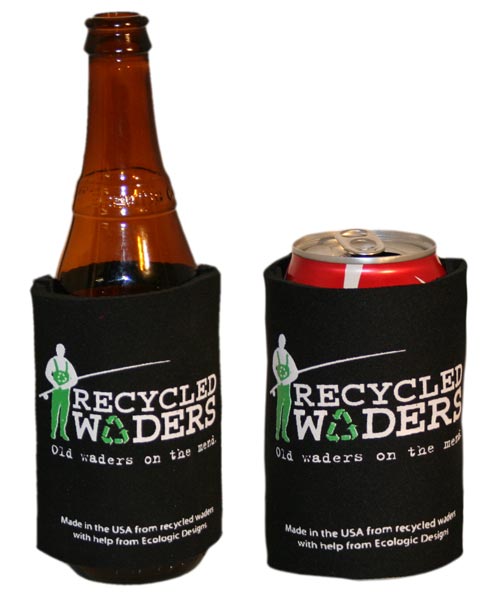 stumble upon them. We teamed up with the folks at Ecologic to create some Recycled Wader Koozies with our first batch of neoprene and we are currently working in the creative stages of some other items for our remaining neoprene. Exciting stuff!
For more info on recycled waders, how to purchase, or just to write them with encouragement to keep up the good work, contact: 
RECYCLED WADERS
800 Fifth Ave, Ste 101-245
Seattle, WA 98104
206-669-4115
www.recycledwaders.com
[Photos: All of the above, courtesy Patrick Jenkins @ Recycled Waders. Bottom, Ecologic Designs]