How to Dress Your Child from the Cold: Layering Tips from Fitz Caldwell
Every autumn since I've known Tommy we have loaded up our van, left our home in Estes Park, Colorado, and driven to Yosemite National Park for him to work on his mega-project, The Dawn Wall, on the monolithic El Capitan. After we had Fitz we couldn't wait to share this breathtaking place with him. This time of year the leaves turn golden and fall to the ground, snow dusts the valley rim, the warm California sun plays hide and seek behind the south walls as it moves from east to west, and the cold sinks into our temporary home in Upper Pines campground. Van life with Fitz means dealing with constant weather changes and variations. Making sure he's warm enough, but not too warm, is an ongoing challenge. As an active adult it's easy to find information about layering systems for your endeavors, but rarely do people talk about layering systems for kids.
Tommy is sponsored by Patagonia, which is lucky for us because they're one of the best for functional, outdoor kids' clothing. This also puts a hole in my research because we've solely used Patagonia clothes for Fitz's outdoor adventures. With that, here's Fitz's Fall (and early winter) Layering System.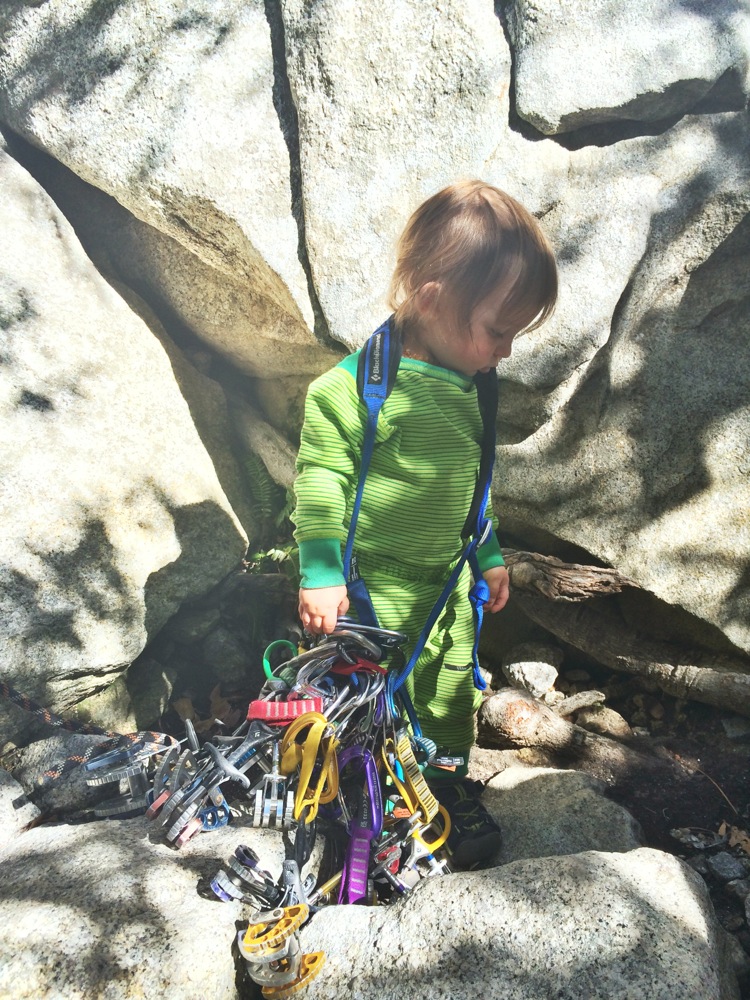 Fitz racking up for Moby Dick. Photo: Rebecca Caldwell
In chilly temps Fitz always wears his Capilene 3 Midweight Set. When the thermometer rises we occasionally swap the top out for a T-shirt. We have a set he sleeps in (keep it "clean" for bedtime) and a set for getting dirty and playing outside. After a solid week of wear the Capilene smells fine, has dried quickly from little legs walking too far into the Merced River, has held up to diggers in the dirt and on the pavement, wiped pretty clean from the yogurt spills, and managed to keep Fitz warm from those autumn breezes without hindering his runs through El Cap meadow. The set fits well under other layers and suffices on its own, too. The bonus is that it has snaps on the side to allow for growing room, so you definitely get your money's worth. Fitz is on the small side, and he rocked the 6M set for over eight months. Plus, back when Fitz was solely breastfed and had those mega blowouts, the Capilene never stained and quickly cleaned with a scrub in the sink—worth its weight in gold when you're on the road without laundry facilities.
For early fall mornings, evenings, and chillier days we throw on his Baby Micro D crew and pants over the Capilene. The Micro D set isn't thwarted by truckloads of dirt. With a good shake they're ready for tomorrow. They seem to provide a great amount of warmth and breathability when Fitz gets his body temp up from running laps around the bear box in Upper Pines Campground and sending the mantel problem at Church Bowl.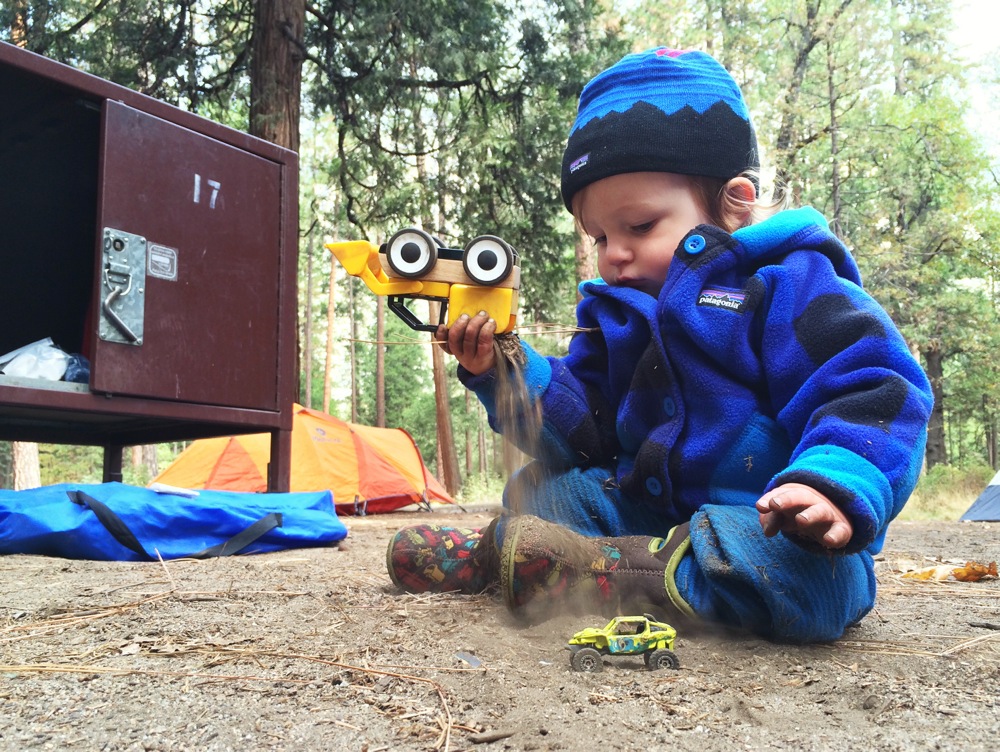 Fitz testing the dirt resistance of the Micro D pants. Photo: Rebecca Caldwell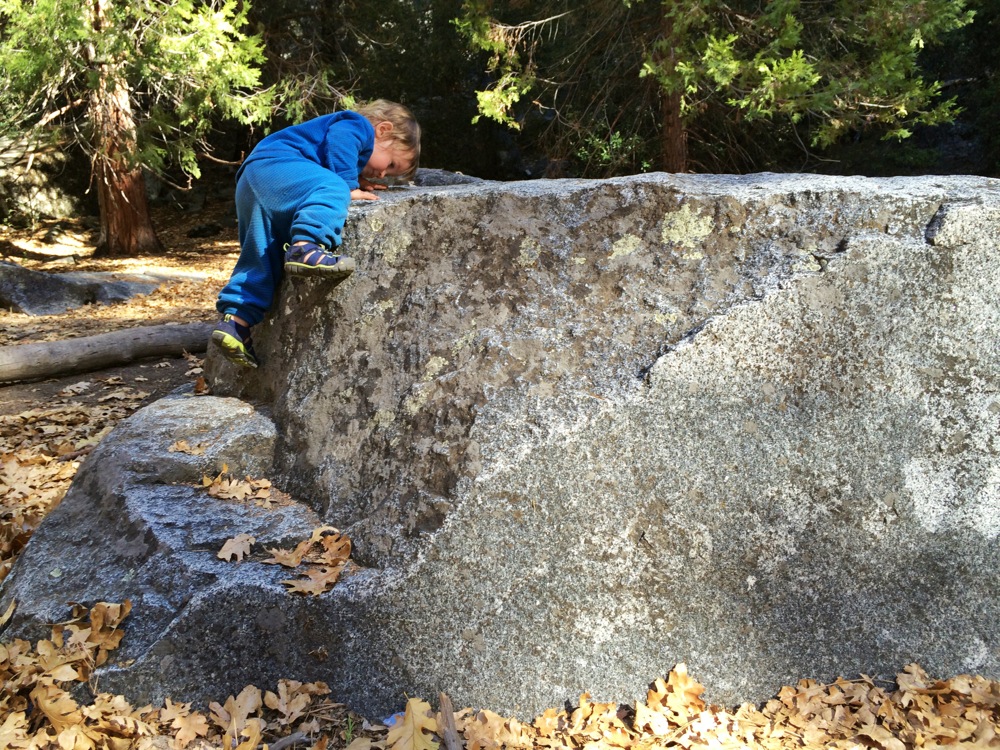 Fitz battling his Church Bowl mantle problem. Photo: Rebecca Caldwell
Momma knows best. Becca writes: "Tommy and I really want to instill the value of hard work in Fitz. We hope by encouraging him to do this in everyday tasks that it will build up his skill. This was a proud moment when he persevered and sent his mantle problem at Church Bowl in Yosemite National Park!"
Video: Fitz sending the Mantle! by Rebecca Caldwell on Vimeo.
As the temperatures start to drop a little we opt for a fleece jacket for Fitz. A favorite is the Baby Synchilla Cardigan with the hood and zipper, which has plenty of room for layers underneath. This fall Patagonia came out with the Baby Swirly Top Jacket, which gets extra points for the cuteness factor. The little pointed hood lends to Fitz looking like a gnome wandering through the giant Ahwahnee Boulders.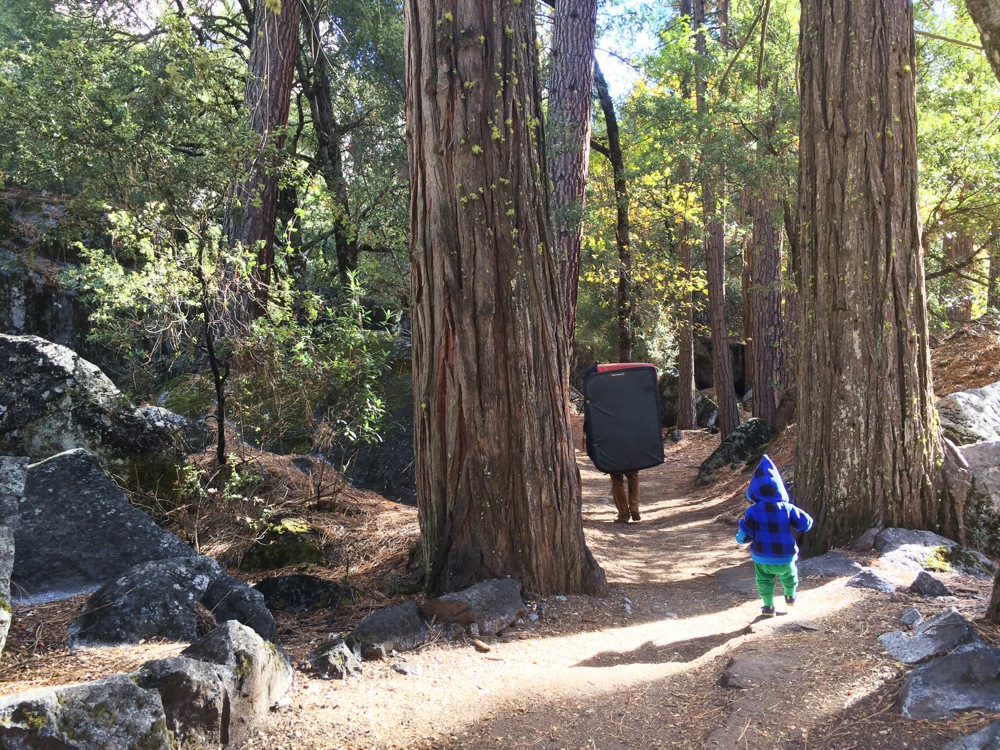 Follow the leader. To the boulders we go. Photo: Rebecca Caldwell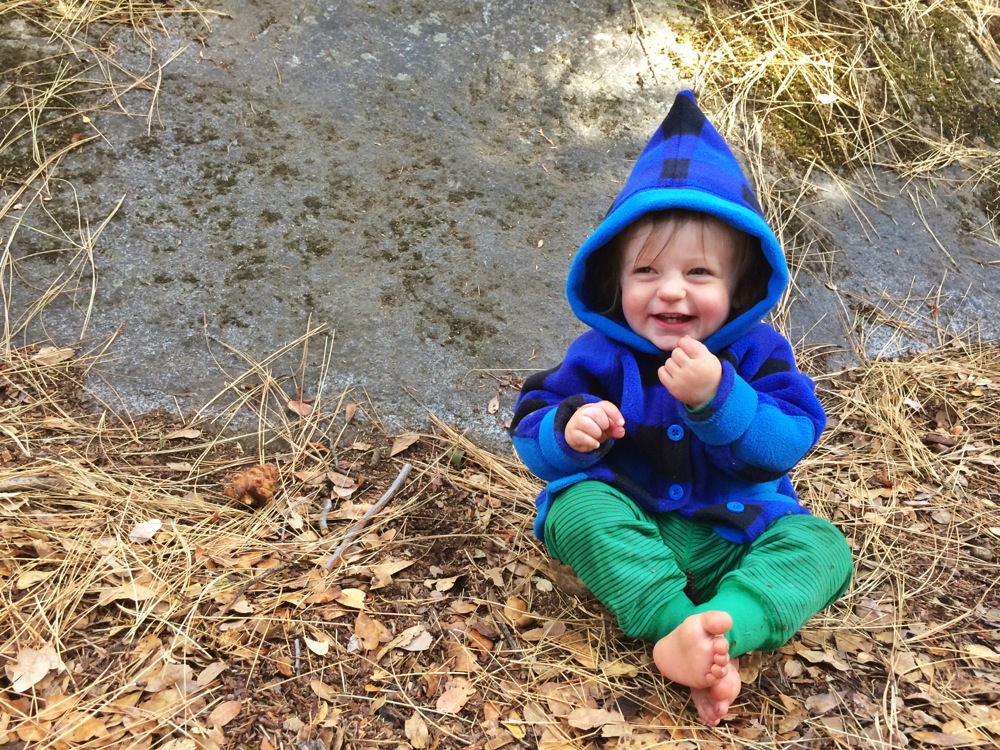 Happy little gnome. Photo: Rebecca Caldwell
Fitz's other go-to jacket is the Baby Down Sweater. It bumps up the warmth, though proof of his adventures with food and dirt tend to show on this one—nobody said little boys were clean. But it mostly washes out after long road trips, and the remaining minor stains make little Fitz feel mighty hardcore. His Down Sweater has traveled with us around Colorado, to Yosemite, across the ocean to Europe, down to Patagonia, and it has held up awesome.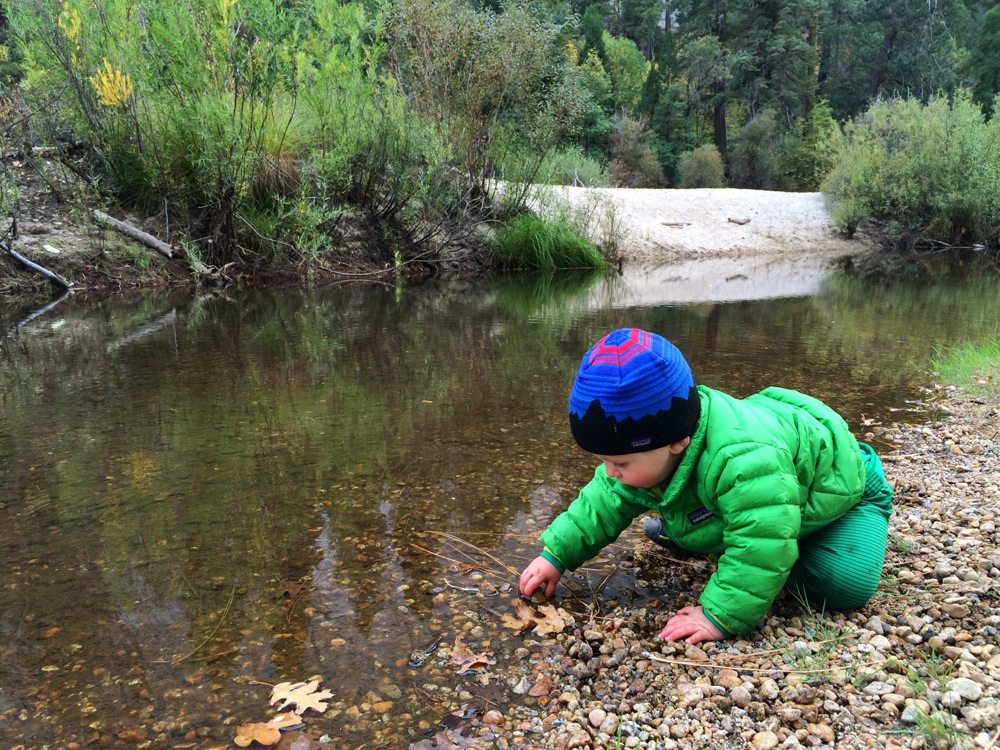 Fitz's secret spot at the back of the meadow. Photo: Rebecca Caldwell
If you're a newer parent and wondering what to put your little one in before they are walking and on the move, I always recommend the Capilene 3 set and the Micro D set (at any age really) and then the above mentioned fleece/down sweater, and/or the Synchilla Fleece Bunting or the Puff Ball Bunting. The Puff is going to add a little extra warmth/wind protection/water resistance over the fleece and is better in colder temps. The fleece bunting is awesome because the legs zip together to create a "bag" which is great for the little ones to sleep in when you're out camping or van dwelling. And don't forget the Synchilla Booties—Fitz wore these 24-7 until he started walking, and still wears them now when he doesn't have his shoes on. We never had an issue with them falling off, the bottom material keeps them from slipping, and the fleece material adds a bit of warmth. I still recommend putting a pair of socks underneath in cooler weather, though. They aren't too bulky so we always left them on Fitz when putting him inside the buntings, and we leave them on him for sleep on colder nights.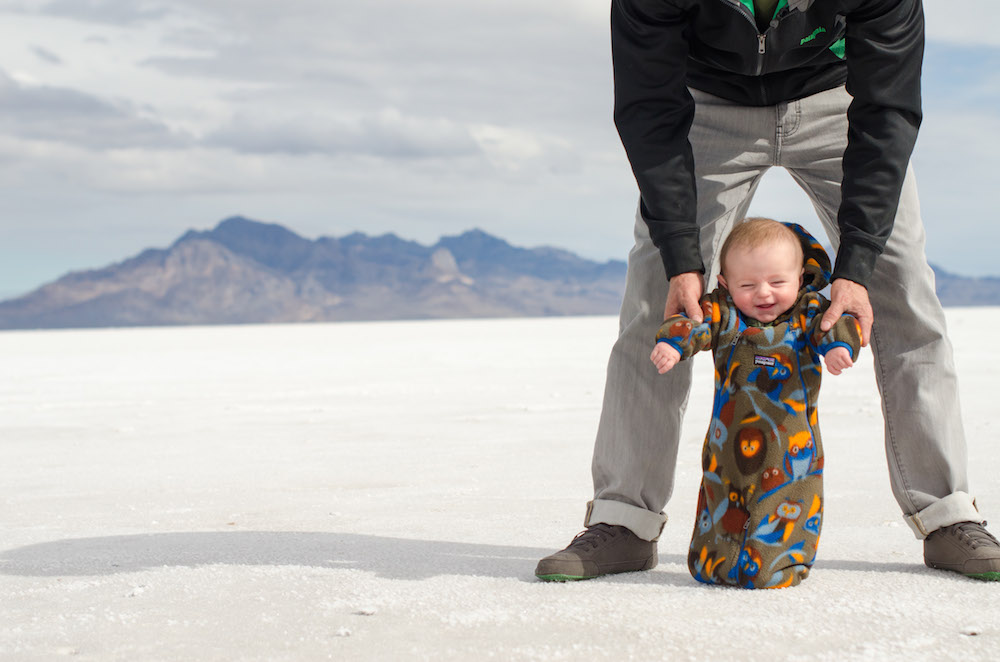 Fitz at five months old, on the Salt Flats of Utah, en route to his Yosemite debut. Photo: Rebecca Caldwell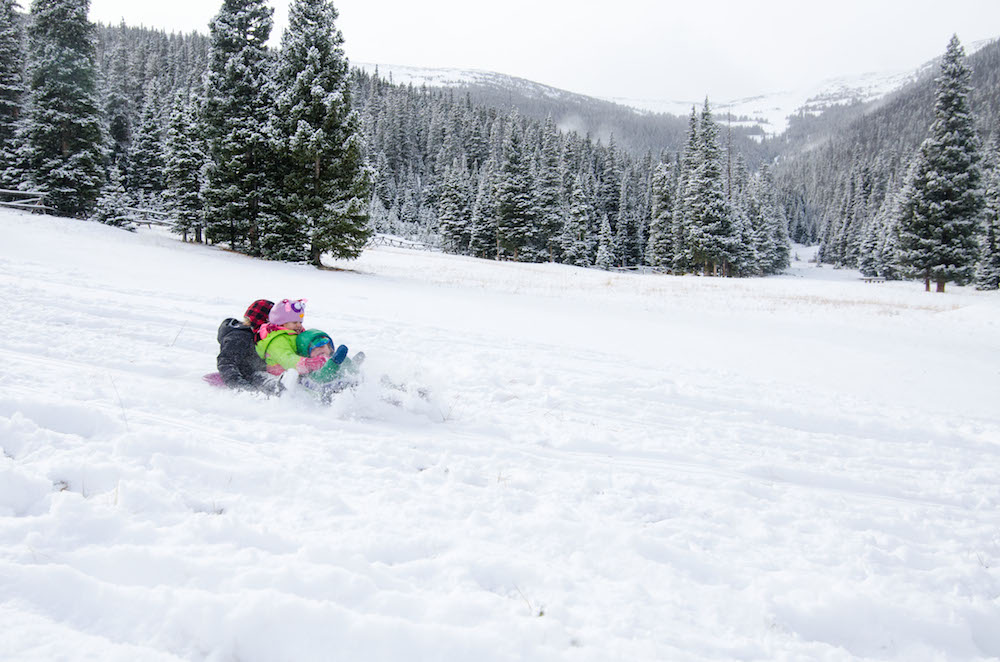 Seasons change. It's sledding time now for Fitz (in front) and friends in RMNP, Colorado. Photo: Rebecca Caldwell
Back in Estes, as the snow gathers and fall fades to winter, we just layer up Fitz with more of the above. He is one of those boys who puts his clothes to work on a daily basis—kind of like his dad—and, despite the wear, there is a lot of life left in them.