Five Stars for 5-Point Film Festival
Confession: I don't usually like film festivals. I like the idea, much like I enjoy seeing live music – at least when it's good, because then it's great. Sure, you can listen to a Rolling Stones album, but seeing them live leaves you speechless. Not a great comparison, since at film festivals you're still watching an on-screen production. But on a big screen, and with the energy of the audience. Plus, I like seeing friends and bullshitting at the bar (any worthy film festival has a bar, or at least bar-like beverages nearby). But too many outdoor films put me to sleep, and even evoke my Kelly Attitude: This sucks, can we go climbing now?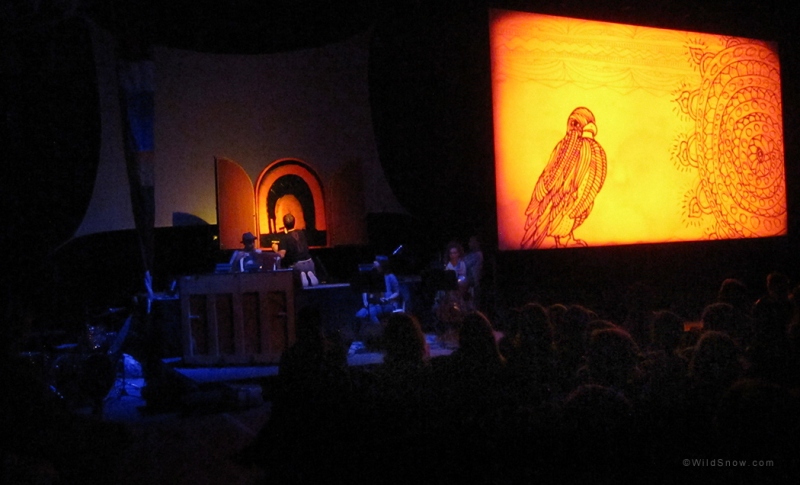 I think things are changing. I hope so, anyway, and last weekend's 5 Point Film Festival gave me proof. I never got fidgety, and I ran to the beer room in between films because I didn't want to miss a second. Normally… I'm a grouch, I know. And super critical.
[Jeremy Collins paints, his ensemble plays, and animation fills the screen at his stunning performance of The Wolf and the Medallion, at last weekend's 5 Point Film Festival in Carbondale, CO. Photo: Lou Dawson, wildsnow.com]
Anyway, this begs the question: is the – my – problem with film festivals the actual festival (a bunch of climbers going "blahblah, there I was, blahblah")? Or is it the films? I'll gloss-over the former and counter by saying that the 5 Point team put on one helluva event, one that felt just right in size, programming and content. Superb. They even had a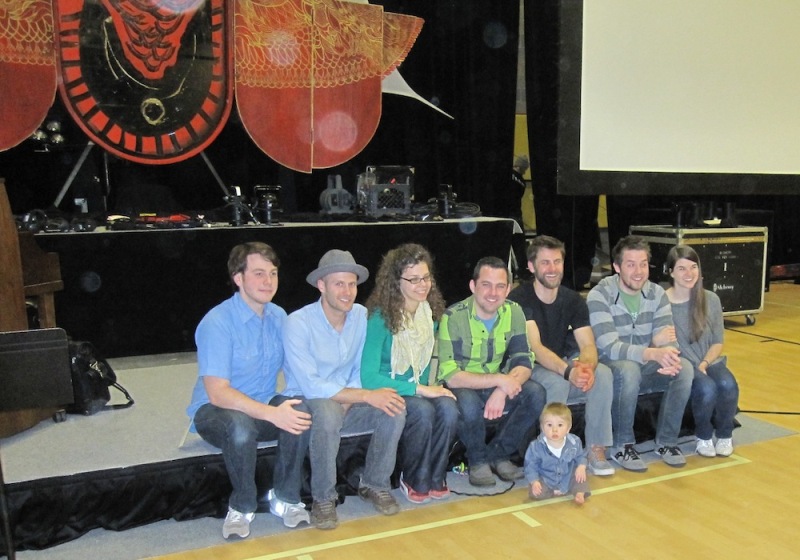 [Jeremy Collins (black shirt, 3rd from right) and his brilliant team for The Wolf and the Medallion. Photo: Kelly Cordes]
The films: I've been harsh in criticizing outdoor films, and, most specifically, climbing films. I appreciate the creative efforts of people, I truly do. I've just felt like the films have been in an awkward adolescence. Too many trip report style blahblahs, stilted dialogue so soaked in clichés that Strunk and White would spit-up their Don Julio 1942, and works severely lacking in story. But it is easy to be a critic, and, quite obviously, it is hard to do films well. I'm glad people are trying.
I'm even gladder that people are increasingly succeeding. Not to say that superb outdoor films didn't exist, but damn, we have so much creativity and expression in our pursuits that maybe it just took some time to come around. The elements required to make a good film are daunting: visuals, audio, story. And, as I learned while trying to write for one, the three-dimensionality adds complexity to the storytelling. (My first work on a film project, COLD, premiered at 5 Point – Anson Fogel and Cory Richards unquestionably did the heavy lifting, and it was a privilege to work with such talented guys; I helped with the writing.) You can't say something you're already seeing or hearing or feeling, or it becomes overwrought. But you don't want to lose your audience. I like being engaged, having to think, wonder, feel. I don't like being clobbered over the head (despite outward appearance). To each their own, though.
 
So as a ruthless critic, what was my favorite last weekend? The same as everybody's: The Wolf and the Medallion, a masterpiece performance by Jeremy Collins (it received the Best of Festival Award). Interestingly as to this conversation, it wasn't pure film, but rather breathtaking, unforgettable performance art that had many in the packed house moved to tears. Collins and his team took outdoor-world storytelling to an entirely different level, and I lack the ability to do it justice (here's one full review). He intertwined a live painting, a small ensemble playing an original score, and a film story – video, still images and animation – framed around a letter from father to son. Collins's letter is to his young boy, Zion, while away on a climbing trip near the China-Mongolia border.
[The Wolf & The Medallion Theatrical Trailer from Jeremy Collins.]
The only problem is in the sharing – I want people to see it. I want the people I love to see it. My non-climber sister and her husband, who live in New York City with their infant daughter; all of my friends who are parents; all of my friends who aren't parents; and anyone who loves adventure or even cares about living. Everyone.
But, as with rare art, how can it be widely viewed and fully appreciated? Much of the magic came from being there, live, with the music, and with Collins' transformative painting. For those who can't catch it at a festival or event, maybe he'll figure out a DVD version – I hope so. It won't be the same, but it'll be damn good. Kind of like listening to a great Rolling Stones album. It's still great. But it's nothing like seeing the Stones live.
[COLD – TRAILER from Anson Fogel on Vimeo.]
[One of my other favorites, Salt trailer by Murray Fredericks.]