Go Simple, Go Solo, Go Now – The Life of Audrey Sutherland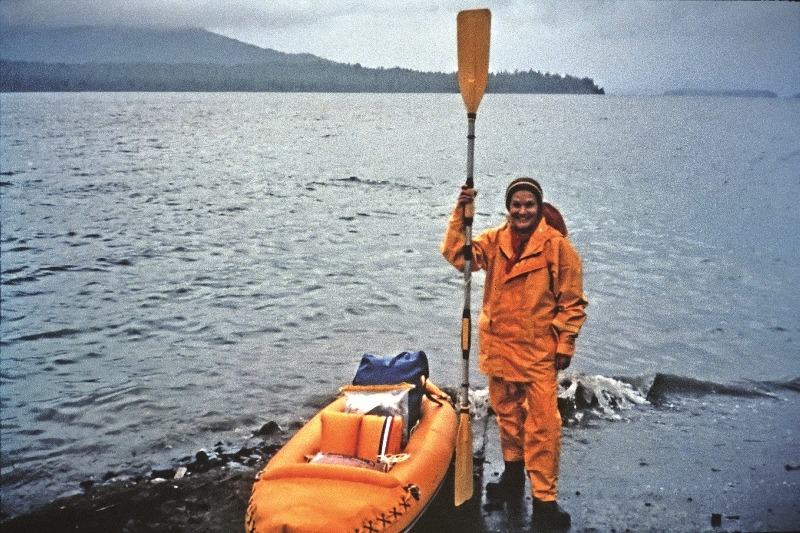 On February 23, 2015 a true heroine and friend of the company passed away. Audrey Sutherland grew up in California and moved to Hawai'i in 1952, where she lived to be 93. She raised her four children as a single mother, supporting her family by working as a school counselor. In 1962, she decided to explore the coast of Moloka'i by swimming it while towing a raft with supplies, the first of countless solo adventures by this remarkable woman. 
Please read some shared stories from folks who were lucky enough to meet her. Photo: Sutherland Collection
I met Audrey Sutherland, while editing her book Paddling North, at her house overlooking Jockos (named after her son of surfing fame) on the North Shore of O'ahu. She was in her late 80s and getting a little hard of hearing, but there was a spark in her eye and cast of her bearing that radiated her adventurous spirit. In the course of us reviewing the edits on her book I learned about her childhood in the Los Angeles foothills, her marriage to and divorce from a commercial fisherman, her move to Hawai'i, and how she raised her family by herself on the beach on the North Shore.
As we worked, she pulled out maps of her paddles in Alaska, which spanned more than twenty years. I knew of her solo canoeing and swimming trips in Hawai'i and along the north shore of Moloka'i from her previous books, Paddling My Own Canoe and Paddling Hawai'i. I sat in the inflatable kayak that she had paddled many an open-ocean mile, and examined the hot tub set into her back deck—a repurposed commercial soup pot.
She shared "What Every Kid Should Be Able to Do by Age Sixteen," a list just as valid today as when she created it for her own children.
It includes:
Swim 400 yards easily
Do dishes in a strange house, and your own
Cook a simple meal
See work to be done and do it
Care for tools and always put them away after use
Splice or put a fixture on an electric cord
Know basic information about five careers that suit you
Volunteer to work for a month in each of those fields
Clean a paintbrush after use
Change a diaper, and a tire
Listen to an adult talk with interest and empathy
Take initiative and responsibility for school work and home chores
Dance with any age
Clean a fish and dress a chicken
Drive a car with skill and sanity
Know and take responsibility for sexual conception and protection when needed
Know the basic five of first aid: restore breathing and heartbeat, control bleeding, dilute poisons, immobilize fractures, treat for shock
Write a business letter
Spend the family income for all bills and necessities for two months
Know basic auto mechanics and simple repair
Find your way across a strange city using public transportation
Be happy and comfortable alone for ten days, ten miles from the nearest other person
Save someone drowning using available equipment
Find a paying job and hold it for a month
Read at a tenth grade level
Read a topographic map and a chart
Know the local drug scene for yourself
Handle a boat safely and competently (canoe, kayak, skiff, sailboat)
Operate a sewing machine and mend your own clothes
Operate a computer as needed
Do your own laundry
The breadth of her list and the juxtaposition of concepts gives insight into her personality: self-sufficient, caring, adventurous, fiercely independent, realistic, not bound by convention, and, above all, in love with life. She will be missed whole-heartedly.
–John Dutton, Editor, Patagonia Books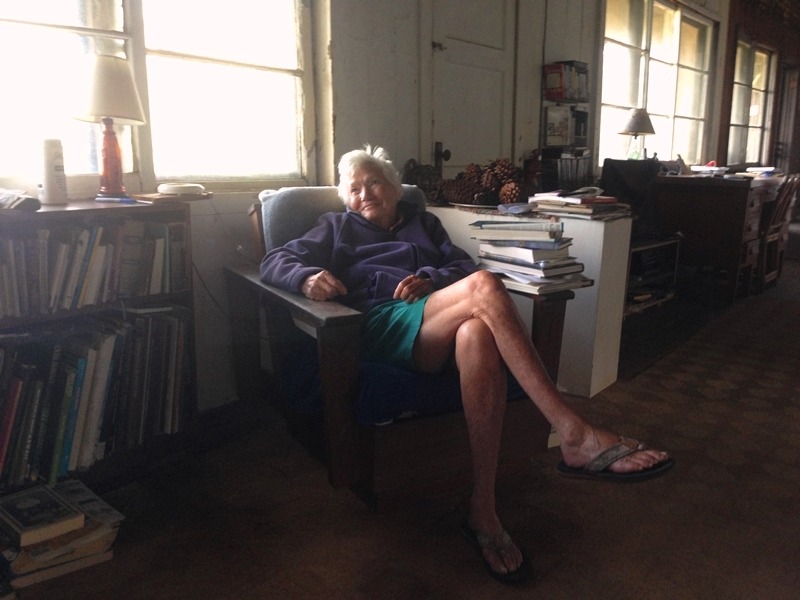 At home in Hawai'i. Photo: Liz Clark
I was fortunate to be working for Patagonia Books when Audrey Sutherland's book, Paddling North, was published. The Hale'iwa store near her long-time home had a book signing, and I arranged to be in O'ahu at that time so I could meet Audrey.
She invited my husband and I to her home for a visit. Audrey was warm, charming and a delightful storyteller. She regaled us with stories about her adventures in her kayak, which was sitting on her lanai. To see that tiny little boat and imagine the challenges she took on head first was awe inspiring.
At the signing, attended by her family, friends and many admirers, she wowed the crowd! Her humor, common sense and tales of incredible adventure kept everyone enthralled.
I feel extremely lucky to have met this remarkable woman.
–Joyce Macias, Project Manager, Paddling North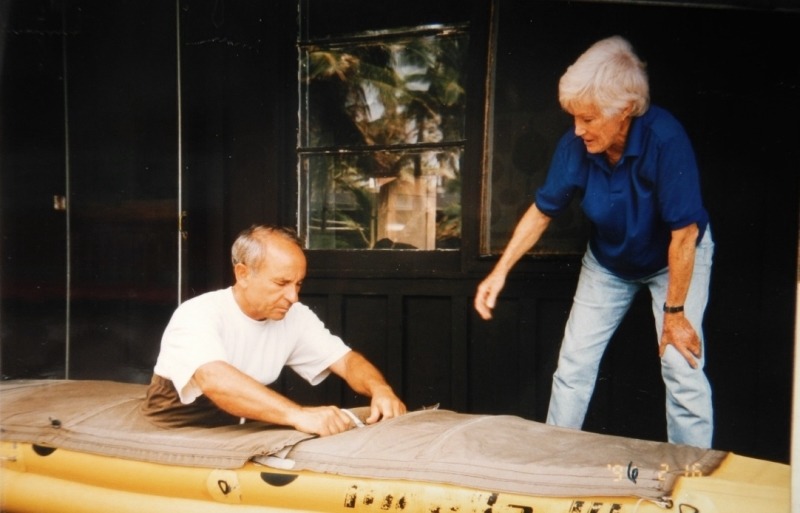 Yvon Chouinard gets a tour of Audrey's inflatable kayak.
Photo: Chouinard Collection
 20 years ago, I arrived on Oahu as a newcomer. Shortly after, Audrey came in to the store to introduce herself. She had heard that there was a new (to Hale'iwa) Patagonia employee with river running experience. She wanted to talk about wild river currents and unrelenting fast moving storms… and how I dealt with those sorts of things. Audrey was not seeking advice as much as she was honing her already remarkable sense of readiness for the unpredictable. I think that she, somehow, also felt a kindred connection. Through the years, Audrey generously  shared her stories, her mapped journeys (past and future planned), and finally helped us in selecting an inflatable kayak. Greg and I would worry when she left for Alaska. Solo, always solo. I once asked her how she trained for her trips and she laughingly replied that, perhaps, she should consider a training regimen at her age—said, of course, with a broad smile and with that memorable spark in her eyes!
For Audrey, it was always: go simple, go solo, go now.
–Jane Duncan, Patagonia Hale'iwa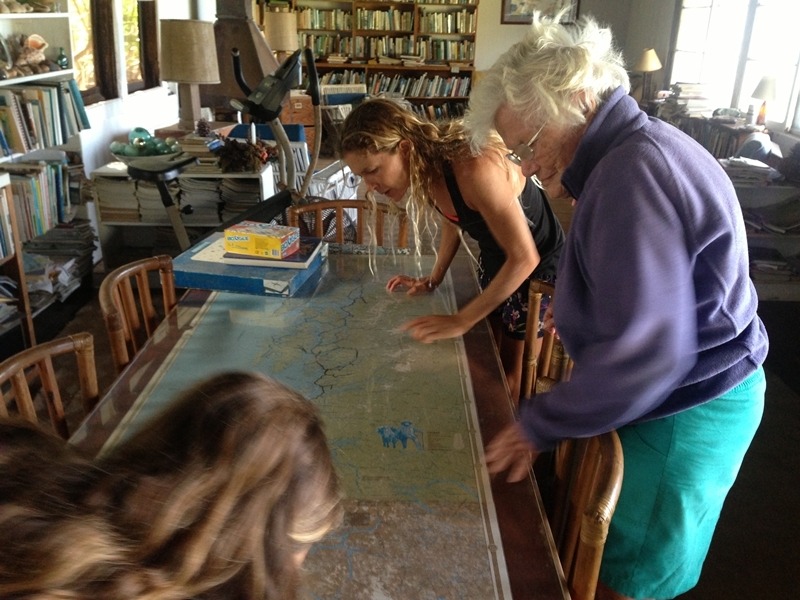 Retracing past journeys. Photo courtesy of Liz Clark
 Audrey Sutherland made her own rules. Alongside raising four kids on her own in O'ahu, Audrey set out on a solo wilderness adventure every summer, starting with her explorations of the difficult to access northern coast of Moloka'i in 1962—by swimming in jeans with her camping gear in-tow wrapped in a shower curtain and stuffed into an army bag!
Gradually she refined her mode of transport to an inflatable kayak, in which she traveled alone for thousands of miles through the Hawaiian islands and then in Alaska and British Columbia, where she spent every summer between 1980 and 2003 exploring over 8,075 miles of islets and waterways. She brought her deflated kayak on the plane and mailed her provisions—mostly food that she'd canned and dried herself—to towns along her planned route. She did it all on a shoestring and managed her risks for her genuine love for exploration and communion with nature—no sponsors, no camera crews, no hashtags.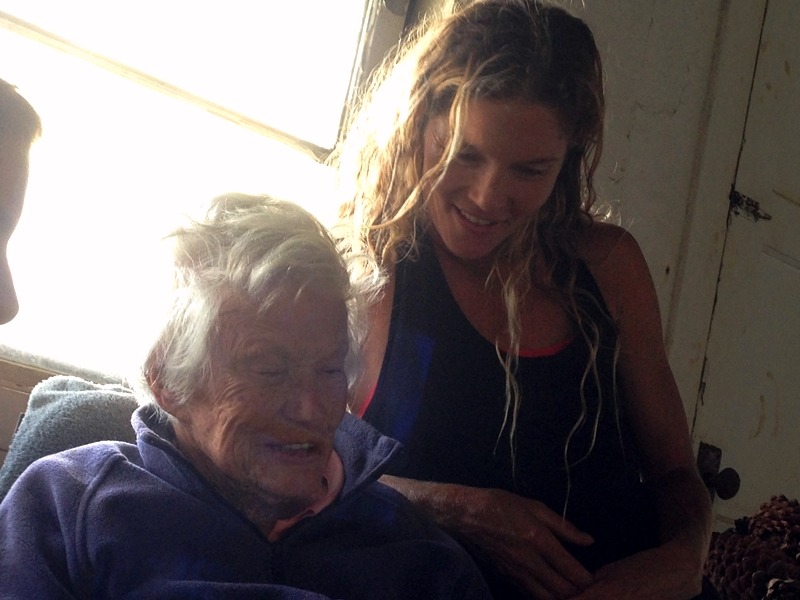 This is Audrey showing me her recently published book, Paddling North, about her incredible Alaskan adventures, when I visited her last year on the North Shore. When I arrived she was sitting out on the front porch, binoculars glued to her face, spotting whales. She may have slowed down in her 90s, but her spirit certainly never did. She swam and sat in front of the house with the hordes of sea turtles that came to her peaceful little sea nook and traveled on through her library of adventure books and her own personal journals and photos. If you haven't read her books Paddling My Own Canoe or Paddling North, I highly recommend them.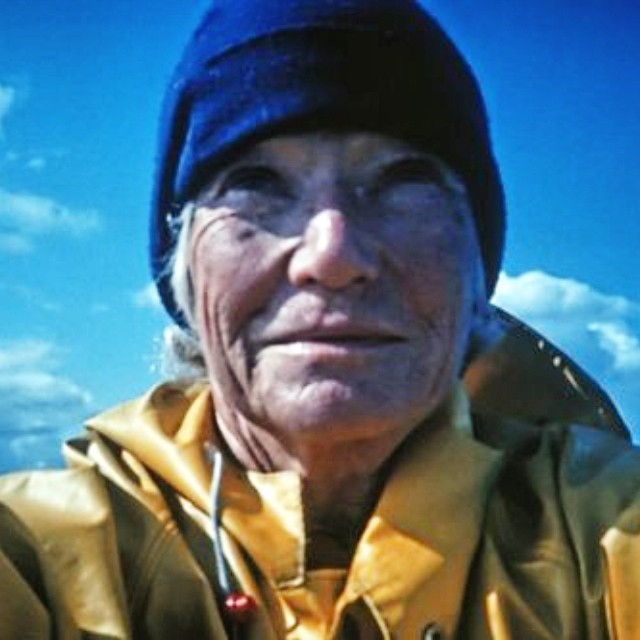 The original selfie on one of her last kayaking trips in Alaska. Bold and beautiful, Audrey, didn't need makeup and often disguised herself as a man to attract less attention to herself. She always carried out trash from littered campsites she came across and left the fire ring or stove full of wood for the next visitor. She was also quite proud of the funnel and hose she fashioned and used to pee standing up, since all her cold-weather gear was made for men.
Thank you, Audrey, for living your life so fully and leaving your legacy of courage, simplicity, and fearlessness for all. "Go simple, go solo, go now," she encouraged. Happy travels to your newly freed soul, you unforgettable wonder woman.
–Liz Clark, captain of Swell
Our heartfelt condolences and best wishes go out to the Sutherland Family. To learn more about this amazing woman, check out our previous stories.
Patagonia Books Presents an Interview with Audrey Sutherland, Author of Paddling North
Misty Fjords and Whales – An Excerpt from "Paddling North" by Audrey Sutherland