Tommy Caldwell and Co. Climb in China's Xinjiang Province: Part One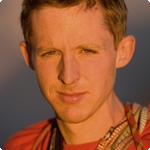 The other day we got a voice message from the man himself, Tommy Caldwell, calling from China with an update on their rock scramblin' explorations. It's a great crew: Tommy and his wife, Becca; young phenom Hayden "Wu Tang!" Kennedy; master artist, climber and person Jer Collins; top writer, all-around go-for-it adventurer and climber Mark Jenkins; and one of the best photographers in the stratosphere, Mr. Corey Rich, and his lovely wife, Marina.
They scraped together their team, got visas last minute, and went to China's Xinjiang province, specifically the Keketuohai National Geological Park, near the border with Mongolia, pretty much based on some incredible photos they saw in the AAJ (click here to see) showing a lifetime's worth of fantastic granite. Good enough. The place is rumored to be like an undiscovered Tuolumne Meadows on steroids, but information pointed to bureaucratic problems restricting climbing, and challenging travel – surprise, surprise. Basically, it was a recon mission with hopes for more – Tommy and crew had gotten some reassurance that they'd be allowed to climb in their pre-trip communications, but… well, have a listen. Sounded like an adventure from the start. Here's the brief audio clip of Tommy's call, describing their experiences thus far.

Listen to "Granite China pt. 1" (MP3)
Update: Just before posting this, we got word that they did, in fact, get to climb. Here's the extent of the info, from Tommy in a brief email: "YESSSS! We got to climb!" Hmmm. No idea if it was a boulder problem, a climb onto a bar stool, or a massive route. More coming next week – and, in the meantime, maybe everyone should go out and climb all three of the above this weekend. Bar stool last. [Read part two]