Green Reconstruction
Tetsunari Iida
/
Mar 09, 2021
/
7 Min Read
/
Activism
Ten years after the Fukushima nuclear disaster, Japanese communities are turning toward citizen-led renewable power.
Translated from Japanese by Yoko Okuya
March 11 marks the 10-year anniversary of the Great East Japan Earthquake and the TEPCO Fukushima Daiichi Nuclear Power Station accident in Okuma Machi, Fukushima Prefecture.
Inspired by these two disasters to create a brighter future, citizens in Nihonmatsu City are creating a large-scale farming-type solar-power business. Also known as solar sharing, this new project utilizes sunlight for both power generation and agriculture. On a vast, nearly 15-acre plot of abandoned cultivated land overlooking Mount Adatara, it is one of the largest solar-sharing rings in Japan, with an output of 4 megawatts.
Kei Kondo is playing a central role in this emerging solar-sharing business. Kondo was just becoming an independent farmer specializing in organic methods in Nihonmatsu City when the Fukushima Daiichi Nuclear Power Station accident struck. Kondo channeled the community's collective grief into the creation of regional energy sources. After studying solar-sharing development at Iitate Electric Power, he returned to Nihonmatsu City, where he was determined to help promote this business for his own community.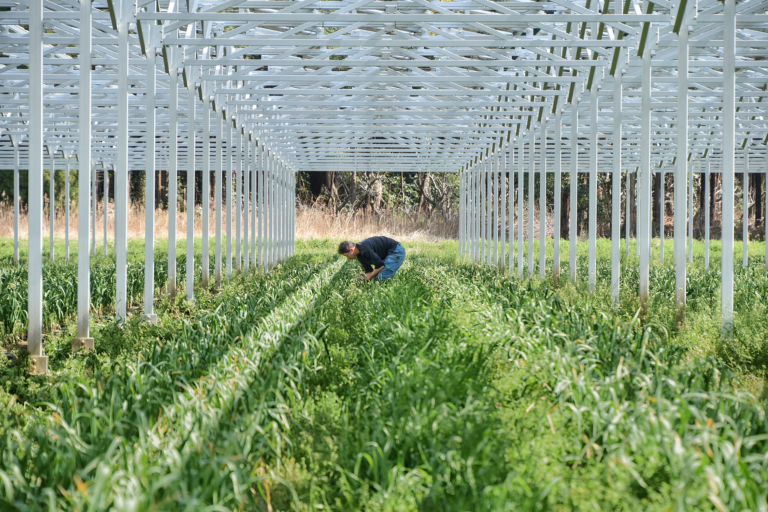 Another young man who bet on this business is Haru Tsukada. Born and raised in Nihonmatsu City, Tsukada was in the third grade during the Fukushima Daiichi Nuclear Power Station accident, and his family was forced to evacuate to the Kansai Region. Tsukada, who is a family friend of Kondo, graduated from an agricultural high school last spring and joined this project as a new farmer. He finally returned to Nihonmatsu City for the first time in 10 years.
The mayor of Nihonmatsu at the time of the disaster was Keiichi Miho. After a hiatus, Miho was re-elected as mayor three years ago. His campaign slogan was "local production for local consumption of energy." I got acquainted with Miho in Fukushima Prefecture during his hiatus, and after being re-elected, Miho asked me to become his advisor and a member of the Nihonmatsu City Future Strategy Council. I started to help by recommending the launch of Nihonmatsu City Electric Power Co., Ltd., which would allow locals to work on consumption of energy within their communities, with methods such as solar sharing.
Many people had to work together to make the solar-sharing network of Nihonmatsu City a reality. With Kondo at the helm, Osamu Ouchi of the Nihonmatsu City Organic Agriculture Study Group and Takuya Hirota, a young leader of the regional economy, the people of Nihonmatsu City fully collaborated with local co-ops and regional financial institutions to build a practical business. Nihonmatsu City's large-scale solar sharing will come to symbolize the future of local energy communities.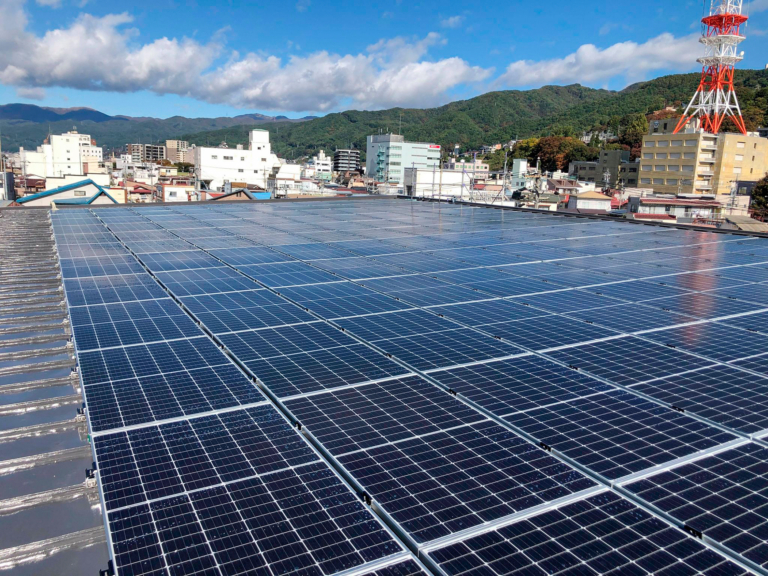 Since March 11, 2001, the world has changed dramatically. Two major transformations in human history are underway at the same time: the great transformation of energy led by solar and wind power and the great transformation of mobility led by EVs (electric vehicles) and autonomous driving. In both cases, the rapid progress of digital technology, such as artificial intelligence and big data, is underway, and a major global transformation called "disruptive change" involving industry, economy and society is also in the works.
These changes reveal new hope for the rapid transition from fossil fuels and nuclear power to renewables. But abrupt change is always complicated. The existing energy and automotive industries are trying to stop this evolution. Declining industries and start-ups are in conflict, and people's employment and lives are being forced to change significantly, which can be painful.
Solar and wind power create a lot of new jobs for the future compared to those that will be lost in the existing energy industry. This is hopeful, but on the other hand, as solar rapidly becomes a global industry, the oligopoly of minority companies is increasing, and in the process, Japanese companies' foothold in solar and wind power has almost disappeared. The automobile fuel market, which accounts for about 30 percent of the world's crude oil demand, will also shrink rapidly due to the major shift toward electric vehicles. There's hope for the climate crisis, but it's important to recognize that many workers in the oil and automobile sectors will face a challenging and painful transition as they seek new jobs.
Although late to the game, Prime Minister Yoshihide Suga declared a goal for Japan to be carbon neutral by 2050 in his policy speech. An increasing number of Japanese companies are incorporating United Nations Sustainable Development Goals (SDGs) and environmental, social and governance (ESG) investments into their business plans, like RE100, which conducts business activities with 100 percent renewable energy. There are also bright signs of young people's growing awareness of climate change and willingness to act, inspired by Greta Thunberg. In 2021, Japan plans to revise the Global Warming Countermeasures Promotion Law and the sixth Basic Energy Plan for the summer. But what are the goals for introducing renewable energy in 2030, if nuclear power is still at the center of energy supply and climate-crisis countermeasures? In December 2020, a "Four Years Left to Save the Future" campaign (with a deadline for signatures at the end of March) was launched, and about 150 groups including international environmental NGOs, citizen groups and businesses, and the Institute for Sustainable Energy Policies (ISEP) participated.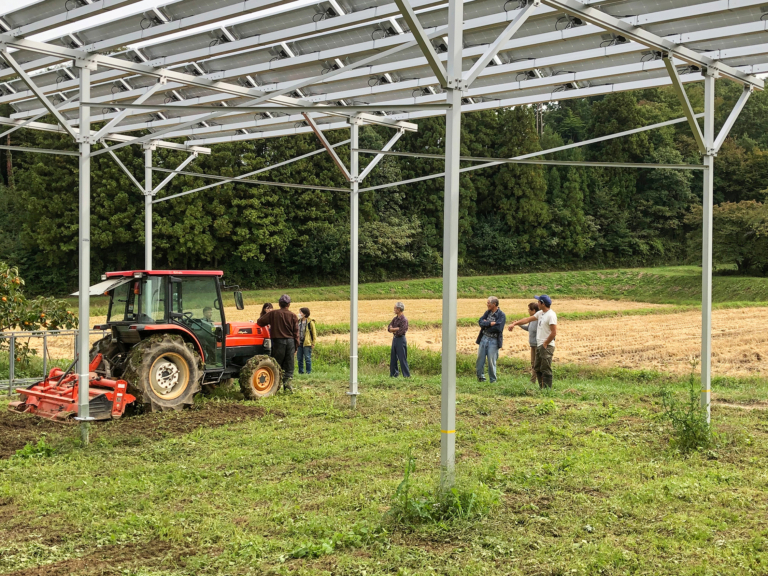 Although Japan was responsible for part of the catastrophic TEPCO Fukushima Daiichi nuclear accident, nobody has assumed full responsibility for the disaster. And even after all that, the Nuclear Power Village (a community of legislators, regulators and manufacturers involved in promotion of nuclear energy) is continuing to maintain and expand nuclear power plants. Despite the fact that it once crushed its own coal mines and promoted energy conversion to oil and gas, Japan is still sticking to coal-fired power and expanding power plant construction plans. Japan's behavior of turning its back on the world of energy transformation is unusual. In Japan, which resists changing these old ways, new hopes are suppressed, and new challenges are intricately intertwined. The disaster on March 11, 2011, was 10 years ago. What we Japanese were aware of in those days when everyone witnessed the shocking explosion images, experienced the anxiety of radiation falling overhead and was frightened by the uncertain crisis of a core meltdown was certainly a sense of ownership that we must make energy our business.
To create hope, we must update social infrastructure to include public participation. The goal is to shift from a centralized mainframe to a regionally distributed network. A major barrier to this conversion is a regional monopoly system run by a huge electric-power company. But ideas are in the works to change this: Toru Suzuki of the NPO Hokkaido Green Fund, which handles citizen-funded civic windmills, has proposed the idea of being the largest citizen-owned shareholder movement of an electric power company. The large-scale Hokkaido Electric Power Company is having financial difficulties, but if the citizens can become the company's largest shareholders and switch to renewable energy, business reconstruction is not just a dream. "We want to change from a closed management of a regional monopoly to an electric power company that reflects the voices of the people of Hokkaido. We will work together with the citizens to grow from 'Hokkaido' Electric Power to 'Hokkaido People' Electric Power," says Suzuki.
One example of a regionally distributed network is farming-type solar-power generation (known as solar sharing). This could solve Japan's agriculture and energy problems at the same time if farmers were to become part-time energy farmers working on renewable-energy power generation in addition to agriculture. It would also help stabilize their income. If cooperation with local organic cafes, production for local restaurants, and local culture and tourism is born, various jobs will be created in the area thanks to this renewable energy. What's more, local residents will have increased opportunities to showcase their abilities. The Japanese word for "peasant" (hyakusho) is derived from the idea that people with many surnames have multiple occupations and roles. What is currently being fostered in Japan is the idea of living a creative life—a lifestyle called being a "modern peasant."
Since March 11, 2011, this movement toward citizen-led community power has been launched all over Japan. Currently, there are around 250 projects. In the future, Japan will need to significantly increase its solar- and wind-power generation, and make sure that number keeps increasing. Making this renewable energy part of the local community in which we live makes it possible to realize a sustainable and independent community and continue to aim for economic growth.
We were made aware of something important on March 11, 2011. Through true citizen-led democracy, we now need to keep asking ourselves deep questions: about the ways of life that respect nature, ecosystems and local communities as well as what the roles of the economy and local communities should be. By being truly engaged with the rapidly changing future and by creating renewable energy for community development, we will bring energy and the future into our hands and those of our community. We can own and control the future of our energy—the story of Nihonmatsu City, Fukushima Prefecture, proves that.