Volunteering with Growing Solutions on the Channel Islands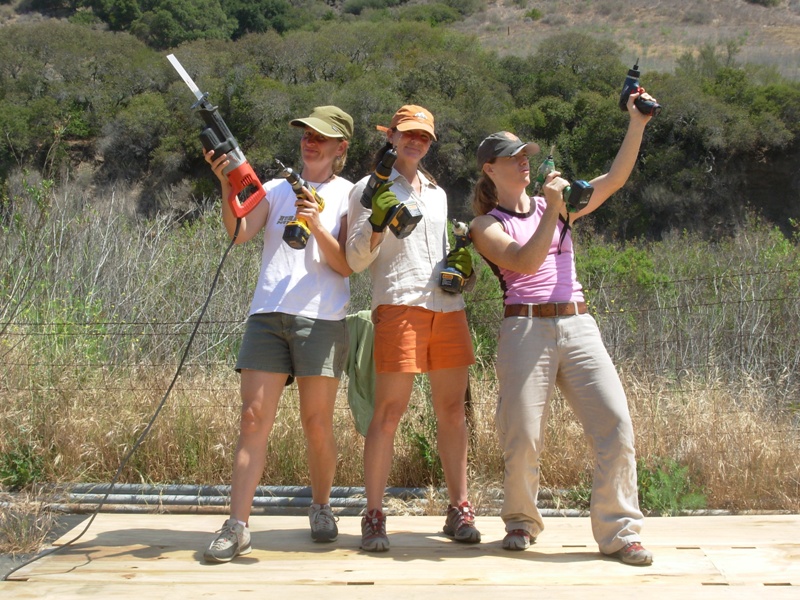 Back in June, Charlotte, Annette and Alyssa from the Creative Services department volunteered on Patagonia time for Growing Solutions, a great non-profit doing native plant work on the Channel Islands just off the coast of Ventura. Charlotte sent us this story about their day away from the office.
Karen Flagg wrapped her hand around a stem of Nassella pulchra and with one sweep up the stalk, deftly stripped it of its tiny seeds. She dropped the small pinch of seeds in a paper sack, and patiently moved on to another stalk. She showed us how to do it – collect seeds from this native California plant commonly called Purple Needle Grass – with just the right amount of pinch and pull.

"We need them for the greenhouse," she said, "but we obviously need to leave enough so this clump repopulates and stays where it is."

Karen and her partner, Don Hartley, founded and operate Growing Solutions, a non-profit dedicated to the restoration and preservation of native plants in California. They have several plant nurseries in Santa Barbara and Ventura counties, where they propagate native species that are then transplanted to nearby restoration sites.
[The good times gang gets ready to build a plant nursery. Photo: Karen Flagg]
Three of us from Patagonia's Ventura office volunteered a few days tohelp them with one of their newest projects: establish a native plantnursery on Santa Cruz Island, the largest of five islands that make upthe Channel Islands National Park (check out the Live Eagle Webcam), just afew miles and a one-hour ferryboat ride off Ventura's coast. We swappedseed collecting duty for power tools and built a small shed that willbe used for potting plants, sorting seeds, and contemplating life whilesitting atop a composting toilet – one with a stunning view.

In a few seasons, Growing Solutions' Santa Cruz Island nursery will beproducing plants that will be relocated to places around theapproximately 16-mile long island, slowly bringing back some semblanceof its pre-settlement natural state. It will be a decades' longproject. Much of the island's native flora and fauna was wrecked bydomestic sheep, goats and cows, who for decades roamed free on theisland eating native plants into oblivion and causing horrible erosion– in places, the hills lost up to several feet of topsoil, physicallyexposing root systems of huge trees to the wide open air.

Pigs were the worst, mainly because they're smart and scrappy. They ateeverything, it seems, and reproduced in huge numbers long after humansgave up trying to do anything with them. Feral and fearless, they threwall sorts of natural processes on the island out of whack – of bothplants and animals – by rooting and just generally running amuck. Thedomestic animals have all been removed (or eradicated), and things areslowly beginning to turn around.

Today the island is overrun – in a good way – with researchers. In thefew days we were there, we met a soil scientist, North America'sforemost expert on lichens, two abalone researchers, and severalbotanists. They ask unending questions about the natural processes andinterconnectedness of species on the Channel Islands. We were just thegals slinging hammers, but for a few days we were a small part insomething monumental: the restoration of one the California coast'sgreat natural beauties.
Growing Solutions is a 501c (3) non-profit organization located in Santa Barbara County. They are dedicated to the restoration and preservation of California's remarkable botanic wealth and rich diversity. Please consider supporting their work by becoming a member (members receive a 10% discount on all plants) or by volunteering like the girls from Patagonia.
[Photos: View of Santa Cruz Island from the boat; the Growing Solutions crew warms up the new nursery; lunch break on the island. All photos courtesy of Charlotte.]