Listen to "Help Wanted" Dirtbag Diaries Podcast Episode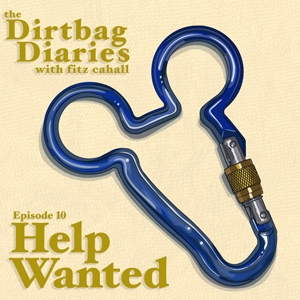 Besides working on today's episode, Dirtbag Diaries host Fitz Cahall just launched a redesigned version of his Web site, www.dirtbagdiaries.com. Stop by when you have a chance and don't forget to tell your friends about this one-of-a-kind podcast. Now, without further adieu, Fitz Cahall:
There's no such thing as a perfect job. There's always a catch – nagging bosses, gossiping co-workers, crummy benefits. That's why we get paid to work.

But what if there was a magical place where you could get paid to climb. At the center of this magical kingdom, is a mountain and all you have to do is climb it. The job pays well and during your four hours of paid break you have the run of the place because your boss is too busy moonlighting as a talking duck to discipline you. It also comes with some sweet perks. The employee lounge is actually a secret lair atop the peak, and you're allowed to cut the line to ride the rollercoaster.

What happens when a bunch of climbers are left unsupervised with the keys to the Magic Kingdom? Find out. Some jobs are perfect, even if Tinkerbell is out to get you.
Listen to the MP3:
Episode 10 – Help Wanted (right-click to download)
Information on the music from today's episode can be found at dirtbagdiaries.com, along with links to an RSS feed of the show, subscription via iTunes and contact information should you have a story you'd like to share with Fitz for a future episode.
In case you're curious, like I was, the great carabiner artwork was done by Fitz's brother Walker Cahall.