Finding Something Familiar—in the Outdoors and in Motherhood
A breeze floats mountain air across my face and triggers of flood of chemicals to my brain. I feel something. Something familiar. I've been here before, at different times and in different places. Deep blue water ripples along the lake shore; stout green shrubs stand firm and stubborn against the alpine elements; orange-streaked granite encapsulates my world in the cirque. I stop on boulders beside Sky Pond, my planned turnaround for my hike-slash-gimpy-run workout, and gaze at the Petit Grepon. I feel myself there, climbing, and another flood of feelings courses through me. Though I don't have my rock shoes with me, I wish that I did but know it's probably best that I don't as I scurry up the talus cone to the base and scramble around the rocks, just to touch them, to feel, to transport myself for a few precious moments.
Familiarity. I know you. I think of the forms it can take, how it feels like love in all of its ethereal and mysterious ways.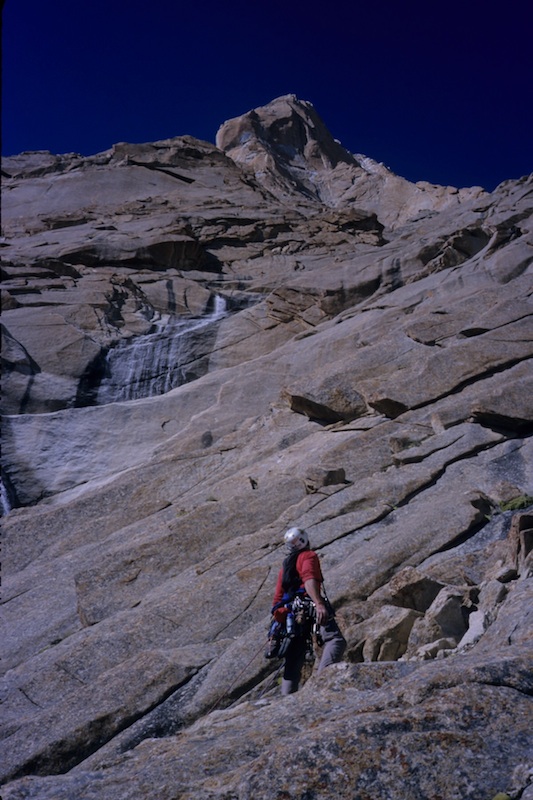 Kelly Cordes gazing at what's to come, from low on Great Trango Tower, Pakistan. Photo: Josh Wharton
That phrase – I know you – lingers in my mind from my sister, Jill's, words in the hospital. I used it in my last Chamonix post, recounting my first day back climbing alpine ice in a year-and-a-half. A long year-and-a-half, through surgeries, fear and recovery. Pit bull determination throughout rehab, just to climb again? Maybe it's like you are given a key and somewhere in the trails and trials of life you get lucky enough to stumble upon the door that it opens, and then you feel a natural understanding, something you're somehow drawn to, perhaps inexplicably, like the mystery of human attraction. You know a feeling infinitely more profound than the everyday things you casually enjoy or that make you comfortable.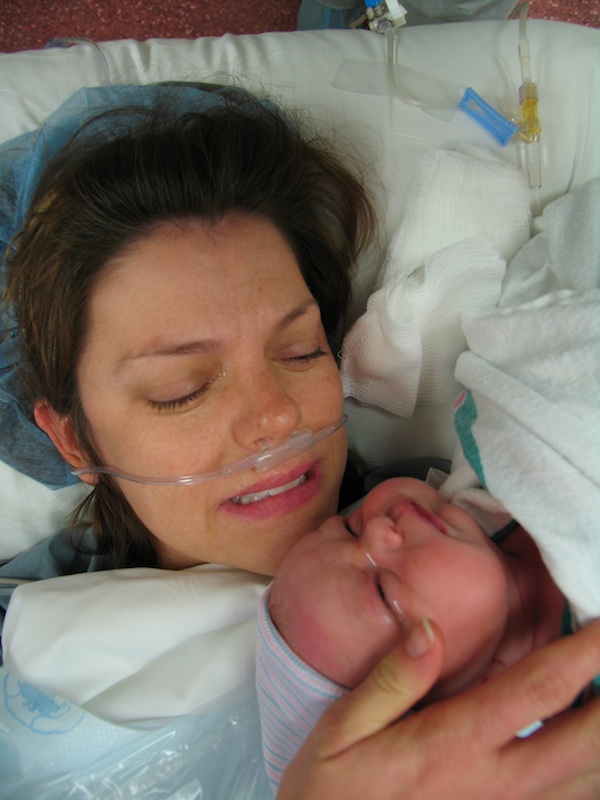 Jill and Fia. Photo: Jill Cordes collection
Maybe I'm holding on to the past, but I don't feel stuck there. I've just wanted that peace, that calm, that love back. To feel that surge of chemicals that pulses so much deeper than simple familiarity. It must be the feeling a musician gets when, after all of the trying, the notes come together perfectly. Like a writer crafting the perfect sentence. Is it also what an addict feels when he gets high? I don't know. Or maybe I do. Maybe it feels like a reunion with a loved one – in the hospital, when the nurses handed my sister Jill her newborn daughter, fleshy pink and swaddled in blankets, eyes closed and crying, Jill held her close and whispered to her baby girl, I know you.
When I think about Jill and her baby Fia, a part of me thinks that nothing I could ever know will approach what she has. But we don't have any way to know, as if such comparisons would mean anything anyway. I do know that when I have those moments in the mountains, sometimes a breath or scent of something in the air, other times something as simple as moving over granite, a flood of chemicals hits and it feels like love. Elusive and beyond description.