Sonnie Trotter: Dispatch from Moab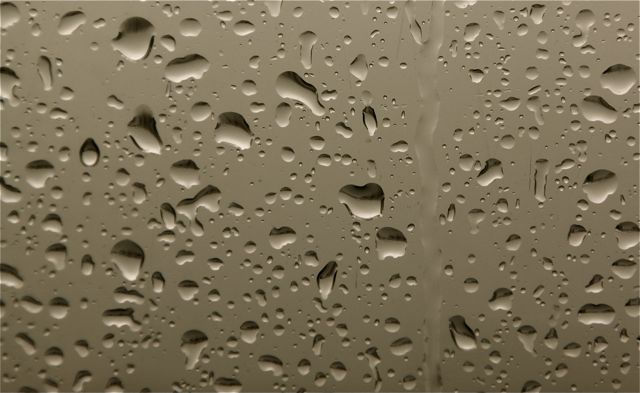 The rain has come back today, this time it looks as though it might never leave. Dark and dreary. We did however have a relatively nice week in general. Climbing was good all day yesterday, and we had a couple of beauties two days before that.
[Editor's note: Today's post from Patagonia ambassador Sonnie Trotter originally appeared on his blog on October 25th, 2009. It doesn't look like the weather's changed much in three weeks. Sonnie is currently in Moab doing some product testing with Kelly Cordes and other Patagonia climbing ambassadors. Special thanks to Andrew Burr for the great shots of Sonnie climbing. Rain drops photo by Sonnie Trotter.]
One of the first places to dry out after a good rain day is the Smoke Bluff area. There are a metric tonne of routes scattered about the park, and hundreds of climbs I still haven't done, or tried to do, all within a 5 – 10 minute walk from the car. On a cold October day, the Bluff climbs are more like grit, than granite. One of these special lines is called 'Dog Face'. Rated 5.12b in the book and put up by local legend Perry Beckham in 1989. Crickey that was a long time ago. 20 years now. Respect. The line is situated RIGHT beside the main trail – and I'm talking like 13 inches from the edge of the grass. It's a striking feature really, a shallow corner, three rusty bolts, with three obvious crimps leading into a blank bulge of nothingness. The guidebook describes it as 5.12b if you're 8 feet tall. As far as I know, the line is unrepeated, or so that's the rumor I've heard since moving here. It's hard to say because it was done so long ago and Perry the mullet sporting hardman 'IS' in fact 8 feet tall. Plus, when I got on it last Wed, I broke two holds, and spent 15 minutes scrubbing moss from the top 1/4 of the route. There's no anchor and you need to build one with a few number 2's.
The climbing is the kind of technical nightmare you wouldn't recommend to a friend. Unless of course your friend is into that sort of thing. In which case, I would highly suggest it. I quickly realized I wasn't tall enough to stick the jiggery, so I opted for the pokery, and after fudging with different sequences (and botching most of them) I unlocked the craziest moves. A high right foot and then sideways body smearing, pushing the shallow corner away from me with both hands. Never done anything like it before. On my third attempt, it was getting cold and I had lost a bunch of skin, so I opted for a TR burn, doh! I sent the climb, but barely. Ripping a hole in my finger during the process. Felt like 5.12d. Can't wait to go back and finish it off. If anyone has any useful beta please let me know, I don't know anyone else who's been on it except for Andrew Boyd, and I would love to hear some stories. Any known ascents? I'm sure they're out there.
Okay, I gotta go, it's a good day for yoga. But I'll leave you with a few pictures, check out these snap shots by Andrew BURR. These are images taken from my redpoint ascents of Air Swedenand Aesthetics, both 5.13. What's amazing about working with Andrew is that you really don't know he's there. He's like a gecko on the wall. One second he's on top of you shooting straight down, the next second he's off to the side with a different lens capturing a completely different perspective. He swings around, changes lenses, jummars up and down, and never fails to catch the action. This sort of photography is just as impressive as the climbing, you gotta be so focused, and super fit. I totally respect that. And hanging out with Burr was such a pleasure, he makes me want to take more photographs myself. A real inspiration. hope you enjoy them and thanks to him for letting me share them. Check out his site, and his blog, the boy is ACTIVE. www.andrewburr.com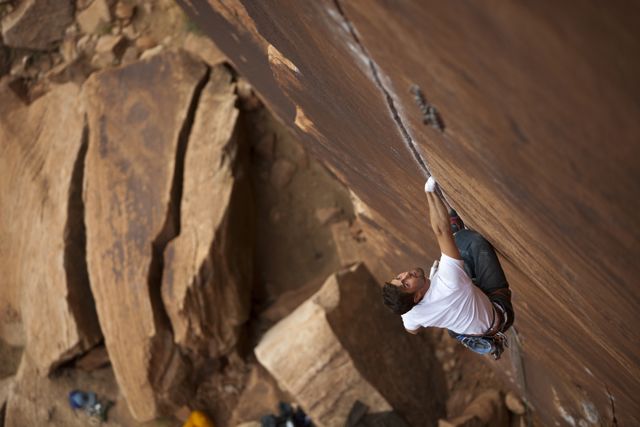 A beautiful wall, a simple crack, a long way to go.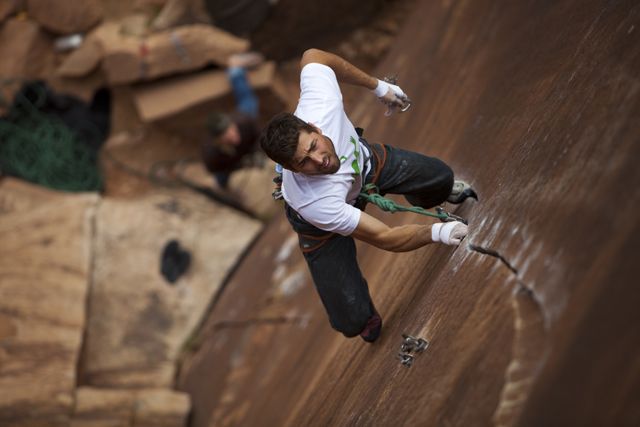 This is an interesting picture. If you climb Air Sweden you don't get the chains, but notice how much torque I've got on the finger locks. I've never seen an image like this before, but the twisting of my wrist goes all the way to my elbow joint. Like when you wring a towel dry. It's kinda gnarly.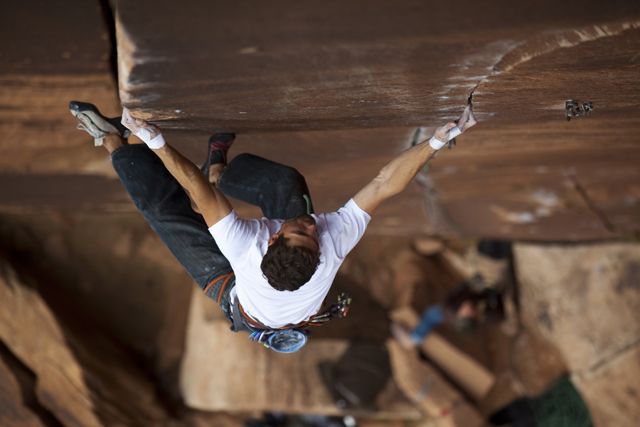 Desperate tension here. No feet, no locks, you just gotta squeeze.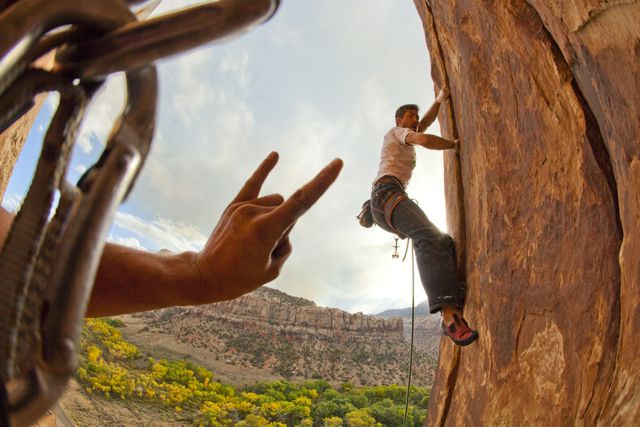 Wicked shot. 120 feet of the deck, Burr kicking back drinking a beer, flipping me surf symbols, while I'm up there sweatin my balls off trying to clip the chains. ha ha ha. I wish it were the other way around.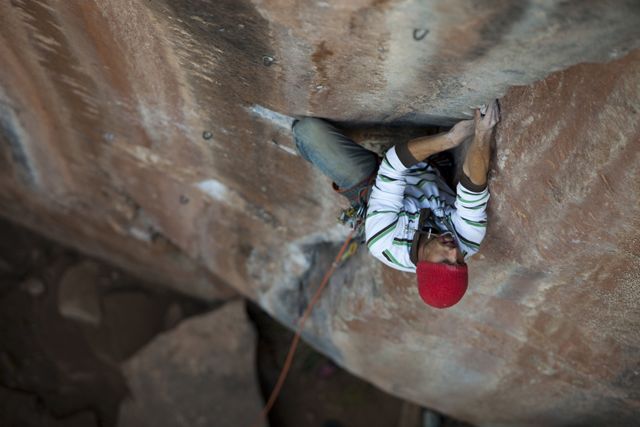 Warming up with the red toque. Good gear.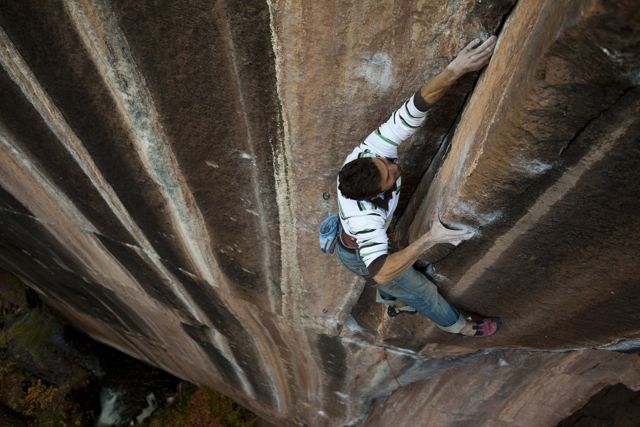 I love this shot, if the pinch in my right hand was any wider, I'm not sure how I'd ever do this move.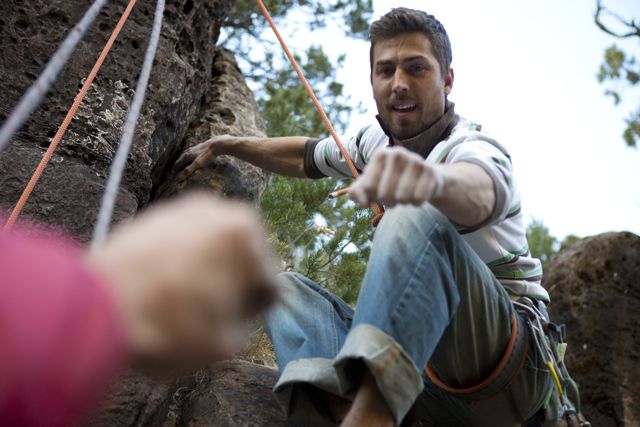 Knuckles up chump.