Visiting a Resilient Japan After the Tsunami
Mark Shimahara
/
Nov 15, 2011
/
5 Min Read
/
Community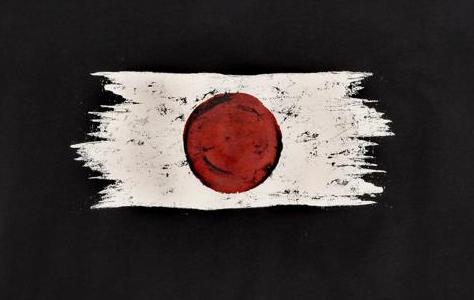 March 11, 2011. A most memorable birthday as a murderous tsunami took thousands of lives, left hundreds of thousands homeless, and demolished villages in Japan. Halfway around the world, as I mourned the loss, I contacted relatives in Tokyo, volunteered for a nationwide bakesale event and donated my annual bike race winnings to earthquake relief. I tried to take comfort in the faith that many had, that resilience, which has come to define Japanese character, would allow the country to emerge from the disaster an even stronger nation.
The wrenching headlines about the disaster eventually–and finally–calmed down. Yet half a year later, the news continues to produce stories about undisclosed radiation levels in the air and in food. Warranted or not, they perpetuate concern and fear.
I had decided to skip visiting Japan this year. But then an irresistible opportunity arose. An international coffee competition was taking place in September: The World Siphonist Championships! Siphon is a brewing method popular in Japan that produces–arguably–the finest cup of coffee there is. A coffee geek, I was thrilled by the idea of competing with baristas from around the world. Though I have never served coffee to a customer, I have invested dozens of hours attending coffee brewing classes all over the country. I persuaded the Specialty Coffee Association of America to allow me to represent the US. They gave me their blessing. And I was off.
When I went, Tokyo was bustling as ever. At first glance, it was as if nothing ever happened. Trains were packed with people, like sardines in a can. Restaurants and shops were swarming with patrons, and popular eateries had wait-times of over 30-minutes.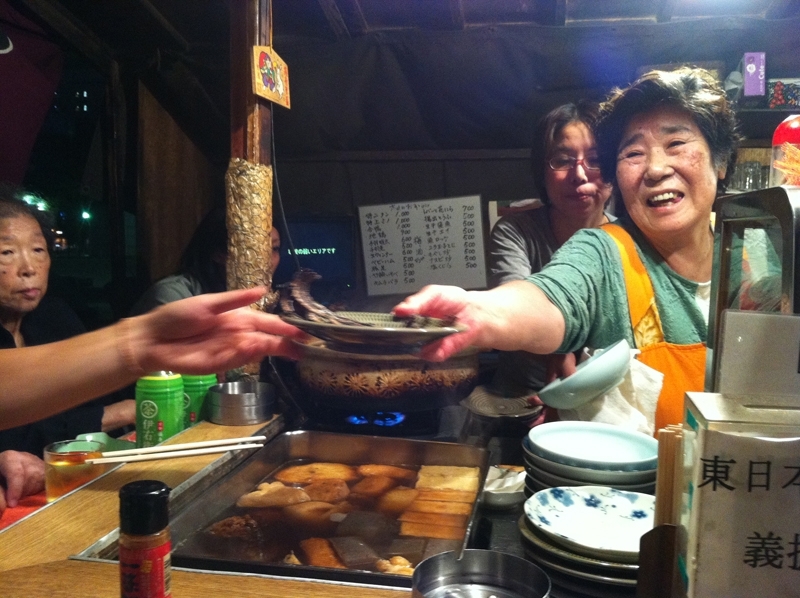 The yatai, mobile food stall, I stopped by in Hakata was constantly packed during my dinner. Patagonia was enjoying good sales too. The sharp dip in sales immediately following the tsunami had clearly been replaced with healthy numbers thanks to a demand for exceptionally durable gear that won't need to be replaced anytime soon.
Yet in other ways, things were different from the way they used to be. Japan has long been conscious about conserving energy, but the country was even more so now. For instance, lights at the Tokyo airport were so dim that I could barely read my newspaper. Ginza streets, which have traditionally been bright enough to conduct surgery at night, were noticeably darker. Some public escalators in the descending direction were turned off, and it seemed that train ticket kiosks were operating at 50%. Traveling by train, I noticed banners on trains and bulletin boards plastered with the words "Nihon gambattekudasai," which loosely translates to: Japan, you can do it. You can get through this.
Concerned that tourism is in jeopardy, but confident that it can be a hospitable host, the Japanese tourism board is considering 10,000 free flights to foreigner travelers. But ask anyone who has recently traveled to Japan about their visit, and chances are you will be told that the country is thriving. You will probably also be told that people are out and about as if the March 11th disaster never happened.
While in Japan, I visited our offices there, which is always a treat. I also hung out with other friends who have some connection, personal or otherwise, to Patagonia.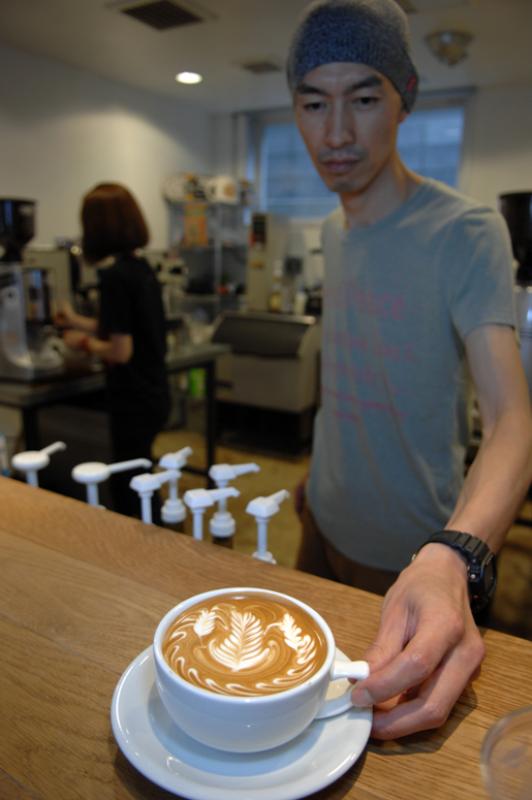 Hiroshi, a world champion latte artist, made me one of his award-winning drinks. He works near our Shibuya store and has served at their in-store events.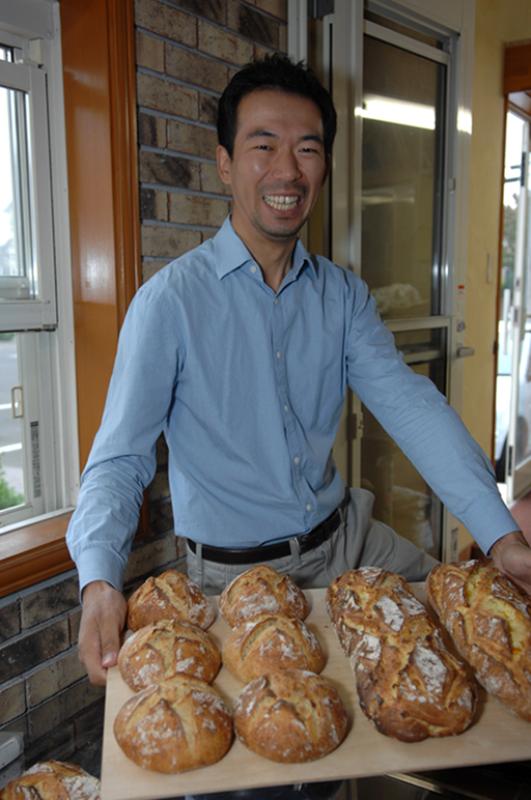 I got to bake bread with expert bread baker Hide, who finds inspiration from surf ambassador Gerry Lopez. 
My buddy, Kenji, invited me to make my favorite donuts at his shop which is a member of 1% for the Planet.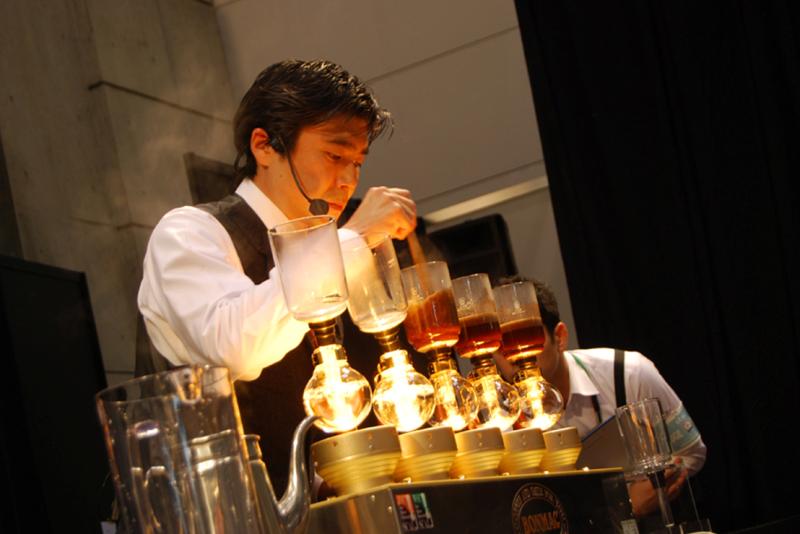 And I competed in the World Siphonist Championships. The contest involved presenting four servings of brewed coffee and a signature drink using the siphon method. [Photo courtesy of the Specialty Coffee Association of Japan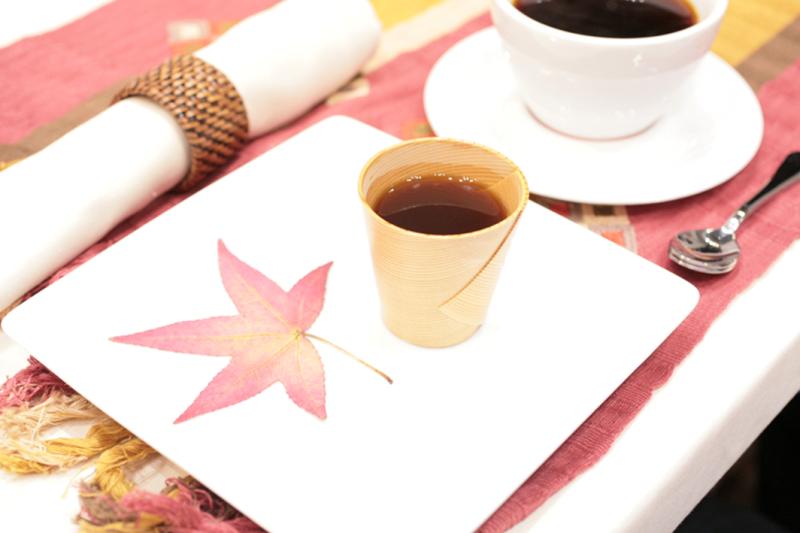 For my signature drink, I chose to prepare coffee flavored with fig nectar, a touch of citrus, and a teeny bit of salt (to remove bitterness) in cedar cups. [Photo courtesy of the Specialty Coffee Association of Japan
My competitors were professional baristas from countries such as Australia, Taiwan, Korea, and China. I didn't need any coffee to feel completely stoked about this. And with the help from the fine people at Counter Culture Coffee and Intelligentsia (notably Charles Babinski) who provided training and beans, I got third.
At a recent sales meeting at Patagonia in Ventura, a co-worker from our headquarters in Kamakura personally thanked me for visiting. He was encouraged that an American colleague wanted to check in and say hi.
You should visit Japan too.
—————————–
Continuing support for our friends in Japan, Patagonia and Fletcher Chouinard Designs are selling two benefit T-shirts. FCD is offering a Kim Diggs t-shirt with proceeds going to the Sendai Surf Union.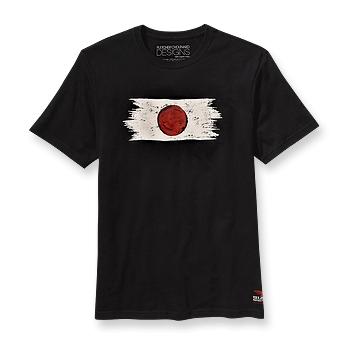 And Patagonia is offering the Live Simply Japan Relief T-Shirt with all proceeds going to Tsunagari Nukumori Project who are helping to bring renewable energy facilities and hot water to areas in Japan affected by the March 2011 tsunami.