Participating in the Champions of Change for Working Families Event at the White House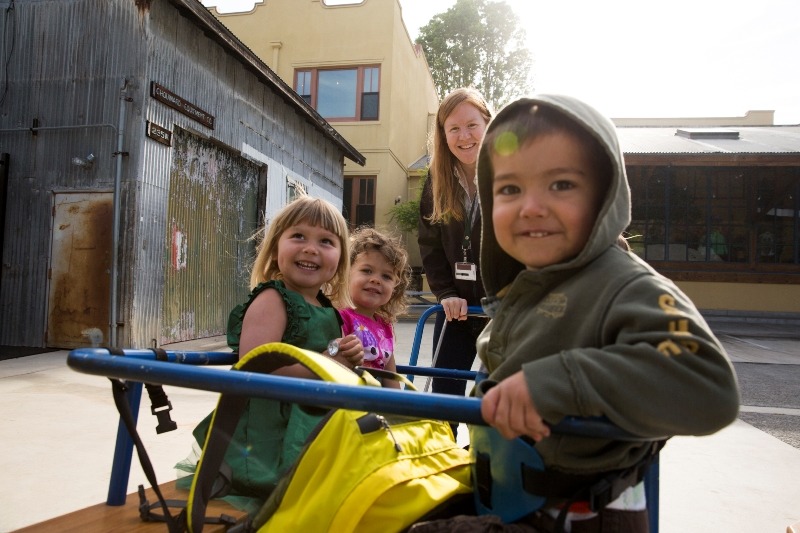 It's an honor to be recognized by President Obama for our commitments to working families. I share this gratitude with Malinda Chouinard, who has always made Patagonia a great place for families, and with Anita Furtaw, who developed an award-winning on-site child development program for our Ventura headquarters 30 years ago, and has run it ever since.
We're happy to serve as a model for other companies who want to do the right thing by their employees. It's a necessary element of doing business in our time. To support our families, Patagonia provides company-paid health care and sick time for all employees, paid maternity and paternity leave, access to on-site childcare for many employees, and financial support to those who do not have access, among other benefits.
Above: Kids from Patagonia's Great Pacific Child Development Center (GPCDC) having fun in front of the Tin Shed. Photo: Tim Davis
I came to Patagonia in 2008 after working in businesses where I had to relegate my own desire for social and environmental change to nonworking hours. It was my hope, in coming to Patagonia, that I'd be able to engage my whole self as a person and a citizen in my workaday life. But I was also skeptical. I wanted to see for myself whether the company's values were possible to live by in a competitive business.
Patagonia's child-care program was my first visible proof of this possibility and it is still—despite all our work to improve social practices and reduce environmental harm in the supply chain—the most striking.
Great discussion with community and biz #WHChamps who are leading the way for working families. #LeadOnLeave pic.twitter.com/Y056R39frH

— Tom Perez (@LaborSec) April 16, 2015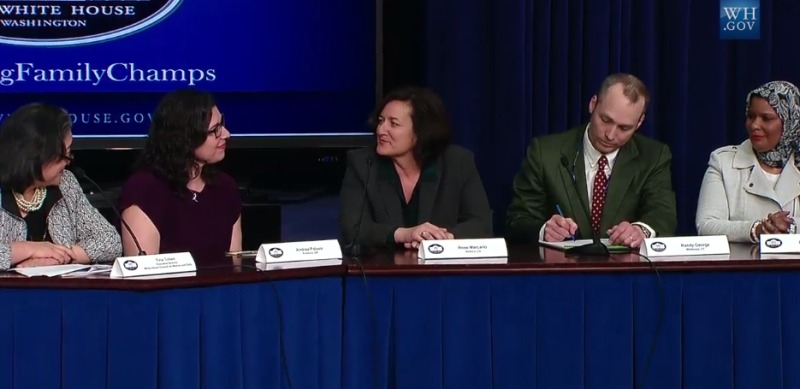 Click to hear Rose's remarks from the panel.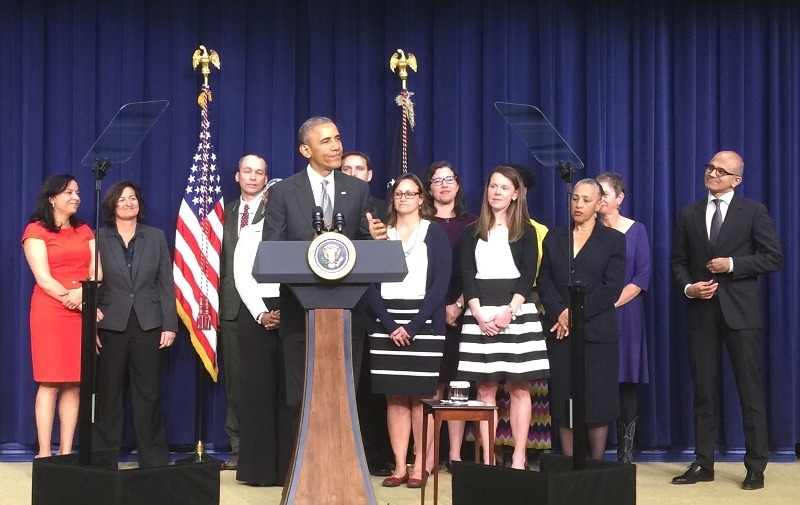 Rose (second from left) and the other Champions of Change for Working Families stand with President Obama. During his remarks, the President had this to say about Patagonia: 
"In addition to the nice gear, [Patagonia] offers its new mothers and new fathers two months of paid leave. And they have a childcare center onsite at their corporate headquarters. Employees can take paid time off to volunteer for a cause they believe in. They can spend time at their children's' schools. People don't have to choose between paying the bills and seeking their kids shine in the class play. And that means that worker will do whatever it takes to help the company succeed the next time out, because they know Rose and others at the top are looking out for them."
Some benefits of onsite childcare are obvious. The children are lively, curious and happy. As Anita Furtaw has said, "When kids are in the same place and have the ability to trust the adults around them to love them and care for them, they have the energy to do what they need to do in all areas of development. They become more articulate and tend to have higher self-esteem."
The benefits to the parents and grandparents are also visible: they can see, and be with, their kids during the day and have an engaging work life without sacrificing their lives as parents. Our program also includes traveling caregiver support for those with kids less than a year old.
One benefit is less obvious: the presence of the children transforms the workplace into a community for all employees. The kids and the sounds of their laughter are reminders that it is the purpose of work to honor our human as well as our business responsibilities.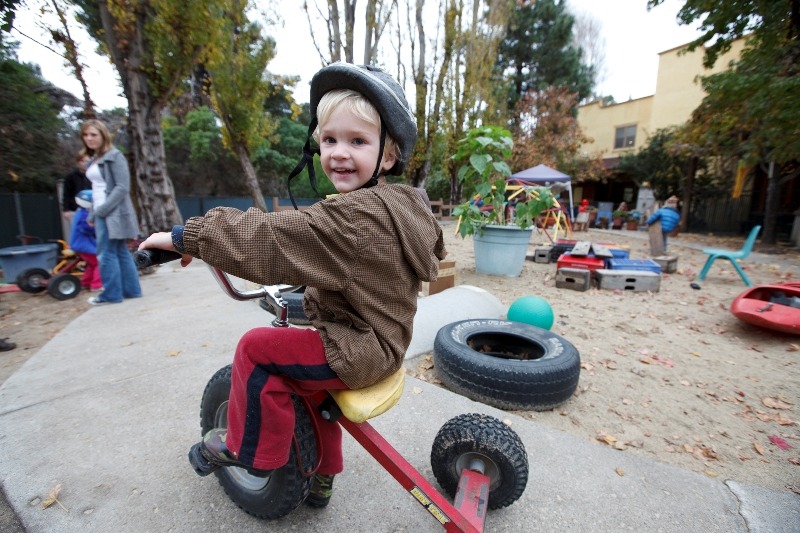 On the playground at Patagonia HQ. Photo: Jeff Johnson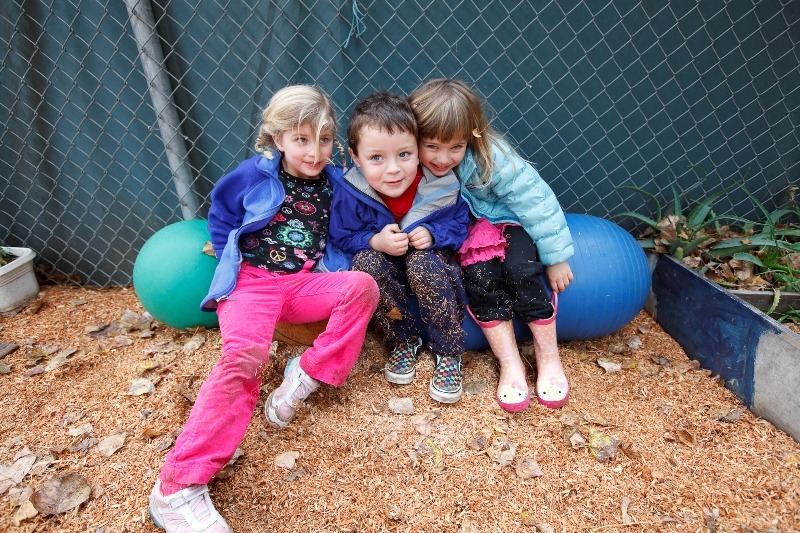 Buddies for life. Photo: Jeff Johnson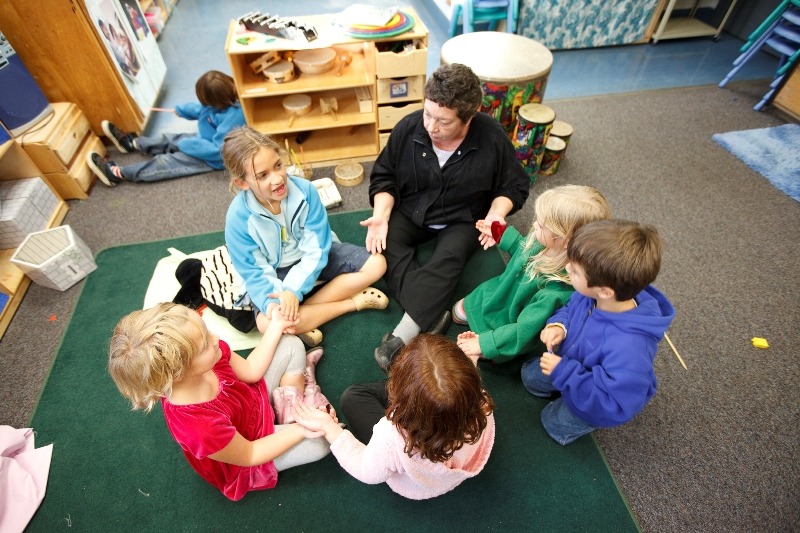 Learning positive lessons in one of the GPCDC classrooms. Photo: Jeff Johnson
Business results from these investments are significant. For example, employee turnover costs companies up to 150 percent of the base salary of the person exiting. An astonishing 43 percent of women with children leave careers or take extended time away from work after having kids. At Patagonia, nearly all employees return to work after a standard parental leave.
After more than 30 years, we've begun to hire quite a few kids who grew up with us. And Anita Furtaw, a tireless champion for our employees and their kids, recently laid the groundwork for a similar center at our facility in Reno to support 400 additional employees.
We face so many challenges today as citizens and businesspeople. In a changing world, it's vital to be an agent of change—and to have that capability in the workplace as well as in private life. I've been able to realize that possibility at Patagonia, where I can put my heart and soul into my work. The credit goes, in part, to the kids of my talented colleagues who keep us all grounded. Any business that wants that commitment from its people should take note—and follow suit.