Returning to the Rock – Kitty Calhoun enjoys an El Cap Comeback
Comeback – n Informal or vb come back (intr. adverb)
   1. a return to a former position, status,etc.
   2. a return or response, esp. recriminatory
   3. To become fashionable again
I am just leaving the belay on Pitch 5 of Aurora (5.8, A4), a steep, difficult aid line on El Cap. It has been five years since I was last on El Cap, and the experience had left me crippled. The arduous hauling and long descent with the haulbag "pig" was the last straw for my hips, eroded by a career as an alpinist and mountain guide with a passion for running. Two years later, both hips were resurfaced with metal and now, hopefully, I am "good to go." I am about to clean the pitch distinctly noted as "no fun" on the Supertopo. It takes me way too long to clean the pitch but both my partner and I are patient and we carry on.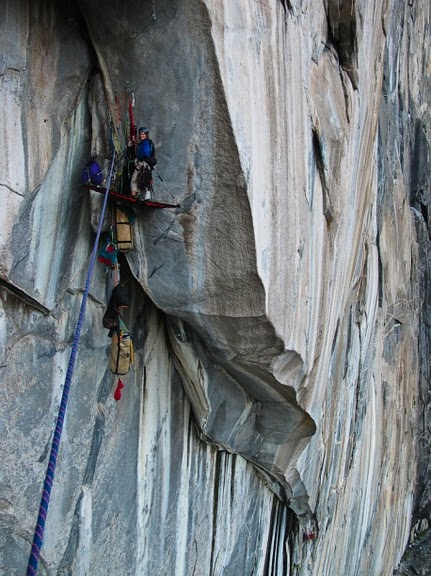 [Kitty at belay station, before cleaning the "no fun" pitch. Photo: Kate Robertson]
Kate Robertson loves equipment, so naturally she was drawn to ice climbing and it was in Ouray last winter that I met her. I expressed a secret desire to see if I could return to unfinished goals and a life of adventure. I am afraid of losing my mental and physical "edge" if I have to live with "restricted activities" – I am just not ready to lower the bar. So plans were hatched.
Editor's note: Patagonia Alpine Climbing ambassador Kitty Calhoun began climbing in her home state of South Carolina at the age of eighteen, and started ice climbing in college. Kitty's climbing has taken her from Alaska to the Andes and the Himalaya. She led successful expedition to the West Pillar of Makalu and put up a new route on the West face of Middle Triple Peak in Alaska. Kitty has worked extensively with the Castleton Tower Preservation Initiative and "Chicks with Picks," a series of women's-only ice climbing clinics. She lives in Castle Valley, Utah when she is not out on the road. When asked what she would like people to know about her, she smiles and says, "I'm a mom and a storyteller."
She had already climbed most of the easy routes on El Cap and wanted to climb Aurora, a perfect "rehab" route. It is hard, but she would take those leads. It is short – only 16 pitches – and steep, so the hauling would be easy. Plus, we could hire some burly young guys to carry the pigs down. We decided to start on my birthday, June 4.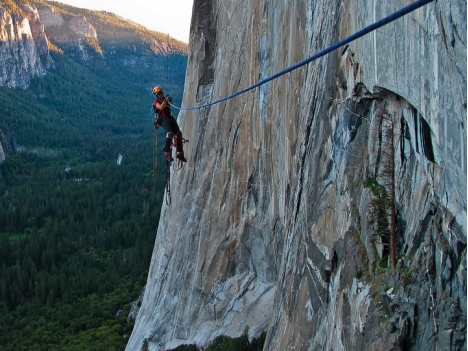 [Kate returning to the bivy after fixing a pitch above. Photo: Kitty Calhoun]
My second day of cleaning Kate's lead, I cut my time in half. We are making good time – two pitches a day. We are working together, in a routine, and the rhythm feels good. Calm nights, sitting alone in my porta-ledge, hundreds of feet off the ground, and surveying the stars is the highlight of my days. I open the music birthday card mom sent me and it plays the tune, "I just want to celebrate ANOTHER DAY OF LIVING…".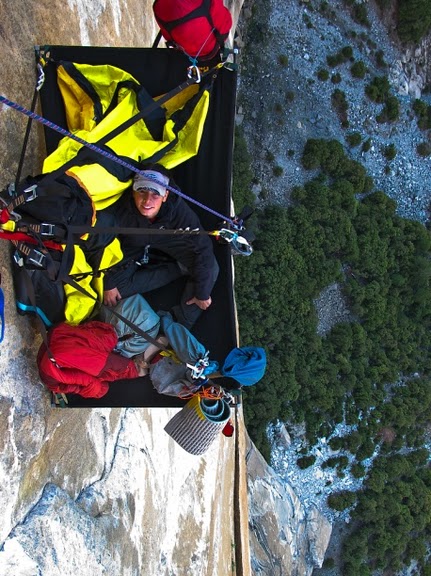 [Looking down at Kate on her ledge, as we prepare for another day. Photo: Kitty Calhoun]
The fourth night on the wall, I start rationing my food. Our progress is too good to be true. I am starting to feel a bit worked. My hands are too swollen to grip the pull-tab on my zippers. At best, we have four more days, but it could be more if we make some mistakes or the weather changes.

[Kate takes off on one of the crux pitches. Photo: Kitty Calhoun]
Day 7 – We are hoping to spend the night on the summit tonight. Kate had the first lead and I have the last two. My mind is muddled, dehydrated. I am trying to hook over to a bolt when I should have gone straight up to a fixed piece before traversing. When I finally finish the lead and look at my watch, which says that I am slow, and I break down into tears. I must have been dreaming to think I was up for this. Despite my ranting and raving to myself, I have set up the haul for both loads in record time and Kate arrives with a smile on her face. She says my lead was a full 70m and we can finish in the morning.
The next morning, as Kate and I easily finish the last pitch to the top of El Cap, we are met by the two burly young guys who shortly disappear with the pigs. I have forgotten my temper tantrum from the previous day. The Aleve is doing its job and life is good again. Seems like this wall went smoothly. What if it wasn't a good test? Maybe I need to do another wall on El Cap to see if I have really made a comeback. It is too good to be true – that the door I thought was closed might actually be cracked open.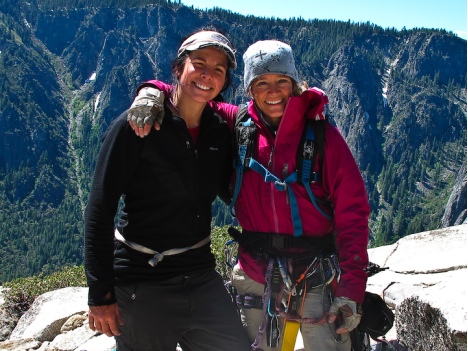 [Celebrating the comeback. Photo: Kitty Calhoun]