Labor of Love
Ben Wilkinson
/
Jun 17, 2019
/
4 Min Read
/
Community
Restoring a traditional Hawaiian koa canoe on O'ahu.
Ka Wahine u'i O Hale'iwa, which roughly translates to "Beautiful Young Woman of Hale'iwa," is the pride and joy of the Manu O Ke Kai Canoe Club here in Hale'iwa on the North Shore of O'ahu.
Carved from a single koa tree, U'i's life began at 5,400 feet on the slopes of Mauna Loa on the Big Island. The tree was felled in the mid-1980s, and after being roughed into a canoe shape and cured for two years, U'i was finished in the old Kona canoe sheds by Tahitian carver Pauniho Tautaha, with help from Bill Rosehill and Kimo Blankenfield. All of her components—the gunwales, seats and manus—were also made of koa from the same tree. As soon as U'i hit the water, she started earning a reputation as an especially fast canoe, even winning a state championship in Maui in 1989.
U'i eventually came into our club's possession through the generous donation of a past Manu O Ke Kai member named Cherish Lunsford Almeida. In her childhood, she'd been coached by Manu O Ke Kai's founder Uncle Randy Sanborn. The club had been a haven for kids in those days, many of them from lower-income households.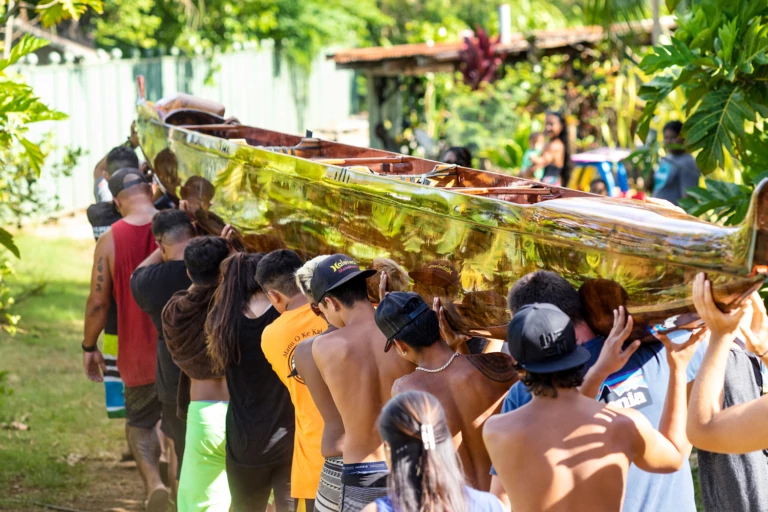 "In the early years of Manu," remembers Uncle Randy's wife, Aunty Aloha, "the kids would all stay over on Saturday nights because we wanted to make sure they'd make the races on Sunday. In the morning, we'd make all the kids French toast, then pile them in our pickup and head to the regatta. Some of the kids were rough around the edges and came from homes where the atmosphere was pretty tough. So for at least a couple of hours a week, we knew they weren't out getting into trouble."
Cherish's experiences with Manu O Ke Kai had brought her great joy, and she knew that Uncle Randy's dream was to acquire a koa canoe. So when the opportunity arose, she purchased U'i and donated her to the club. But over the years, as is inevitable with wooden canoes, U'i's hull began to change shape, and she stopped passing the yearly waterline test that ensures a canoe's hull conforms to the exact Hawaiian racing standards. For almost a decade since, U'i had been stored in our club's hālau wa'a, or canoe house, on the beach. She'd acquired some unsightly whoop-de-doos with age, and her nose was almost as twisted as mine.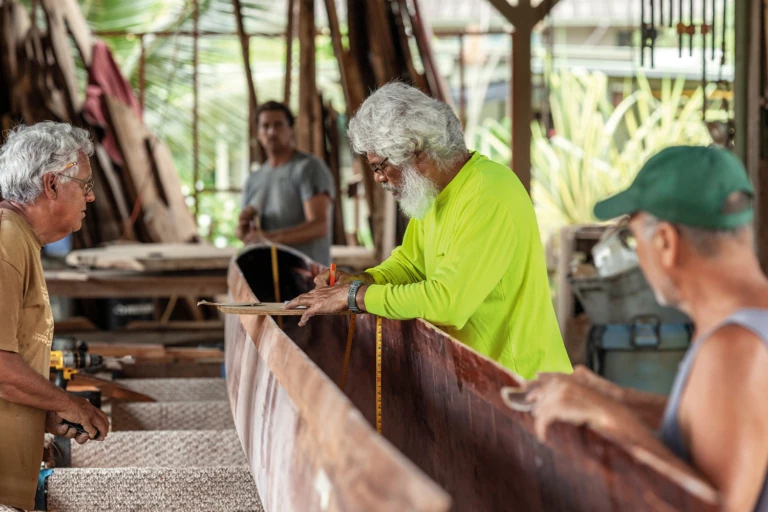 But U'i's call was strong, and whenever I was down at the club before practice, I'd feel that she wanted us to restore and race her again. For a few years, I'd been suggesting we begin the restoration—and had almost given up on the project—when Uncle Randy gave us the go-ahead at last. We built a makeshift hālau wa'a on the property where I live, and two master canoe builders, Myron Van Gieson and Eric Soo, drove over from the west side of O'ahu each day to help.
With their long experience in canoe building, I wasn't sure how Uncle Myron and Eric would feel about me being part of the process, but I found out on the first day of work. To fix U'i's rocker and bring her back to waterline standard, we had to fillet her hull right down the middle like a fish. Uncle Myron had made an initial cut into the gunwales with a handsaw and seemed perfectly comfortable. But for the 45-foot nose-to-tail cut, I'd suggested we use my Festool track, a tool I use to cut slabs for tables. I was shaking with adrenaline, much like the feeling you get when surfing big waves, but Myron just smiled and said, "Rip 'em." From then on, we were good.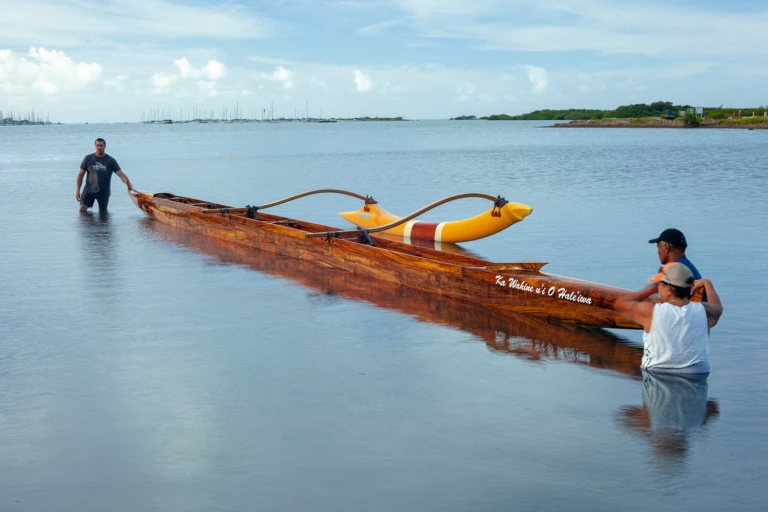 Over the next eight months, we chipped away at the restoration. Lunch arrived from club members daily, and the uncles started to complain that they were getting fat from all the food. As the state championships neared we stayed at it five days a week, with Myron, Eric, Mario Garza, other club members and myself working like clockwork as we strove to return U'i to her original racing condition.
Finally, with U'i back together and some amazing finishing work done by Dan and Paige Aitchison, we showed up for a waterline test at the O'ahu championships. It wasn't without drama—but after measurement, dispute and careful remeasurement, the officials confirmed that U'i had passed for the first time in 10 years. After such a long labor of love, and so many people giving their time and mana, it was an unforgettable moment. Following a quick blessing, the Beautiful Young Woman of Hale'iwa was back in action. Two weeks later at the Hawai'i state championships, Manu O Ke Kai's 12-year-old girls won gold in U'i's first race back on the water. She sat proud once again, and as a club we'd achieved our ultimate goal.
This essay was featured in the 2019 Patagonia May Catalog.