Lynn Hill Sends Chablanke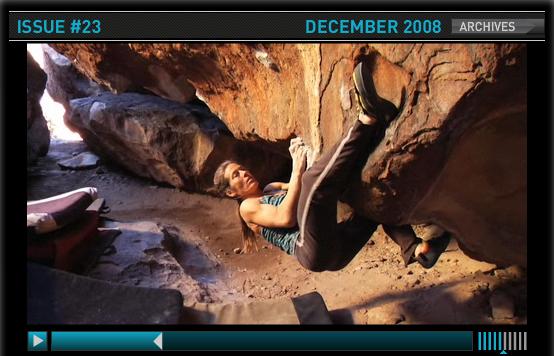 Climbing video site Momentum Video Magazine (MVM) recently posted a video of Patagonia ambassador Lynn Hill, sending the V11/12 boulder problem Chablanke in Hueco Tanks, Texas. There isn't an easy way to point you to the exact video, but it's worth the effort to locate if you want to see Lynn climb this very difficult problem. Here's how: Visit the MVM homepage, look for the video player, then scroll down the list and click on Lynn's video — it's from Issue #23.
Lynn shared the following thoughts about the climb:
I tried this boulder problem a few years ago when I was in Hueco for a brief period to become a Texas State Park guide and another time when I was there to instruct at one of my climbing camps, but I hadn't tried it since last year. It's a beautiful boulder with interesting moves and it looked like something I could do if I came up with some creative solutions. On the crux move, I had to do four set-up moves to get my feet underneath me before moving my hand up to a small crimp on an extremely overhanging face.
For me, the most relevant factor in my ability to perform well on the rock has to do with my love of climbing. I also think that working on my climbing technique video this year (Elements of Technique) has not only inspired me to improve my own efficiency on the rock, but it has provided the opportunity to go climbing on a more consistent basis than I have in years. After nearly thirty years of climbing, I still love to do it whenever possible! The fact that I have a child and consequently more responsibilities now than ever, has inspired me to grow in new ways and has given me a more balanced view on life. A child can be one of the best teachers in life.
We'll be sure and let you know when Lynn's instructional video, Elements of Technique, is available. Have a good weekend everybody.