Memorial Day Margarita Recipe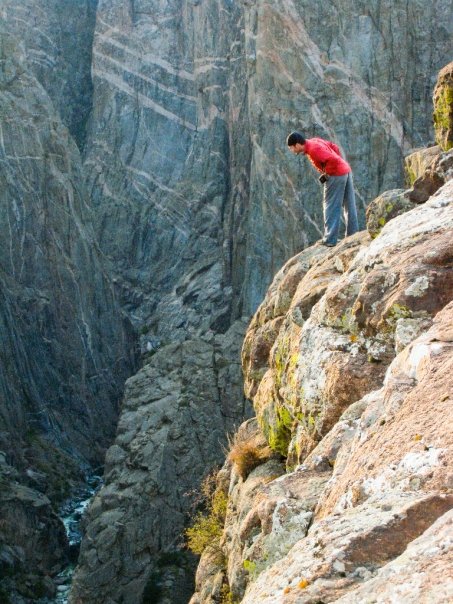 I like the idea of dancing skeletons. They seem happy and free. I like dancing, too, though I don't do it much, at least not in public (be grateful; I just do the same disco moves over and over again while sporting my whiteman's overbite). But I love the idea – movement for the joy of movement and expression. Kind of like climbing, in a way. Probably just as absurd, too. Imagine Martians coming down and watching people dance. Or watching people climb. And skeletons, well, let's be realistic. All of us die. In climbing and any adventurous realms of living, we might die sooner than otherwise. No guarantees, of course.
[Kelly looking into the awesome Black Canyon. Photo: Steve Halvorson]
The Memorial Day weekend and the label art on a tequila bottle inspired these babbles (and a margarita recipe, of course). Which also leads me to apologize: I've received some flak for not giving kids' versions of my margarita recipes, and for that I am truly sorry. Thus, in today's post I shall include my well-researched kiddie version. I even asked my sister about it – right now I'm hanging with her and her adorable 18-month-old daughter, Fia, who's fascinated by everything in her vast little world, so soon I'll have her sample it.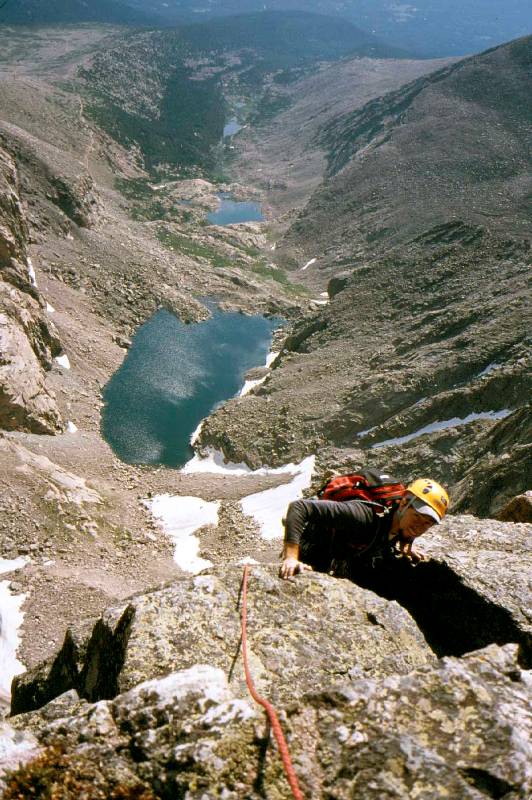 This seems to me a great weekend to celebrate the cycle of life. The Memorial Day holiday originated for those who died in military service, and was traditionally observed on May 30 (my mom's birthday!), though for me – and with full respect to the original idea – the holiday has even broader implications. It makes me remember everyone I've loved, no matter how they lived their lives, including their willingness to embrace risk or do things that are so easy to look back upon and second guess, because everything we do – the good and bad decisions we make, the experiences we have, the chances we take – are all a part of us, and make us who we are. For all of that, I am grateful.
[Jonny Copp cresting the Diamond and ready to scramble to the top of Longs Peak, July 2003. Photo: Kelly Cordes]
And I'm grateful for my mom – she's the reason I'm down here with my sisters, niece and aunt – with her quirky humor and wild streak. Hell, the phone rang yesterday, she answered and told the bill collectors, "No. I'm busy dying right now." Wild-living, hard-charging, too often in too much trouble, but always full of love and now back in her home at last, no more hospitals, thanks to her dear friend who helps care for her, and for the wonderful, compassionate people of hospice.
It's a good weekend to celebrate, to be thankful for all that makes us who we are, and to be thankful for the fact that we live such great lives that, on a daily basis most of the year, we can take for granted all that we have. All the way until we are nothing more than dancing skeletons.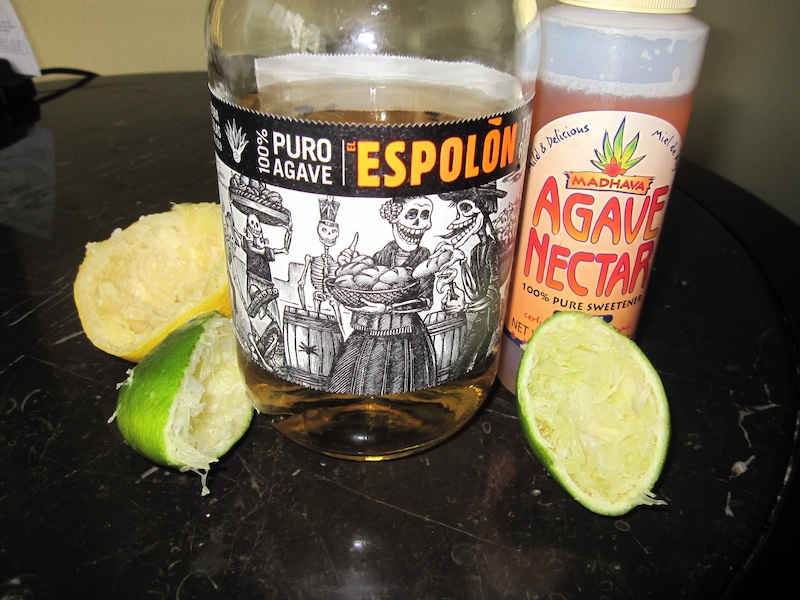 The Memorial Day Marg
Espolón™ Tequila: reasonably priced, 100% agave (of course – never forget that, despite marketing hype of mixto and gold blends, 100% agave is THE baseline), surprisingly good for the price. And who can't love the label?
Limes: get 'em fresh. Invest the $4.99 in a manual juice squeezer, and if you start by rolling the limes to soften 'em, and maybe even microwaving for about 13 seconds per lime, the juices come plentiful. Work hard and you should be able to get about 2 oz. of juice per lime.
Agave nectar: Sweetener made from the same plant tequila comes from – perfect. Just a couple of squirts per squeezed lime tends to do it. Adjust to taste.
Lemon & orange: squeeze some of each. Or, if you're lazy, just get it from the store.
Marg: About half tequila, and half the other stuff. The other stuff is mostly lime juice, with that squirt of agave nectar and a splash of lemon and orange juice. Adjust to taste – I can't describe it down to the milliliter. After all, life is art, damnit.
Put it in a shaker or water bottle or anything, and shake the bejesus out of it. Pour it over ice. Salt if you have it (doh, I spaced it at the store last night).
Kiddie version: At long last, with apologies to my sister and all the parents out there for my delay, I present the kiddie version: more salt, less tequila.
Editor's note: Have a great long weekend everybody. Please drink responsibly.