Remembering Mike Colpo, or Localcrew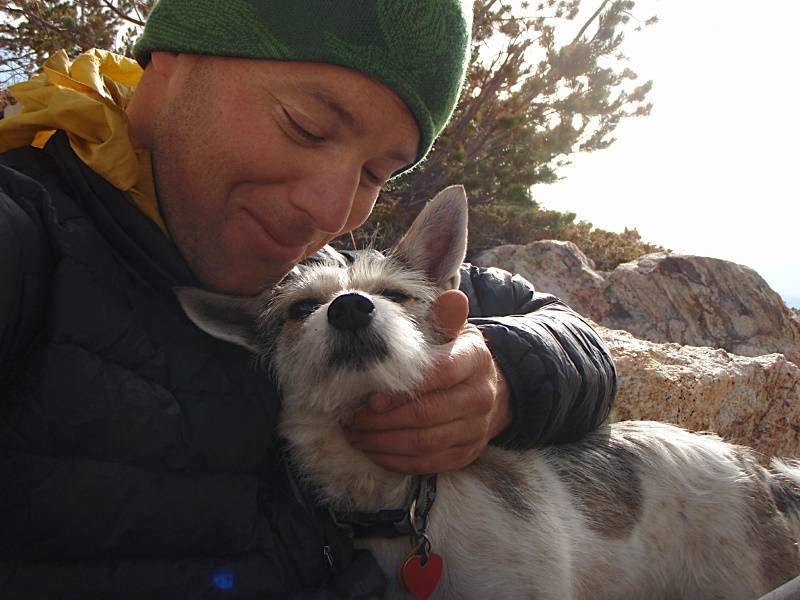 Mike Colpo, associate editor of this blog and frequent contributor (as "localcrew"), died suddenly on December 7 while trail running on his lunch hour near the Patagonia Distribution Center in Reno. He was 36.
[Above: Mike and Skeena share some love. East Humboldt Range, Nevada. Photo: Old School]
All of us who worked with him are in shock: Mike was young, fit and apparently healthy, his loss unexpected. And Mike was so modest about his talents and accomplishments that, now that he has gone, we're coming to realize how much he took with him. He was a graceful writer and fine editor and a Zen-like master of the 140-character Tweet. He was a committed, and knowledgeable environmentalist who had a special love for Nevada's wild places. He was a monster on his mountain bike and his beloved Xtracycle, an excellent backcountry navigator, telemarker, fly fisherman and alpinist who took a month out every summer to guide for the National Outdoor Leadership School (NOLS) in Wyoming.
Guys like Mike never just disappear though. He'll pull away and maintain a pace you can't quite match. You see him cresting the hill way ahead and dig deep to catch him. He'll drop in on the pow stash and you'll just see him, a speck on the horizon until you're not sure he's still there at all. But like all adventure hounds, he's there somewhere, among the trees and tall grass, his nose to the ground, thinking and looking for something fun. –Team Bacon Strip from "R.I.P. Mike Colpo"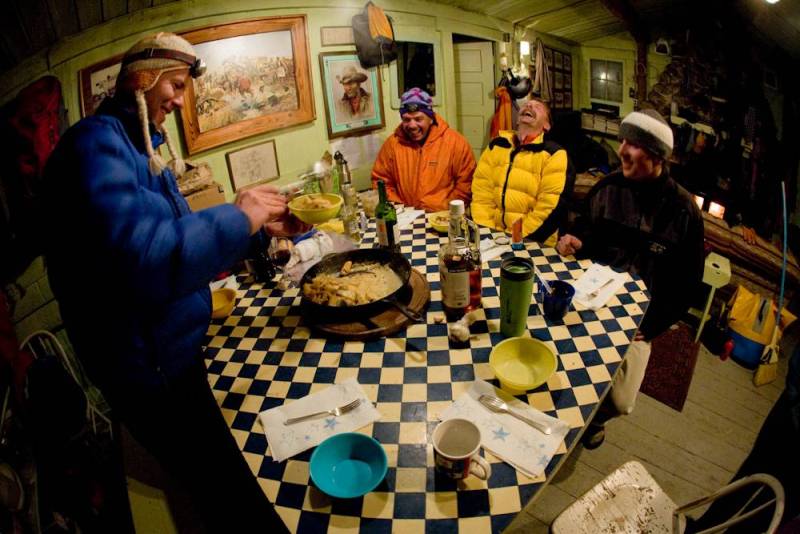 [A connoisseur of good ingredients and good food, Mike always volunteered to cook for friends and family.]
Mike was also an unrepentant petty criminal, as far as food goes, adept at smuggling in stinky cheeses from Chamonix under the noses (literally) of Customs inspectors. He could do wonders with smuggled French cheese and ordinary organic potatoes on a 1920s wood stove in a backcountry cabin you had to reach on skis. He also knew, when he wanted to make his own cheese, how to source unpasteurized milk, illegal in Nevada, from unsavory organic farmers. His advocacy for locally grown organic food was unwavering. His talent in the kitchen, exceptional.
Mike was persistent, especially when he thought the company and its managers were moving too slowly or were insufficiently informed on an environmental issue, but he was always unfailingly kind, doggedly ready to take on anyone or anything, but always with artful-dodgery good humor. He could exasperate but he also made his colleagues want to be able to answer his questions, or the questions he fielded from customers, no matter how much digging it took.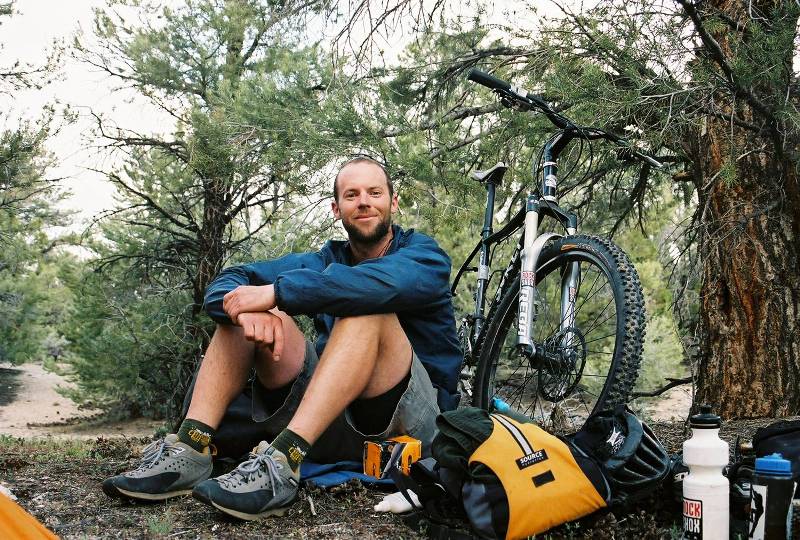 [Self-portrait during a 2005 Nevada Wilderness Project (NWP) internship project in the Kern Mountains, Eastern Nevada.]
Mike's physical forays into wilderness are legendary. He skied, ran, backpacked and paddled into amazing nooks and crannies of Nevada (among so many other places). But he also made forays into activism that resulted in meaningful political and social support for these wild places he loved. He was quietly–though firmly–supportive and encouraging to all of us at NWP, and we will always be grateful and remember him for that. –Nevada Wilderness Project from "Mike Colpo will be remembered as a champion of the wilderness"
He did not go to great lengths to keep himself out of harm's way. Mike did a rural backroad survey for Nevada Wilderness Project on his bicycle (encountering along the way a polygamist colony; he was also the unknowing target of a police manhunt to find him). Mike did have a car, a Subaru of several hundred thousand miles' vintage (affectionately named "Golden Thunder"); it had no windshield wipers or first gear and couldn't be relied on to go anywhere. But Mike and his bride, Liz Mosco, took the old Subaru camping on their honeymoon last August and had to be towed three times. It speaks for both of them that they found the breakdowns part of the adventure of marriage.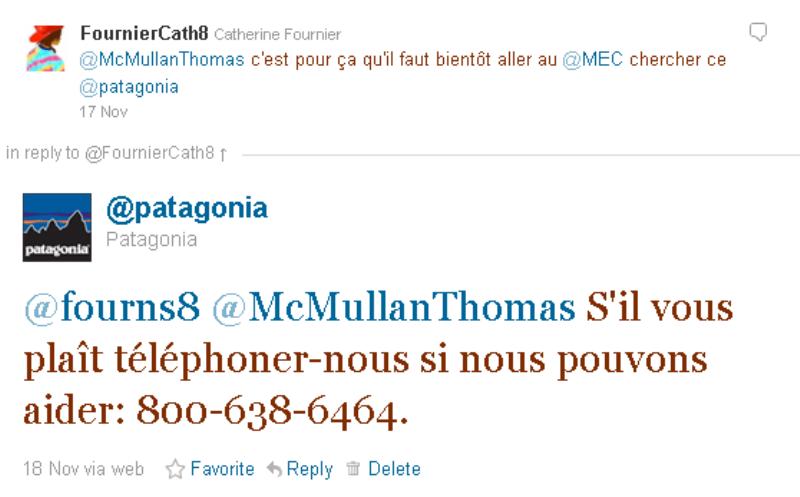 [Mike's fluency in French will also be missed.]
Mike had been with Patagonia for 11 years. He grew up in Delaware, came west to get his MA in English from the University of Nevada and never again looked back. He worked for us first in the Reno outlet, then in our pro program, then over in France where he helped Patagonia Europe launch their website, and finally, for the past five years, as associate editor for Patagonia.com where he did the bulk of the daily writing duties, contributed to The Cleanest Line and interacted with our social media community.
He was a gifted man, who quietly made a difference in the lives of those he worked with. His good-natured persistence was a gift; we miss that. We miss him.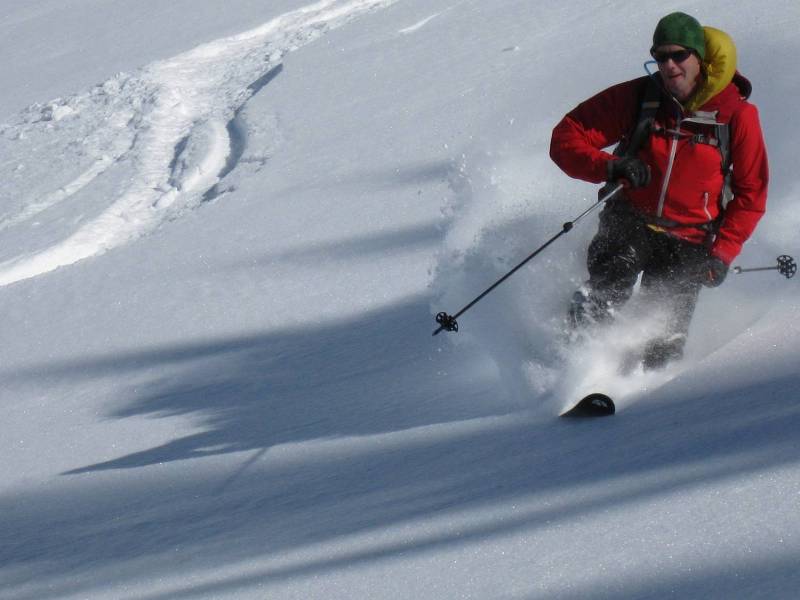 [Mike with his powder smile on… aaahhh, yeaaah.]
Editor's note: During The Cleanest Line's almost five-year existence, this is the most difficult post I've ever had to build. Mike was my co-editor, my confidant, my conscience and, most importantly, my dear friend. Losing someone so suddenly makes you shake your head and question all that is fair and good in life. But that's not how I'm going to remember Mike.
I will remember Mike for his eloquence and sincerity, his devoted love for wild nature and locally grown food, his sense of humor during stressful times and his glowing smile when he'd visit Ventura from Reno. I will miss Mike's delicious homemade goat cheese, his love of good Mexican food (especially sharing tacos al pastor with him at Cuernavaca) and our daily phone calls. I can't look at any of our websites without seeing his influence.
Mike's early contributions to our blog – especially his four-part NWP mapping story – are what got him the job on Patagonia's web team. He was a beautiful writer. But in his typically humble fashion, he only shared his own stories on occasion. Instead, he would tirelessly help others develop and publish their stories. There are, however, two posts on The Cleanest Line that shed light on the kind of man Mike was: one is Mike's Dirtbag Diaries Short and one was written by his loving wife, Liz.
It is most appropriate that we're posting this tribute on the winter solstice. As with the changing of the seasons, life goes on. And, as she is prone to do, Mother Nature has reminded me that the circle of life is always in motion. Today, I received word that our friends at The Dirtbag Diaries, Fitz and Becca Cahall, gave birth to their first child, a son.
Thank you, Localcrew, for all of your hard work. Thank you, Mike, for your friendship. You will always be with us.
–Kasey aka "Free"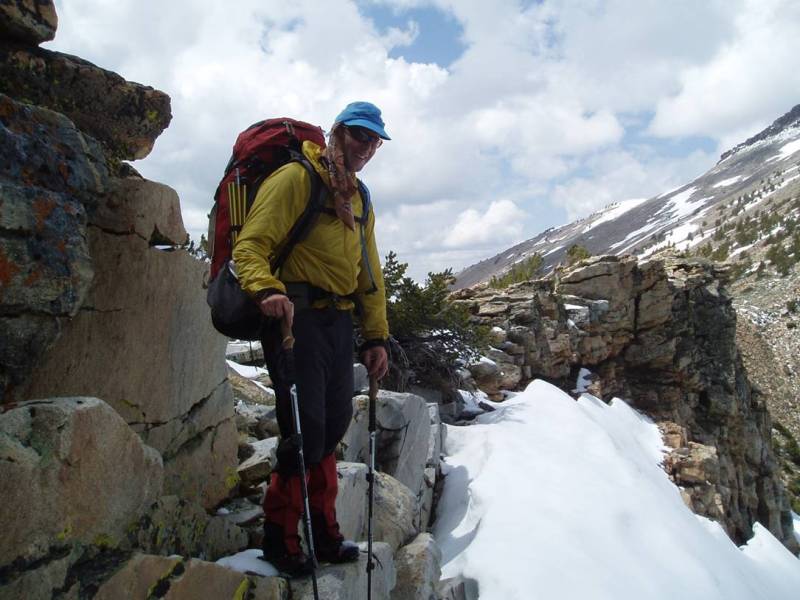 [Mike on the pass between Boulder Lake and Steele Lake, East Humboldts. Photo: Old School]
Kelly's note: I never know how to react when I lose a friend. There is no correct way, and I still haven't gotten used to it. More and more I react with silence, contemplation, breath. A feeling of mild confusion mixed with tears, a sort of wonder at the universe and its mysteries, an appreciation for our smallness in light of great importance, and the never-ending cycle of life that includes death. How it could happen so soon to someone like Mike leaves me unable to speak.
For Mike, more than anything I wish for his final breaths to have been moments of peace. I feel like he gave us so much, that the universe somehow owes him that. But I guess that doesn't make any sense, for the universe owes us nothing. And for his beloved Liz, my heart breaks. I try to put myself in her situation, and I can't, can't imagine the sadness, can't imagine the loss. But for her it's not imagining, it is real. For Liz, too, more than anything I wish for peace.
Mike, Kasey, and I worked together on The Cleanest Line, enjoyed margaritas when we'd get together in person, and were in continual weekly contact from afar, as colleagues and as friends. I look to them for guidance when I do little things like writing a blog post – both of them, my "borths" (a twist we came up with to poke good fun at "brother," one of Kasey's affectionate terms for us – brother, borther, bortha, borth) – and Mike was usually my editor. This means he regularly saved me from myself. I shudder to think of some of the horrid, misguided rants I came up with, and marvel at Mike's kindness in calling me, or sending me a note, to talk much-needed sense into me. Not pushing, just talking. Showing, not telling. In that, I now realize – though I realized it before, it hits so hard now – Mike gave me guidance on far, far more than the "little things." He led in a way that, when he talked, I listened. When I remember, when I can, I try to emulate Mike's thoughtful way, a strong yet kind way that does so much more than pushiness ever could. Mostly I fail, but that's OK – life is for learning, and not everyone can be like Mike. We can try, though, and aside from having a home in our hearts, maybe the only way that our loved ones live on is in our actions, in our showing them – showing ourselves, truly – that we miss them, that we are grateful for their lives, and grateful for what they brought to ours. Thank you Mike.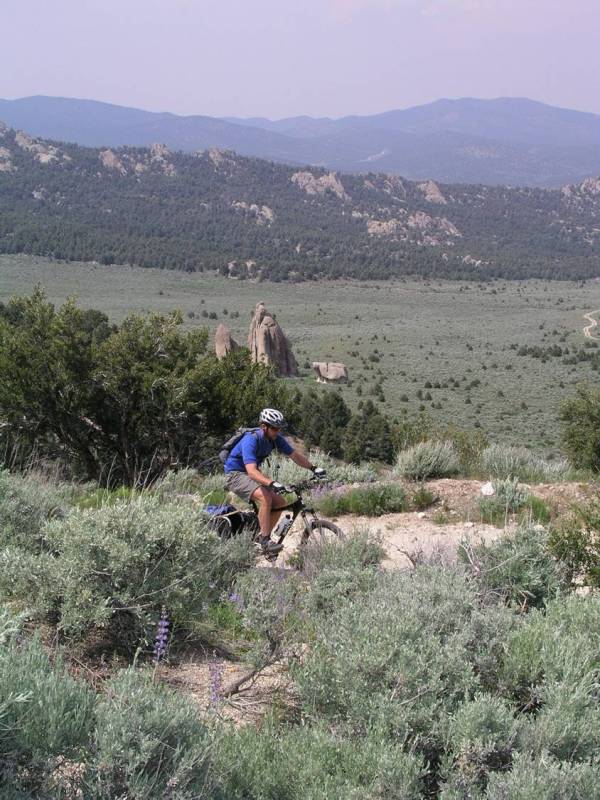 [Riding the back roads (hardly even roads) of Eastern Nevada during 2005 NWP internship.]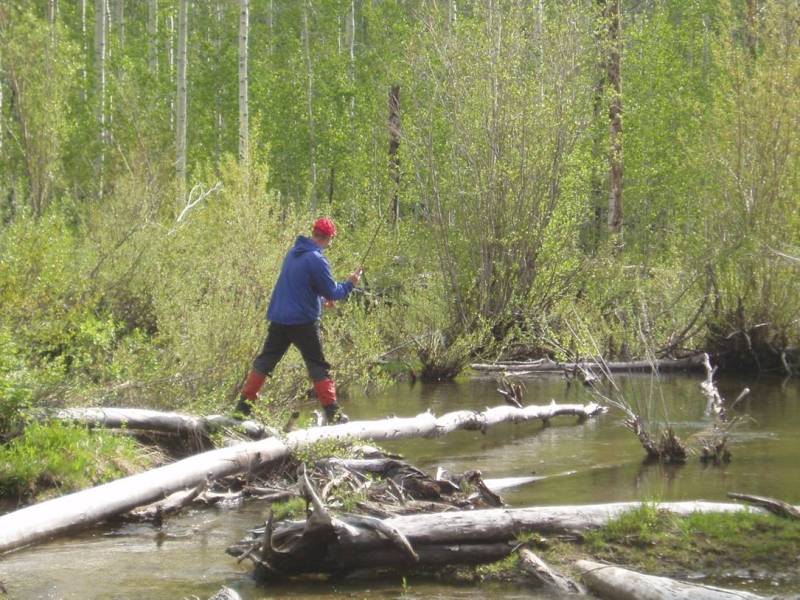 [Fly fishing in Second Boulder Creek, East Humboldt Range, Nevada. Photo: Old School]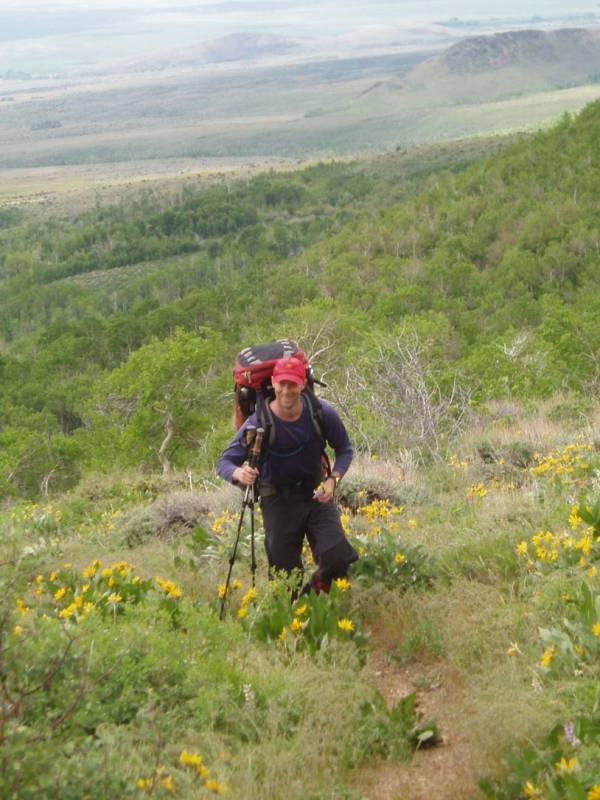 ["That's the last day of our trip in the East Humboldts, hiking out from Winchell Lake." -Old School]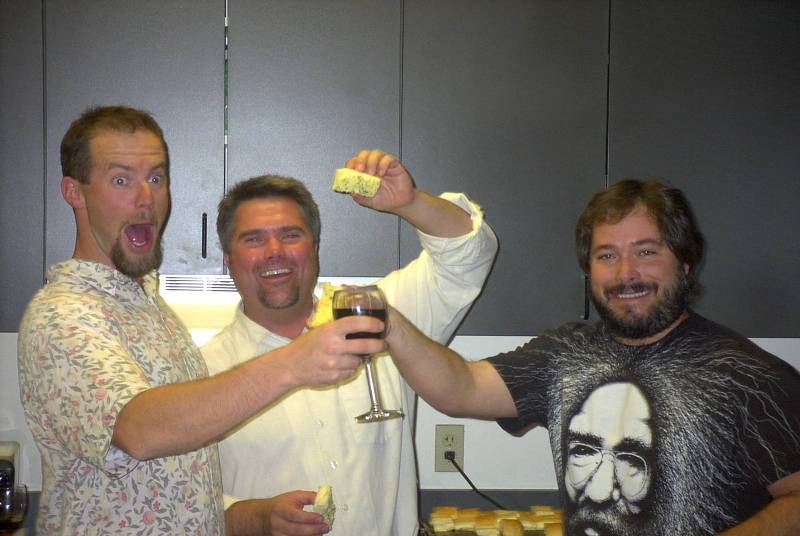 [Mike, Nate and Jim on garlic bread detail for the annual mail order Christmas party.]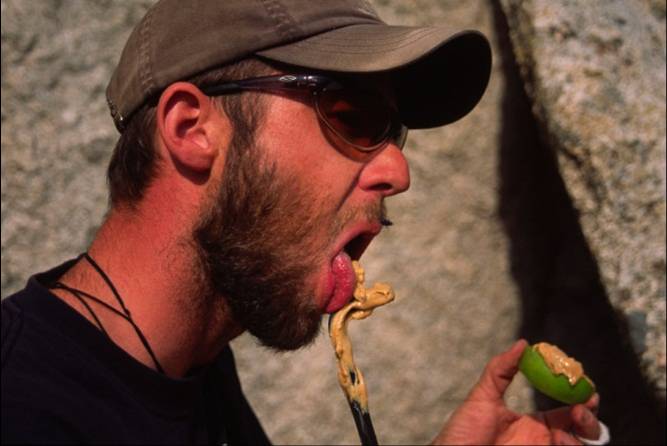 [Peanut bortha. Lunch break, day 14, NWP internship project, Eastern Nevada.]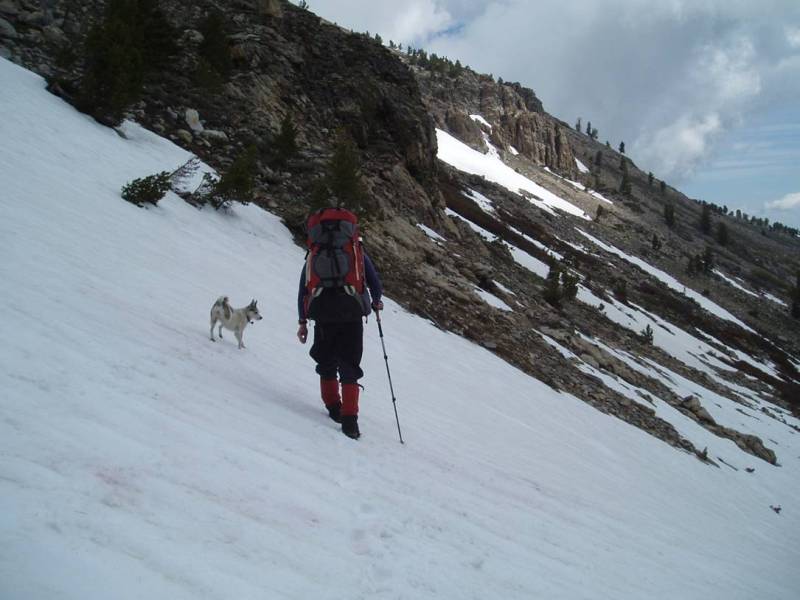 [Mike & Skeena traversing towards Hole in the Mountain Peak.]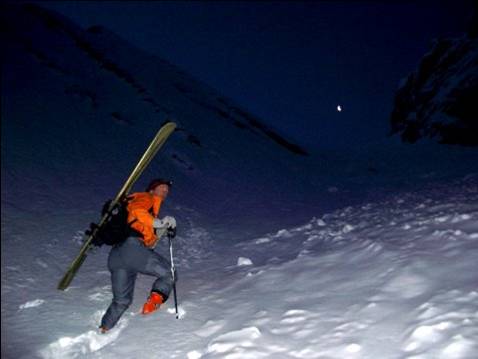 [Mike would often get in a lap or two before coming to work.]